Добавил:
Upload
Опубликованный материал нарушает ваши авторские права? Сообщите нам.
Вуз:
Предмет:
Файл:
Color_Atlas_of_Pharmacology_3rdEd
.pdf 322 Therapy of Selected Diseases
Congestive Heart Failure
In chronic congestive heart failure, cardiac pump performance falls below a level required by the body's organs for maintaining function and metabolism. The most common primary causes of heart failure are coronary disease, hypertension, volume overload, or cardiomyopathies. Diminished cardiac performance leads to a precardial congestion of venous blood. Congestion in front of the left ventricle causes dyspnea and pulmonary edema. Ankle edemas, enlarged liver, and ascites signal congestion in front of the right ventricle.
The degree of severity of myocardial failure is categorized according to the New York Heart Association (NYHA) Functional Classification System. Stages I—IV reflect an increasing level of disability.
The decrease in cardiac function activates several compensatory mechanisms that operate to maintain perfusion of organs. These include activation of the sympathetic nerve system and of the renin–angiotensin system. Increased release of norepinephrine raises cardiac rate and evokes peripheral vasoconstriction. Increased production of angiotensin II promotes both vasoconstriction and release of aldosterone from the adrenals. These compensations increase cardiac afterload and plasma volume is expanded because the kidney retains water and sodium. Although such "auxiliary" countermeasures afford transient help in maintaining cardiac output, (nor)epinephrine, aldosterone, and angiotensin II promote the progression of myocardial insuf ciency: hypertrophy and fibrosis are the outcome. Successful therapy of chronic congestive failure is therefore contingent on inhibition of compensation mechanisms.
Although β-blockers were formerly held to be contraindicated, this drug class has been used successfully since the mid-1990s in the management of heart failure. A prerequisite is to begin therapy with very small daily doses. Every 2–3 weeks, the daily dose
can be increased in small increments, as long as the patient does not develop bradycardia. Since bisoprolol, metoprolol, and carvedilol have proved effective in large clinical trials, these β-blockers would be the preferred choice for this indication.
ACE inhibitors are the appropriate agents for inhibiting the renin–angiotensin II system; they prevent the production of angiotensin II. The effect of angiotensin II receptor antagonists is equivalent to that of ACE inhibitors. Both interventions for attenuating compensatory mechanisms improve the clinical state of patients (less hospitalization) and increase life expectancy.
In edemas, dyspnea, and advanced myocardial insuf ciency, diuretics are indispensable.
Digitalis glycosides augment contractile force and are likewise used in severe forms of insuf ciency, specifically in the presence of concomitant atrial fibrillation. Because of the narrow margin of safety, the digoxin dose must be adjusted individually in each patient.
Drugs with an acute positive inotropic action (e.g., catecholamines or phosphodiesterase inhibitors) may be of transient help in sudden decompensation but must not be given in chronic congestive failure.
Luellmann, Color Atlas of Pharmacology © 2005 Thieme
All rights reserved. Usage subject to terms and conditions of license.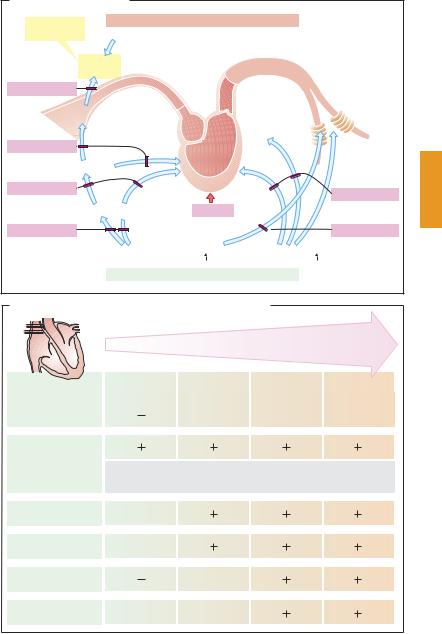 | | |
| --- | --- |
| Congestive Heart Failure | 323 |
A. Congestive heart failure

 

 

 

Performance

Heart failure

 

 

decrease

Congestion

 

Cardiac output

 

 

Dyspnea

 

 

 

 

Edemas

 

 

 

Diuretics

 

 

 

 

Na+, H2O retention

 

 

Vasoconstriction

preload

 

 

Tachycardia

Afterload

Spironolactone

 

 

Inotropism

 

 

 

 

 

Aldosterone

Fibrosis

 

 

Hypertrophy

 

 

 

 

AT1-blockers

 

 

 

β -Blocker

 

 

 

 

 

Angiotensin II

Digitalis

 

ACE inhibitors

 

Positive

ACE inhibitors

 

inotropic

 

Renin–Angiotensin System

Sympathetic System

 

Compensatory mechanisms

 
B. Classification and drug therapy of congestive heart failure
 

 

Impairment of cardiac function

 

NYHA

I

II

III

IV

Functional Class

 

 

 

 

Clinical symptoms

 

slight

marked

at rest

ACE inhibitors

 

 

 

 

AT1 blocker

when ACE inhibitors cause adverse effects, e.g., cough

β -Blocker

Infarction

 

 

 

Hypertension

 

 

 

 

 

 

 

Diuretics

Hypertension

 

 

 

Edemas

 

 

 

 

 

 

 

Aldosterone

 

Hypokalemia

 

 

antagonists

 

 

 

 

 

 

 

Digitalis

Atrial fibrillation

Atrial fibrillation

 

 
Luellmann, Color Atlas of Pharmacology © 2005 Thieme
All rights reserved. Usage subject to terms and conditions of license. 324 Therapy of Selected Diseases
Hypotension
The venous side of the circulation accommodates ~ 85% of the total blood volume; because of the low venous pressure (mean ~ 15 mmHg), it is referred to as the low-pres- sure system. The arterial vascular beds, representing the high-pressure system (mean pressure ~ 100 mmHg), contain ~ 15%. The arterial pressure generates the driving force for perfusion of tissues and organs. Blood draining from these collects in the low-pres- sure system and is pumped back by the heart into the high-pressure system.
The arterial blood pressure (ABP) depends on: (1) the volume of blood per unit of time that is forced by the heart into the highpressure system—cardiac output corresponding to the product of stroke volume and heart rate (beats/min), stroke volume being determined by, inter alia, venous filling pressure; (2) the counterforce opposing the flow of blood, i.e., peripheral resistance, which is a function of arteriolar caliber.
Chronic hypotension (recumbent systolic BP
< 105 mmHg). Primary idiopathic hypotension generally has no clinical importance. If symptoms such as lassitude and dizziness occur, a program of physical exercise instead of drugs is advisable.
Secondary hypotension is a sign of an underlying disease that should be treated first. If stroke volume is too low, as in heart failure, a cardiac glycoside can be given to increase myocardial contractility and stroke volume. When stroke volume is decreased owing to insuf cient blood volume, plasma substitutes will be helpful in treating blood loss, whereas aldosterone deficiency requires administration of a mineralocorticoid (e. g., fludrocortisone). The latter is the drug of choice for orthostatic hypotension due to autonomic failure. A parasympatholytic (or electrical pacemaker) can restore cardiac rate in bradycardia.
Acute hypotension. Failure of orthostatic regulation. A change from the recumbent to the erect position (orthostasis) will cause blood within the low-pressure system to sink toward the feet because the veins in body parts below the heart will be distended, despite a reflex venoconstriction, by the weight of the column of blood in the blood vessels. The fall in stroke volume is partly compensated by a rise in heart rate. The remaining reduction of cardiac output can be countered by elevating the peripheral resistance, enabling blood pressure and organ perfusion to be maintained. An orthostatic malfunction is present when counterregulation fails and cerebral blood flow falls, with resultant symptoms, such as dizziness, "black-out," or even loss of consciousness. In the sympathotonic form, sympatheticallymediated circulatory reflexes are intensified (more pronounced tachycardia and rise in peripheral resistance, i.e., diastolic pressure); however, there is failure to compensate for the reduction in venous return. Prophylactic treatment with sympathomimetics would therefore hold little promise. Instead, cardiovascular fitness training would appear more important. An increase in venous return may be achieved in two ways. Increasing NaCl intake augments salt and fluid reserves and, hence, the blood volume (contraindications: hypertension, heart failure). Constriction of venous capacitance vessels might be produced by dihydroergotamine. Whether this effect could also be achieved by an α-sympathomimetic, remains debatable. In the very rare asympathotonic form, use of sympathomimetics would certainly be reasonable.
Luellmann, Color Atlas of Pharmacology © 2005 Thieme
All rights reserved. Usage subject to terms and conditions of license.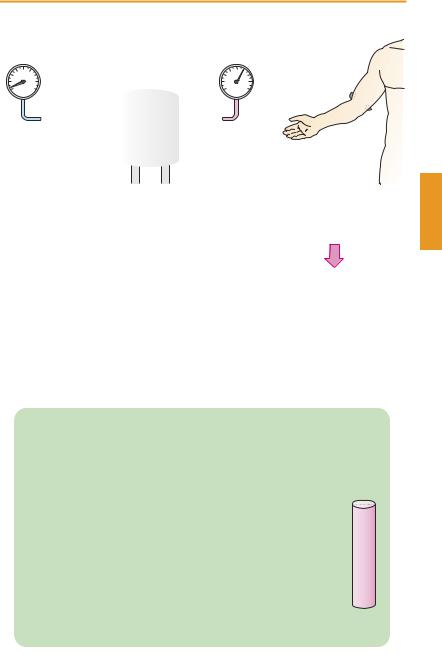 Hypotension

325

A. Treatment of hypotension

 

 

 

 

Low-pressure

High-pressure

 

 

 

system

system

 

 

 

Brain

 

 

 

 

Lung

 

 

 

 

 

 

β -Sympathomimetics

 

 

 

Cardiac

Parasym-

 

 

 

glycosides

patholytics

Venous

 

 

 

 

return

 

Stroke vol. x rate

 

 

 

 

Heart

 

= cardiac output

 

 

 

Blood pressure (BP)

 

Kidney

 

 

 

 

 

 

Peripheral resistance

 

Intestines

 

 

 

 

 

 

Arteriolar

α -Sympatho-

 

 

caliber

mimetics

 

Skeletal muscle

 

 

 

 

Initial condition

Increase of blood volume

 

 

0.9%

SALT

 

 

 

NaCl

 

 

 

 

 

 

BP

 

 

 

 

 

 

NaCl + H2O

 

 

 

 

BP

 

Redistribution of blood volume

NaCl

 

 

 

BP

+ H2O

 

 

 

 

 

 

 

Constriction of venous capacitance

Mineralo-

 

 

vessels, e.g., dihydroergotamine if

 

 

appropriate, α -sympathomimetics

corticoid

 

 
Luellmann, Color Atlas of Pharmacology © 2005 Thieme
All rights reserved. Usage subject to terms and conditions of license.