Добавил:
Upload
Опубликованный материал нарушает ваши авторские права? Сообщите нам.
Вуз:
Предмет:
Файл:
Color_Atlas_of_Pharmacology_3rdEd
.pdf

Inhibitors of Platelet Aggregation (A)
Collagen, thrombin, ADP, and thromboxane A2 are the most important mediators that induce maximal activation and aggregation of platelets. The first essential step in platelet activation is mediated by direct contact with collagen, which can bind to different proteins in the platelet membrane. The most important "collagen receptor" in the platelet membrane is glycoprotein VI (GP VI). Activation induces a change in platelet shape and triggers secretion of substances stored in intracellular platelet granula (e.g., ADP, serotonin). In addition, GP VI stimulates cyclooxygenase (COX-1), causing thromboxane A2 to be produced and released from arachidonic acid (p.196).
The propensity of platelets to aggregate can be inhibited by various pharmacological interventions.
Acetylsalicylic acid (ASA) prevents COX- 1-mediated synthesis of thromboxane. Low daily doses (75–100 mg) may be suf cient. Indications include prophylaxis of re-infarc- tion after myocardial infarction and of stroke. Despite the low dosage, adverse effects such as gastric mucosal damage or provocation of asthma attacks cannot be ruled out.
Available alternatives to ASA are the ADP receptor antagonists ticlopidine and clopidrogel, which can also be given orally. Similarly to ASA, ticlopidine and clopidrogel cause an irreversible inhibition of platelet function. Both substances are inactive precursors that are converted by hepatic cytochrome P450 to an active metabolite that binds covalently to a subtype (P2Y12) of ADP receptors on platelets. Consequently, ADP-mediated platelet aggregation is inhibited for the duration of the platelet life cycle (~ 7–10 days). Ticlopidine may cause serious adverse effects, including neutropenia and thrombopenia. The successor substance, clopidrogel, is better tolerated.
Antagonists at the integrin glycoprotein IIb/IIIa. Available agents are suitable only for parenteral administration and, in clinical settings, are used in percutaneous coronary balloon distension or in unstable angina pectoris. They block the fibrinogen cross-linking protein and thus decrease fibrinogen-medi- ated meshing of platelets independently of the precipitating cause. Abciximab is a chimeric Fab-antibody fragment directed against GP IIb/IIIa protein. Tirofiban and eptifibatide act as competitive antagonists at the fibrinogen binding site. Because abciximab adheres to GPIIb/IIIa for a long time, 24–48 hours are required after injection of the drug before platelet aggregation again becomes possible. The effects of eptifibatide and tirofiban dissipate within a few hours. Because GP IIb/IIIa antagonists inhibit the common final pathway in platelet activation, they pose a risk of bleeding during treatment.
Presystemic Effect of ASA
The inhibition of platelet aggregation by ASA results from acetylation and blockade of platelet COX-1 (B). The specificity of this reaction is achieved in the following manner: irreversible acetylation of the enzyme already occurs in the blood of the splanchnic region, that is, before the liver is reached. Since ASAissubjecttoextensive presystemic deacetylation,cyclooxygenases located posthepatically (e.g., in endothelial cells) are hardly affected. Confinement of COX-1 inhibition to platelets is further accentuated because enzyme can be re-synthesized in normal cells having a nucleus but not in the anuclear platelets.
Luellmann, Color Atlas of Pharmacology © 2005 Thieme
All rights reserved. Usage subject to terms and conditions of license.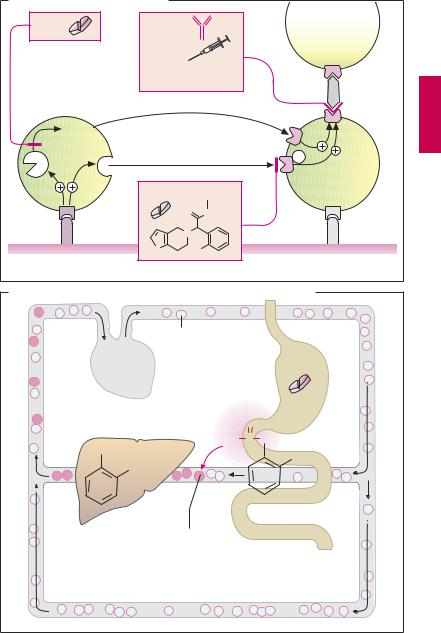 | | |
| --- | --- |
| Inhibitors of Platelet Aggregation | 155 |
A. Inhibitors of platelet aggregation

 

 

ASA

 

Abciximab

 

 

 

 

 

 

Acetylsalicylic acid

Eptifibatide,

 

 

 

a peptide

 

 

 

 

Tirofiban,

 

 

 

 

nonpeptide

 

Fibrinogen

 

 

 

 

 

 

GPIIb/IIIa antagonists

 

 

 

 

GPIIb/IIIa

 

Throm-

 

 

TP

 

boxane A2

 

 

Cox1

Secretion

ADP

Gi

 

 

 

 

P2Y12

 

 

Clopidogrel

 

CH3

 

 

 

 

GPVI

 

O

 

O

 

 

 

 

 

 

N

 

 

 

 

S

Cl

 

Collagen

 

ADP-receptor antagonists

 

 
B. Presystemic inhibition of platelet aggregation by acetylsalicylic acid

Platelets

 

 

Low dose

O

Acetylsalicylic

H3C C O

acid

 

OH

COOH

COOH

 

Acetylation of

 

COX in platelets

 
Luellmann, Color Atlas of Pharmacology © 2005 Thieme
All rights reserved. Usage subject to terms and conditions of license.

156 Plasma Volume Expanders
Plasma Volume Expanders
Major blood loss entails the danger of lifethreatening circulatory failure, i.e., hypovolemic shock. The immediate threat results not so much from the loss of erythrocytes, i.e., oxygen carriers, as from the reduction in volume of circulating blood.
To eliminate the threat of shock, replenishment of the circulation is essential. With moderate loss of blood, administration of a plasma volume expander may be suf cient. Blood plasma consists basically of water, electrolytes, and plasma proteins. However, aplasmasubstitute neednotcontain plasma proteins. These can be suitably replaced with macromolecules ("colloids") that, like plasma proteins, (1) do not readily leave the circulation and are poorly filtrable in the renal glomerulus; and (2) bind water along with its solutes owing to their colloid osmotic properties. In this manner, they will maintain circulatory filling pressure for many hours. On the other hand, complete elimination of these colloids from the body is clearly desirable.
Compared with whole blood or plasma, plasma substitutes offer several advantages: they can be produced more easily and at lower cost, have a longer shelf-life, and are free ofpathogens such ashepatitis Band C or AIDS viruses.
Three colloids are currently employed as plasma volume expanders—the two polysaccharides dextran and hydroxyethyl starch, and the polypeptide gelatin.
Dextran is a polymer formed by bacteria and consisting of atypically linked (1†6 instead of 1†4 bond) glucose molecules. Commercially available plasma substitutes contain dextran of a mean molecular weight (MW) of 70 or 75 kDa (dextran 70 or 75) or 40 kDa (dextran 40 or low-molecular- weight dextran). The chain length of single molecules varies widely, however. Smaller dextran molecules can be filtered at the glomerulus and slowly excreted in urine; the larger ones are eventually taken up and de-
graded by cells of the mononuclear phagocyte system. Apart from restoring blood volume, dextran solutions are used for hemodilution in the management of blood flow disorders.
As for microcirculatory improvement, it is occasionally emphasized that low -molecu- lar-weight dextran, unlike dextran 70, may directly reduce the aggregability of erythrocytes by wayof altering their surface properties. With prolonged use, larger molecules will accumulate owing to the more rapid renal excretion of the smaller ones. Consequently, the molecular weight of dextran circulating in blood will tend toward a higher mean molecular weight with the passage of time.
The most important adverse effect results fromthe antigenicityofdextrans,whichmay lead to an anaphylactoid reaction. Dextran antibodies can be intercepted without an immune response by injection of small dextran molecules (MW 1000), thus obviating any incompatibility reaction to subsequent infusion of the dextran plasma substitute solution.
Hydroxyethyl starch (hetastarch) is produced from starch. By virtue of its hydroxyethyl groups, it is metabolized more slowly and retained significantly longer in blood than would be the case with infused starch. Hydroxyethyl starch resembles dextrans in terms of its pharmacological properties and therapeutic applications. A particular adverse effect ispruritus of prolonged duration with deposition of the drug in peripheral nerves.
Gelatin colloids consist of cross-linked peptide chains obtained from collagen. They are employed for blood replacement but not for hemodilution in circulatory disturbances.
Luellmann, Color Atlas of Pharmacology © 2005 Thieme
All rights reserved. Usage subject to terms and conditions of license.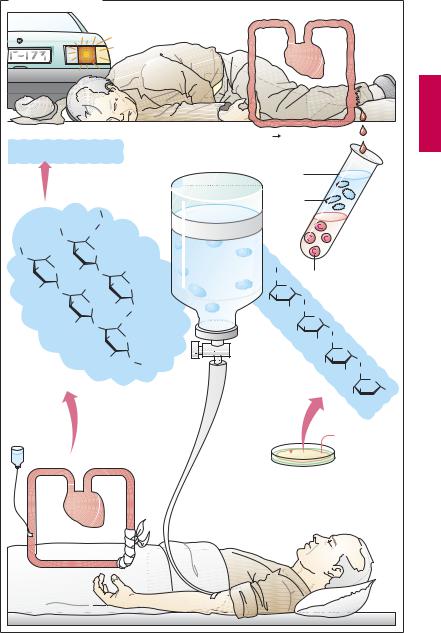 | | |
| --- | --- |
| Plasma Volume Expanders | 157 |
A. Plasma subtitutes
Circulation
Gelatin colloids
=cross-linked peptide chains MW 35 000
Peptides

MW ~ 15 000

 

 

Gelatin

MW ~100 000

 

 

Collagen MW ~300 000

 

 

 

 

 

O

 

 

O

CH2

 

 

 

 

 

 

OH

 

 

O

CH2OH

O

 

 

OH

 

 

CH2OH

 

O HO

O

 

 

 

OH

RO

O

CH2OH

O

 

OH

O RO

 

 

 

O

 

 

 

 

 

RO

O

 

CH2

 

 

 

 

 

OH

 

 

 

 

O

 

 

 

 

R = HO–CH2–CH2–

 

 

 

Hydroxyethyl starch

RO

O

 
(hetastarch)
mean MW 670 000
Hydroxyethylation starch
| | |
| --- | --- |
| Blood loss | Danger of shock |
|   | Plasma |
|   | Plasma- |
|   | proteins |
| | |
| --- | --- |
| Plasma- |   |
| substitute |   |
| with colloids | CH2 |
O
OH
HO
Dextran
MW 70 000
MW 40 000
Sucrose

Erythrocytes
O
 

O

 

 

OH

CH2

 

 

O

 

 

 

 

 

 

OH

O

 

 

 

 

HO

 

6

 

OH

CH2

 

 

 

 

5

O

 

 

 

4 OH

1
3 O HO

OH

Fructose
Bacterium
Leuconostoc mesenteroides
Luellmann, Color Atlas of Pharmacology © 2005 Thieme
All rights reserved. Usage subject to terms and conditions of license.