Добавил:
Upload
Опубликованный материал нарушает ваши авторские права? Сообщите нам.
Вуз:
Предмет:
Файл:
Color_Atlas_of_Pharmacology_3rdEd
.pdf 318 Therapy of Selected Diseases
Antianginal Drugs
Antianginal agents derive from three drug groups, the pharmacological properties of which have already been presented in more detail: the organic nitrates (p.124), the calcium antagonists (p.126), and the β-blockers (p. 96).
Organic nitrates (A) increase blood flow, hence O2 supply, because diastolic wall tension (preload) declines as venous return to the heart is diminished. Thus, the nitrates enable myocardial flow resistance to be reduced even in the presence of coronary sclerosis with angina pectoris. In angina due to coronary spasm, arterial dilation overcomes the vasospasm and restores myocardial perfusion to normal. O2 demand falls because of the ensuing decrease in the two variables that determine systolic wall tension (afterload): ventricular filling volume and aortic blood pressure.
Calcium antagonists (B) decrease O2 demand by lowering aortic pressure, one of the components contributing to afterload. The dihydropyridine nifedipine, is devoid of a cardiodepressant effect, but may give rise to reflex tachycardia and an associated increase in O2 demand. The catamphiphilic drugs verapamil and diltiazem are cardiodepressant. Reduced beat frequency and contractility contribute to a reduction in O2 demand; however, AV-block and mechanical insuf ciency can dangerously jeopardize heart function. In coronary spasm, calcium antagonists can induce spasmolysis and improve blood flow.
β-Blockers (C) protect the heart against the O2-wasting effect of sympathetic drive by inhibiting β1-receptor-mediated increases in cardiac rate and speed of contraction.
Uses of antianginal drugs (D). For relief of the acute anginal attack, rapidly absorbed drugs devoid of cardiodepressant activity are preferred. The drug of choice is nitroglycerin (NTG, 0.8–2.4 mg sublingually; onset of ac-
tion within 1–2 minutes; duration of effect ~ 30 minutes). Isosorbide dinitrate (ISDN) can also be used (5–10 mg sublingually); compared with NTG, its action is somewhat delayed in onset but of longer duration. Finally, nifedipine may be useful in chronic stable, or in variant angina (5–20 mg, capsule to be bitten and the content swallowed).
For sustained daytime angina prophylaxis, nitrates are of limited value because "nitrate pauses" of about 12 hours are appropriate if nitrate tolerance is to be avoided. If attacks occur during the day, ISDN, or its metabolite isosorbide mononitrate, may be given in the morning and at noon (e. g., ISDN 40 mg in extended-release capsules). Because of hepatic presystemic elimination, NTG is not suitable for oral administration. Continuous delivery via a transdermal patch would also not seem advisable because of the potential development of tolerance. With molsidomine, there is less risk of a nitrate tolerance; however, its clinical use is restricted owing to its potential carcinogenicity.
The choice between calcium antagonists must take into account the differential effect of nifedipine versus verapamil or diltiazem on cardiac performance (see above). When β-blockers are given, the potential consequences of reducing cardiac contractility (withdrawal of sympathetic drive) must be kept in mind. Since vasodilating β2-receptors are blocked, an increased risk of vasospasm cannot be ruled out. Therefore, monotherapy with β-blockers is recommended only in angina due to coronary sclerosis, but not in variant angina.
Luellmann, Color Atlas of Pharmacology © 2005 Thieme
All rights reserved. Usage subject to terms and conditions of license.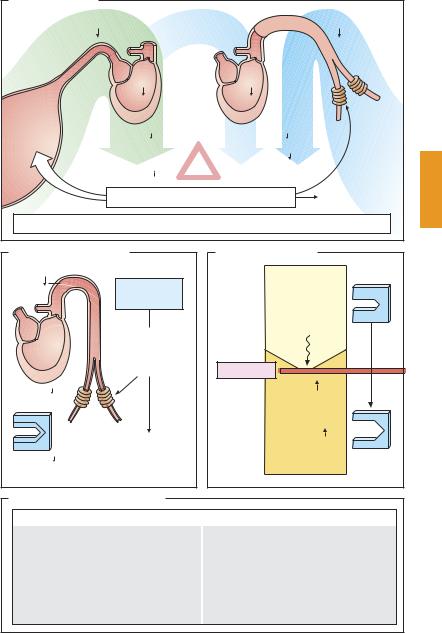 A. Effects of nitrates
 

Vol

 

Vol

 

 

 

Resistance

Venous

 

 

vessels

 

 

 

capacitance

Preload

Nitrate

Afterload

vessels

 

 

 

 

tolerance

O2-demand

 

 

 

 

O2-supply

 

 

 

 

Vasorelaxation

Relaxation of

 

 

coronary spasm

 

 

 
Nitrates, e.g., nitroglycerin (GTN), isosorbide dinitrate (ISDN)
B. Effects of Ca-antagonists

C. Effects of β -blockers

p

 

Rest

Ca-

 

 

 

 

antagonists

 

 

 

Sympathetic

 

Relaxation

system

 

 

 

of

 

 

resistance

 

 

vessels

β -Blocker

 

 

Afterload

 

Rate

 

 

 

 

Contraction

 

 

velocity

 

Relaxation of

 

O2-demand

coronary spasm

Exercise

 

D. Clinical uses of antianginal drugs

 

 

Angina pectoris
Coronary sclerosis

 

 

 

 

Coronary spasm

 

 

 

 

 

 

 

 

Therapy of attack

 

 

 

 

 

 

GTN,

ISDN

 

 

 

 

 

 

 

 

 

 

 

 

 

Nifedipine

 

 

 

 

 

 

 

 

 

 

Anginal prophylaxis

 

 

Long-acting nitrates

 

 

 

 

 

 

 

 

β− Blockers

 

 

Ca-antagonists

 

 

 

 

 

 

 

 

 
Luellmann, Color Atlas of Pharmacology © 2005 Thieme
All rights reserved. Usage subject to terms and conditions of license. 320 Therapy of Selected Diseases
Acute Coronary Syndrome— Myocardial Infarction
Myocardial infarction (MI) is caused by the acute thrombotic occlusion of a coronary artery. The myocardial region that has been cut off from its blood supply dies within a short time owing to the lack of O2 and glucose. The loss in functional muscle tissue results in reduced cardiac performance. In the infarct border zone, spontaneous pacemaker potentials may develop, leading to fatal ventricular fibrillation. The patient experiences severe pain, a feeling of annihilation, and fear of dying.
MI usually develops after rupture or erosion of an atherosclerotic plaque within a coronary blood vessel. At this site, the clotting cascade is activated and the resultant thrombus occludes the lumen. In all patients under suspicion of MI, immediate therapy has to be initiated by the emergency physician. To relieve the patient from severe pain and anxiety, morphine and a benzodiazepine need to be given. Antiplatelet drugs and heparin are necessary for preventing further formation of thrombi. Nitroglycerin can be used to reduce cardiac load. When blood pressure and heart rate have stabilized, a β-blocker can be administered to lower cardiac O2 consumption and the risk of arrhythmias. Infusion of lidocaine is required to counter the threat of arrhythmias. The chance of survival of the MI patient depends on the interval between the onset of infarction and the start of therapy.
In the hospital, ECG and laboratory tests are performed promptly to determine the subsequent treatment strategy. When cardiomyocytes die, contractile proteins (troponin) or myocardial enzymes (creatine kinase, CK-MB) are liberated and can be detected in blood for diagnostic purposes. Marked elevation of the ST segment in the ECG raises the strong suspicion of a complete occlusion of a coronary artery (STelevation MI, STEMI). In these MI patients, reperfusion of the affected area as early and as completely as
possible may be life-saving. In this situation, removal of the coronary stenosis with a balloon catheter combined with implantation of a stent offers the best chance of survival but can be performed only in specialized cardiac centers. As dilatation of the vascular stenosis by the heart catheter liberates many thrombogenic mediators, platelet aggregation must be prevented by administration of glycoprotein IIb/IIIa receptor antagonists (p.154).
If the MI patient cannot be transported to a cardiac center in time, fibrinolytic treatment of the coronary thrombus is instituted. For this purpose, fibrinolytics (streptokinase or recombinant tissue plasminogen activators) are given intravenously. Fibrinolysis is associated with an increased risk of bleeding; cerebral hemorrhages are of particular concern. A coronary bypass operation is available as a third therapeutic option.
Patients with persistent angina pectoris who lack an elevated ST segment in the ECG but show an elevated blood level of troponin may have a non-STEMI ("NSTEMI"). The most frequent cause is thrombi that have moved from the larger coronary arteries into smaller branches to produce a blockage there. If neither ST segment elevation nor biochemical MI markers can be ascertained, unstable angina pectoris is present, which is initially treated with antiplatelet drugs.
Post-MI management calls for strict adherence to a program of secondary prevention. Cardiac risk factors have to be excluded or modified, for instance, by reduction of overweight, cessation of smoking, optimal control of diabetes mellitus, and physical exercise (a dog that loves to run is an ideal training partner). Supportive pharmacotherapeutic measures include administration of platelet aggregation inhibitors, β-blockers, and ACE inhibitors.
Luellmann, Color Atlas of Pharmacology © 2005 Thieme
All rights reserved. Usage subject to terms and conditions of license.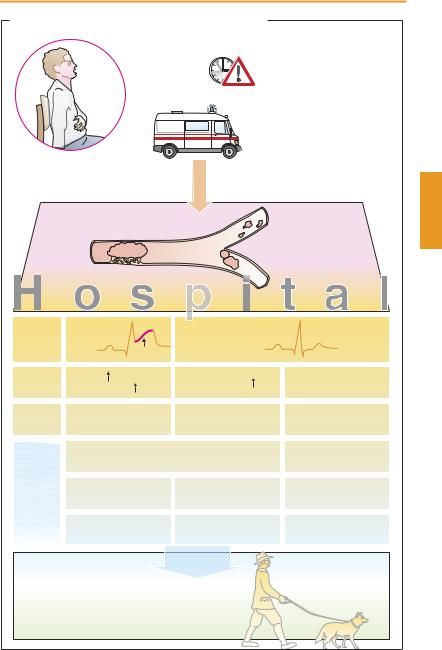 Myocardial Infarction

321

A. Myocardial infarction: pharmacotherapeutic approaches

 

 

 

 

Acute symptoms:

Acute care measures

 

 

 

severe pain

 

– Nitroglycerin (reduction of

 

 

 

sense of impending

preand afterload)

 

 

 

doom

 

– Acetylsalicylic acid

 

 

Patient

fear of dying

 

(if needed i.v.)

 

 

 

 

 

 

(inhibition of platelet

 

 

 

 

 

 

aggregation)

 

 

 

 

 

 

– Morphine (analgesia, sedation)

 

 

 

 

 

– Oxygen via nasal tube

 

 

 

 

 

 

Hospitalization

 

 

 

 

 

 

with minimal delay

 

Acute coronary syndrome

Plaque rupture

 

 

 

Angina pectoris > 20 min

 

 

 

 

 

Distal

 

 

 

 

 

 

 

 

 

 

 

 

 

 

thrombus

 

 

 

Thrombus

 

 

 

 

 

ECG

ST-elevation

T

No ST-elevation

 

 

 

 

S

 

 

 

 

 

Laboratory

CK-MB

 

 

Troponin-I, -T

 

–

 

 

Troponin-I, -T

 

 

 

 

 

 

 

 

 

Diagnosis

Myocardial infarction

Myocardial infarction

Unstable

 

 

("STEMI")

 

 

("NSTEMI")

 

angina pectoris

 

Therapy

General: O2, acetylsalicylic acid,

 

Acetylsalicylic acid,

 

 

heparin, nitrates, β -blocker, morphine

 

clopidrogel

 

 

PTCA (Stent)

 

PTCA (Stent)

 

Cardiac

 

 

GPIIb/IIIa-Antagonist

GPIIb/IIIa-Antagonist

catheterization

 

 

or

 

 

 

 

 

 

 

fibrinolysis

 

 

 

 

 

 

 

or

 

 

 

 

 

 

 

bypass surgery

 

 

 

 

 

Secondary prevention

 

 

Discharge

 

 

 

 

 

possibly:

 

 

 

 

– Acetylsalicylic acid

– Clopidrogel

 

 

 

 

– β -Blocker

– Phenprocoumon

 

 

 

– ACE inhibitor

– Statins

 

 

 

 
Luellmann, Color Atlas of Pharmacology © 2005 Thieme
All rights reserved. Usage subject to terms and conditions of license.