Добавил:
Upload
Опубликованный материал нарушает ваши авторские права? Сообщите нам.
Вуз:
Предмет:
Файл:
Color_Atlas_of_Pharmacology_3rdEd
.pdf

236 Psychopharmacologicals
Psychotomimetics (Psychedelics, Hallucinogens)
Psychotomimetics are able to elicit psychic changes like those manifested in the course of a psychosis, such as illusionary distortion of perception and hallucinations. This experience may be dreamlike in character; its emotional or intellectual transposition appears incomprehensible to the outsider.
A psychotomimetic effect is pictorially recorded in the series of portraits drawn by an artist under the influence of lysergic acid diethylamide (LSD). As the intoxicated state waxes and wanes wavelike, he reports seeing the face of the portrayed subject turn into a grimace, phosphoresce bluish-purple, and fluctuate in size as if viewed through a moving zoom lens, creating the illusion of abstruse changes in proportion and grotesque motion sequences. The diabolic caricature is perceived as threatening.
Illusions also affect the senses of hearing and smell; sounds (tones) are "experienced" as floating beams and visual impressions as odors("synesthesia").Intoxicatedindividuals see themselves temporarily from the outside and pass judgment on themselves and their condition.Theboundarybetweenselfandthe environment becomes blurred. An elating sense of being one with the other and the cosmos sets in. The sense of time is suspended;thereisneitherpresentnorpast.Objects are seen that do notexist, and experiences are feltthat transcend explanation, hence the term "psychedelic" (Greek delosis = revelation) implying expansion of consciousness.
The contents of such illusions and hallucinations can occasionally become extremely threatening (a "bad trip" or "bum trip"); the individual may feel provoked to turn violent or to commit suicide. Intoxication is followed by a phase of intense fatigue, feelings of shame, and humiliating emptiness.
The mechanism of the psychotogenic effect remains unclear. LSD and some natural hallucinogens such as psilocin, psilocybin (from fungi), bufotenin (the cutaneous gland
secretion of a toad), and mescaline (from the Mexican cactus Anhalonium lewinii—peyote) bear structural resemblance to 5HT (p.120) and chemically synthesized amphetaminederived hallucinogens (4-methyl-2,5-dime- thoxyamphetamine, 3,4-dimethoxyamphet- amine, 2,5-dimethoxy-4-ethylamphet- amine) that are thought to interact with the agonist recognition site of the 5-HT2A receptor. Conversely, most of the psychotomimetic effects are annulled by neuroleptics having 5-HT2A antagonist activity (e.g., clozapine, risperidone). The structures of other agents such as tetrahydrocannabinol (from the hemp plant, Cannabis sativa—hashish, marihuana), muscimol (from the fly agaric,
Amanita muscaria), or phencyclidine (formerly used as injectable general anesthetic) donotrevealasimilarconnection.Hallucinations may also occur as adverse effects after intake of other substances, e.g., scopolamine (medieval witches' ointment) and other cen- trally-active parasympatholytics. Naturally occurring hallucinogens are employed by priests (shamans) of nature religions to achieve a trance state. Synthetic LSD was popular among artists in the 1960s; "psychedelic art" denotes pictorial representation of experiential spaces and hallucinatory signs that elude rational comprehension.
In addition, other drugs that do not act as primary hallucinogens, such as methylenedioxyamphetamine derivatives (e.g., 3,4- dimethylene-dioxymethamphetamine, "Ecstasy") and cocaine pose a health risk. The acute intoxication is associated with a misperception of reality, a period of exhaustion follows. After prolonged use, dependence develops associated with intellectual degradation and physical decay. Withdrawal therapy is very dif cult. Marihuana frequently serves as an entry-level recreational substance for hard drugs.
Psychotomimeticsare devoid of therapeutic value; however, since their use leads to toxic effects and permanent damage, their manufacture and commercial distribution areprohibited(ScheduleI,ControlledDrugs).
Luellmann, Color Atlas of Pharmacology © 2005 Thieme
All rights reserved. Usage subject to terms and conditions of license.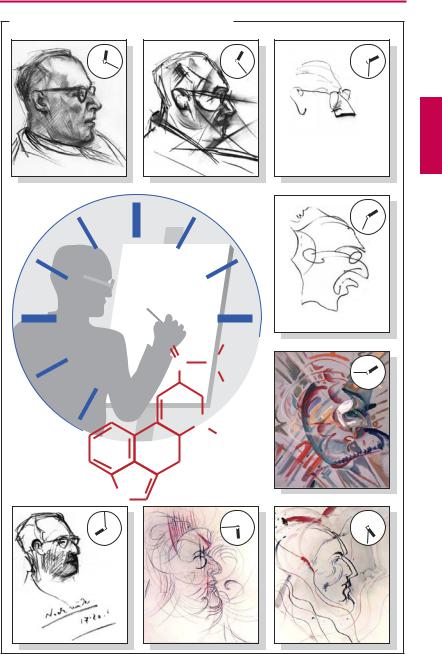 Psychotomimetics

237

A. Psychotomimetic effect of LSD in a portrait artist

 

 

O

C2H5

 

 

C

N

 

 

 

C2H5

 

 

 

N

 

 

 

CH3

 

Lysergic acid

 

 

 

diethylamide

 

 

 

0.0001 g/70 kg

HN

 

 

 

 

 
Luellmann, Color Atlas of Pharmacology © 2005 Thieme
All rights reserved. Usage subject to terms and conditions of license.

Hypothalamic and Hypophyseal Hormones
The endocrine system is controlled by the brain. Nerve cells of the hypothalamus synthesize and release messenger substances that regulate adenohypophyseal (AH) hormone release or that are themselves secreted into the body as hormones. The latter comprise the so-called neurohypophyseal (NH) hormones.
The axonal processes of hypothalamic neurons project to the neurohypophysis, where they store the nonapeptides vasopressin (= antidiuretic hormone, ADH) and oxytocin and release them on demand into the blood. Therapeutically (ADH, p.168, oxytocin, p.130), these peptide hormones are given parenterally or via the nasal mucosa.
The hypothalamic releasing hormones are peptides. They reach their target cells in the AH lobe by way of a portal vascular route consisting of two seriallyconnected capillary beds. The first of these lies in the hypophyseal stalk, the second corresponds to the capillary bed of the AH lobe. Here, the hypothalamic hormones diffuse from the blood to their target cells, whose activity they control. Hormones released from the AH cells enter the blood, in which they are distributed to peripheral organs (1).
Nomenclature of releasing hormones.
(RH – releasing hormone; RIH – release-in- hibiting hormone.)
GnRH, gonadotropin-RH = gonadorelin: stimulates the release of FSH (follicle-stim- ulating hormone) and LH (luteinizing hormone).
TRH, thyrotropin-RH (protirelin): stimulates the release of TSH (thyroid-stimulating hormone = thyrotropin).
CRH, corticotropin-RH: stimulates the release of ACTH (adrenocorticotropic hormone = corticotropin).
GRH, growth hormone-RH = somatorelin: stimulates the release of GH (growth hormone = STH, somatotropic hormone).
GRIH = somatostatin: inhibits release of STH (and also other peptide hormones including insulin, glucagon and gastrin).
PRIH inhibits the release of prolactin and is identical with dopamine.
Therapeutic control of AH cells. GnRH is used in hypothalamic infertility in women to stimulate FSH and LH secretion and to induce ovulation. For this purpose, it is necessary to mimic the physiological intermittent release ("pulsatile," approximately every 90 minutes) by means of a programmed infusion pump.
Gonadorelin superagonists are GnRH analogues that bind with very high avidity to GnRH receptors of AH cells. As a result of the nonphysiological uninterrupted receptor stimulation, initial augmentation of FSH and LH output is followed by a prolonged decrease. Buserelin, leuprorelin, goserelin, and triptorelin are used to shut down gonadal function in this manner ("chemical castration," e.g., in advanced prostatic carcinoma). Gonadorelin receptor antagonists, such as cetrorelix and ganirelix, block the GnRH receptors of AH cells and thus cause cessation of gonadotropin release (2).
The dopamine D2 agonists, bromocriptine and cabergoline (p.116), inhibit prolac- tin-releasing AH cells (indications: suppression of lactation, prolactin-producing tumors). Excessive, but not normal, growth hormone release can also be inhibited (indication: acromegaly).
Octreotide is a somatostatin analogue; it is used in the treatment of somatostatinsecreting pituitary tumors.
Growth hormone requires mediation by somatomedins for many of its actions. These are chiefly formed in the liver, including the important somatomedin C (= insulin-like growth factor 1, IGF-1). Pegvisomant is a newly developed antagonist at the GH receptor and inhibits the production of IGF-1.
Luellmann, Color Atlas of Pharmacology © 2005 Thieme
All rights reserved. Usage subject to terms and conditions of license.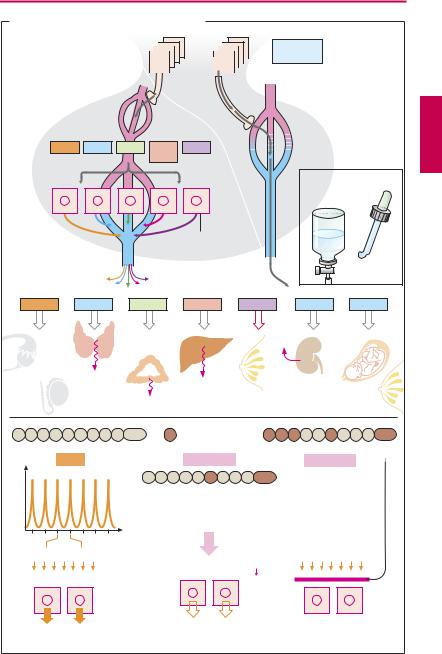 | | |
| --- | --- |
| Hypothalamic and Hypophyseal Hormones | 239 |
A. Hypothalamic and hypophyseal hormones
Hypothalamic releasing hormones
Synthesis
Release into blood

us

Hypothalam



ADH
Oxytocin
Synthesis
Release into blood
Control of synthesis and release of
AHhormones
| | | | | |
| --- | --- | --- | --- | --- |
| GnRH | TRH | CRH | GRH | PRIH |
|   |   |   | GRIH |   |
Neurohypophysis

Adenohypophysis

AH-cells

(AH)

 
Ovum maturation; Estradiol, Progesterone
Thyroxine
Spermatogenesis;
Testosterone
1
GnRH
Released amount

Pulsatile release

 
90 min
Rhythmic stimulation
AHcell
ACTH

STH(GH)

Prolactin

ADH

Oxytocin

 

Somatomedins

 

H2O

 

 

Growth

 

 

Labor

 

 

 

 

Cortisol

 

Lactation

 

Milk ejection

 

Altered AA

 

 

 

 

Buserelin

 

Cetrorelix
GnRH receptor antagonist
Superagonist
Persistent stimulation
GnRH receptor sensitivity
| | | |
| --- | --- | --- |
| FSH | LH | Cessation of hormone secretion |
2
Luellmann, Color Atlas of Pharmacology © 2005 Thieme
All rights reserved. Usage subject to terms and conditions of license.