Добавил:
Upload
Опубликованный материал нарушает ваши авторские права? Сообщите нам.
Вуз:
Предмет:
Файл:
Color_Atlas_of_Pharmacology_3rdEd
.pdf 340 Therapy of Selected Diseases
Bronchial Asthma
Definition. A recurrent, episodic shortness of breath caused by bronchoconstriction arising from airway inflammation and hyperreactivity.
Pathophysiology. One of the main pathogenetic factors is an allergic inflammation of the bronchial mucosa. For instance, leukotrienes that are formed during an IgE-medi- ated immune response (p. 72) exert a chemotactic effect on inflammatory cells. As the inflammation develops, bronchi become globally hyperreactive to spasmogenic stimuli. Thus, stimuli other than the original antigen(s) can act as triggers (A); e. g., breathing of cold air is an important trigger in exerciseinduced asthma. Cyclooxygenase inhibitors (p. 200) exemplify drugs acting as asthma triggers.
Management. Avoidance of asthma triggers is an important prophylactic measure, though not always feasible. Drugs that inhibit allergic inflammatory mechanisms or reduce bronchial hyperreactivity (glucocorticoids, "mast-cell stabilizers," and leukotriene antagonists) attack crucial pathogenetic links. Bronchodilation is achieved by inhalation of β2-sympathomimetics (with high presystemic elimination) or, in the case of chronic obstructive lung disease, the anticholinergic, tiotropium (long-acting; single daily dose).
The step scheme (B) illustrates successive levels of pharmacotherapeutic management at increasing degrees of disease severity.
Step 1. Medications of first choice for the acute attack are short-acting, aerosolized β2- sympathomimetics, e.g., salbutamol or fenoterol. Their action occurs within minutes after inhalation and lasts for 4–6 hours.
Step 2. If β2-mimetics have to be used more frequently than once a week, more severe disease is present. At this stage, management includes anti-inflammatory drugs, preferably an inhalable glucocorticoid
(p. 246). Inhalational treatment with glucocorticoids must be administered regularly, improvement being evident only after several weeks. With proper inhalational use of glucocorticoids undergoing high presystemic elimination, concern about systemic adverse effects ("cortisone fear") is unwarranted. Possible local adverse effects are oropharyngeal candidiasis and dysphonia. To minimize the risk of candidiasis, drug administration should occur before morning or evening meals. Alternatively, a "mast-cell stabilizer" (p.118) given by inhalation may prove adequately successful. Oral administration of timed-release theophylline (p. 338) is considered a further alternative, particularly so since the effect of theophylline is thought to possess an additional in- flammation-inhibiting component, apart from bronchodilation. The margin of safety is narrow (cardiac or CNS stimulation; plasma level controls!). A leukotriene antagonist (montelukast, p. 338) may also merit consideration.
Anti-inflammatory therapy is the more successful the less use is made of asneeded β2-mimetic medication.
Step 3. Continuous bronchodilator treatment is added to the low-dose glucocorticoid regimen. Preference is given to local use of a long-acting inhalable β2-mimetic (salmeterol or formoterol; p.338). If this proves insuf cient, the glucocorticoid dose is increased. Instead of a long-acting β2-mimetic, oral administration of timed-release theophylline, of a controlled release β2-agonist, or of a leukotriene antagonist would be possible.
Step 4. The dose of inhalable glucocorticoid is increased further. When this proves unsatisfactory, the active principles shown in (B) can be added on, including systemic administration of a glucocorticoid.
Luellmann, Color Atlas of Pharmacology © 2005 Thieme
All rights reserved. Usage subject to terms and conditions of license.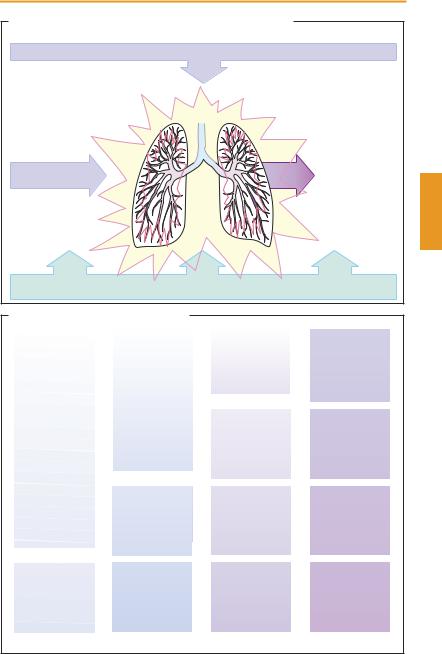 Bronchial Asthma

341

A. Asthma bronchiale, pathophysiology and therapeutic approach

 

 

Allergens

 

 

 

Inflammation

 

 

Antigens,

Bronchial hyperreactivity

 

 

 

 

 

infections,

 

 

 

ozone,

 

 

 

SO2, NO2

 

 

 

Noxious stimuli

 

Bronchial

 

 

spasm

 

Dust,

 

 

 

cold air,

 

 

 

drugs

 

 

 

Avoid

Treat

Dilate

 

exposure

inflammation

bronchi

 
B. Bronchial asthma treatment algorithm
Preferred substances

 

 

 

 

 

If needed (orally):

for adults

 

 

 

 

 

after: Global Strategy

 

 

 

 

 

Glucocorticoid

for Asthma Management

 

 

 

 

 

β 2-Mimetic

and Prevention 2002

 

 

 

 

 

 

 

 

 

 

Montelukast

 

 

 

 

 

 

 

 

 

 

 

 

 

 

Theophylline

 

 

 

 

 

 

 

 

 

 

 

 

 

 

 

 

 

 

 

 

 

 

Maintained bronchodilation

 

 

 

 

 

 

 

Long-acting β 2-mimetic by inhalation

 

 

 

 

 

 

 

 

 

 

 

 

 

 

 

 

 

 

Antiinflammatory treatment, inhalative, chronically

 

 

 

 

Glucocorticoid with high presystemic elimination

 

 

 

 

low dose

medium dose

high dose

 

 

 

 

 

 

 

 

 

 

 

 

 

Bronchodilation as needed: short-acting inhalative β 2-mimetics

 

 

< 1 x /week

 

< 4 x/day

 

as needed

 

 

–

 

 

Mild asthma

 

Moderate asthma

 

Severe asthma
Luellmann, Color Atlas of Pharmacology © 2005 Thieme
All rights reserved. Usage subject to terms and conditions of license. 342 Therapy of Selected Diseases
Emesis
In emesis the stomach empties in a retrograde manner. The pyloric sphincter is closed while cardia and esophagus relax to allow gastric contents to be propelled orad by a forceful synchronous contraction of abdominal wall muscles and diaphragm. Closure of the glottis and elevation of the soft palate prevent entry of vomitus into the trachea and the nasopharynx. As a rule, there is prodromal salivation or yawning. Coordination between these different stages depends on the medullary center for emesis, which can be activated by diverse stimuli. These are conveyed via the vestibular apparatus, visual, olfactory, and gustatory inputs, as well as viscerosensory afferents from the upper alimentary tract. Psychic stress may also activate the emetic center. The mechanisms underlying motion sickness (kinetosis, sea sickness) and vomiting during pregnancy are still unclear.
Polar substances cannot reach the emetic center itself because it is protected by the blood–brain barrier. However, they can indirectly excite the center by activating chemoreceptors in the area postrema or receptors on peripheral vagal nerve endings.
Antiemetic therapy. Vomiting can be a useful reaction enabling the body to eliminate an orally ingested poison. Antiemetic drugs are used to prevent kinetosis, pregnancy vomiting, cytotoxic drug-induced or postoperative vomiting, as well as vomiting due to radiation therapy.
Motion sickness. Effective prophylaxis can be achieved with the parasympatholytic scopolamine (p.110) and H1-antihistaminics (p.118) of the diphenylmethane type (e. g., diphenhydramine, meclizine). Antiemetic activity is not a property shared by all parasympatholytics or antihistaminics. The ef - cacy of the drugs mentioned depends on the actual situation of the individual (gastric filling, ethanol consumption), environmental conditions (e. g., the behavior of fellow trav-
elers), and the type of motion experienced. The drugs should be taken 30 minutes before the start of travel and repeated every 4–6 hours. Scopolamine applied transdermally through an adhesive patch 6–8 hours before travel can provide effective protection for up to 3 days.
Pregnancy vomiting is prone to occur in the first trimester; thus, pharmacotherapy would coincide with the period of maximal fetal vulnerability to chemical injury. Accordingly, antiemetics (antihistaminics, or neuroleptics if required; p. 232) should be used only when continuous vomiting threatens to disturb electrolyte and water balance to a degree that places the fetus at risk.
Drug-induced vomiting. To prevent vomiting during anticancer chemotherapy (especially, with cisplatin), effective use can be made of 5-HT3 receptor antagonists (e. g., ondansetron, granisetron, and tropisetron), alone or in combination with glucocorticoids (methylprednisolone, dexamethasone). Anticipatory nausea and vomiting, resulting from inadequately controlled nausea and emesis in patients undergoing cytotoxic chemotherapy, can be attenuated by a benzodiazepine such as lorazepam. Dopamine ag- onist-induced nausea in parkinsonian patients (p.188) can be counteracted with D2- receptor antagonists that penetrate poorly into the CNS (e. g., domperidone, sulpiride).
Metoclopramide is effective in nausea and vomiting of gastrointestinal origin (5-HT4 receptor agonism) and at high dosage also in chemotherapy- and radiation-induced sickness (low potency antagonism at 5-HT3 and D3-receptors). Phenothiazines (e. g., levomepromazine, trimeprazine, and perphenazine) or metoclopramide may suppress nausea/emesis that follows certain types of surgery or is due to opioid analgesics, gastrointestinal irritation, uremia, and diseases accompanied by elevated intracranial pressure.
The synthetic cannabinoids dronabinol and nabilone have antiemetic effects that may benefit AIDS and cancer patients.
Luellmann, Color Atlas of Pharmacology © 2005 Thieme
All rights reserved. Usage subject to terms and conditions of license.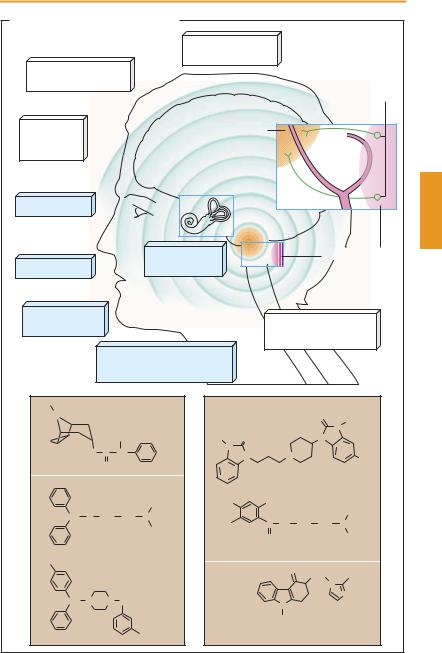 Emesis 343
A. Emetic stimuli and antiemetic drugs
Kinetoses
e.g., sea sickness
Pregnancy
vomiting
Chemoreceptors
Emetic center
Psychogenic vomiting
Sight

 

 

 

Vestibular

Area postrema

Olfaction

system

 

 

 

Taste

 

Chemoreceptors

 

 

(drug-induced

 

 

vomiting)
Intramucosal sensory nerve endings in mouth, pharynx, and stomach
H3C Parasympatholytics
N
OCH2OH
O C CH
O Scopolamine
H1-Antihistamines
CH3
CH O CH2 CH2 N
CH3
Diphenhydramine
Cl
Meclozine
CH N N CH2
CH3
 

Dopamine D2 antagonists

 

 

 

 

 

 

O

H

 

 

 

 

 

N

 

 

 

 

 

 

H

O

 

 

 

N

 

N

 

 

 

 

 

 

 

N

 

N

 

 

Cl

 

 

 

 

 

Domperidone

H2N

 

OCH3

 

 

 

 

 

 

 

 

 

C2H5

Cl

 

C

NH

CH2

CH2

N

 

 

O

 

 

 

C2H5

Metoclopramide

 

 

 

 

 

 

 

 

O

 

CH2

CH3

 

 

 

 

 

 

 

 

 

 

N

 

 

 

 

 

 

 

N

Ondansetron

 

N

 

 

 

 

CH3

 

 

 

 

 

 

 

 

 

 

5-HT3-antagonist

 
Luellmann, Color Atlas of Pharmacology © 2005 Thieme
All rights reserved. Usage subject to terms and conditions of license.