Добавил:
Upload
Опубликованный материал нарушает ваши авторские права? Сообщите нам.
Вуз:
Предмет:
Файл:
Color_Atlas_of_Pharmacology_3rdEd
.pdf
Therapy of Selected Diseases
Hypertension

314

 

 

Angina Pectoris

316

 

 

Antianginal Drugs

318

 

Myocardial Infarction

320

 

Congestive Heart Failure 322

 

Hypotension

324

 

 

Gout 326

 

 

 

 

Obesity

328

 

 

 

 

Osteoporosis

330

 

 

Rheumatoid Arthritis

332

 

Migraine

334

 

 

 

 

Common Cold

336

 

 

Atopy and Antiallergic Therapy

338

Bronchial Asthma

340

 

Emesis

342

 

 

 

 

Alcohol Abuse

344

 

 

Local Treatment of Glaucoma

346
Luellmann, Color Atlas of Pharmacology © 2005 Thieme
All rights reserved. Usage subject to terms and conditions of license. 314 Therapy of Selected Diseases
Hypertension
Cardiovascular diseases are the leading cause of death in the Western world. Basically, atherosclerosis manifests itself in three major organs and thereby leads to severe secondary diseases. Coronary disease results from atherosclerosis of the coronary arteries and culminates in myocardial infarction when vessels are occluded by a thrombus. In the brain, atherosclerosis gives rise to arterial thrombi or ruptures that result in a stroke. Atherosclerosis in the kidney leads to renal failure. Since these diseases significantly lower life expectancy, early recognition and elimination of risk factors (hypertension, diabetes mellitus, hyperlipidemia, and smoking) that promote atherosclerosis are essential.
Hypertension is considered to be present when systolic blood pressure exceeds 140 mmHg and the diastolic value lies above 90 mmHg. Since cardiovascular risk increases over a wide range with increasing blood pressure, no "threshold value" exists that defines hypertension unequivocally. If other risk factors are present, blood pressure should be brought down to an even lower level (in diabetes mellitus below 130/80 mmHg). Therapeutic objectives comprise the prevention of organ damage and reduction of mortality. Because these target parameterscannot bemeasured in individual patients, the "surrogate parameter" of lowering of blood pressure is defined as the immediate goal. Before drug therapy is instituted, the patient has to be instructed to lower body weight (BMI < 30), to reduce consumption of alcohol (in men < 20–30 g ethanol/day; in women 10–20 g/day), to stop smoking, and to restrict the daily intake of NaCl (to 6 g/day).
The drugs of first choice in antihypertensive therapy are those that have been unambiguously shown in clinical studies to reduce mortality of hypertension—diuretics, ACE inhibitors and AT1 antagonist, β-blockers, and calcium antagonists.
Among the diuretics, thiazides are particularly recommended for treatment of hypertension. To avoid undue loss of K+, combination with triamterene or amiloride is often advantageous.
ACE inhibitors prevent the formation of angiotensin II by angiotensin-converting enzyme (ACE) and thereby reduce peripheral vascular resistance and blood pressure. In addition, ACE inhibitors prevent the effect of angiotensin II on protein synthesis in myocardial and vascular muscle cells, and thus diminish ventricular hypertrophy. As adverse effects, ACE inhibitors may provoke dry cough, impaired renal function, and hyperkalemia. When ACE inhibitors are poorly tolerated, an AT1-receptor antagonist can be given.
From the group of antagonists at β-adre- noceptors, β1-selective blockers are mainly used (e. g., metoprolol). Owing to blockade of β2-receptors, β-blockers can impair pulmonary function, particularly in patients with chronic obstructive lung disease.
Among calcium antagonists, dihydropyridines with long half-lives are advantageous because short-acting drugs, which rapidly lower blood pressure, are prone to elicit reflex tachycardia.
Fewer that 50% of hypertensive patients are adequately managed by monotherapy. If the monotherapy fails, either the drug should be discontinued or two agents should be combined in reduced dosage (thiazide and β-blocker, or/and ACE inhibitor, or/and calcium-antagonist). Combinations that abolish the counterregulation against the primary antihypertensive drug are especially effective. For instance, diuretic-induced loss of Na+ and water leads to a compensatory activation of the renin–angiotensin system that can be eliminated by ACE inhibitors or AT1-antagonists.
Luellmann, Color Atlas of Pharmacology © 2005 Thieme
All rights reserved. Usage subject to terms and conditions of license.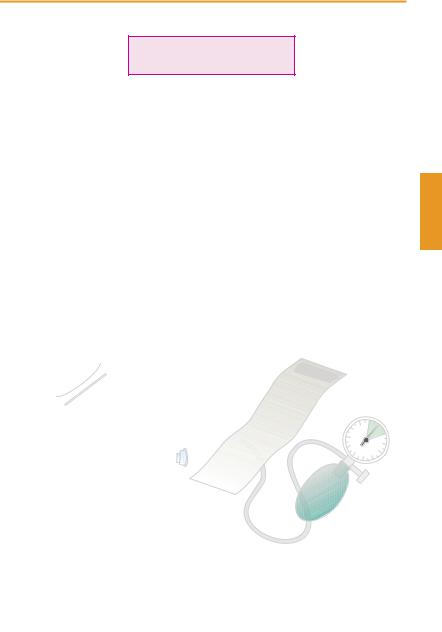 Hypertension 315
A. Risk factors of atherosclerosis and secondary diseases
R i s k f a c t o r s
Hypertension, hypercholesterolemia, diabetes mellitus, smoking
Brain

Heart

Athero-

 

sclerosis

 

Kidney

Coronary

 

Renal

heart disease

Myocardial

failure

Stroke:

infarction

Infarction

Congestive

Hemorrhage

heart failure

 

Diminished life expectancy

 
B. Therapy of hypertension
H y p e r t e n s i o n > 1 4 0 / 9 0 m m H g
Healthy diet (low NaCl), weight reduction, no smoking, alcohol restriction, exercise
If antihypertensive effect insufficient, add:
β -Blocker or ACE inhibitor,
angiotensin receptor antagonist or calcium antagonist
If still not sufficient:
Combination therapy:
+ clonidine or α 1-antagonists or vasodilators
Therapeutic aim:
Lowering of blood pressure
(< 140/90, in diabetes < 130/80 mmHg); and, hence, reduction in cardiovascular mortality
Luellmann, Color Atlas of Pharmacology © 2005 Thieme
All rights reserved. Usage subject to terms and conditions of license.
316 Therapy of Selected Diseases
Angina Pectoris
An anginal pain attack signals a transient hypoxia of the myocardium. As a rule, the oxygen deficit results from inadequate myocardial blood flow due to narrowing of larger coronary arteries. The underlying causes are most commonly an atherosclerotic change of the vascular wall (coronary sclerosis with exertional angina); very infrequently a spasmodic constriction of a morphologically healthy coronary artery (coronary spasm with angina at rest; variant angina); or more often a coronary spasm occurring in an atherosclerotic vascular segment.
The goal of treatment is to prevent myocardial hypoxia either by raising blood flow (oxygen [O2] supply) or by lowering myocardial oxygen demand (O2 demand) (A).
Factors determining oxygen supply. The force driving myocardial blood flow is the pressure difference between the coronary ostia (aortic pressure) and the opening of the coronary sinus (right atrial pressure). Blood flow is opposed by coronary flow resistance, which includes three components:
1.Owing to their large caliber, the proximal coronary segments do not normally contribute significantly to flow resistance. However, in coronary sclerosis or spasm, pathological obstruction of flow occurs here. Whereas the more common coronary sclerosis cannot be overcome pharmacologically, the less common coronary spasm can be relieved by appropriate vasodilators (nitrates, nifedipine).
2.The caliber of arteriolar resistance vessels controls blood flow through the coronary bed. Arteriolar caliber is determined by myocardial O2 tension and local concentrations of metabolic products, and is "automatically" adjusted to the required blood flow (B, healthy subject). This metabolic autoregulation explains why anginal attacks in coronary sclerosis occur only during exercise (B, patient). At rest, the pathologically elevated flow resistance is
compensated by a corresponding decrease in arteriolar resistance, ensuring adequate myocardial perfusion. During exercise, further dilation of arterioles is impossible. As a result, there is ischemia associated with pain. Pharmacological agents that act to dilate arterioles would thus be inappropriate because at rest they may divert blood from underperfused into healthy vascular regions on account of redundant arteriolar dilation. The resulting "steal effect" could provoke an anginal attack.
3.The intramyocardial pressure, i. e., systolic squeeze, compresses the capillary bed. Myocardial blood flow is halted during systole and occurs almost entirely during diastole. Diastolic wall tension ("preload") depends on ventricular volume and filling pressure. The organic nitrates reduce preload by decreasing venous return to the heart.
Factors determining oxygen demand. The heart muscle cell consumes the most energy to generate contractile force. O2 demand rises with an increase in (1) heart rate, (2) contraction velocity, (3) systolic wall tension
("afterload"). The last depends on ventricular volume and the systolic pressure needed to empty the ventricle. As peripheral resistance increases, aortic pressure rises and, hence, the resistance against which ventricular blood is ejected. O2 demand is lowered by β-blockers and calcium-antagonists, as well as by nitrates (p. 318).
Luellmann, Color Atlas of Pharmacology © 2005 Thieme
All rights reserved. Usage subject to terms and conditions of license.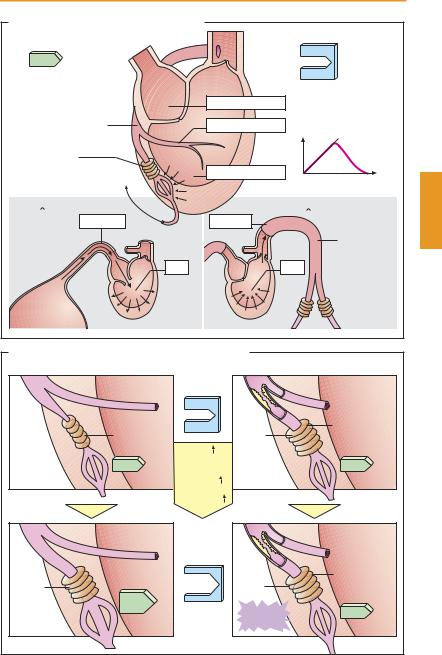 Angina Pectoris

 

317

A. O2 supply and demand of the myocardium

 

 

 

O2-supply

 

O

2

-demand

during

 

 

 

 

during

diastole

 

 

systole

 

 

Flow resistance:

Left atrium

1. Heart rate

 

1. Coronary arterial

Coronary artery

2. Contraction

caliber

 

velocity

 

 

2. Arteriolar

 

p-force

 

 

caliber

Left ventricle

 

 

Right

 

 

Time

atrium

 

 

 

3. Diastolic

 

3. Systolic wall

 

wall tension

 

tension

 

 

= Preload

 

= Afterload

 

 

Pressure p

Pressure p

 

 

 

Venous

 

Aorta

 

 

 

 

supply

 

 

 

 

Vol.

 

Vol.

 

 

 

 

Peripheral

 

 

resistance

Venous

 

 

 

 

reservoir

 

 

 

 

B. Pathogenesis of exertion angina in coronary sclerosis

 

 

 

Healthy subject

Patient with coronary sclerosis

 

Rest

Compensa-

 

 

 

 

tory

 

 

 

 

dilatation of

Narrow

Wide

arterioles

 

 

 

 

Rate

 

 

 

Contraction

 

 

 

 

velocity

 

 

 

Afterload

 

 

 

 

Exercise

 

 

 

 

 

Additional

 

 

dilatation

 

 

not possible

Wide

Wide

 

 

 

 

Angina

 

 

 

 

pectoris

 

 

 
Luellmann, Color Atlas of Pharmacology © 2005 Thieme
All rights reserved. Usage subject to terms and conditions of license.