Добавил:
Upload
Опубликованный материал нарушает ваши авторские права? Сообщите нам.
Вуз:
Предмет:
Файл:
Color_Atlas_of_Pharmacology_3rdEd
.pdf

184 Drugs Acting on the Motor System
Muscle Relaxants
Muscle relaxants cause a flaccid paralysis of skeletal musculature by binding to motor end plate cholinoceptors, thus blocking neuromuscular transmission (p.182). According to whether receptor occupancy leads to a blockade or an excitation of the end plate, one distinguishes nondepolarizing from depolarizing muscle relaxants (p.186). As adjuncts to general anesthetics, muscle relaxants help to ensure that surgical procedures are not disturbed by muscle contractions of the patient (p.214).
Nondepolarizing Muscle Relaxants
Curare is the term for plant-derived arrow poisons of South American natives. When struck by a curare-tipped arrow, an animal suffers paralysis of skeletal musculature within a short time after the poison spreads through the body; death follows because respiratory muscles fail ("peripheral respiratory paralysis"). Killed game can be eaten without risk because absorption of the poison from the gastrointestinal tract is virtually nil. The curare ingredient of greatest medicinal importance is d-tubocurarine. This compound contains a quaternary nitrogen atom (N) and, at the opposite end of the molecule, a tertiary N that is protonated at physiological pH. These two positively charged N atoms are common to all other muscle relaxants. The fixed positive charge of the quaternary N accounts for the poor enteral absorbability. d-Tubocurarine is given by i.v. injection (average dose ~ 10 mg). It binds to the end-plate nicotinic cholinoceptors without exciting them, acting as a competitive antagonist toward ACh. By preventing the binding of released ACh, it blocks neuromuscular transmission. Muscular paralysis develops within about 4 minutes. d- Tubocurarine does not penetrate into the CNS.The patient would thus experience motor paralysis and inability to breathe, while remaining fully conscious but incapable of
expressing anything. For this reason, care must be taken to eliminate consciousness by administration of an appropriate drug (general anesthesia) before using a muscle relaxant. The effect of a single dose lasts about 30 minutes.
The duration of the effect of d-tubocura- rine can be shortened by administering an acetylcholinesterase inhibitor, such as neostigmine (p.106). Inhibition of ACh breakdown causes the concentration of ACh released at the end plate to rise. Competitive "displacement" by ACh of d-tubocurarine from the receptor allows transmission to be restored.
Unwanted effects produced by d-tubocu- rarine result from a non-immune-mediated release of histamine from mast cells leading to bronchospasm, urticaria, and hypotension. More commonly, a fall in blood pressure can be attributed to ganglionic blockade by d-tubocurarine.
Pancuronium is a synthetic compound now frequently used and not likely to cause histamine release or ganglionic blockade. Increased heart rate and blood pressure are attributed to blockade of cardiac M2-choli- noceptors.
Other nondepolarizing muscle relaxants include the pancuronium congeners vecuronium and rocuronium, in addition to alcuronium derived from the alkaloid toxiferin. Atracurium is remarkable because it undergoes spontaneous nonenzymatic cleavage; termination of its effect therefore does not depend on hepatic or renal elimination. Mivacurium is structurally related to alcuronium; it is rapidly cleaved by cholinesterases and, hence, is short-acting like the depolarizing blocker succinylcholine (p.186). Rocuronium possesses the fastest onset of action (90 seconds) in this group of substances. The onset of action of nondepolarizing muscle relaxants can be shortened by giving a small nonrelaxant dose minutes before the intubation dose ("priming principle").
Luellmann, Color Atlas of Pharmacology © 2005 Thieme
All rights reserved. Usage subject to terms and conditions of license.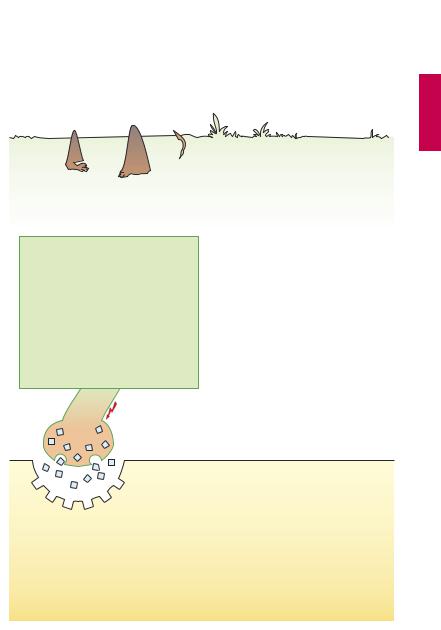 | | |
| --- | --- |
| Nondepolarizing Muscle Relaxants | 185 |
A. Nondepolarizing muscle relaxants

 

 

 

 

Arrow poison of indigenous South Americans

 

 

 

 

d-Tubocurarine

 

 

Pancuronium

O

CH3

(no enteral absorption)

 

 

 

 

 

 

 

 

 

C

 

 

 

OH

 

 

 

 

 

O

 

 

 

CH3

 

 

 

CH3

 

 

 

 

 

 

 

H3C

 

CH3

O

 

 

 

+N

+

 

N

+

 

 

 

CH2

O

 

 

 

 

 

 

N

 

H3C

 

 

 

 

 

 

O

 

 

 

 

 

 

 

 

 

 

O

 

 

 

 

 

 

 

 

 

 

 

 

 

 

 

 

 

+

C

 

 

 

 

 

 

OH

C

N

O

 

CH3

 

 

 

 

O

H2 CH3

H

 

 

 

 

 

 

CH3

 

 

 

 

 

 

 

 

 

ACh

 

 

 

 

 

 

 

Blockade of ACh receptors

 

 

 

 

 

 

No depolarization of

 

 

 

 

 

 

 

end plate

 

 

 

 

 

 

 

 

 

 

 

 

 

Artificial

 

 

Antidote:

Relaxation of skeletal muscles

 

ventilation

 

 

cholinesterase

 

 

 

 

 

necessary

 

 

inhibitors

(Respiratory paralysis)

 

 

(plus general

 

 

e.g., neostigmine

 

 

 

 

 

anesthesia!)

 

 

 

 
Luellmann, Color Atlas of Pharmacology © 2005 Thieme
All rights reserved. Usage subject to terms and conditions of license.

186 Drugs Acting on the Motor System
Depolarizing Muscle Relaxants
In this drug class, only succinylcholine (succinyldicholine, suxamethonium, A) is of clinical importance. Structurally, it can be described as a double ACh molecule. Like ACh, succinylcholine acts as agonist at end-plate nicotinic cholinoceptors, yet it produces muscle relaxation. Unlike ACh, it is not hydrolyzed by acetylcholinesterase. However, it is a substrate of nonspecific plasma cholinesterase (serum cholinesterase, p.104). Succinylcholine is degraded more slowly than is ACh and therefore remains in the synaptic cleft for several minutes, causing an end plate depolarization of corresponding duration. This depolarization initially triggers a propagated action potential (AP) in the surrounding muscle cell membrane leading to contraction of the muscle fiber. After i.v. injection, fine muscle twitches (fasciculations) can be observed. A new AP can be elicited near the end plate only if the membrane has been unexcited for a suf - cient interval and allowed to repolarize.
The AP is due to opening of voltage-gated Na-channel proteins, allowing Na+ ions to flow through the sarcolemma and to cause depolarization. After a few milliseconds, the Na+ channels close automatically ("inactivation"), the membrane potential returns to resting levels, and the AP is terminated. As long as the membrane potential remains incompletely repolarized, renewed opening of Na+ channels, hence a new AP, is impossible. In the case ofreleased ACh, rapid breakdown by ACh esterase allows repolarization of the end plate and thus a return of Na+ channel excitability in the adjacent sarcolemma. With succinylcholine, however, there is a persistent depolarization of the end plate and adjoining membrane regions. Because the Na+ channels remain inactivated, an AP cannot be triggered in the adjacent membrane.
The effect of a standard dose of succinylcholine lasts only about 10 minutes. It is often given at the start of anesthesia to facil-
itate intubation of the patient. As expected, cholinesterase inhibitors are unable to counteract the effect of succinylcholine. In the few patients with a genetic deficiency in pseudocholinesterase (= nonspecific cholinesterase), the succinylcholine effect is significantly prolonged.
Since the persistent depolarization of end plates is associated with an ef ux of K+ ions, hyperkalemia can result (risk of cardiac arrhythmias). Only in a few muscle types (e.g., extraocular muscle) are muscle fibers supplied with multiple end plates and therefore capable of a graded response. Here succinylcholine causes depolarization distributed over the entire fiber, which responds with a contracture. Intraocular pressure rises, which must be taken into account during eye surgery.
In skeletal muscle fibers whose motor nerve has been severed, ACh receptors spread over the entire cell membrane after a few days. In this case, succinylcholine would evoke a persistent depolarization with contracture and hyperkalemia. These effects are likely to occur in polytraumatized patients undergoing follow-up surgery. The use of succinylcholine is waning because of its marked adverse effects (rhabdomyolysis; hyperkalemia; cardiac arrest)
Clinical use of muscle relaxants. Among the available neuromuscular blockers, succinylcholine displays the fastest onset of action. The patient can be intubated as early as 30–60 seconds after intravenous injection ("rapid sequence intubation"), which is important in emergency situations with an increased risk of aspiration (e.g., ileus, full stomach, head trauma). Postoperative muscle pain due to succinylcholine can be prevented by preinjection of a small dose of a nondepolarizing blocker ("precurarization"). In combination with propofol p.218), rocuronium (p.184) creates intubation conditions comparable to those obtained with succinylcholine.
Luellmann, Color Atlas of Pharmacology © 2005 Thieme
All rights reserved. Usage subject to terms and conditions of license.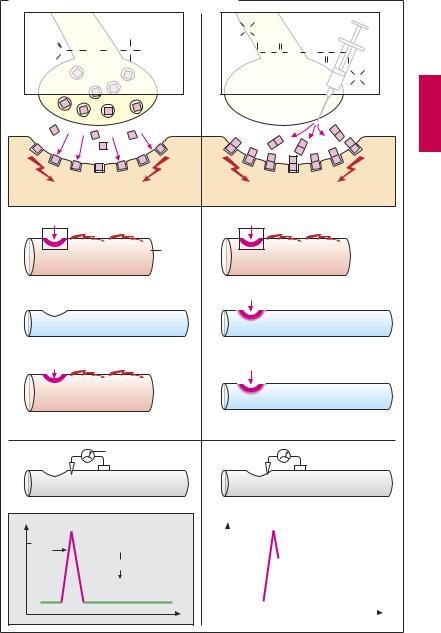 | | |
| --- | --- |
| Depolarizing Muscle Relaxants | 187 |
A. Action of the depolarizing relaxant succinylcholine
| | | |
| --- | --- | --- |
| O |   | CH3 |
| C O CH | CH | +N CH |
| 2 | 2 | 3 |
| H3C |   | CH |
|   |   | 3 |
Acetylcholine
| | |
| --- | --- |
|   | Depolarization |
| ACh | Propagation of |
|   | action potential (AP) |
Skeletal Contraction muscle
cell
1Rapid ACh cleavage by acetylcholine esterases
2Repolarization of end plate
ACh
New AP
3and contraction elicited
Membrane potential
Na+-channel
Closed

(opening not possible)
Repolarization
Closed
(opening possible)
H3C

CH3

 

 

 

+

 

 

 

N

 

 

H3C

CH2 O

 

 

 

H2C O C CH2 CH2 C O CH2

 

 

 

O H2C

CH3

 

 

+

 

 

Succinylcholine

N

 

 

H3C

CH3

 

 
Depolarization
Succinylcholine
Contraction
Succinylcholine not degraded by acetylcholine esterases
Persistent depolarization of end plate
New AP and
contraction cannot be elicited
 

 

 

 

 

 

 

 

 

 

 

 

 

 

 

 

 

 

 

 

potential

 

0 [mV]

 

Persistent depolarization

 

 

 

 

 

Membrane

 

 

 

 

No repolarization,

 

 

 

 

 

renewed opening of

 

 

 

 

 

Na+-channel

 

 

 

 

 

impossible

 

 

 

 

 

 

 

 

 

 

 

 

 

 

 

 

 

 

 

 

 

 

 

 
Luellmann, Color Atlas of Pharmacology © 2005 Thieme
All rights reserved. Usage subject to terms and conditions of license.