Добавил:
Upload
Опубликованный материал нарушает ваши авторские права? Сообщите нам.
Вуз:
Предмет:
Файл:
Color_Atlas_of_Pharmacology_3rdEd
.pdf

102 Drugs Acting on the Parasympathetic Nervous System
Parasympathetic Nervous System
Responses to activation of the parasympathetic system. Parasympathetic nerves regulate processes connected with energy assimilation (food intake, digestion, absorption) and storage. These processes operate when the body is at rest, allowing a decreased tidal volume (increased bronchomotor tone) and decreased cardiac activity. Secretion of saliva and intestinal fluids promotes the digestion of food stuffs; transport of intestinal contents is speeded up because of enhanced peristaltic activity and lowered tone of sphincteric muscles. To empty the urinary bladder (micturition), wall tension is increased by detrusor activation with a concurrent relaxation of sphincter tonus.
Activation of ocular parasympathetic fibers (see below) results in narrowing of the pupil and increased curvature of the lens, enabling near objects to be brought into focus (accommodation).
Anatomy of the parasympathetic system.
The cell bodies of parasympathetic preganglionic neurons are located in the brainstem and the sacral spinal cord. Parasympathetic outflow is channeled from the brainstem (1) through the third cranial nerve (oculomotor n.) via the ciliary ganglion to the eye; (2) through the seventh cranial nerve (facial n.) via the pterygopalatine and submaxillary
ganglia to lachrymal glands and salivary glands (sublingual, submandibular), respectively; (3) through the ninth cranial nerve (glossopharyngeal n.) via the otic ganglion to the parotid gland; and (4) via the tenth cranial nerve (vagus n.) to intramural ganglia in thoracic and abdominal viscera. Approximately 75% of all parasympathetic fibers are contained within the vagus nerve. The neurons of the sacral division innervate the distal colon, rectum, bladder, the distal ureters, and the external genitalia.
Acetylcholine (ACh) as a transmitter. ACh serves as mediator at terminals of all postganglionic parasympathetic fibers, in addition to fulfilling its transmitter role at ganglionic synapses within both the sympathetic and parasympathetic divisions and the motor end plates on striated muscle (p.182). However, different types of receptors are present at these synaptic junctions (see table). The existence of distinct cholinoceptors at different cholinergic synapses allows selective pharmacological interventions.
Localization of Receptors

Agonist

Antagonist

Receptor Type

 

 

 

 

Target tissues of 2nd para-

ACh

Atropine

Muscarinic (M) cholino-

sympathetic neurons; e.g.,

Muscarine

 

ceptor; G-protein-coupled

smooth muscle, glands

 

 

receptor protein with 7

 

 

 

transmembrane domains

 

 

 

 

 

Sympathetic & parasympa-

ACh

Trimethaphan

¸

Ganglionic type

thetic gangliocytes

Nicotine

 

Ô

Nicotinic (N) cholinocep-

 

 

 

Ô

 

 

 

 

Motor end plate in skeletal

ACh

d-Tubocurarine

˝

tor ligand-gated cation

muscle

Nicotine

 

Ô

channel

 

 

 

Ô

 

 

 

 

˛

Muscle type

 

 

 

 

 
Luellmann, Color Atlas of Pharmacology © 2005 Thieme
All rights reserved. Usage subject to terms and conditions of license.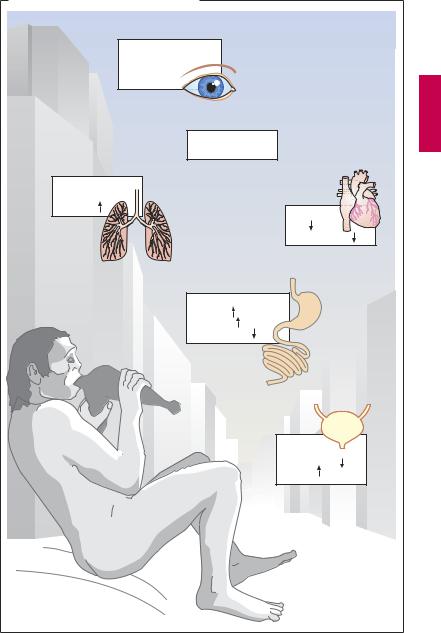 | | |
| --- | --- |
| Parasympathetic Nervous System | 103 |
A. Responses to parasympathetic activation
Eyes:
Accommodation
for near vision,
miosis
Saliva:
copious, liquid
Bronchi:
constriction
secretion
Heart:
rate
blood pressure
GI tract:
secretion
peristaltis
sphincter tone
Bladder:
sphincter tone
detrusor
Luellmann, Color Atlas of Pharmacology © 2005 Thieme
All rights reserved. Usage subject to terms and conditions of license.

104 Drugs Acting on the Parasympathetic Nervous System
Cholinergic Synapse
Acetylcholine (ACh) is the transmitter at postganglionic synapses of parasympathetic nerve endings. It is highly concentrated in synaptic storage vesicles densely present in the axoplasm of the presynaptic terminal. ACh is formed from choline and activated acetate (acetylcoenzyme A), a reaction catalyzed by the cytosolic enzyme choline acetyltransferase. The highly polar choline is taken up into the axoplasm by the specific choline-transporter (CHT) localized to membranes of cholinergic axons terminals and a subset of storage vesicles. During persistent or intensive stimulation, the CHT ensures that ACh synthesis and release are sustained. The newly formed ACh is loaded into storage vesicles by the vesicular ACh transporter (VAChT). The mechanism of transmitter release is not known in full detail. The vesicles are anchored via the protein synapsin to the cytoskeletal network. This arrangement permits clustering of vesicles near the presynaptic membrane while preventing fusion with it. During activation of the nerve membrane, Ca2+ is thought to enter the axoplasm through voltage-gated channels and to activate protein kinases that phosphorylate synapsin. As a result, vesicles close to the membrane are detached from their anchoring and allowed to fuse with the presynaptic membrane. During fusion, vesicles discharge their contents into the synaptic gap and simultaneously insert CHT into the plasma membrane. ACh quickly diffuses through the synaptic gap (the acetylcholine molecule is a little longer than 0.5 nm; the synaptic gap as narrow as 20–30 nm). At the postsynaptic effector cell membrane, ACh reacts with its receptors. As these receptors can also be activated by the alkaloid muscarine, they are referred to as muscarinic (M-) ACh receptors. In contrast, at ganglionic and motor end plate (p.182) ACh receptors, the action of ACh is mimicked by nicotine and, hence, mediated by nicotinic ACh receptors.
Released ACh is rapidly hydrolyzed and inactivated by a specific acetylcholinesterase, localized to preand postjunctional membranes (basal lamina of motor end plates), or by a less specific serum cholinesterase (butyrylcholinesterase), a soluble enzyme present in serum and interstitial fluid.
M-ACh receptors can be divided into five subtypes according to their molecular structure, signal transduction, and ligand af nity. Here, the M1, M2 and M3 receptor subtypes are considered. M1 receptors are present on nerve cells, e.g., in ganglia, where they enhance impulse transmission from preganglionic axon terminals to ganglion cells. M2 receptors mediate acetylcholine effects on the heart: opening of K+ channels leads to slowing of diastolic depolarization in sinoatrial pacemaker cells and a decrease in heart rate. M3 receptors play a role in the regulation of smooth muscle tone, e.g., in the gut and bronchi, where their activation causes stimulation of phospholipase C, membrane depolarization, and increase in muscle tone. M3 receptors are also found in glandular epithelia, which similarly respond with activation of phospholipase C and increased secretory activity. In the CNS, where all subtypes are present, ACh receptors serve diverse functions ranging from regulation of cortical excitability, memory and learning, pain processing, and brainstem motor control.
In bloodvessels,therelaxantaction ofACh on muscle tone is indirect, because it involves stimulation of M3-cholinoceptors on endothelial cells that respond by liberating NO (nitrous oxid = endothelium-derived relaxing factor). The latter diffuses into the subjacent smooth musculature, where it causes a relaxation of active tonus (p.124).
Luellmann, Color Atlas of Pharmacology © 2005 Thieme
All rights reserved. Usage subject to terms and conditions of license.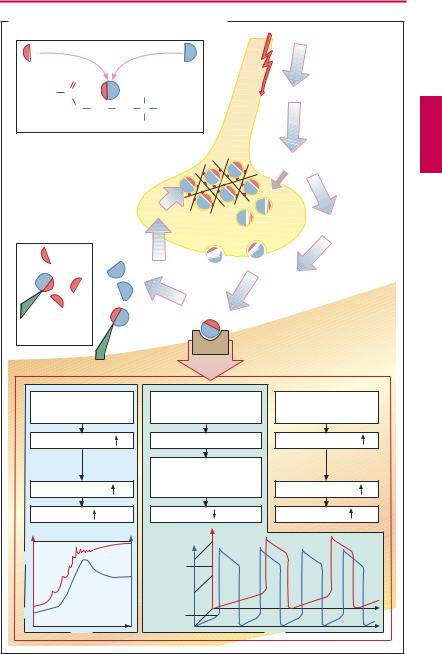 Cholinergic Synapse

105

A. Acetylcholine: release, effects, and degradation

 

 

Acetyl-coenzyme A + choline

Action potential

 

 

Choline acetyltransferase

 

 

 

 

 

O

 

 

 

 

 

H3C

C

 

 

CH3

Ca2+ influx

 

 

O

CH

CH

N+ CH

 

 

 

2

2

3

 

 

 

Acetylcholine

CH3

 

 

 

 

 

Storage of

Ca2+

 

 

 

 

acetylcholine

 

 

 

 

 

in vesicles

 

 

 

 

active

 

Vesicle

 

 

 

reuptake of

 

 

 

choline

 

release

 

 

 

 

 

 

Exocytosis

 

 

 

 

 

esteric

Receptor

 

 

 

 

 

cleavage

occupation

 

Serum-

 

 

Acetylcholine

 

 

cholinesterase

 

 

 

 

 

 

esterase:

 

 

 

 

 

membrane-

 

 

 

 

 

associated

 

 

Smooth muscle cell

Heart pacemaker cell

Secretory cell

 

M3-receptor

 

M2-receptor

M3-receptor

 

Phospholipase C

 

K+-channel activation

Phospholipase C

 

 

 

 

 

Slowing of

 

 

Ca2+ in cytosol

 

diastolic

Ca2+ in cytosol

 

 

depolarization

 

 

Tone

 

 

Rate

Secretion

 

 

 

 

 

mV

 

 

 

 

 

 

0

 

 

-30

 

 

 

ACh

 

 

 

 

 

effect

 

 

 

 

 

 

 

 

 

 

 

 

-45

 

 

mV

 

 

mN

-90

 

 

-70

 

 

 

 

 

 

 

 

Control

 

 

 

 

 

 

condition

 

 

 

Time

 

 

 

Time

 
Luellmann, Color Atlas of Pharmacology © 2005 Thieme
All rights reserved. Usage subject to terms and conditions of license.