Добавил:
Upload
Опубликованный материал нарушает ваши авторские права? Сообщите нам.
Вуз:
Предмет:
Файл:
Color_Atlas_of_Pharmacology_3rdEd
.pdf

Undesirable Drug Effects, Side Effects
The desired (or intended) principal effect of any drug is to modify body function in such a manner as to alleviate symptoms caused by the patient's illness. In addition, a drug may also elicit unwanted effects that in turn may cause complaints, provoke illness, or even lead to death.
Causes of Adverse Effects
Overdosage (A). The drug is administered in a higher dose than is required for the principal effect; this directly or indirectly affects other body functions.
For instance, morphine (p.208), given in the appropriate dose, affords excellent pain relief by influencing nociceptive pathways in the CNS.In excessive doses, it inhibits the respiratory center and makes apnea imminent. The dose-dependence of both effects can be graphed in the form of dose–response curves (DRCs). The distance between the two DRCs indicates the difference between the therapeutic and toxic doses. This margin of safety ("therapeutic index") indicates the risk of toxicity when standard doses are exceeded.
It should be noted that, apart from the amount administered, the rate of drug delivery is important. The faster blood levels rise, the higher concentrations will climb (p. 49). Rather than being required therapeutically, the initial concentration peak following i.v. injection of morphinelike agents causes side effects (intoxication and respiratory depression, p.208).
"The dose alone makes the poison" (Paracelsus). This holds true for both medicines and environmental poisons. No substance as such is toxic! In order to assess the risk of toxicity, knowledge is required of: (1) the effective dose during exposure; (2) the dose level at which damage is likely to occur.
Increased sensitivity (B). If certain body functions develop hyperreactivity, unwanted effects can occur even at normal
dose levels. Increased sensitivity of the respiratory center to morphine is found in patients with chronic lung disease, in neonates, or during concurrent exposure to other respiratory depressant agents. The DRC is shifted to the left and a smaller dose of morphine is suf cient to paralyze respiration. Genetic anomalies of metabolism may also lead to hypersensitivity (pharmacogenetics, p.78). The above forms of hypersensitivity must be distinguished from allergies involving the immune system (p.72).
Lack of selectivity (C). Despite appropriate dosing and normal sensitivity, undesired effects can occur because the drug does not specifically act on the targeted (diseased) tissue or organ. For instance, the anticholinergic atropine is bound only to acetylcholine receptors of the muscarinic type; however, these are present in many different organs. Moreover, the neuroleptic chlorpromazine is able to interact with several different receptor types. Thus, its action is neither organspecific nor receptor-specific.
The consequences of lack of selectivitycan often be avoided if the drug does not require the blood route to reach the target organ but is, instead, applied locally, as in the administration of parasympatholytics in the form of eye drops or in an aerosol for inhalation.
Side effects that arise as a consequence of a known mechanism of action are plausible and the connection with drug ingestion is simple to recognize. It is more dif cult to detect unwanted effects that arise from an unknown action. Some compelling examples of these include fetal damage after intake of a hypnotic (thalidomide), pulmonary hypertension after appetite depressants, and fibrosis after antimigraine drugs.
With every drug use, unwanted effects must be taken into account. Before prescribing a drug, the physician should therefore do a risk–benefit analysis.
Luellmann, Color Atlas of Pharmacology © 2005 Thieme
All rights reserved. Usage subject to terms and conditions of license.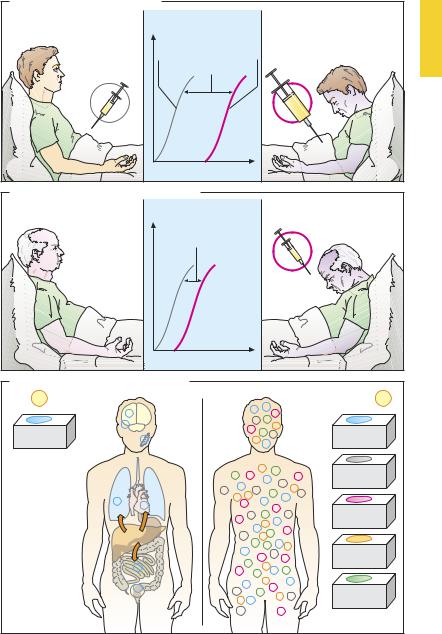 | | |
| --- | --- |
| Undesirable Drug Effects | 71 |
A. Adverse drug effect: overdosing
Decrease in pain

Effect

 

Respiratory depression

perception

Decrease in

Morphine

(nociception)

Nociception

Respiratory

 

 

activity

overdose

Morphine

 

Safety

 

 

margin

 

 

Dose

 
B. Adverse drug effect: increased sensitivity

Increased

Effect

sensitivity of

Safety

respiratory

margin

center

 

 

Normal

 

dose

 

Dose
C. Adverse drug effect: lacking selectivity

 

Atropine

e.g., Chlorpromazine

mACh-

mACh-

receptor

receptor

Receptor specificity

 

but lacking

α 1-adreno-

organ selectivity

 

ceptor

 

Dopamine

 

receptor

Atropine

 

 

5-HT-

 

receptor

 

Histamine

 

receptor

 

Lacking receptor

 

specificity
Luellmann, Color Atlas of Pharmacology © 2005 Thieme
All rights reserved. Usage subject to terms and conditions of license.

Drug Allergy
The immune system normally functions to inactivate and remove high-molecular- weight "foreign" matter taken up by the organism. Immune responses can, however, occur without appropriate cause or with exaggerated intensity and may harm the organism; for instance, when allergic reactions are caused by drugs (active ingredient or pharmaceutical excipients). Only a few drugs, e.g., (heterologous) proteins, have a molecular weight large enough to act as effective antigens or immunogens, capable by themselves of initiating an immune response. Most drugs or their metabolites (socalled haptens) must first be converted to an antigen by linkage to a body protein. In the case of penicillin G, a cleavage product (penicilloyl residue) probably undergoes covalent binding to protein.
During initial contact with the drug, the immune system is sensitized: antigen-spe- cific lymphocytes of the T-type and B-type (antibody formation) proliferate in lymphatic tissue and some of them remain as so-called memory cells. Usually, these processes remain clinically silent.
During the second contact, antibodies are already present and memorycellsproliferate rapidly. A detectable immune response—the allergic reaction—occurs. This can be of severe intensity, even at a low dose of the antigen. Four types of reactions can be distinguished:
Type 1, anaphylactic reaction. Drug-specific antibodies of the IgE type combine via their Fc moiety with receptors on the surface of mast cells. Binding of the drug provides the stimulus for the release of histamine and other mediators. In the most severe form, a life-threatening anaphylactic shock develops, accompanied by hypotension, bronchospasm (asthma attack), laryngeal edema, urticaria, stimulation of gut musculature, and spontaneous bowel movements (p.118).
Type 2, cytotoxic reaction. Drug–antibody (IgG) complexes adhere to the surface of blood cells, where either circulating drug molecules or complexes already formed in blood accumulate. These complexes mediate the activation of complement, a family of proteins that circulate in the blood in an inactive form, but can be activated in a cascadelike succession by an appropriate stimulus. "Activated complement," normally directed against microorganisms, can destroy the cell membranes and thereby cause cell death; it also promotes phagocytosis, attracts neutrophil granulocytes (chemotaxis), and stimulates other inflammatory responses. Activation of complement on blood cells results in their destruction, evidenced by hemolytic anemia, agranulocytosis, and thrombocytopenia.
Type 3, immune-complex vasculitis (serum sickness, Arthus reaction). Drug–antibody complexes precipitate on vascular walls, complement is activated, and an inflammatory reaction is triggered. Attracted neutrophils, in a futile attempt to phagocytose the complexes, liberate lysosomal enzymes that damage the vascular walls (inflammation, vasculitis). Symptoms may include fever, exanthema, swelling of lymph nodes, arthritis, nephritis, and neuropathy.
Type 4, contact dermatitis. A cutaneously applied drug is bound to the surface of T-lymphocytes directed specifically against it. The lymphocytes release signal molecules (lymphokines) into their vicinity that activate macrophages and provoke an inflammatory reaction.
Remarkably, virtually no drug group is completely free of allergic side effects. However, some chemical structures are prone to cause allergic reactions.
Luellmann, Color Atlas of Pharmacology © 2005 Thieme
All rights reserved. Usage subject to terms and conditions of license.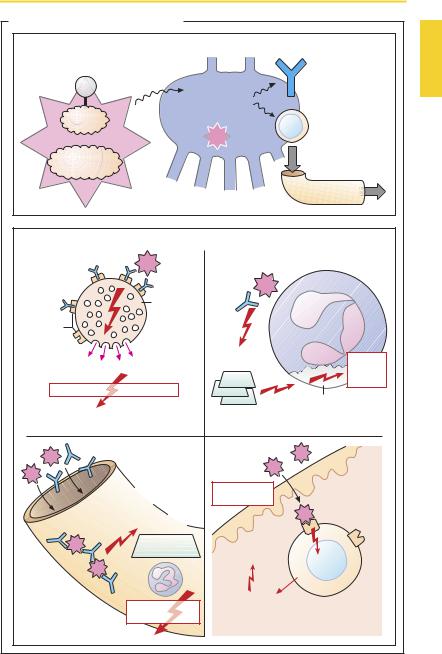 Drug Allergy

73

A. Adverse drug effect: allergic reaction

 

 

 

 

Reaction of immune system to first drug exposure

 

 

 

 

 

 

Production of

 

Drug

 

 

 

antibodies

 

 

Immune

(Immunoglobulins)

 

(= hapten)

 

system

e.g., IgE,

 

 

 

 

 

 

(lymphatic

IgG, etc.

 

Protein

 

tissue)

Proliferation of

 

 

recognizes:

antigen-

 

 

 

 

 

 

"Non-self"

specific

 

 

 

 

 

lymphocytes

 

Macromolecule

 

 

 

 

 

MW > 10 000

 

 

 

 

 

 

 

 

 

Distribution

 

Antigen

 

 

 

in body

 

Immune reaction with repeated drug exposure

e.g., Neutrophilic

 

 

 

 

 

 

IgE

 

 

 

granulocyte

 

 

Mast cell

 

IgG

 

 

 

 

 

 

 

 

(tissue)

 

 

 

 

Receptor

basophilic

 

 

 

granulocyte

 

 

 

for IgE

 

 

 

(blood)

 

 

 

 

 

 

 

 

 

 

 

 

Complement

Cell

 

Histamine and other mediators

 

activation

 

 

destruc-

 

 

 

 

 

 

 

 

tion

 

Urticaria, asthma, shock

 

 

 

 

 

 

 

 

Membrane

 

Type 1 reaction:

 

 

Type 2 reaction:

injury

 

acute anaphylactic reaction

 

 

cytotoxic reaction

 

 

Formation of

 

Contact

Antigen-

 

 

dermatitis

 

immune complexes

 

 

 

specific

 

 

 

 

Deposition on

Activation

 

 

 

 

 

T-lymphocyte

 

vessel wall

of:

 

 

 

 

 

complement

Inflammatory

 

 

 

 

 

 

 

 

and

 

reaction

 

 

 

 

 

 

 

 

neutrophils

 

 

 

 

 

 

 

Lymphokines

 

 

 

Inflammatory

 

 

 

Type 3 reaction:

reaction

 

Type 4 reaction:

 

 

 

 

lymphocytic delayed reaction

 

Immune complex

 

 

 

 

 

 

 

 
Luellmann, Color Atlas of Pharmacology © 2005 Thieme
All rights reserved. Usage subject to terms and conditions of license.