Добавил:
Upload
Опубликованный материал нарушает ваши авторские права? Сообщите нам.
Вуз:
Предмет:
Файл:
0554541_86F5E_mankiw_n_gregory_macroeconomics
.pdf
х
Закажи выполнение студенческой работы, избавься от головной боли и сдай на отлично
?
Временно скрыть
Больше не показывать
Только сегодня: 300 рублей в подарок на первый заказ.
Какую работу нужно написать?
Другую работу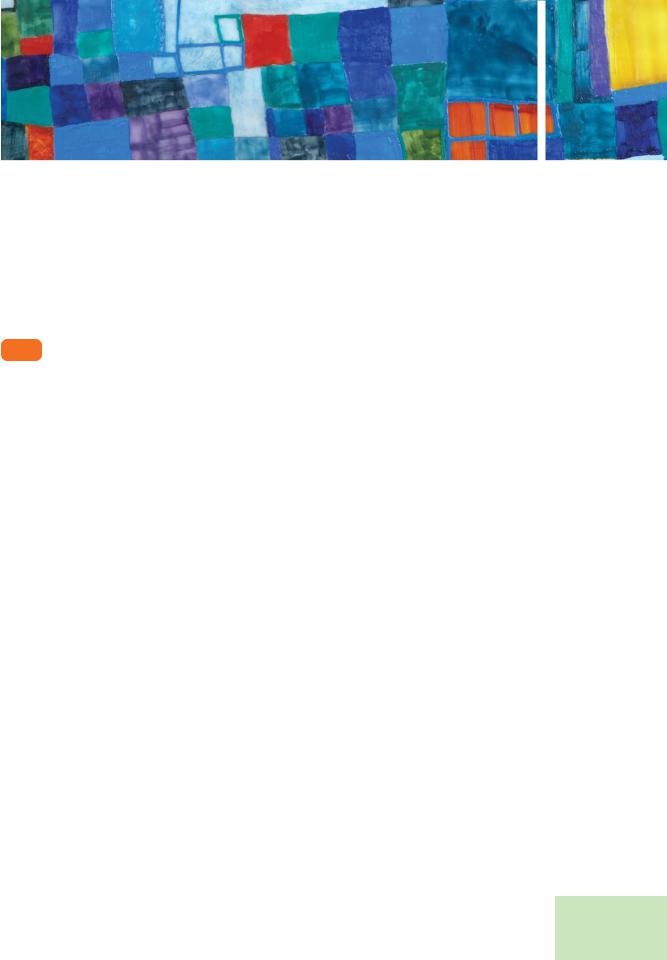 C H A P T E R 1
The Science of Macroeconomics
The whole of science is nothing more than the refinement of everyday thinking.
—Albert Einstein
1-1

What Macroeconomists Study

Why have some countries experienced rapid growth in incomes over the past century while others stay mired in poverty? Why do some countries have high rates of inflation while others maintain stable

prices? Why do all countries experience recessions and depressions—recurrent periods of falling incomes and rising unemployment—and how can government policy reduce the frequency and severity of these episodes? Macroeconomics, the study of the economy as a whole, attempts to answer these and many related questions.

To appreciate the importance of macroeconomics, you need only read the newspaper or listen to the news. Every day you can see headlines such as INCOME GROWTH REBOUNDS, FED MOVES TO COMBAT INFLATION, or STOCKS FALL AMID RECESSION FEARS.These macroeconomic events may seem abstract, but they touch all of our lives. Business executives forecasting the demand for their products must guess how fast consumers' incomes will grow. Senior citizens living on fixed incomes wonder how fast prices will rise. Recent college graduates looking for jobs hope that the economy will boom and that firms will be hiring.

Because the state of the economy affects everyone, macroeconomic issues play a central role in national political debates.Voters are aware of how the economy is doing, and they know that government policy can affect the economy in powerful ways. As a result, the popularity of the incumbent president often rises when the economy is doing well and falls when it is doing poorly.

Macroeconomic issues are also central to world politics, and if you read the international news, you will quickly start thinking about macroeconomic questions. Was it a good move for much of Europe to adopt a common currency? Should China maintain a fixed exchange rate against the U.S. dollar? Why is the United States running large trade deficits? How can poor nations raise their standard of living? When world leaders meet, these topics are often high on their agenda.

4 | P A R T I Introduction
Although the job of making economic policy belongs to world leaders, the job of explaining the workings of the economy as a whole falls to macroeconomists. Toward this end, macroeconomists collect data on incomes, prices, unemployment, and many other variables from different time periods and different countries.They then attempt to formulate general theories to explain these data. Like astronomers studying the evolution of stars or biologists studying the evolution of species, macroeconomists cannot conduct controlled experiments in a laboratory. Instead, they must make use of the data that history gives them. Macroeconomists observe that economies differ across countries and that they change over time. These observations provide both the motivation for developing macroeconomic theories and the data for testing them.
To be sure, macroeconomics is a young and imperfect science.The macroeconomist's ability to predict the future course of economic events is no better than the meteorologist's ability to predict next month's weather. But, as you will see, macroeconomists know quite a lot about how economies work.This knowledge is useful both for explaining economic events and for formulating economic policy.
Every era has its own economic problems. In the 1970s, Presidents Richard Nixon, Gerald Ford, and Jimmy Carter all wrestled in vain with a rising rate of inflation. In the 1980s, inflation subsided, but Presidents Ronald Reagan and George Bush presided over large federal budget deficits. In the 1990s, with President Bill Clinton in the Oval Office, the economy and stock market enjoyed a remarkable boom, and the federal budget turned from deficit to surplus. But as Clinton left office, the stock market was in retreat, and the economy was heading into recession. In 2001 President George W. Bush reduced taxes to help end the recession, but the tax cuts also contributed to a reemergence of budget deficits.
President Barack Obama moved into the White House in 2009 in a period of heightened economic turbulence.The economy was reeling from a financial crisis, driven by a large drop in housing prices and a steep rise in mortgage defaults.The crisis was spreading to other sectors and pushing the overall economy into another recession.The magnitude of the downturn was uncertain as this book was going to press, but some observers feared the recession might be deep. In some minds, the financial crisis raised the specter of the Great Depression of the 1930s, when in its worst year one out of four Americans who wanted to work could not find a job. In 2008 and 2009, officials in the Treasury, Federal Reserve, and other parts of government were acting vigorously to prevent a recurrence of that outcome.
Macroeconomic history is not a simple story, but it provides a rich motivation for macroeconomic theory.While the basic principles of macroeconomics do not change from decade to decade, the macroeconomist must apply these principles with flexibility and creativity to meet changing circumstances.
CASE STUDY
The Historical Performance of the U.S. Economy
Economists use many types of data to measure the performance of an economy. Three macroeconomic variables are especially important: real gross domestic product (GDP), the inflation rate, and the unemployment rate. Real GDP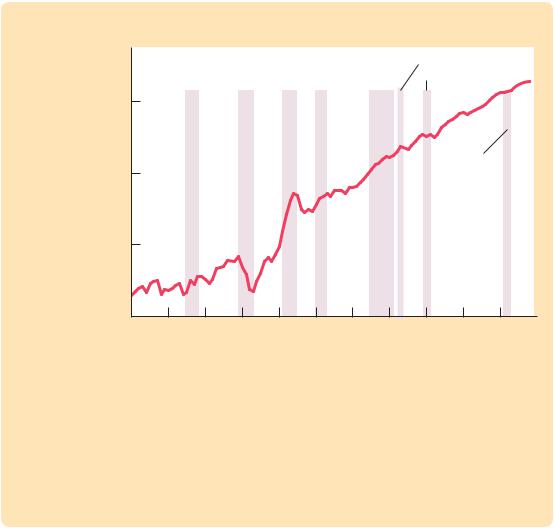 C H A P T E R 1 The Science of Macroeconomics | 5
measures the total income of everyone in the economy (adjusted for the level of prices). The inflation rate measures how fast prices are rising. The unemployment rate measures the fraction of the labor force that is out of work. Macroeconomists study how these variables are determined, why they change over time, and how they interact with one another.
Figure 1-1 shows real GDP per person in the United States. Two aspects of this figure are noteworthy. First, real GDP grows over time. Real GDP per person today is about eight times higher than it was in 1900.This growth in average income allows us to enjoy a much higher standard of living than our great-grandparents did. Second, although real GDP rises in most years, this growth is not steady. There are repeated periods during which real GDP falls, the most dramatic instance being the early 1930s. Such periods are called recessions if they are mild and depressions if they are more severe. Not surprisingly, periods of declining income are associated with substantial economic hardship.
FIGURE 1-1

 

 

 

 

 

 

Real GDP per person

 

 

 

 

First oil price shock

(2000 dollars)

 

World

Great World Korean

Vietnam

 

Second oil price shock

40,000

 

 

War I

Depression War II War

War

 

 
32,000

 

 

 

 

 

 

 

 

 

 

 

 

 

 

 

 

 

 

 

9/11

 

16,000

 

 

 

 

 

 

 

 

terrorist

 

 

 

 

 

 

 

 

 

attack

 

8,000

 

 

 

 

 

 

 

 

 

 

4,000

1910

1920

1930

1940

1950

1960

1970

1980

1990

2000

1900

 

 

 

 

 

 

 

 

 

 

Year
Real GDP per Person in the U.S. Economy Real GDP measures the total income of everyone in the economy, and real GDP per person measures the income of the average person in the economy. This figure shows that real GDP per person tends to grow over time and that this normal growth is sometimes interrupted by periods of declining income, called recessions
or depressions.
Note: Real GDP is plotted here on a logarithmic scale. On such a scale, equal distances on the vertical axis represent equal percentage changes. Thus, the distance between $4,000 and $8,000 (a 100 percent change) is the same as the distance between $8,000 and $16,000 (a 100 percent change).
Source: U.S. Department of Commerce and Economic History Services.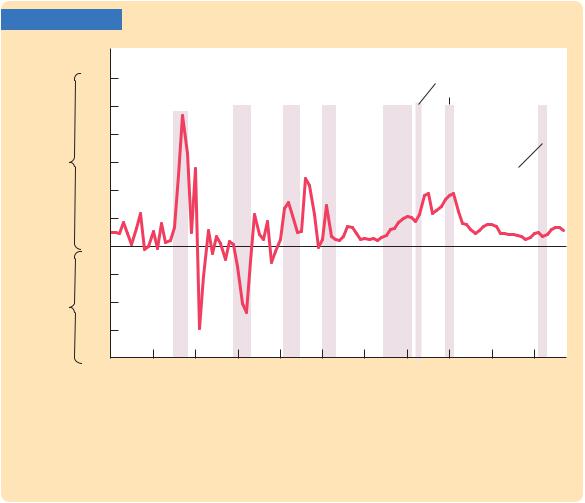 6 |

P A R T I

Introduction

 

 

 

 

 

 

 

 

 

 

FIGURE 1-2

 

 

 

 

 

 

 

 

 

 

 

 

Percent

 

 

 

 

 

 

 

 

 

 

 

 

30

 

World

Great

World

Korean

 

Vietnam

First oil price shock

 

 

 

 

 

 

Second oil price shock

 

 

25

 

War I

Depression

War II

War

 

War

 

 

 

 

 

 

 

 

 

 

 

 

 

 

20

 

 

 

 

 

 

 

 

 

 

 

Inflation

15

 

 

 

 

 

 

 

 

9/11

 

 

 

 

 

 

 

 

 

 

 

 

 

 

 

10

 

 

 

 

 

 

 

 

terrorist

 

 

 

 

 

 

 

 

 

 

attack

 

 

 

 

 

 

 

 

 

 

 

 

 

 

 

5

 

 

 

 

 

 

 

 

 

 

 

 

0

 

 

 

 

 

 

 

 

 

 

 

 

−5

 

 

 

 

 

 

 

 

 

 

 

Deflation

−10

 

 

 

 

 

 

 

 

 

 

 

 

 

 

 

 

 

 

 

 

 

 

 

 

−15

 

 

 

 

 

 

 

 

 

 

 

 

−20

1910

1920

1930

1940

1950

1960

1970

1980

1990

2000

 

 

1900

 

 

 

 

 

 

 

 

 

 

 

 

Year
The Inflation Rate in the U.S. Economy The inflation rate measures the percentage change in the average level of prices from the year before. When the inflation rate is above zero, prices are rising. When it is below zero, prices are falling. If the inflation rate declines but remains positive, prices are rising but at a slower rate.
Note: The inflation rate is measured here using the GDP deflator.
Source: U.S. Department of Commerce and Economic History Services.
Figure 1-2 shows the U.S. inflation rate.You can see that inflation varies substantially over time. In the first half of the twentieth century, the inflation rate averaged only slightly above zero. Periods of falling prices, called deflation, were almost as common as periods of rising prices. By contrast, inflation has been the norm during the past half century. Inflation became most severe during the late 1970s, when prices rose at a rate of almost 10 percent per year. In recent years, the inflation rate has been about 2 or 3 percent per year, indicating that prices have been fairly stable.
Figure 1-3 shows the U.S. unemployment rate. Notice that there is always some unemployment in the economy. In addition, although the unemployment rate has no long-term trend, it varies substantially from year to year. Recessions and depressions are associated with unusually high unemployment. The highest rates of unemployment were reached during the Great Depression of the 1930s.
These three figures offer a glimpse at the history of the U.S. economy. In the chapters that follow, we first discuss how these variables are measured and then develop theories to explain how they behave. ■