Добавил:
Upload
Опубликованный материал нарушает ваши авторские права? Сообщите нам.
Вуз:
Предмет:
Файл:
Unit 3 enquiry letters language practice
1. Notice how you inform the company you are writing to how or where you heard about them:

a

We have seen an advertisement in this month's 'Office News' about your range of pocket calculators.

.

With reference to your advertisement in …

b.

Make sentences similar to the above, informing your recipient how and where you heard about them or their products, using the words given.

a.
Read/article/The Financial Times/filing cabinets

Hear/a lot/electric typewriters

See/the publicity material/photocopying machines

Hear/from the Commercial Attaché at the British Embassy/ office equipment

Read/an advertisement/local newspaper/modern storage and retrieval systems

See/your advertisement/Milan Trade Fair/range of clothes

Hear/from our agent in London/leather jackets

Read/in the financial papers/success with Type TS8

Talk/your representative/possibility of buying electric cookers from you

Talk/our customers/suitability of your range of bathroom equipment
b.
Daily Mail / last Monday

Economist / last week

Radio Times / last Tuesday

Guardian / today

Financial Time / yesterday
2. Notice how you express an interest in a specific good:
We are (most) interested in type TW37.
Express an interest in the following. Remember you are writing to a company.
Buy/type TW37 filing cabinets

Type SK/27 cabinets

Large 'KeepIt' bookshelves

A range of pocket calculators type AJ5

Type CSJ/7 especially

Electric heaters, type 2JS

A range of dining room tables you advertise

The 'Embossed' typewriter

Buy/the latest printing press type PP100A

The 'Sierra' 1100 motor car
3. Notice how you express an interest in more general ideas:
We are (most) interested in introducing a modern filing system in our main office.
Express an interest in the following. Use the words below.
A range of kitchen furniture

Receive/more information about your electric typewriters

Introduce/a modern storage system

Order/twenty new office desks

Export/some of our business machines to the USA

Install/a new telex machine

Extend/our market to include Northern Europe

Increase/our supplies of photocopying paper

Make/an improvement in our Design Department

Improve/our data processing system
4. Notice these sentences:

a

We wish to install a new telex machine.

.

We wish to enquire into the possibility of installing a new telex machine.

b.

Sentence B is not a statement of strong intention. It is a preliminary enquiry. Sentence A is a bit more certain.

Make sentences similar to A and B for the following:
order a new duplicating machine

………………………………………………………………

………………………………………………………………

develop our trade with North America

………………………………………………………………

………………………………………………………………

modernize our filing system

………………………………………………………………

………………………………………………………………

increase our storage facilities

………………………………………………………………

………………………………………………………………

buy 25 type TW37 filing cabinets

………………………………………………………………

………………………………………………………………

visit your head office in London on the 25th of June

………………………………………………………………

………………………………………………………………

extend the range of cookers in our department stores

………………………………………………………………

………………………………………………………………

accommodate more tourists in our hotels

………………………………………………………………

………………………………………………………………

arrange payment by International Money Order

………………………………………………………………

………………………………………………………………

send our agent to inspect the goods

………………………………………………………………

………………………………………………………………
5. Notice these polite requests:

Please send us a catalogue and your latest price-list.

a.

Will / Would / Could you please send us a catalogue and your latest price-list?

b.

c

We should be obliged if you would send us a catalogue and your latest price-list.

We would be most grateful if you could send us a catalogue and your latest price-list.

.

d

We would appreciate a catalogue and your latest price-list.

.

A, B, and C are all formal requests. D is less formal, and should not be used for formal requests, but can be used for additional requests at the end of a letter.

Make four sentences (types A, B, C and D) for the following:
a brochure for type TW37

more information about your office desks

a detailed statement of prices f.o.b. London

a reply as soon as possible

a quotation for our bulk purchase of men's suits

a statement of our account at your branch

your latest catalogue reference numbers

a reply by telex

a message from your agent in Oslo

a letter of confirmation
6.Requesting information:
I / We would like to know whether all your models are now covered by your standard two-year guarantee.
Ask for information about whether …
the price includes delivery charges.

the filing cabinets are available in green.

they could send the order by air.

they have an office in Paris.

you can pay in US dollars.

the items will be delivered in three weeks.

you can get twenty units on approval.

the goods are in stock at the moment.

you can have someone here to give an estimate.

the goods can be delivered before Friday.
Exercise 34. Rewrite the following questions in a less direct form, beginning with the words given.
Examples
What are your terms of trade?
Please let us know what your terms of trade are.
Are you able to offer us trade and quantity discounts on large orders?
Could you also tell us if you are able to offer trade and quantity discounts on
large orders.
Could you send me a copy of your latest brochure?
I would be grateful _________________________
How much discount will you give on orders of 5,000 units?
Could you please tell us ____________________________
When can we expect to receive the cheque?
I am writing to enquire ________________
Would you like us to arrange an appointment with one of our representatives?
Please let us know _______________________________________________
Has Mr Crane returned from the Menswear Exhibition yet?
Do you happen to know ____________________________
Does your company export to South Korea?
Could you tell us _____________________
Exercise 35. Match these words from Exercise 3.a with their definitions.
A

B

a

catalogue

1

details of conditions of sale

b

trade discount

2

price reduction to a company in the same business

c

order

3

a small amount of a product offered free to a potential customer

d

quantity discount

4

book giving details of items for sale

e

sample

5

request from a customer to supply goods

f

terms of trade

6

price reduction for a large order
Exercise 36. Make words from the jumbled letters and match them with the definitions in the sentences below.
a UEAGTOCLA
b LAOEEHSLWR
c METIESAT
d WOSORHOM
e RENTED
f IDISYUSRAB
g ETSMCOUR
h OSSUTCREPP
A company or organization that is part of a larger one.

A person who buys items from a shop or company.

A room where companies demonstrate their products.

A kind of magazine giving details of the items a company sells.

A prediction of how much an item or service is likely to cost.

A written quotation for a large job such as building a factory.

A kind of magazine giving details about a school, college, or university.

A company or person that buys and sells items only in bulk.
Exercise 37. Complete this letter of enquiry. Decide whether to use a, the, or no article at all, in the blank spaces.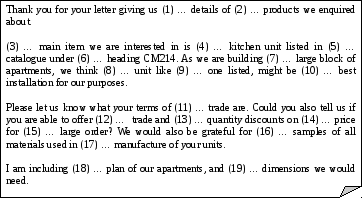 Exercise 38. Below you will see parts of three letters of enquiry. Put the correct word or phrase in each blank. Choose from the following list. Use each item once only.
advertisement discount particularly price range
advise forward information reference
current issue latest catalogue payment faithfully
Dear model price list still available
A

.
B.
C

.
Exercise 39. Complete the following letters of enquiry with the correct prepositions.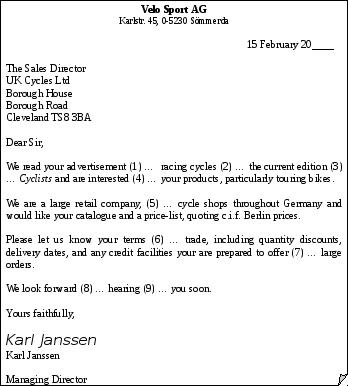 a)
b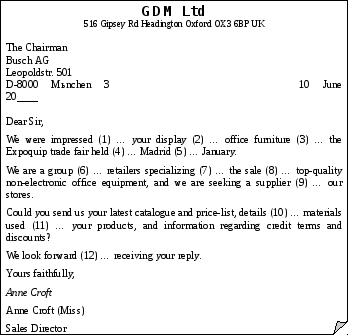 )
Exercise 40. Fill in the missing words: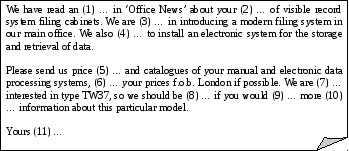 a.

b.
Exercise 41. Look at the advertisement. Complete this letter to Hermis Travel requesting full details and prices of flights to Kuala Lumpur.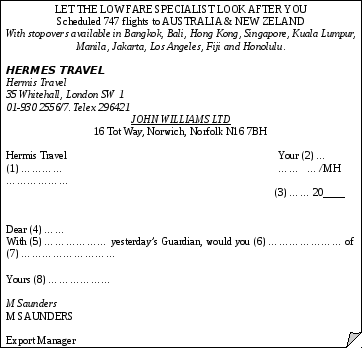 Exercise 42. Use the following notes to compose a letter of enquiry for a firm of importers.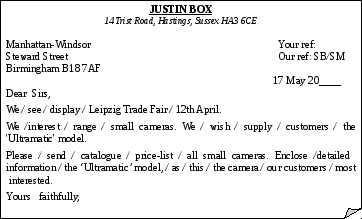 Exercise 43. Write a letter of first enquiry, using the following words and phrases:
To the Drake Cycle Company, Wellington, New Zealand: Your new sports models seen at the Birmingham Trade Fair. Request details all models, catalogue, price list, terms, delivery times. Requirements: 50 each, women's and men's. Discounts? Future supply position?
Exercise 44. Translate into English.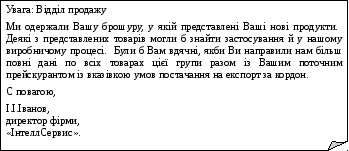 A.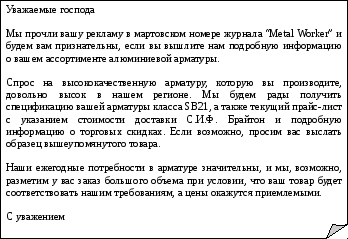 B.