Добавил:
Upload
Опубликованный материал нарушает ваши авторские права? Сообщите нам.
Вуз:
Предмет:
Файл:
3. What part of your body do you use to do these things?
| | | | | | | |
| --- | --- | --- | --- | --- | --- | --- |
| tickle | stroke | nudge | thump | sniff | slap | munch |
| smack | pinch | squeeze | grin | rub | clap | pat |
| hug | frisk | shove | spit | wink | scratch | |
Why might you do these things?
You tickle someone to make them laugh.
4. A. Say where each of the following body parts is located. Use a dictionary if necessary.
•Cornea •Pupil •Eardrum •Ear lobe •Airway •Nostril •Skull •Cheekbone •Jaw •Incisor •Adam's apple •Collarbone •Palm •Spine •Breastbone •Ribcage •Kneecap •Shin
The cornea is the front layer of the eye.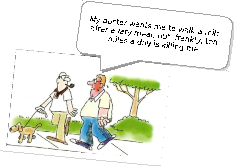 b. Which of the following verbs describe normal processes of the human body? Which describe processes associated with disease?
• breathe •wheeze •yawn •throb •blink •cough •swallow •bruise •digest •scar
c. Use the verbs in your own sentences to show their meaning.
If you're fit, you don't need to exercise. If you aren't fit, exercise is dangerous.
Do you agree with logic or not? How can you injure yourself taking exercise?
What do you think?
•How effective and useful are these quizzes?
•Will you pay attention to the results and alter your lifestyle?


Always Often Sometimes Rarely Never
1. I start the day with a sensible breakfast.
2. I tend to have 4 or 5 smaller meals a day.
3. On an average day, my diet would include 5 portions of fruit and vegetables.
4. Less than 30% of my daily calorific intake is fat.
5. I regularly take food supplements of vitamins and minerals.
6. Fried foods don't feature in my diet.
7. I don't eat red meat.
8. I make sure I drink 6-8 glasses of water a day.
9. My sugar consumption is generally low.
10. I don't have more than 2 alcoholic drinks (for men,1 for women) a day.
11. I exercise aerobically at least 3 times a week.
12. I work out with weights or exercise machines twice a week. As well as a proper lunch break, I take a couple of breaks during the working day.
13. I get about 7-8 hours of sleep a night.
14. I actively cultivate relationships and interests outside of work. I probably break into laughter about 20 times a day.
15. I allow myself adequate time off for holidays.
16. I meditate, pray, or practise some form of relaxation technique daily.
17. I feel in charge of my health and take full responsibility for it.
Check your answers to each question. To score your profile, add up the numbers.
My total score is ____
If your total score is:
100-80 you have excellent health habits (great job, keep up the good work!)
79-70 you have good health habits (good, but let's work on it a little)
69-60 you need special attention (let's go to work on it now)
59-0 is a red alert! (do something about it now!)
Decide on your top three priorities for action from your lowest score in the quiz.
Reading
Read the biography of D. Cusak and an extract from the novel "SAY NO TO DEATH".