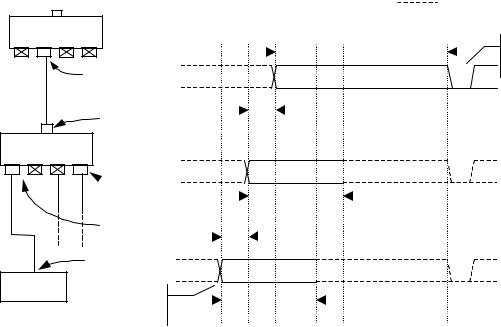 Universal Serial Bus Specification Revision 1.1
Hub 'A'
(Controlling Hub)
Controlling Hub suspended DS Port
Hub
Upstream
Port
Hub 'B'
Enabled DS

Hub Ports
Function
Hub Port
Device
Device
Device
Remote
Wakeup
 

 

 

 

 

 

 

 

 

 

 

 

 

 

 

 

 

 

 

 

 

 

 

Bus driving

 

 

 

 

 

 

 

 

 

 

 

 

 

 

 

 

 

 

 

 

 

 

Everything

 

 

 

 

 

 

 

 

 

 

 

 

 

 

 

 

 

 

 

 

Bus Idle or

 

 

 

 

 

 

 

 

 

 

 

 

 

 

 

 

 

 

 

 

 

driven at other end

 

below Hub 'A'

 

 

 

 

 

 

 

 

 

 

 

 

 

 

 

 

 

 

 

 

 

 

 

 

 

 

 

 

 

 

 

 

 

 

 

 

 

 

 

in Suspend

 

 

 

 

 

 

 

 

 

 

 

 

 

 

 

 

 

 

 

 

 

 

 

 

state

 

 

 

 

 

 

 

 

 

 

 

 

 

 

 

 

 

 

 

 

 

 

Controlling Hub

 

 

 

 

 

 

 

 

Controlling Hub Drives Resume (DS)

 

 

 

 

 

 

 

 

 

 

 

 

 

 

 

 

 

 

 

 

 

 

 

 

 

 

 

 

 

 

 

 

 

 

sends EOP ending

 

 

 

 

 

 

 

 

 

 

 

 

 

 

20ms (nominal)

 

 

 

 

 

 

 

 

 

 

 

 

 

 

 

 

 

 

 

 

 

 

 

 

 

 

 

 

 

 

 

 

 

 

 

 

 

 

resume

 

 

 

 

 

 

 

 

 

 

 

 

 

 

 

 

 

 

 

 

 

 

 

 

 

Idle ('J')

 

 

 

 

 

 

 

Resume ('K')

 

 

 

 

 

 

 

 

 

 

 

 

 

 

 

 

 

 

 

 

 

 

 

 

 

 

 

 

 

 

 

 

 

 

 

 

 

 

 

 

 

 

 

 

 

 

 

 

 

 

Controlling Hub Reflects Resume

 

 

 

 

 

 

 

 

 

 

 

 

 

 

 

 

 

 

 

 

 

(DS) 100 s

 

 

 

 

 

 

 

 

 

 

 

 

 

 

 

 

 

 

 

 

 

 

 

 

 

 

Idle ('J')

 

 

 

Resume ('K')

 

 

 

 

 

 

 

 

 

 

 

Idle ('J')

 

 

 

 

 

 

 

 

 

 

 

 

 

 

 

 

 

Hub 'B' Drives Resume (US and DS)

 

 

 

 

 

 

 

 

 

 

 

 

 

 

 

 

 

 

 

 

 

 

 

 

 

 

 

 

 

 

 

 

 

 

 

[1ms, 15ms]

 

 

 

 

 

 

 

 

 

 

 

 

 

 

 

 

 

 

 

 

 

 

 

 

 

 

 

 

 

Hub 'B' Reflects Resume (US and DS)

 

 

 

 

 

 

 

 

 

 

 

 

 

 

 

 

 

 

 

 

 

 

 

 

 

 

 

 

 

 

 

 

 

 

 

100 s

 

 

 

 

 

 

 

Idle ('J')

Resume ('K')

 

 

 

 

 

 

 

 

 

 

 

 

 

 

 

Idle ('J')

 

 

 

 

 

 

 

 

 

 

 

 

 

 

 

Device Drives Resume

 

 

 

 

 

 

 

 

 

 

 

 

 

 

 

 

 

 

 

 

 

 

 

 

 

 

 

 

 

t0

 

 

t1

 

 

 

t2

 

 

 

t3

 

 

[1ms, 15ms]

t5

 

 

 

 

 

 

 

 

 

 

 

t4
Figure 11-10. Example Remote-Wakeup Resume Signaling
Here is an explanation of what happens at each tn:
t0 Suspended device initiates remote-wakeup by driving a 'K' on the data lines.
t1 Suspended hub 'B' detects the 'K' on its downstream port, wakes up enough within 100 s to reflect the resume upstream and down through all enabled ports.
t2 Hub 'A' is not suspended (implication is that the port at which 'B' is attached is selectively suspended), detects the 'K' on the selectively suspended port where 'B' is attached, and reflects the resume signal back to 'B' within 100 s.
t3 Device ceases driving 'K' upstream.
t4 Hub 'B' ceases driving 'K' upstream and down all enabled ports and begins repeating upstream signaling to all enabled downstream ports.
t5 Hub 'A' completes resume sequence, after appropriate timing interval, by driving a low-speed EOP downstream.
The hub reflection time is much smaller than the minimum duration a USB device will drive resume upstream. This relationship guarantees that resume will be propagated upstream and downstream without any gaps.
11.10 Hub Reset Behavior
The following sections describe hub reset behavior and its interactions with resume, attach detect, and power-on.
11.10.1 Hub Receiving Reset on Upstream Port
Reset signaling to a hub is defined only in the downstream direction, which is at the hub's upstream port. A hub may start its reset sequence if it detects 2.5 s or more of continuous SE0 signaling and must