Добавил:
Upload
Опубликованный материал нарушает ваши авторские права? Сообщите нам.
Вуз:
Предмет:
Файл:
Obstetrics_by_Ten_Teachers_19E_-_Kenny_Louise
.pdf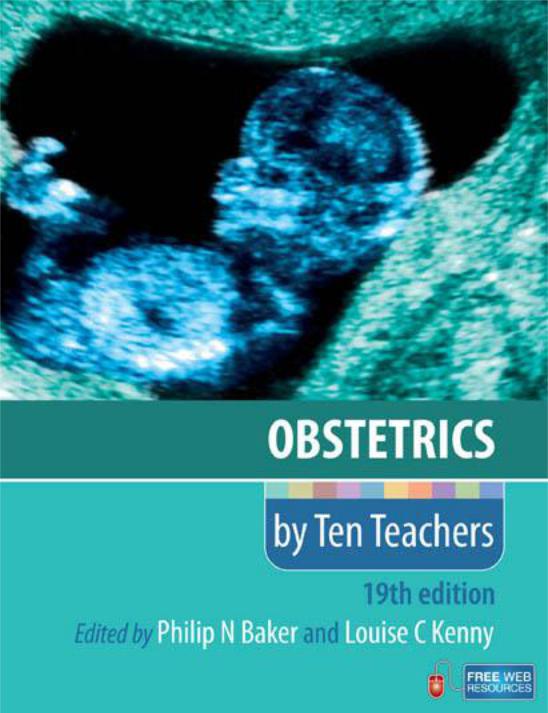 OBSTETRICS
by Ten Teachers
This page intentionally left blank
by Ten Teachers
19th edition
Edited by
Philip N Baker BMEDSCI BM BS DM FRCOG FRCSC FMEDSCI
Dean of the Faculty of Medicine and Dentistry,
University of Alberta, Edmonton, Canada
Louise C Kenny MBCHB (HONS) MRCOG PHD
Professor of Obstetrics and
Consultant Obstetrician and Gynaecologist
The Anu Research Centre,
Cork University Maternity Hospital,
Department of Obstetrics and Gynaecology,
University College Cork,
Cork, Ireland

First published in Great Britain in 1917 as Midwifery Eleventh edition published in 1966 as Obstetrics Eighteenth edition published in 2006
This nineteenth edition published in 2011 by
Hodder Arnold, an imprint of Hodder Education, an Hachette UK Company, 338 Euston Road, London NW1 3BH
http://www.hodderarnold.com
© 2011 Hodder & Stoughton Ltd
All rights reserved. Apart from any use permitted under UK copyright law, this publication may only be reproduced, stored or transmitted, in any form, or by any means with prior permission in writing of the publishers or in the case of reprographic production in accordance with the terms of licences issued by the Copyright Licensing Agency.
In the United Kingdom such licences are issued by the Copyright Licensing Agency Limited, Saffron House, 6-10 Kirby Street, London EC1N 8TS
Whilst the advice and information in this book are believed to be true and accurate at the date of going to press, neither the author[s] nor the publisher can accept any legal responsibility or liability for any errors or omissions that may be made. In particular (but without limiting the generality of the preceding disclaimer) every effort has been made to check drug dosages; however it is still possible that errors have been missed. Furthermore, dosage schedules are constantly being revised and new side-effects recognized. For these reasons the reader is strongly urged to consult the drug companies' printed instructions before administering any of the drugs recommended in this book.
British Library Cataloguing in Publication Data
A catalogue record for this book is available from the British Library
Library of Congress Cataloging-in-Publication Data
A catalog record for this book is available from the Library of Congress
ISBN-13

978 0 340 983 539

ISBN-13 [ISE]

978 1 444 122 305 (International Students' Edition, restricted territorial availability)

1 2 3 4 5 6 7 8 9 10

 

Commissioning Editor:

Joanna Koster

Production Editor:

Sarah Penny

Production Controller:

Jonathan Williams

Cover Designer:

 

Amina Dudhia
Cover image © Gustoimages/Science Photo Library
Typeset in 9.5/12pt Minion by MPS Limited, a Macmillan Company
Printed and bound in India
What do you think about this book? Or any other Hodder Arnold title?
Please visit our website: www.hodderarnold.com
This book is dedicated to my younger daughter, Sara (PNB)
And to my sons, Conor and Eamon (LCK)
This page intentionally left blank
Contents
 

 

 

 

 

 

 

 

 

 

 

 

The Ten Teachers

ix

Preface

 

 

 

 

 

 

 

 

x

Commonly used abbreviations

xi

CHAPTER 1

Obstetric history taking and examination

1

 

 

 

Lucy Kean

 

CHAPTER 2

Modern maternity care

13

 

 

 

Lucy Kean

 

CHAPTER 3

Physiological changes in pregnancy

20

 

 

 

Keelin O'Donoghue

 

CHAPTER 4

Normal fetal development and growth

38

 

 

 

Gary Mires

 

CHAPTER 5

Antenatal care

48

 

 

 

Alec McEwan

 

CHAPTER 6

Antenatal imaging and assessment of fetal well-being

61

 

 

 

Gary Mires

 

CHAPTER 7

Prenatal diagnosis

75

 

 

 

Sarah Vause

 

CHAPTER 8

Antenatal obstetric complications

85

 

 

 

Louise C Kenny

 

CHAPTER 9

Twins and higher multiple gestations

109

 

 

 

Griffith Jones

 

CHAPTER 10

Pre-eclampsia and other disorders of placentation

120

 

 

 

Louise C Kenny

 

CHAPTER 11

Late miscarriage and early birth

132

 

 

 

Griffith Jones

 

CHAPTER 12

Medical diseases complicating pregnancy

144

 

 

 

Keelin O'Donoghue

 

CHAPTER 13

Perinatal infections

169

 

 

 

Sarah Vause

 

CHAPTER 14

Labour

185

 

 

 

Alec McEwan

 

CHAPTER 15

Operative intervention in obstetrics

224

 

 

 

Philip N Baker

 

CHAPTER 16

Obstetric emergencies

241

 

 

 

Clare Tower

 

CHAPTER 17

The puerperium

258

 

 

 

Louise C Kenny

 

 

 

 

viii Contents

 

 

CHAPTER 18 Psychiatric disorders and the puerperium

272

 

Alec McEwan

 

CHAPTER 19

Neonatology

281

 

Janet M Rennie

 

CHAPTER 20

Ethical and medicolegal issues in obstetric practice

302

 

Philip N Baker

 

Index

 

309

The Ten Teachers
Philip N Baker BMEDSCI BM BS DM FRCOG FRCSC
FMEDSCI
Dean of the Faculty of Medicine and Dentistry, University of Alberta, Edmonton, Canada
Griffith Jones MRCOG FRCSC
Assistant Professor, Division of Maternal–Fetal Medicine, University of Ottawa, Ottawa, Canada
Lucy Kean MA DM FRCOG
Consultant Obstetrician and Subspecialist in Fetal
and Maternal Medicine, Department of Obstetrics,
City Campus, Nottingham University Hospitals,
Nottingham, UK
Louise C Kenny MBCHB (HONS) MRCOG PHD
Professor of Obstetrics and Consultant Obstetrician and Gynaecologist, The Anu Research Centre, Cork University Maternity Hospital, Department of Obstetrics and Gynaecology, University College Cork, Cork, Ireland
Alec McEwan BA BM BCH MRCOG
Consultant in Obstetrics and Subspecialist in Fetal and Maternal Medicine, Department of Obstetrics, Nottingham University Hospitals, Nottingham, UK
Gary Mires MBCHB MD FRCOG FHEA
Professor of Obstetrics and Undergraduate Teaching Dean, School of Medicine, University of Dundee, UK
Keelin O'Donghue MB BCH BAO MRCOG PHD
Senior Lecturer and Consultant Obstetrician and
Gynaecologist, The Anu Research Centre, Cork
University Maternity Hospital, Department of
Obstetrics and Gynaecology, University College
Cork, Cork, Ireland
Janet M Rennie MA MD FRCP FRCPCH DCH
Consultant and Senior Lecturer in Neonatal
Medicine, Elizabeth Garrett Anderson and Obstetric
Hospital, University College London Hospitals,
London, UK
Clare Tower MBCHB PHD MRCOG
Clinical Lecture and Subspecialty Trainee in Fetal and Maternal Medicine, Maternal and Fetal Health Research Centre, St Mary's Hospital, University of Manchester, UK
Sarah Vause MD FRCOG
Consultant in Fetal and Maternal Medicine
St Mary's Hospital, Manchester