Добавил:
Upload
Опубликованный материал нарушает ваши авторские права? Сообщите нам.
Вуз:
Предмет:
Файл:
Hotel Front Office Management, 5th edition
.pdf
Закажи выполнение студенческой работы, избавься от головной боли и сдай на отлично
?
Временно скрыть
Больше не показывать
Сегодня действует скидка -35% на первый заказ.
Какую работу нужно написать?
Другую работу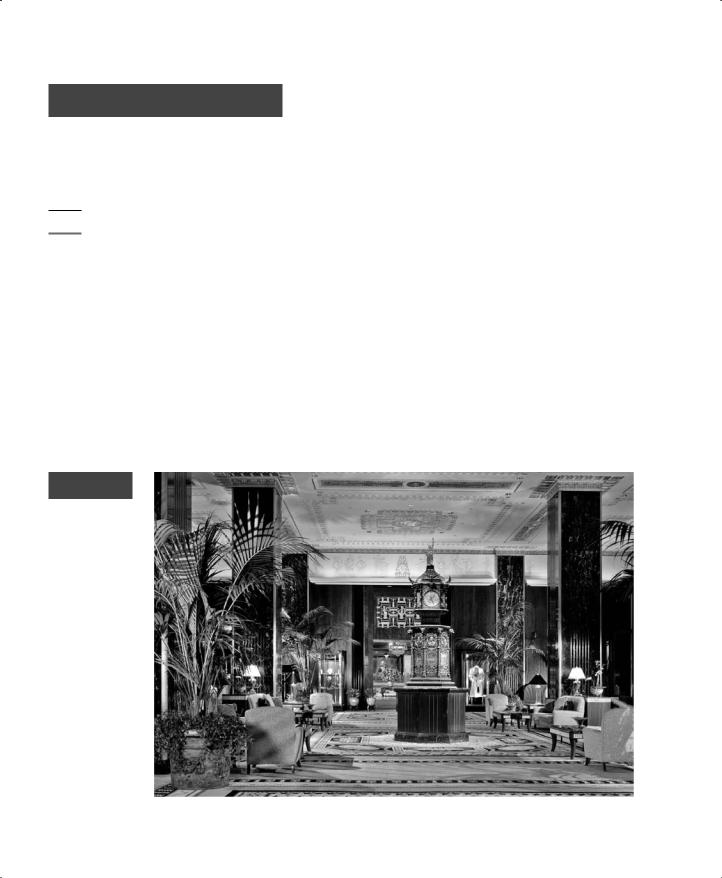 14 C H A P T E R 1 ■ I N T R O D U C T I O N T O H O T E L M A N A G E M E N T
Types of Lodging Facilities
Classification of hotel facilities is not based on rigid criteria. Definitions can change depending on market forces, legal criteria, location, function, and, in some cases, personal preference, but the definitions that follow are generally accepted and are the ones intended for these classifications throughout this text.
Hotels
A hotel usually offers guests a full range of accommodations and services, which may include reservations, suites, public dining and banquet facilities, lounge and entertainment areas, room service, cable television, personal computers, business services, meeting rooms, specialty shops, personal services, valet, laundry, hair care, swimming pool and other recreational activities, gaming/casino operations, ground transportation to and from an airport, and concierge services. The size of the property can range from 20 to more than 2000 rooms. Hotels are found in center-city, suburban, and airport locations. Guest stays can be overnight or long term—as long as several weeks. Properties sometimes specialize in catering to particular markets, such as conventions or gambling. Casino hotels usually take a secondary role to the casino operation, where the emphasis is on profitable gaming operations. Marriott's hotels operated as JW Marriott Hotels & Resorts and Renaissance Hotels & Resorts, as well as Hyatt brands operated as Hyatt Regency Hotels, Grand Hyatt Hotels, and Park Hyatt Hotels, are examples in this category.
F I G U R E 1 - 4
Photo courtesy of
Waldorf=Astoria
Hotel, New York
City.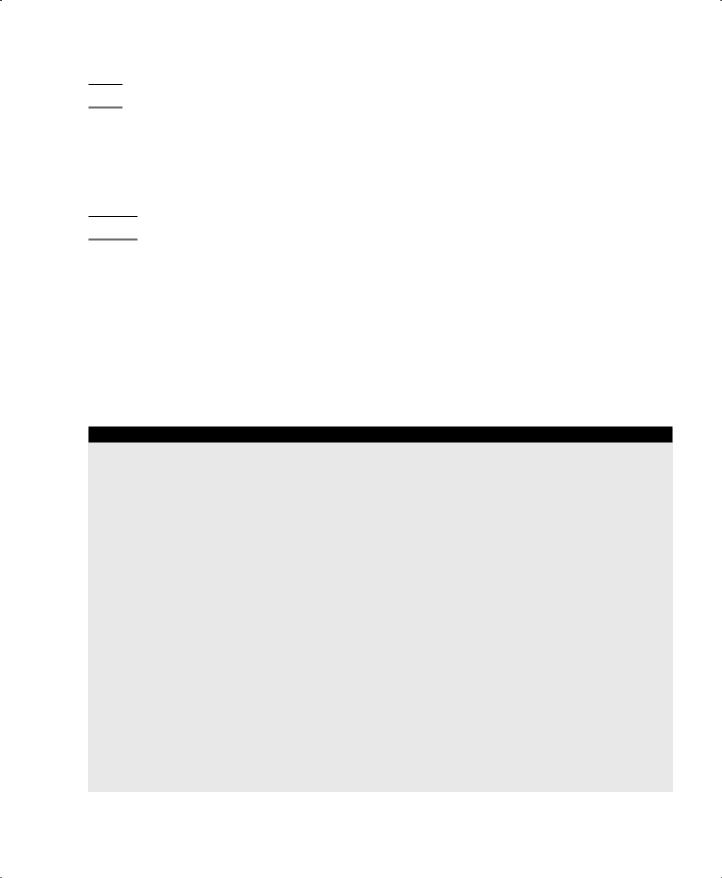 Motels
T Y P E S O F L O D G I N G FA C I L I T I E S 15
Motels offer guests a limited range of services, which may include reservations, vending machines, swimming pools, and cable television. The size of these properties averages from 10 to 50 units. Motels are usually in suburban highway and airport locations. Guests typically stay overnight or for a few days. Motels may be located near a freestanding restaurant.
All-suites
The all-suites concept was developed in the 1980s as a separate marketing concept. These hotels offer guests a wide range of services that may include reservations, living room and separate bedroom, kitchenette, optional public dining room and room service, cable television, videocassette players and recorders, specialty shops, personal services, valet and laundry, swimming pool, and ground transportation to and from an airport. The size of the operation can range from 50 to more than 100 units. This type of property is usually found in center-city, suburban, and airport locations. The length of guest stay can be overnight, several days, or long term.
Although this type of hotel may seem relatively new, many downtown center-city hotels have offered accommodations with in-room kitchenette and sitting room since the
H O S P I T A L I T Y P R O F I L E
oseph Longo is the general man-

Group. Prior to becoming general manager of The

Jager of The Jefferson Hotel,

Jefferson Hotel, Mr. Longo was regional director

?a 265-room historic property in

of operations for the Field Hotel Association in

Richmond, Virginia. One of only 17

Valley Forge, Pennsylvania.

hotels in North America to receive both the Mobil

The sales and marketing effort for this indepen-

Five Star and AAA Five Diamond ratings, The

dently owned property requires aggressive sales

Jefferson Hotel offers guests the highest level of

and public relations strategies. Focus is placed not

products and services available, with a strong com-

only on the guest rooms but also on the 26,000

mitment to warm, genuine, and gracious?service. square feet of function space and the two restau-

Mr. Longo obtained B.S. degrees in business

rants, one an AAA Five Diamond Award winner.

administration and communication from Saint

Mr. Longo encourages students who are pursu-

John's University in New York. While in college,

ing a hospitality management career to remember

he worked at the front desk at The Saint Regis

that, as innkeepers, the hotel is like your home,

Hotel in New York City and began his profes-

where all of your guests are made to feel welcome.

sional career at the Sheraton-Carlton Hotel in

This means providing all guests with the basics of

Washington, DC, as the rooms division manager.

hospitality: a comfortable room, exceptional food,

He then became general manager of The River Inn

and a friendly staff to serve them. He adds that

hotel in Washington, DC, and then the regional

hospitality is a diverse business, offering a unique

director of operations for the Potomac Hotel

work experience each day. 16 C H A P T E R 1 ■ I N T R O D U C T I O N T O H O T E L M A N A G E M E N T
early 1900s. Now, with mass marketing—advertising products and services through mass communications such as television, radio, and the Internet—this type of hotel is considered "new." Examples of the all-suite concept include Hilton's Embassy Suites Hotels and InterContinental Hotels' Candlewood Suites.
Select-service Hotels
Select-service hotels appeared in the mid-1980s. Hampton Inn and Marriott were among the first organizations to offer select service properties.
The concept of select service was developed for a specific segment of the market: business and cost-conscious travelers. The range of accommodations and services may include reservations, minimal public dining and meeting facilities, cable television, personal computers, personal services (valet and laundry), and ground transportation to and from an airport. The size of the property can range from 100 to more than 200 rooms. Select-service hotels are found in center-city, suburban, and airport locations. They are usually located near restaurants for guest convenience. Guest stays can be overnight or long term. These properties sometimes specialize in catering to the business traveler and offer special business technology centers. Select-service hotel properties include Holiday Inn Express, operated by InterContinental Hotels Group; Comfort Inn, by Choice Hotels International; and Marriott's Fairfield Inn.
Extended-stay Hotels
Extended-stay properties were designed to offer guests a home-away-from-home atmosphere over long stays precipitated by business, leisure, or personal necessity. For example, a person may have to attend to a business project for several days or weeks; another may want to visit with relatives whose home does not have adequate accommodations for visitors; a third may be accompanying a relative or friend receiving an extended health treatment at a medical center and require overnight accommodations. The patient himself may appreciate the homelike atmosphere of the extended-stay hotel in which to recover between treatments.
Leon Stafford of the Atlanta Journal-Constitution writes, "The big, fancy hotels… have struggled to get 60 percent of their rooms filled since 2001. Meanwhile, extended stays…have remained at least 70 percent filled." He adds an interesting idea for your career development consideration: "About three extended-stay lodges were built for every traditional hotel constructed between 2001 and 2004."26
At Hilton's Homewood Suites, the following room amenities are included: king-size bed or two double beds in the bedroom and foldout sofa in the living room; two remotecontrolled color televisions; fully equipped kitchen with a microwave, refrigerator with ice maker, coffeemaker, twin-burner stove, and kitchen utensils; a spacious, well-lit dining area; ceiling fans; iron and ironing board. Additional hotel services include a business center, an exercise room, and a pool. This hotel concept also structures its room rates to attract the long-term guest.