Добавил:
Upload
Опубликованный материал нарушает ваши авторские права? Сообщите нам.
Вуз:
Предмет:
Файл:
Avenues_first certificate_WB
.pdf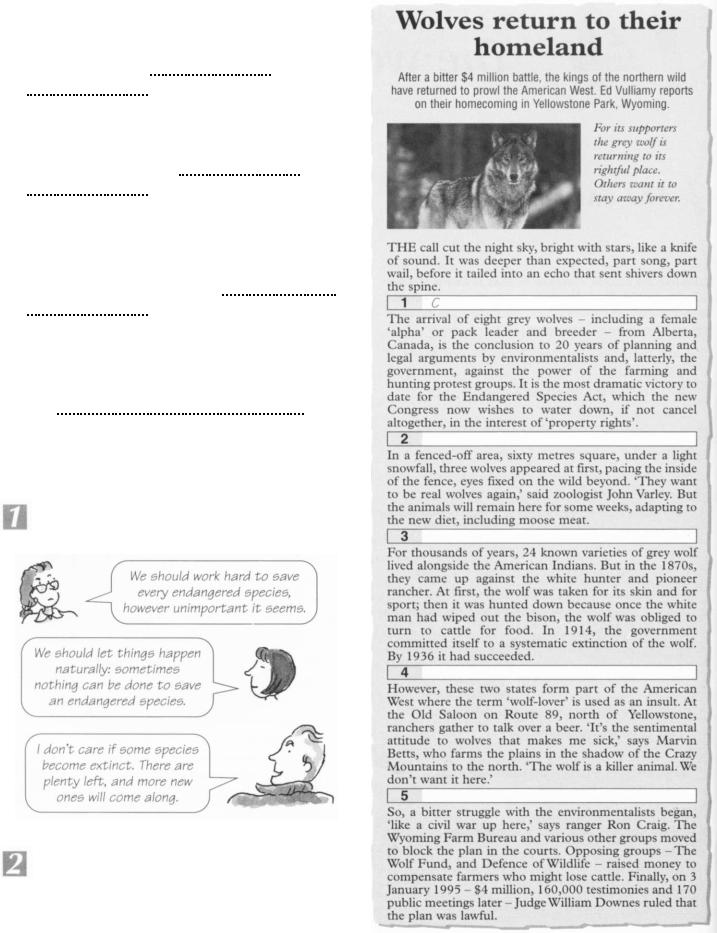 11Archaeologists dug up some of this rubbish thousands of years later.
archaeologists Some of this rubbish
thousands of years later.
12The Romans threw various unwanted objects out of their villas and military camps.
out
 

Various

unwanted objects

 

 

 

Roman villas and military

 

camps.

 

 

1 3

Archaeologists discovered later inhabitants had

 

built houses on top of Roman rubbish dumps,

 

by

 

 

 

Archaeologists

discovered houses

 

 

 

later inhabitants on top of

 

Roman

rubbish

dumps.

14

What will future generations learn about us from

 

our rubbish?

 

 

will

 

 

 

What

 

about

 

us from

our rubbish by future generations?

Back from extinction
Which of these statements is closest to your own point of view? What are your reasons? Can
you support your ideas with examples?
Read this newspaper article about wolves in North America. Five paragraphs have been
removed from the article. Choose from paragraphs A-F the one which fits each gap (1-5). There is one extra paragraph which you do not need to use.
| | | | | |
| --- | --- | --- | --- | --- |
| 110 | U N I T 1 4 | T h e w o r l d | a r o u n d | us |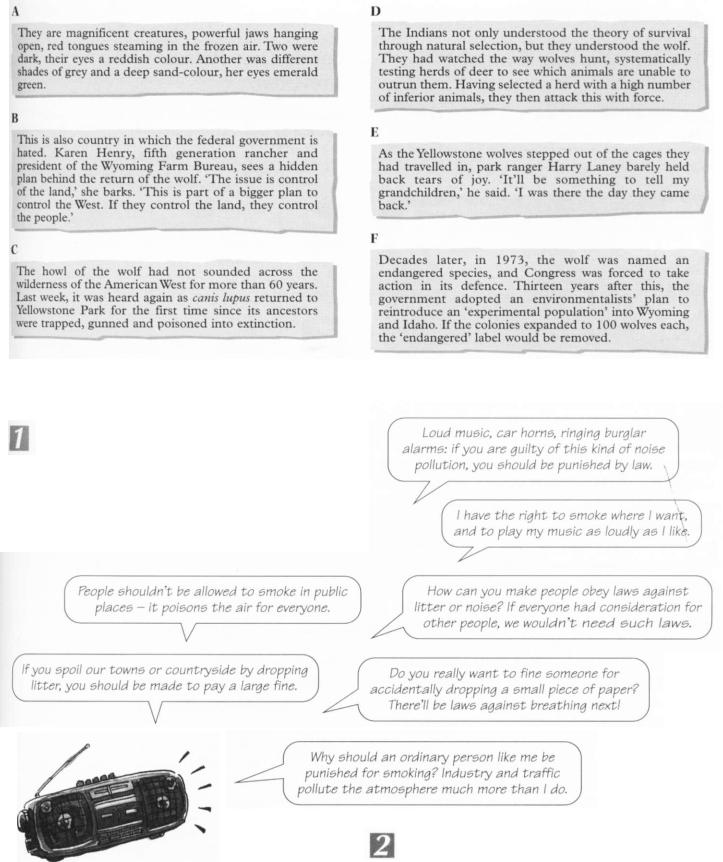 Looking at both sides
You recently listened to a radio discussion on this topic:
Should we have stricter laws to prevent ordinary people from causing pollution?
Here are some of the views that were expressed. How far do you agree or disagree with each opinion? Why?
Write a letter (120-180 words) to the presenter of the radio programme giving your views on
the topic.
First write a paragraph plan. Make sure you look at both sides of the problem and organise your ideas clearly.
| | | | | |
| --- | --- | --- | --- | --- |
| L E S S O N | 1 | T h e | e n v i r o n m e n t | 111 |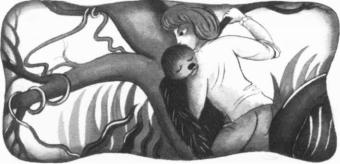 Animal life

The -ing form or the infinitive
Check that the -ing form and the infinitive (with and without 'to') have been used correctly in this text. Make any necessary corrections. You should find 18 mistakes. The first one has been corrected for you.
Animal rescue
When a dam in French Guyana made the river Sinnamary to burst its banks, the water started flooding the rainforest. Forest animals were forced escaping into the trees. Conservationists helplessly watched the water level to rise. When it threatened covering even the trees, the French government and the company responsible for build the dam agreed provide money for a rescue. A team of 40 French vets tried saving as many animals as possible. They used speedboats chasing the animals and darts to make them temporarily unconscious. In all, they managed rescue 5,000 creatures. Animals that were unable to climb trees, such as rodents, were saved first. They were so happy getting away from the water they didn't mind to be handled by the vets. Monkeys were more difficult capture: although most monkeys can't stand get wet, these ones preferred drowning to travelling in a boat with a vet. The vets couldn't prevent some monkeys from fall into the river and then they had to swim after them. Sloths were equally uncooperative. They wouldn't let the vets to carry them down the trees without be anaesthetised first. The animals were later released into the safety of French Guyana's first national park. They seem to enjoy to live in their new home. But do they remember running for their lives from the advancing water? And do they regret being made leave their old surroundings?

Phrasal verbs (revision)
Find the odd one out. Which object in each group does not go with the phrasal verb?
1

 

the cat

You

put

out the cat at night.

put

out

a

fire

You

put

out

a fire

with

water.

your hand

You

put

out

your

hand

to

 

 

 

 

a party

shake

 

someone

else's.

 

2

 

weight

 

 

 

 

 

 

put

on

a coat

 

 

 

 

 

 

an idea

 

 

 

 

 

 

 

 

 

 

 

 

 

 

 

 

a

tape

 

 

 

 

 

 

3

 

the price

 

 

 

 

 

 

put

up

guests

 

 

 

 

 

 

rain

 

 

 

 

 

 

 

 

 

 

 

 

 

 

 

 

a notice

 

 

 

 

 

 

4

 

a meeting

 

 

 

 

 

 

put off

a bus

 

 

 

 

 

 

someone buying an old car

 

 

 

 

 

 

 

 

someone playing chess

 

 

 

5

 

space

 

 

 

 

 

 

take

up

scuba diving

 

 

 

 

 

 

trouble

 

 

 

 

 

 

 

 

 

 

 

 

 

 

 

 

an offer

 

 

 

 

 

 

 

 

new information

 

 

 

 

 

take in

the teacher

 

 

 

 

 

 

a

jacket

 

 

 

 

 

 

 

 

 

 

 

 

 

 

 

 

an opportunity

 

 

 

 

 

7

 

your hand

 

 

 

 

 

 

hold

up

a promise

 

 

 

 

 

 

the traffic

 

 

 

 

 

 

 

 

a bank

 

 

 

 

 

 

S

 

hunger

 

 

 

 

 

 

fill in

a form

 

 

 

 

 

 

time

 

 

 

 

 

 

 

 

 

 

 

 

 

 

 

 

a crack

 

 

 

 

 

 

 

 

a

language

 

 

 

 

 

 

pick up

a

friend

 

 

 

 

 

 

the receiver

 

 

 

 

 

 

 

 

 

 

 

 

 

 

 

 

a journey

 

 

 

 

 

 

10

 

a

story

 

 

 

 

 

 

make up

lunch

 

 

 

 

 

 

 

 

your face

 

 

 

 

 

 
your mind
| | | |
| --- | --- | --- |
| 112 | U N I T 1 4 | T h e w o r l d a r o u n d u s |