Добавил:
Вуз:
Предмет:
Файл:
Biotechnology for Biomedical Engineers - Martin L. Yarmush et al
.pdf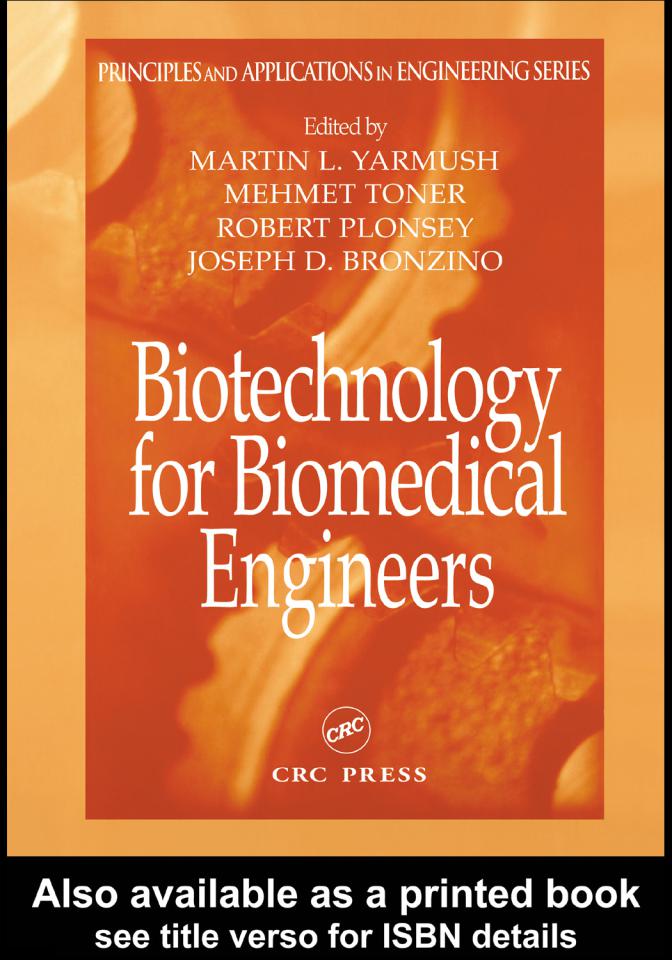 PRINCIPLES AND APPLICATIONS IN ENGINEERING SERIES
Biotechnology for Biomedical Engineers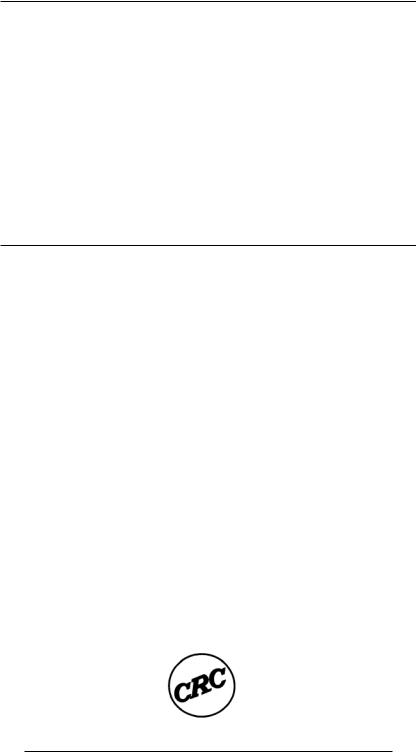 PRINCIPLESAND APPLICATIONS IN ENGINEERING SERIES
Biotechnology for Biomedical Engineers
Edited by
MARTIN L.YARMUSH
MEHMET TONER
ROBERT PLONSEY
JOSEPH D.BRONZINO
CRC PRESS
Boca Raton London NewYork Washington, D.C.

This edition published in the Taylor & Francis e-Library, 2005.
To purchase your own copy of this or any ofTaylor & Francis or Routledge's collection of thousands of eBooks please go to www.eBookstore.tandf.co.uk.
The material in this book was first published in The Biomedical Engineering Handbook.
 

 

Library of Congress Cataloging-in-Publication Data

 

 

 

 

 

Biotechnology for biomedical engineers/Martin L.Yarmush…[et al.].

 

 

p.

cm. (Principles and applications in engineering)

 

 

ISBN 0-8493-1811-4 (alk. paper)

 

 

1. Biotechnology I.Yarmush, Martin, L. II. Series.

 

 

TP248.2.B5517 2003

 

 

660.6-dc21

2002041504

 

 

 

 

 
This book contains information obtained from authentic and highly regarded sources. Reprinted material is quoted with permission, and sources are indicated.A wide variety of references are listed. Reasonable efforts have been made to publish reliable data and information,but the authors and the publisher cannot assume responsibility for the validity of all materials or for the consequences of their use.
Neither this book nor any part may be reproduced or transmitted in any form or by any means, electronic or mechanical, including photocopying, microfilming, and recording, or by any information storage or retrieval system, without prior permission in writing from the publisher.
All rights reserved.Authorization to photocopy items for internal or personal use, or the personal or internal use of specific clients, may be granted by CRC Press LLC, provided that $1.50 per page photocopied is paid directly to Copyright Clearance Center, 222 Rosewood Drive, Danvers, MA 01923 USA The fee code for users of the Transactional Reporting Service is ISBN 0-8493-1811-4/03/$0.00+$1.50.The fee is subject to change without notice. For organizations that have been granted a photocopy license by the CCC, a separate system of payment has been arranged.
The consent of CRC Press LLC does not extend to copying for general distribution, for promotion, for creating new works, or for resale. Specific permission must be obtained in writing from CRC Press LLC for such copying.
Direct all inquiries to CRC Press LLC, 2000 N.W. Corporate Blvd., Boca Raton, Florida 33431.
Trademark Notice: Product or corporate names may be trademarks or registered trademarks, and are used only for identification and explanation, without intent to infringe.
Visit the CRC Press Web site at www.crcpress.com
© 2003 by CRC Press LLC
No claim to original U.S. Government works
International Standard Book Number ISBN 0-8493-1811-4
Library of Congress Card Number 2002041504
ISBN 0-203-00903-7 Master e-book ISBN

Preface
The human genome project has altered the very nature of research and development related to the treatment of disease and, in the process, has revolutionized the field of "biotechnology." Pioneering work in genomics,for example,has led to the development of sophisticated techniques for determining differential gene-expression patterns (transcriptomics) resulting from genetic makeup, disease slate or influence from external factors.This book—Biotechnology for Biomedical Engineers—takes the sections most relevant to this important topic from the second edition of the Biomedical Engineering Handbook published in 2000.Since it is important for individuals engaged in this field to understand the fundamentals of physiology, this handbook opens with a section on Physiologic Systems, edited by Robert Plonsey, which provides an overview of the major physiologic systems of current interest to biomedical engineers, namely the cardiovascular, endocrine, nervous, visual, auditory, gastrointestinal and respiratory systems. It is important to note that this section is written at an introductory and tutorial level. However, since this book has been prepared for the biomedical engineering community,mathematical descriptions are not avoided.
In the subsequent chapters,the major editors,Drs.MartinYarmush and MehmetToner,have assembled material that covers most topics in biotechnology that might interest the practicing biomedical engineer. During the past two decades,the field of biotechnology in the advent of recombinant DNA technology, monoclonal antibody technology, and new technologies for studying and handling cells and tissues,has gone through a tremendous resurgence in a wide range of applications pertinent to industry,medicine, and science in general.Some of these new ideas,concepts,and technologies are covered in this handbook.
With this in mind, the Biotechnology for Biomedical Engineers Handbook presents:
•Approaches and techniques to manipulate genetic materials.This capability, which provides the practitioner with the potential to generate new proteins with improved biochemical and
physiochemical properties, has led to the formation of the field of protein engineering.
•The field of monoclonal antibody production in terms of its basic technology, diverse applications,and ways that the field of recombinant DNA technology is currently "reshaping" some of the earlier constructs.
•Applications of nucleic acid chemistry,as well as the burgeoning field of antisense technology, with emphasis on basic techniques and potential applications to AIDS and cancer.
•The computational, chemical, and machine tools that are being developed and refined for genome analysis.
•The fundamentals of applied virology in which viral vaccines and viral-mediated gene therapy are the main foci.
•Important aspects of cell structure and function, emphasizing a common approach toward quantitative analysis of cell behavior in order to develop the principles for cell growth and function.
By viewing the world of biotechnology through the use of proteins and nucleic acids and through viruses to cells, today's biomedical engineer will hopefully be prepared to meet the challenge of
participating in the greater field of biotechnology.
Joseph D.Bronzino

Jean Louis Coatrieux
Université de Rennes I Rennes, France
Dov Jaron
Drexel University
Philadelphia, Pennsylvania
Swamy Laxminarayan
New Jersey Institute of Technology Newark, New Jersey
Karen M.Mudry
Formerly of The Whitaker
Foundation
Washington, D.C.
Michael R.Neuman
Joint Program in Biomedical
Engineering
The University of Memphis and
University ofTennessee
Memphis,Tennessee
Banu Onaral
Drexel University
Philadelphia,Pennsylvania
Robert Plonsey
Duke University
Durham, North Carolina
Alfred R. Potvin
MEECO
Sarasota, Florida
Charles J.Robinson
Louisiana Tech University
Ruston, Louisiana
Daniel J.Schneck
Virginia Polytechnic Institute
and State University
Blacksburg,Virginia
John Webster
University of Wisconsin
Madison,Wisconsin

John G.Aunins
Merck Research Laboratories
Rahway, New Jersey
Berj L.Bardakjian
University of Toronto
Toronto, Canada
Ewart R.Carson
City University
London, United Kingdom
Ben M.Clopton
University of Washington
Seattle,Washington
Derek G.Cramp
City University
London, United Kingdom
Leslie A.Geddes
Purdue University
West Lafayette, Indiana
Arthur T.Johnson
University of Maryland
College Park, Maryland
Robert Kaiser
University of Washington
Seattle,Washington
Douglas
A.Lauffenburger
Massachusetts Institute of
Technology
Cambridge, Massachusetts
Christopher G.Lausted
University of Maryland
College Park, Maryland
Joseph M.Le Doux
Center for Engineering in Medicine, and Surgical Services, Massachusetts General Hospital, Harvard Medical School, and the Shriners Burns Hospital
Cambridge, Massachusetts
Francis A.Spelman
University ofWashington
Seattle,Washington
George Stetten
Duke University
Durham, North Carolina
Ann L.Lee
Merck Research Laboratories
Rahway, New Jersey
Evangelia Micheli-
Tzanakou
Rutgers University
Piscataway, New Jersey
Jeffrey R.Morgan
Center for Engineering in Medicine, and Surgical Services, Massachusetts General Hospital, Harvard Medical School, and the Shriners Burns Hospital
Cambridge, Massachusetts
Charles M.Roth
Center for Engineering in Medicine, Massachusetts General Hospital, Harvard Medical School, and the Shriners Burns Hospital
Cambridge, Massachusetts
Srikanth Sundaram
Rutgers University
Piscataway, New Jersey
Chenzhao Vierheller
University of Pittsburgh
Pittsburgh, Pennsylvania
David B.Volkin
Merck Research Laboratories
Rahway, New Jersey
S.Patrick Walton
Center for Engineering in Medicine, Massachusetts General Hospital, Harvard Medical School, and the Shriners Burns Hospital
Cambridge, Massachusetts
Martin L.Yarmush
Massachusetts General
Hospital, Harvard Medical
School, and the Shriners
Burns Hospital
Cambridge, Massachusetts
Alan J.Russell

Craig Zupke

University of Pittsburgh

Massachusetts General Hospital and

Pittsburgh, Pennsylvania

the Shriners Burns Institute

 

John Schenck

Cambridge, Massachusetts

 

General Electric Corporate Research

 

andDevelopmentCenter

 

Schenectady, New York