Добавил:
Upload
Опубликованный материал нарушает ваши авторские права? Сообщите нам.
Вуз:
Предмет:
Файл: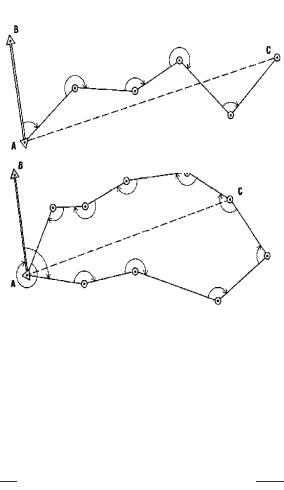 computed; and with the measurements of the length of the lines, the position of each control point computed. If the traverse returns to the starting point or some other known position, it is a closed traverse, otherwise the traverse is said to be open (Figure 12).
Since electronic distance measuring equipment has become available, the accuracy of traverse surveys has increased significantly. The tellurometer (microwave) has been used in Australia to complete a network (Australian Geodetic Datum) covering that continent. The laser equipped geodimeter has been used to produce better internal accuracies in establishing the transcontinental traverse in the United States. The traverse consists of a series of high-precision length, angle and astronomic azimuth determinations running approximately east-west and northsouth through the conterminous states, forming somewhat rectangular loops (Figure 13). This traverse will be the "backbone" of a re-adjustment of the horizontal control network in this country.
Text 13
Celestial Techniques
Celestial methods in geodesy involve the determination of an observer's position from observations of the moon, stars and satellites. Celestial triangulation permits the extension of long arcs across oceans and inaccessible space terrain. Satellites also permit a determination of the shape of the earth and provide important knowledge of its gravitational field (discussion of satellite geodesy is reserved for Chapter VI). All of the celestial methods possess one common characteristic – observed data is not affected by the direction of the vertical at the observation point.
Geodetic experiments have been performed in the past with the solar eclipse, star occultation and moon-position camera methods, but for various reasons the experiments did not produce useful geodetic results. The three techniques have been replaced by the observation and tracking of artificial
AN OPEN TRAVERSE
A CLOSED TRAVERSE
KNOWN DATA:
Latitude and longitude of point A
Azimuth of line AB
MEASURED DATA:
Length of traverse sides
Angles between traverse sides
COMPUTED DATA:
Latitude and longitude of point C, and other points
Length and azimuth of line AC
Length and azimuth of line between any other new points
Figure 12