Добавил:
Upload
Опубликованный материал нарушает ваши авторские права? Сообщите нам.
Вуз:
Предмет:
Файл:
МІНІСТЕРСТВО ОСВІТИ І НАУКИ УКРАЇНИ
КИЇВСЬКИЙ НАЦІОНАЛЬНИЙ УНІВЕРСИТЕТ
ТЕХНОЛОГІЙ ТА ДИЗАЙНУ
Англійська мова
збірник текстів та завдань до практичних занять
для студентів ІІІ-IV курсу спеціальності
"Технологія та конструювання швейних виробів"
КИЇВ КНУТД 2006
Англійська мова: збірник текстів та завдань до практичних занять
для студентів III-IV курсу спеціальності "Технологія та конструювання швейних виробів"
Упорядник: старший викладач Самуйлова А.М.
викладач Телев'як І.І.
К.: КНУТД, 2006. – 53 с. Англійська мова.
Unit 1
Exercise 1. Look at the garments shown in figure I. Give the Ukrainian equivalent for each of the English words
fig.I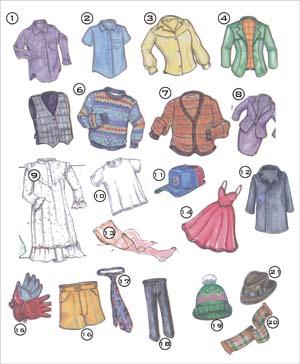 1. a shirt, 2. a short-sleeved shirt, 3. a blouse, 4. a jacket, 5. a vest, 6. a sweater
7. a cardigan sweater, 8. a suit, 9. a nightgown, 10. a T-shirt, 11. a cap (a baseball cap)
12. a coat, 13. tights, 14. an evening dress, 15. gloves, 16. shorts, 17. a tie, 18. trousers,
19. a ski hat, 20. a scarf, 21. a hat.
Text a. Clothes express me
Key Words and Phrases:
to be aware – усвідомлювати, знати; high-heeled shoes – взуття на високих підборах; loose – просторні; gown – сукня, мантія; to convey – передавати; loose-fitting – вільного покрою; to gain the approval – отримати схвалення
Design, color and style of dress can all express very personal qualities. They can show information about a person's mood, personaliy, and self-esteem. Clothes also make up the biggest part of a person's physical appearance. People are often described in terms of their clothing. "Jim is the best-dressed person I know". "Susan always dresses well". Comments like there are heard every day. You can be sure that Jim and Susan are well aware of their clothes. They know that clothes can add to their appearance.
Clothes can also change your physical appearance. High-heeled shoes can add to your height. Loose clothes can add "power" to your appearance.
For example, think of an historical queen's impressive gowns. The size and design of the gowns conveyed an image of power and wealth.
The clothes you wear can affect you in many ways. Wearing brightly coloured clothes to a party can put you in a festive mood. Wearing comfortable old clothes can help you feel relaxed. Clothes are important in satisfying many personal needs.
The clothes you buy and wear also reflect your self-image. Do you dress conservatively? Do you like bright colours? Do you prefer loose-fitting clothes? The clothes you choose reflect the kind of person you are.
The clothes you choose should be based on your lifestyle and should also make the kind of impressions that you want to make.
In every culture, people have learned that they feel comfortable in clothes that are appropriate or suited to their lifestyles. Appropriate clothes are those that are right for the time and place you choose to wear them.
Clothes must also be suitable for the climate in which you live and weather. If you are going on a winter hike or skiing, then you need to wear a hat, a scarf, gloves or mittens. Wear several warm tops, even if you look bulky. This is not the time to show off a new blouse. The best way to know when and where to wear certain garments is to be aware of what you do
Exercise 2. Answer the questions.
1. Do your clothes reflect your personality?
2. What do they say about your tastes and style?
3. Are your clothes the same as yor friends? Why?
4. Which of your clothes say, "This is me"?
5. What clothes are the most comfortable for you?
6. Do colours of clothes affect our emotional state?
7. What clothes are appropriate for (a birthday party, an official meeting, sport
exercises)?
8. How do you understand the phrase "to be in "wrong" clothes"?
9. Have you ever gone somewhere dressed in the " wrong" clothes? How did you feel?
Exercise 3. Find in the text all the synonyms of the words "clothes" and "to wear".
Exercise 4.Translate into English
Oдяг повинен вiдповiдати вашому життєвому стилю.

Люди часто обирають костюм, який можна вдягнути в рiзних ситуацiях.

Святковий одяг вдягають у вiдповiдних випадках.

Дiловий костюм створює образ дiлового чоловiка.

Повсякденний одяг завжди простий, зручний та практичний.

Ваш одяг повинен вiдповiдати не лише ситуацiї, а ще й клiмату та погодi.
Exercise 5. Translate the sentences and define the part of speech of underlined words.
1. She always dresses well.
2. Her dresses are very expensive.
3. I bought this suit at a supermarket.
4. She looks very nice in that dress, it suits her very well.
5. I didn't like the cut of the dresses.
6. A bad tailor can never cut a suit well.
7. Can you put a button on my coat?
8. I can't button my coat; it is too tight.
9. They crown the King of England in Westminster Abby.
10. He wears a crown on his head.