Добавил:
Upload
Опубликованный материал нарушает ваши авторские права? Сообщите нам.
Вуз:
Предмет:
Файл:
Атлас анатомии крупных животных
.pdf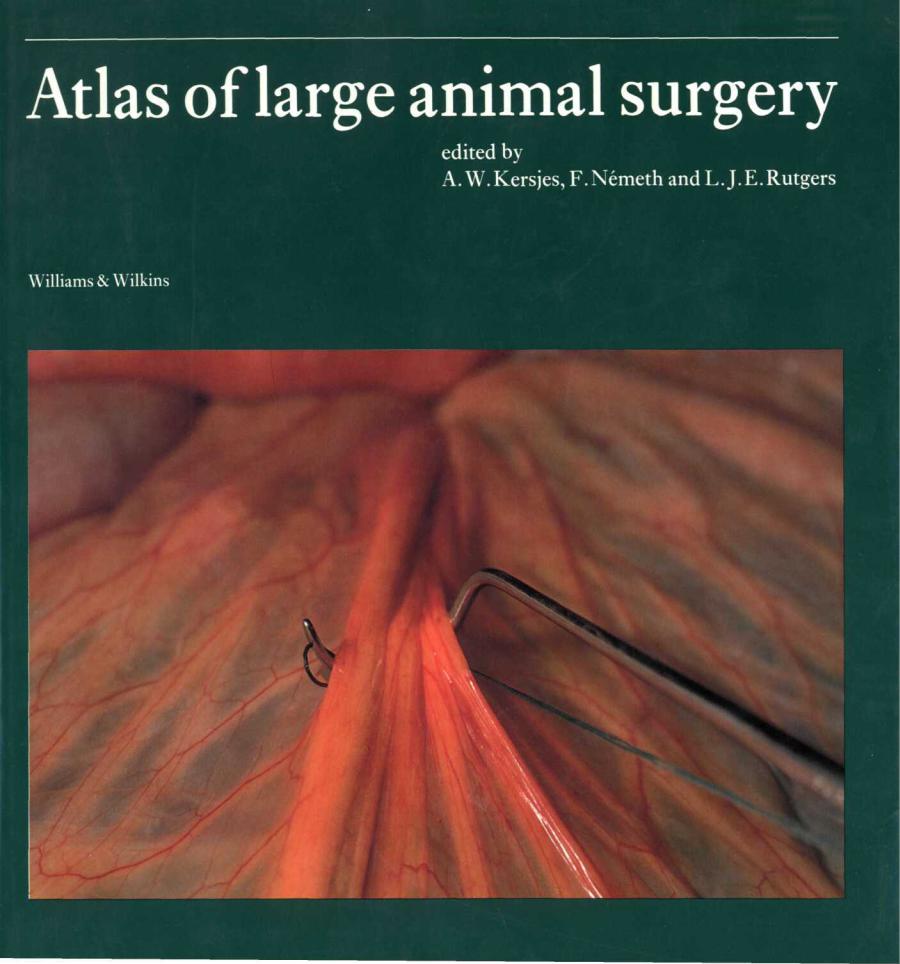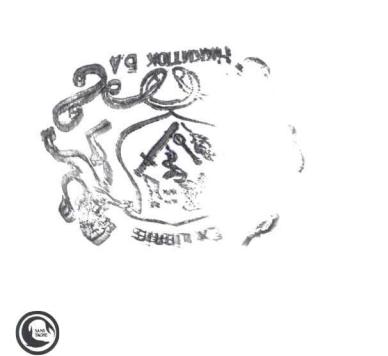 Atlas oflarge animal surgery
edited by
A. W.Kersjes, F.Nemeth and L. J.E.Rutgers
in collaboration with
E.G. Firth, P. Fontijne and M. A. van der Velden
Photography F. A. Blok
Williams & Wilkins
Baltimore / London
Copyright © 1985 Wetenschappelijke uitgeverij Bunge, Utrecht
All rights reserved. The contents of this book, both photographic and textual, may not be reproduced in any form, by print, photoprint, phototransparency, microfilm, microfiche, or any other means, nor may it be included in any computer retrieval system without written permission from the publisher. Distribution rights in the United States and Canada assigned to Williams & Wilkins.
ISBN 0-683-04597-0
Library of Congress Cataloging in Publication Data
Main entry under title:
Atlas of large animal surgery.
Includes index.
i. Veterinary surgery—Atlases. I.Kersjes,A. W. II.Nemeth,F.
SFgii.ASs 1984 636.089*7 84-24430
Printed by Koninklijke Smeets Offset BV, Weert
Design Bernard C. van Bercum GVN
A U T H O R S
Dr. E.G. Firth
Professor, Department of General and Large Animal Surgery
P.Fontijne
Senior Lecturer, Department of Obstetrics, Gynaecology and A.I.
Dr. A. W. Kersjes
Professor and Chairman, Department of General and Large Animal
Surgery
Dr.F.Nemeth
Professor, Department of General and Large Animal Surgery
L.J.E.Rutgers
Lecturer, Department of General and Large Animal Surgery .
Dr.M. A. van der Velden
Senior Lecturer, Department of General and Large Animal Surgery
Faculty of Veterinary Medicine
State University of Utrecht
Utrecht, The Netherlands
A thorough anatomical and pathophysiological knowledge ofthe condition and meticulous attention to surgical principles are the basis for all surgical procedures. Assuming these requirements are fulfilled, surgery is by its very nature a discipline which should be visualized. Modern visual aids are therefore playing an increasingly important role in the instruction of
surgical techniques. This does not mean that textbooks will become redundant, but there is a trend toward more illustrations and less text, a tendency which underlies the preparation and publishing of this atlas.
The authors are of the opinion that it will be elucidating to students and veterinary surgeons to have available a full colour photographic atlas of the treatment of the most important surgical conditions. We have attempted to show the essential steps of each procedure, accompanied by pertinent but limited text. It often has been a challenge to find a balance between text and photographs and at the same time to meet the requirements of adequate description, within the limitations of the concept of this atlas.
This publication does not aim at replacing a textbook, and thus chapters on general surgical principles have been omitted. It is therefore assumed that the reader has knowledge of current concepts of, for instance, asepsis and antisepsis, instrumentation, suture materials and techniques, wound healing, principles of fracture repair, and supportive measures (fluid therapy, role of antibiotics, anti-inflammatory drugs etc.).
The surgical techniques are in most cases time-honoured and are used in the Department of General and Large Animal Surgery and the Department of Obstetrics, Gynaecology and A.I. at Utrecht. The majority of the presented techniques, especially those concerning the bovine species and other food animals, can be carried out in general practice. However, a number of advanced techniques which can not be performed without hospital facilities are included.
A.W.Kersjes
F.Nemeth
L. J.E.Rutgers
The editors are grateful to Prof.Dr.K.J.Dik and A. van der Woude, Department of Veterinary Radiology, for providing the radiographs. Realization of the book would not have been possible without help from fellow members of the Departments of General and Large Animal Surgery and Veterinary Anaesthesiology, particularly Dr. A.Barneveld, G.E.Bras, W.R.Klein and H. W.Merkens, who performed some of the depicted surgery. We also extend our thanks to Mrs. J.Th. Abels-van der Linden for typing the manuscript.
C H A P T ER 2 THE NECK 17
Muscles
2-1 Myectomy (Forssell) and accessory nerve neurectomy 18,19
Larynx and trachea
2-2 Laryngotomy - cricoarytenoidopexy and ventriculectomy 20,21 2-3 Laryngotomy-extirpation of subepiglottal cyst 22
2-4 Laryngotomy - in bovine necrotic laryngitis 23 2-5 Tracheotomy 24
CHAPTER 3 THE T H O R A X 25
 

 

 

 

3-1

Diaphragmatic herniorrhaphy 26,27

 

 

 

 

 

 

3-2

Treatment of fistulous withers 28

 

 

 

PREFACE

 

 

 

C H A P T E R 4 THE A B D O M E N

 

 

 

 

 

 

 

Abdominal wall

 

 

 

CHAPTER I THE HEAD I

 

 

4-1

Umbilical herniorrhaphy 30,31

 

 

 

 

 

 

4-2

Resection of urachal fistula 32,33

 

 

 

Poll

 

 

4-3

Ventral midline laparotomy 34,35

 

 

i-i

Disbudding and dehorning

2,3

 

4-4

Flank laparotomy 36,37

 

 

 

 

 

 

4-5

Paramedian laparotomy 38

 

 

 

Ear

 

 

 

 

 

 

1-2

Extirpation of aural fistula 4,5

 

 

Gastro-intestinal system

 

 

 

 

 

 

4-6

Rumenotomy 39

 

 

 

Guttural pouch

 

 

4-7

Correction of left displaced abomasum

40,41

1-3

Drainage and fenestration

6

 

4-8

Correction of right displaced abomasum 42

 

 

 

 

 

4-9

Caecotomy in cattle 43

 

 

 

Face

 

 

4-10

Enterectomy; side-to-side anastomosis

44,45

1-4

Trephination of the frontal sinus in cattle

7

4-11

Enterectomy; end-to-end anastomosis

46

 

1-5

Trephination of maxillary sinuses and repulsion of teeth in the

4-12

Jejunocaecostomy; end-to-side anastomosis

47

 

horse 8,9

 

 

4-13

Correction of rectum prolapse 48,49

 

 

 

 

 

 

4-14

Treatment of atresia ani (et recti) 50

 

 

 

Mandible

 

 

 

 

 

 

1-6

Treatment of premaxilla and mandibular body fractures 10

 

 

 

 

1-7

Treatment of mandibular interdental space fracture n

 

C H A P T E R S THE U R O G E N I T A L SYSTEM

51

 

Mouth

 

 

 

The male urogenital system

 

 

1-8

Lingual mucosa resection in cattle 12

 

5-1

Castration: open technique in the pig 52

 

 

 

 

 

5-2

Castration: closed technique in the goat

53

 

 

Eye

 

 

5-3

Castration: half closed technique in the horse 54,55

1-9

Suturing of eyelid laceration 13

 

5-4

Castration: primary closure method in the horse 56,57

i-io

Excision of the nictitating membrane 14

 

5-5

Vasectomy 57

 

 

i-n

Enucleation of the eyeball

14,15

 

5-6

Inguinal cryptorchidectomy in the horse 58,59

 

 

 

 

5-7

Abdominal cryptorchidectomy in the horse

60,61

 

Nose

 

 

5-8

Abdominal cryptorchidectomy: flank approach in the pig 61

1-12

Treatment of nasolacrimal orifice atresia

16

5-9

Inguinal herniorrhaphy in the pig 62,63

 

 

 

 

 

5-10

Treatment of incarcerated inguinal hernia in the horse 64

 

 

 

 

5-11

Inguinal herniorrhaphy in foals 65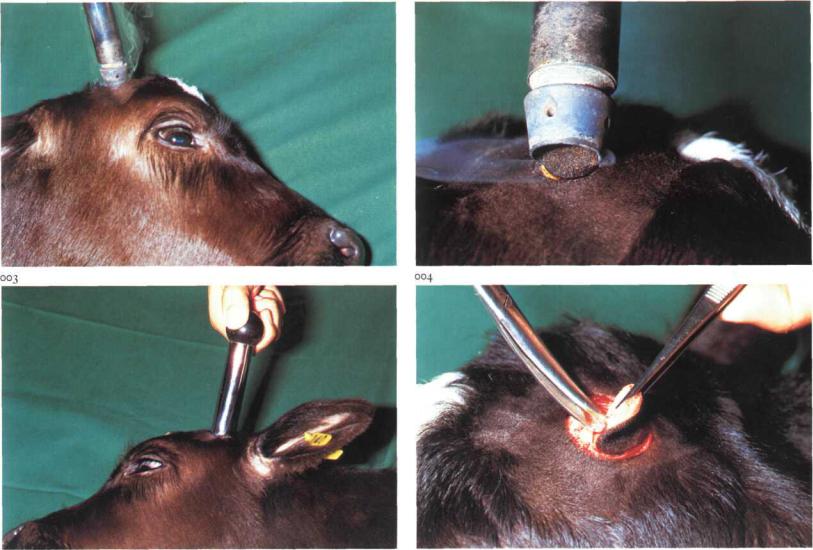 | | |
| --- | --- |
| Chapter I | THE H E A D I Poll i-i |
| ooi | 002 |
i-i Disbudding and dehorning
Dehorning of cattle is necessary as soon as the herd is being kept in a loosehousing system. The animals are no longer able to gore each other and become much quieter. As dehorning of adult cattle may be fatiguing for the operator and the procedure may give rise to complications (e.g. sinusitis), disbudding ofcalves is preferable. Occasionally amputation of the horn is indicated for other reasons e.g. fracture of the bony core of the horn.
Surgery.
(i) Disbudding. Several methods are practised.
a The use of caustics should be discouraged as it may cause too little or too much tissue damage.
b The best method is removing the buds with a disbudding iron under local analgesia (cornual nerve block). The hot iron is rotated as it burns through the skin surrounding the bud [ooi]. The iron is then tilted, enabling the bud to be scooped out [002]. This method is recommended because
haemorrhage does not occur and healing takes place within a few weeks leaving little or no scar.
c Surgical excision may be performed with Robert's dehorning trephine under local analgesia. The skin around the bud is incised by rotating the trephine [003], and although the instrument is designed for scooping out the bud, removal with forceps and scissors may be easier [004], The wound produced is relatively large, and some haemorrhage is always present.
(2) Dehorning. If horn growth is already present some kind of surgical amputation must be performed. Several instruments are available for this purpose (saws, shears, wire). Adult cattle, restrained physically and chemically, are dehorned standing, and surgery must be carried out under local analgesia. If regeneration of horn is to be avoided the amputation should include i cm of skin around the base of the horn.
Young cattle can effectively be dehorned with one of the smaller amputation devices (e.g. Barnes' dehorner [005]). For older animals, embryotomy wire is very suitable as it offers the greatest opportunity to con-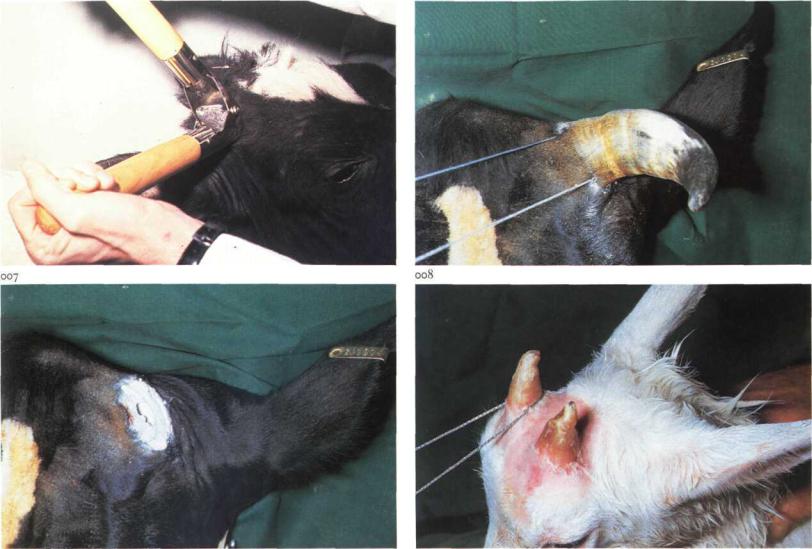 | | |
| --- | --- |
| Chapter i | THE H E A D j Poll i-i |
| 005 | 006 |
trol the direction of the 'incision' [006]. As sawing is begun the wire is held in place at the horn base with a metallic object (e.g. scissors) to prevent the wire moving from the intended incision site. The sawing often generates sufficient heat to minimize haemorrhage [007]. If significant bleeding occurs haemostasis is best achieved with a point firing iron. Pneumatization of the bony core in animals over 6 months of age means that dehorning results in an open frontal sinus [007].
Dehorning of goats is occasionally requested. The different innervation should be noted: cornual branches of both lacrimal and infratrochlear nerves must be blocked. Suitable instruments include dehorning saw or embryotomy wire [008]. Amputation in adult goats should be considered carefully, because very large openings to the frontal sinuses result, necessitating prolonged aftercare.
Complications following dehorning of adult cattle are rare. Because secondary haemorrhage may develop after righting or rubbing the wound, a dehorned herd should be inspected regularly during the first half day post-
operatively. Sinusitis may also occur due to the opening of the frontal sinus. If the sinusitis becomes purulent, trephination may be indicated (see
1-4).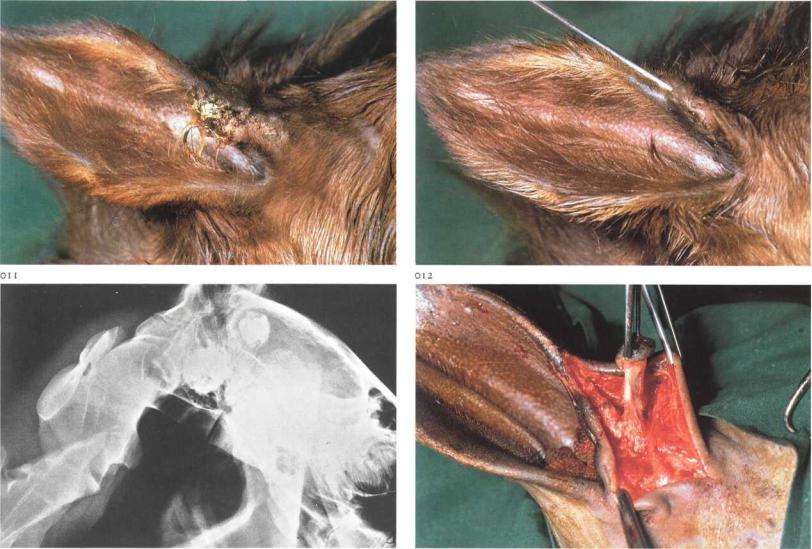 | | |
| --- | --- |
| Chapter i | THE H E A D I Ear 1-2 |
| O09 | O I O |
1-2 Extirpation ofaural fistula
Ear fistula in the horse is most often caused by a dentigerous cyst. The opening of the tract is commonly located on the cranial border of the pinna, 1-3 cm from its base [009]. The cyst is usually attached to the temporal bone, under the temporalis muscle. In most cases the cyst contains one or more aberrant teeth, which may be detected by introducing a probe into the cyst [oio], but in some cases only a cyst is present. Definitive diagnosis demands radiographic examination [011]. The only treatment is surgical. Surgery. Surgery is carried out with the animal in lateral recumbency under general anaesthesia. The external auditory meatus is packed with a sterile gauze plug, and a probe is inserted into the fistulous tract. A skin incision is made around the opening and extended along the border of the ear, immediately over the probe. The fistulous tract is dissected completely free from the surrounding tissue [012]. Opening of the fistulous tract and damage to the aural cartilage must be avoided. When the base of the fistula
is reached the skin incision is extended over the cyst. Careful searching with the probe may give an accurate indication of the position and extent of the cyst. The temporalis muscle is bluntly dissected in the direction of its fibres; wound retractors facilitate exposure of the cyst and its contents [013]. The cyst is then bluntly dissected. If the tooth is firmly attached to the temporal bone it must be levered out using a chisel [014] and forceps [015]; in doing so care must be taken to prevent fracture of the temporal bone. Before closure, it must be established that all aberrant teeth have been removed.
The temporalis muscle and subcutaneous tissue are sutured with simple interrupted sutures of absorbable material, after a latex drain has been inserted. The skin is also sutured with simple interrupted sutures [016]. Systemic antibiotics are administered. The latex drain is removed on the second or third postoperative day and the skin sutures on the tenth postoperative day.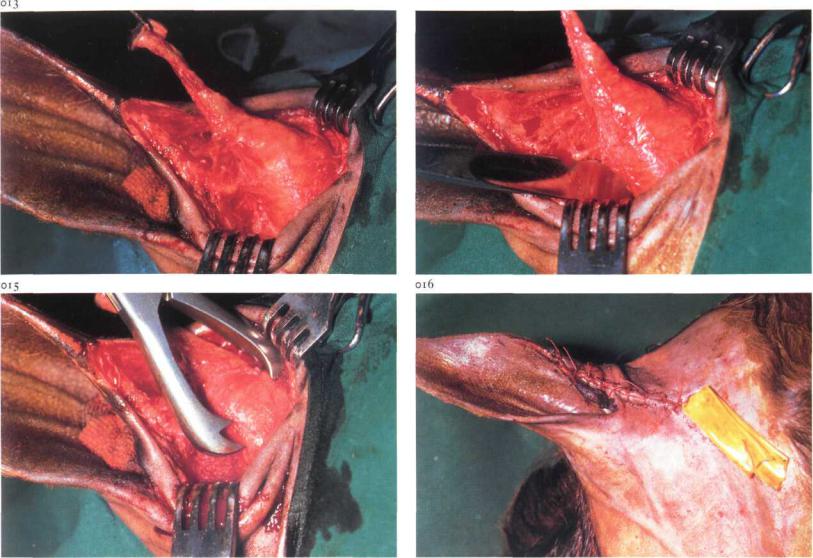 Chapter i THE H E A D j Ear 1-2
014