Добавил:
Upload
Опубликованный материал нарушает ваши авторские права? Сообщите нам.
Вуз:
Предмет:
Файл:
In_yaz2_posobie_IEf_Business_Identity
.doc
14. Look at the questions and say how many of them you can answer.
1. What support does ICT sector receive in Belarus?
2. Why is this sector important for our country?
3. When was the HT Park established?
4. What is the main aim of the HT Park?
5. How many companies are registered as the Park's residents?
6. What does the virtual high-tech park mean?
7. What principle enables the resident companies to use scientific and professional potential?
8. What training centers do Belarus programmers get trained at?
9. What is another distinctive feature of Belarusian developers?
10. Do you agree that the resident companies are really successful on European markets? Prove this fact.
15. Read the text once again and fill in the blanks of the flow chart.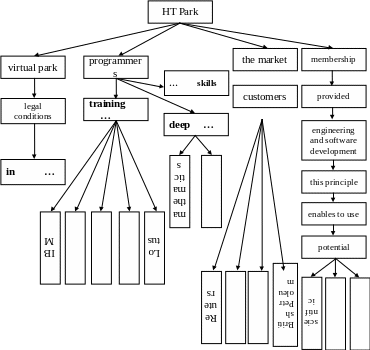 16. On the basis of the flow chart speak about opportunities of the HT Park.
PRACTICE IN SPEAKING
17. Study the following questions that might be asked in the job interview.
1. Why are you interviewing with us? 2. If you were hiring for this position, what technical skills would you be looking for? 3. What's the toughest communication problem you faced? 4. How would you describe an ideal job for you? 5. What was the biggest challenge you faced doing your job? 6. What are your qualifications?
18. Continue the list of questions and prepare possible answers to them.
19. Work in pairs. Restore the phrases of the interviewer and role play the dialogue.
C: Well, after leaving university I got a technical role in a company and spend my evenings and weekends learning the tools of this trade.
C: In my opinion, the main thing in telemarketing is ensuring that the company has sufficient resources to cope with sudden large increases in customers.
C: I mean not only having adequate storage for all your customers' details, but ensuring that you have technology in place to handle stock levels and efficient delivery.
C: To my mind, it is the ability to respond rapidly to changes in the size of your customer base and the type of product that they want.
C: I'm afraid not. The traditional software can't provide sufficient flexibility.
20. Role play. Look at the advertisement on the job offer and role- play
the job interview.
Student A – interviewer. Ask the candidate everything related to his/her back-ground, education and experience. Give details about the vacancy.
Student B – candidate. Show your interest in getting this job. Speak about your qualifications and work experience. Ask about conditions of work (hours, salary, contract...).
Venture leader in the sector of telemarketing
Requirements:
Knowledge of information technologies. Good communication and interpersonal skills. Experience in the field of customers service
We provide:
Training and equipment at the cost of the firm. Work from home.
Flexible schedule.
Contents
UNIT I: COMPANIES………………………………………………………………3
UNIT II: RECRUITMENT………………………………………………………..12
UNIT III: ADVERTISING………………………………………………………...23
UNIT IV: GLOBALIZATION…………………………………………………….32
UNIT V: BUSINESS AND THE ENVIRONMENT……………………………...43
UNIT VI: MARKETING…………………………………………………………..51
UNIT VII: ENTERPRISE MANAGEMENT…………………………………….59
UNIT VIII: INFORMATION TECHNOLOGIES AND BUSINESS MEDIA…66