Добавил:
Upload
Опубликованный материал нарушает ваши авторские права? Сообщите нам.
Вуз:
Предмет:
Файл:
one minute with the star interviews 2 исп+доп
.doc
I would like to thank Ani Lorak for taking time out of her busy schedule to talk with me.
Ksenia Delegei
Interview with Alexander Domogarov
H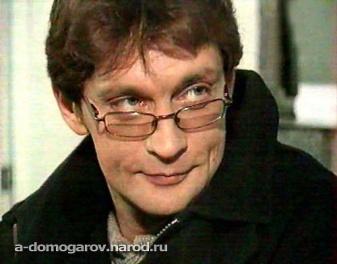 ello, ladies and gentlemen! It is "One Minute with a Star" and today Alexander Domogarov is our guest! Let's greet him!
– Hello, Alexander.
– Hello.
- When and where were you born?
- I was born on July, the 12th 1963 in Moscow.
- I know that, at the beginning, you have never dreamt of going to a stage despite having an actor father. Why? What did you want to be?
- I didn't see myself as an actor, that's why I was going to be an engineer. Then I understood that it wasn't my calling.
- What theatre school did you manage to enter?
- I decided to go to a prestigious Shepkin Theatre School and entered on the first try.
- And where did you make your first stage debut?
- I made it in the Maly State Academic Theatre, known for its traditions.
- What theatrical roles did you play?
- A variety of roles! It includes Macbeth, Vaclav Nijinsky in "Nijinsky, God's Crazy Clown" (an American play), Syrano de Bergerac etc.
- Who wrote "Nijinsky…"?
- An American playwright Glenn Blamstein.
– By the way, you're known as a great cinema actor. How many films have you starred at?
- I've starred at more than 20 films and TV series.
- Alexander, tell us a little about your cinema roles, please. What film brought you all-Russian fame and success?
- It was "Countess de Monsoreau", 1997. It became a popular Russian TV series, based on the novel of Alexander Dumas pere.
- Who did you play in it?
- I played a noble, handsome count Bussy d'Amboise.
- Can you tell us anything else about your cinema roles?
- In 2000, I played in Polish historical epic "With Fire and Sword" based on Henryc Senkevich's novel. It was filmed by a cult Polish director Jerzhy Hoffman. I portrayed there a dashing Cossack chieftain Bogun.
- And then you won an international acclaim… What actresses and actors were your partners in films? Can you name?
- Yes, I can. In "Countess de Monsoreau" it was Gabriella Mariani, Mihal Zhebrovsky and Isabella Scorupco in "With Fire and Sword". I also starred with Maria Poroshina, Dmitriy Haratian, Marina Alexandrova, Alexei Gorbunov and others.
- In the most parts you portray a hero, and there is a small number of them, where your character is a bad person. What characters do you like to play?
- Being a hero in movies isn't bad, but I'm trying to break out this macho type. And sometime I suddenly realize that playing bad characters is more exciting.
- How many instruments do you play? What are they?
- I can play two instruments – guitar and piano.
- And, at last. What's your dream movie role and what's your dream theatre one?
- My dream movie role is Zorro and the dream theatre one is Hamlet.
– Thanks for the interview, Alexander.
Dear audience, it was "One Minute with a Star" and Alexander Domogarov wasbour guest. See you next Wednesday, bye!
Kate Khodykina
Interview with Amy Lynn Hartzler
I'd like to interview the front woman of my favourite group called "Evanescence"
-What is your full name?
-My full name is Amy Lynn Hartzler, but I'm known as Amy Lee.
-Where and when were you born?
-I was born on 13 of December, 1981 in Riverside.
-What can you tell about your childhood?
-When I was 6, my younger sister died. It was the darkest episode of my life. But my childhood can be called unclouded. Sometimes I even needed some bloody scenes. I stained myself with ketchup and cried, but my mother didn't believe me.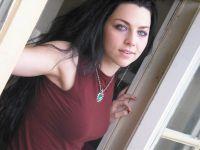 -Are your blue eyes by your nature?
-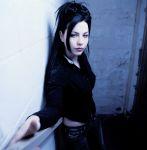 No. I have green eyes and light brown hair, but I wear blue lenses and dye hair.
-What do you like?
-I like the chocolate, coconut, Steve Wander and Christina Aguilera.
-And what about things you hate?
-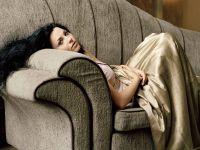 I hate Britney Spears, doing make up, shoes with heels, smoking and octopuses.
-Do you want to live in past?
-Yes, I do. I'd like to live in 17 century. There were a lot of diseases, but what the beautiful clothes they had!
-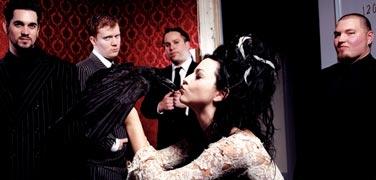 How do you spend your free time?
-At leisure I like listening to classic music, watching old films and painting.
-How did your group appear?
-Our group was created by the guitarist Ben Mudy and me. But he betrayed "Evanescence". He left us on the concert tour and I became the leader.
-Do you want to be an idol for someone?
-No, I don't. It is wildly for me. Creating songs is the therapy for me. And I have never wanted to earn fame and to be the god for somebody. On my mind only schoolgirls can dream about it.
-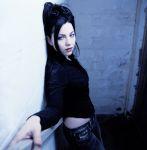 When the popularity leaves, a lot of women undress to return it. Will you ever do it?
-No! Ill never do it, I swear!!!
Marina Kaidalova