Добавил:
Upload
Опубликованный материал нарушает ваши авторские права? Сообщите нам.
Вуз:
Предмет:
Файл:
one minute with the star interviews 2 исп+доп
.doc
Irina Sosyuk
Interview with Adriano Celentano
Hello! You are watching the program "One minute with the Star". And today our special guest is Adriano Celentano. Meet unsurpassed Adriano Celentano!
-

Hello, I'm glad to meet you at our program. And our audience and I have several questions for you. Where were you born?
-

I was born in Milan but my parent are from Italy's Puglia region.
-And where did you first begin your career as a comedian?
-I first began my performing career as a comedian and impressionist in Milanese cabarets.
-We know that you liked Rock And Roll when you were young. When did you make your first Rock And Roll singing performance?
-

I made my official singing debut at Milan's ice-skating rink during the First Festival of Rock And Roll in 1957.
-You became very popular in 70's. How long did it take you to turn into one of the most idolized people?
-Oh, it didn't taker much time I think. About three or four singles.
-And what about cinema? You have a lot of interesting roles in different films. When did you start your career as an actor?
-From 1965 onwards I started my career in cinema industry.
-Have you ever tried yourself as a director?
-Yes, the world of the cinema is a great part of my life, so I tried myself like a director in such films as "Super rapina a Milano", "Yuppi Du", "L'altra metà del cielo" and "Geppo il folle".
-And we know that you were hosting some show. What show did you host and when?
-That's true. In the winter of 1987-1988 I accepted the job of hosting the Saturday evening variety show, "Fantastico 8".
-What was your show about?
-It was about different sides of life in that time.
-You are known in history of Italian music for many songs. What is your latest release?
- My latest release is the CD "Io non so parlar d'amore".
-Did you make it by your own?
-It was produced in collaboration with Mogol for the lyrics and Gianni Bella for the music.
-And which program did you host in the year 2000?
- I hosted a programme for Rai entitled "Francamente me ne infischio", which combined music - featuring numerous Italian and international guest artists - and social issues.
-And we know that your latest offering, which hit record shop shelves in 2003 in the wake of two hugely successful previous albums, is the CD "Per Sempre". Are you going to do a new music album?
-Unfortunately I can't answer this question now because I'm not very young and I have to care about my health but it needs a lot of time. Moreover, I think that there are a lot of talented young singers nowadays and they are more perspective than I am.
-It was very interesting to spend our time with you but our show comes to its end. We are always glad to see you at our show and it was nice to meet you here.
-Thank you. I was also glad to meet you. Thank you for attention. I'm looking forward for our next meeting.
Helen Ostroverkh
Interview with Madonna – a famous pop-star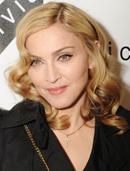 The most outstanding celebrities from different countries are welcome here to our TV show. And today guess who? Madonna is invited in our studio today!
-What is your real name?
-My real name is Madonna Louise Veronica Ciccone.
-When and where were you born?
-I was born August 16, 1958 in Bay City, Michigan.
-Why did you drop out of college at the University of Michigan? What student were you like?
-I was a straight-A student, cheerleader, and disciplined dancer who graduated from high school a semester earlier than my peers. In 1977, I dropped out of college at the University of Michigan in order to move to New York to study with Alvin Ailey for a career as a dancer.
-What kind of work had you had by 1979?
-By 1979 I had signed on to dance and sing behind Disco performer Patrick Hernandez who had a major hit with "Born To Be Alive".
-The group, which you formed upon returning to New York, how was it called?
-Upon returning to New York, I formed the Breakfast Club pop-dance group.
-What was the reason for your leaving the Breakfast Club in 1980?
-I left the Breakfast Club in 1980 to work with drummer Steven Bray.
-Which company signed a contract with you in late 1982?
-Sire Records signed a contract with me in late 1982.
-Which place did your first dance single "Everybody" hit on the dance chart?
-My first dance single "Everybody" hit #3 on the dance chart.
-Who was your third single "Holiday" written and produced by?
-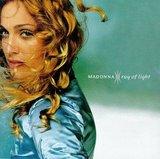 After two more dance hits, my third single,"Holiday", written and produced by Jellybean Benitez, became a pop as well as dance hit.
-What were 1985 and 1986 like for you?
-The years 1985 and 1986 were years of phenomenal success for me.
-Your album, which was one of the biggest hits of 1985, how was it called?
-My album Like a Virgin, released at the end of 1984, was one of the biggest hits of 1985.
-We know that 1985 was saturated for you. Tell us, please, what did you do during this year?
-During 1985 I appeared in my first movie Desperately Seeking Susan, appeared in the Live Aid concerts to raise money to relieve famine in Africa, and, on my birthday, August 16th, married actor Sean Penn.
-Oh! You're so lucky! And what about your next album "True Blue", can you mention several songs, which are included in it?
-My next album True Blue continued the line of major pop hits including "Open Your Heart," "Live To Tell," and "La Isla Bonita".
-Was the film "Who's That Girl" successful for you or not? Why?
-My film career, which had begun in promising fashion, suffered a major setback when my first starring role in Who's That Girl flopped miserably. I don't want to tell anything else about that failure.
-What was the video with your participation, which gained much criticism?
-Released in a hail of controversy, the video about both the Roman Catholic Church and Pepsi, including my songs "Like a Prayer," and "Express Yourself," gained too much criticism. That's all what can I say about it.
-How many Grammy Awards did you win for the album "Ray of Light"?
-In 1998 I released the album Ray Of Light, for which I eventually won 3 Grammy Awards.
-What about your private life? Have you got any children? Are you married now?
-After a string of unsuccessful relationships and unsuccessful marriage to actor Sean Penn, I had a child (Lourdes Maria Ciccone Leon) with my personal trainer Carlos Leon. Three years later I had a son Rocco with film director Guy Ritchie, who I eventually married. But, unfortunately, we have divorced recently. So I'm not married now.
-We know that recently you've adopted a child, so why did you receive a lot criticism about that?
-Recently I've adopted a young boy from Malawi, but I received a lot of criticism for the adoption because it was believed that I by-passed certain adoption laws because of my celebrity status.
-When was your latest album "Hard candy" released?
-My latest album Hard Candy was released in 2009. Hard Candy became my final studio album for Warner Bros after 25 year collaboration with the label.
-In how many countries was this album presented?
-It was presented in 37 different countries.
-Which single preceded the album?
-The single "Celebration" preceded the album.
-You've written several books for children, haven't you? What are they?
-I've written two children's books, The English Roses and Mr. Peabody's Apples.
We know about your astonishing achievements, in your life. For example, you've sold more than 200 million records in your career, world-wide. Also Rolling Stone named you the 36th Greatest Artist of All Time in their 2004 list of the Top 100. Moreover, during your career you have won seven Grammy Awards, four MTV Video Music Awards and one Golden Globe Award.
-How could you manage to reach all this?
- Only by my inner will.
-Is there any sky star named after you?
-Actually, no, but in 2006, a species of Tardigrade, a microscopic creature known for living in hostile environments, was named echiniscus madonnae, after me.
- How do you like to spend your free time? How often do you go on holidays?
- I love what I do. I travel so much for my work, so going on holiday seems weird, because when I'm not working I just want to go home and sleep in my bed.
-Do you have your own living credo?
-Poor is the man whose pleasures depend on the permission of another.
-What would you like to wish to our audience?
-First of all, I wish you to be kinder and enjoy every moment of your life.
-And now who knows Madonna's songs? Let's sing them!
Obollianinova Sophia