Добавил:
Upload
Опубликованный материал нарушает ваши авторские права? Сообщите нам.
Вуз:
Предмет:
Файл:
Complete the text with the correct words from the box.
achievement, adjustment, admit, attitude, average, colleges, common, failure, grade, letter, marking, method, minimum, occasionally, pass, percentage, perfect, progress, record, reports, school, teacher
GRADING
Grading is a (1)... used in schools to (2)... students' achievements. Almost every (3)... keeps a record of each student's (4)... in order to have some basis for measuring his (5)... . The record supplies information for (6)... to parents. Universities and (7)... often use this information to help determine whether they should (8)... a student.
For a long time, the most (9)... method of recording achievement was by (10)..., with a mark or (11)..., of 100 per cent representing (12)... achievement. The (13)... mark for a (14)... was usually 70 per cent, and for (15) ... work, about 80 per cent. Today, the letters A, B, C, D, E and (16)... F, are much more commonly used. The mark A stands for exceptional achievement, and E or F means (17)....
A few schools use no (18)... system at all. Instead,
each (19)... writes a detailed (20)... to the parents.

Such letters report the student's progress, (21)...

V'i \

activities and social (22)....

imi! }

1. vlll /
USE YOUR ENGLISH
1
BEING A STUDENT
Complete the interview by changing the forms of the verbs in brackets.
Then act out the interview in pairs.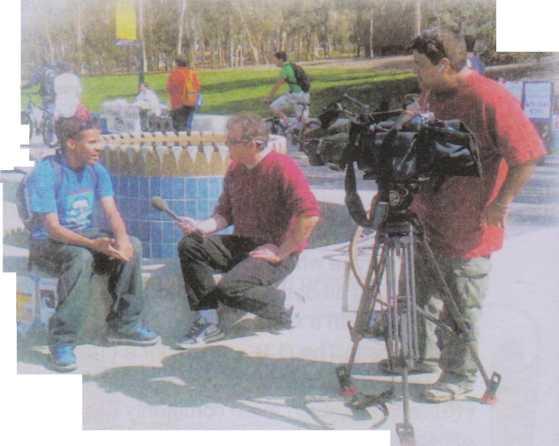 Journalist: What exam did you ...
(take)?
Viktor: FCE. First
Certificate in k w English.
Journalist: Do you think you ...
(pass)?
Viktor: I think so.
I'm quite optimistic. I think I ... (do) the exam quite well.
Journalist: When ... you ... (get) your result?
Viktor: Tomorrow morning. I study at a language school and when I ... (go) to class tomorrow the grades will be on the notice board. My name ... (be) the first on the list because my surname begins with 'A'.
Journalist: How ... you ... (celebrate) if you ... (pass)?
Viktor: I ... (go) to a café with the other students in my class. Well, with the students who have passed.
Journalist: And what will you do if you ... (pass)? ... you ... (carry) on studying English?
Viktor: Yes, I'd like ... (take) the CAE1 exam next year.
Journalist: And if you ... (not, pass)?
Viktor: I ... (take) the exam again in June.

Think and answer. Who does better in each of the following subjects in Ukrainian schools — boys or girls?
Chemistry • Literature

History • Physics

English • Geography

Maths • PT

Biology
'CAE = Certificate in Advanced English
1
USE YDUR ENGLISH
BEING A STUDENT
Boys
Geography
French
22% 13%
25% 15%
b) Look at the information in the bar chart and complete the sentences with the words 'boys' or 'girls'.
General Certificate of Secondary Education results of male and female school leavers in the UK
English
Mathematics
Physics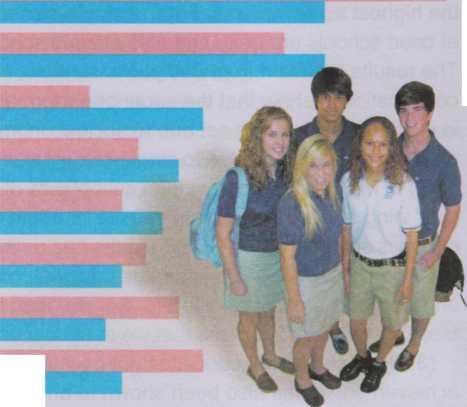 1

2

3

4

are more interested in languages than boys, are better in Physics and Mathematics, are better in the Humanities (English, French or History), are better in most Science subjects (Maths, Physics, Geography or Chemistry).
... are more interested in Biology.