(Gale Group)
that state. It is expected that MCAD deficiency screening will become mandatory statewide in Iowa sometime in 2001.
These newborn screening methods employ either a recently developed (1999) tandem mass spectrometry (MS/MS) blood test method or a PCR/FRET analysis. The MS/MS test discovers the presence of the G985A mutation in the MCAD gene by the difference in molecular weight in this gene versus the molecular weight of the normal MCAD gene.
In the PCR/FRET test, a sample of blood is drawn and the DNA is extracted. This DNA is then reproduced multiple times by the polymerase chain reaction (PCR amplification). Once enough sample has been made, the sample is labeled with a fluorescent chemical that binds specifically to the region of chromosome 1 that contains the MCAD gene. How this fluorescent chemical binds to the MCAD gene region containing the G985A mutation allows the identification of homozygous G985A, heterozygous G985A, and normal (no G985A mutations) MCAD genes (FRET analysis).
An older method for the detection of MCAD deficiency is a urine test that checks for elevated levels of the chemicals hexanoylgylcine and phenylpropionylgylcine.
Prenatal testing for MCAD deficiency is also available using a test similar to the PCR/FRET blood test. In this case, however, the DNA to be studied is extracted from the amniotic fluid rather than from blood. Another prenatal test involves studying the ability of cultured amniotic cells to breakdown added octanoate, an 8-car- bon molecule that requires MCAD to break it down.
Because MCAD deficiency is generally treatable if it is recognized prior to the onset of symptoms, most parents of a potentially affected child choose to wait until birth to have their children tested.
Treatment and management
Because individuals affected with MCAD deficiency can still break down short chain and long chain fatty acids at a normal rate and most have a diminished, but functional, ability to break down medium chain fatty acids, a precipitating condition must be present in order for symptoms of MCAD deficiency to develop. The most common precipitators of MCAD deficiency symptoms are stress caused by fasting or by infection. At these times, the body requires a higher than normal breakdown of medium chain fatty acids. MCAD deficient individuals often cannot meet these increased metabolic demands.
The main treatments for MCAD deficiency are designed to control or avoid precipitating factors. Persons affected with MCAD deficiency should never fast for more than 10 to 12 hours and they should strictly adhere to a low-fat diet. Blood sugar monitoring should be undertaken to control episodes of hypoglycemia. During acute episodes, it is usually necessary to administer glucose and supplement the diet with carbohydrates and high calorie supplements.
Many individuals affected with MCAD deficiency benefit from daily doses of vitamin B7 (L-carnitine). This vitamin is responsible for transporting long chain fatty acids across the inner mitchondrial membrane. Elevated levels of L-carnitine ensure that these individuals breakdown long chain fatty acids in preference to medium chain fatty acids, which helps prevent acute symptomatic episodes of MCAD deficiency. Additionally, L-carnitine helps remove toxic wastes from the bloodstream to the urine, so it is also pivotal in controlling hyperammonemia.
Some individuals affected with MCAD deficiency present symptoms for the first time when they receive the diphtheria-pertussis-tetanus (DTP) vaccine. It is impor-
| | |
| --- | --- |
| G A L E E N C Y C L O P E D I A O F G E N E T I C D I S O R D E R S | 719 |

tant that any person suspected to be affected with MCAD deficiency receive treatment for hypoglycemia in connection with the administration of this vaccine. Chicken pox and middle ear infections (otitis media) have also been shown to initiate symptoms of MCAD deficiency.
Prognosis
MCAD deficiency has a mortality rate of 20–25% during the first episode of symptoms. If an affected individual survives this first attack, the prognosis is excellent for this individual to have a normal quality of life as long as appropriate medical treatment is sought and followed.
Resources
PERIODICALS
Berberich, S. "New developments in Iowa's newborn screening program." The University of Iowa Hygienic Library
Hotline (September 2000): 1-2.
Chace, D., Hillman, S., J. Van Hove, and E. Naylor. "Rapid diagnosis of MCAD deficiency: Quantitative analysis of octanoylcarnitine and other acylcarnitines in newborn blood spots by tandem mass spectrometry." Clinical Chemistry (November 1997): 2106-2113.
Yokota, I. et al. "Molecular survey of a prevalent mutation, 985A-to-G transition, and identification of five infrequent mutations in the medium-chain Acyl-CoA dehydrogenase (MCAD) gene in 55 patients with MCAD deficiency."
American Journal of Human Genetics (December 1991): 1280-91.
ORGANIZATIONS
Fatty Oxidation Disorders (FOD) Family Support Group. 805 Montrose Dr., Greensboro, NC 24710. (336) 5478682. fodgroup@aol.com. http://www.fodsupport.org/ welcome.htm .
National Organization for Rare Disorders (NORD). PO Box 8923, New Fairfield, CT 06812-8923. (203) 746-6518 or (800) 999-6673. Fax: (203) 746-6481. http://www
.rarediseases.org .
Organic Acidemia Association. 13210 35th Ave. North, Plymouth, MN 55441. (763) 559-1797. Fax: (863) 6940017. http://www.oaanews.org .
Sudden Infant Death Syndrome Network. PO Box 520, Ledyard, CT 06339. http://sids-network.org .
WEBSITES
Matern, D., P. Rinaldo, N. Robin, "Medium-chain acyl-coen- zyme: a dehydrogenase deficiency." GeneClinics.http://www.geneclinics.org/profiles/mcad/details.html
OMIM—Online Mendelian Inheritance in Man. http://www
.ncbi.nlm.nih.gov/htbin-post/Omim/dispmim?201450 .
Pediatric Database (PEDBASE) Homepage. http://www
.icondata.com/health/pedbase/files/MCADDEF1.HTM .
Paul A. Johnson
I McCune-Albright syndrome
Definition
A disorder characterized by abnormalities in bone development, skin pigmentation, and endocrine gland function.
Description
The McCune-Albright syndrome is an uncommon disorder in which a mutation distributed across various cell populations results in a wide variety of clinical features. The most notable features are abnormal bone development, pigmented skin spots, and endocrine gland dysfunction.
Genetic profile
Scientists have identified a specific genetic defect that causes McCune-Albright syndrome. The defect is a mutation in the GNAS1 gene, which is associated with a type of G protein. These proteins are present in a wide variety of cells in the body. G proteins are part of the system of proteins and enzymes that regulate communication between cells and various agents such as hormones and the nervous system. If a cell's G protein is abnormal, this sets off a chain reaction that causes the cell to multiply inappropriately and the subsequent cells produce too much hormone. The mutation first occurs in a single cell during the early stages of formation of the embryo. This cell multiplies into many other cells that eventually become part of the bones, skin, and endocrine glands. The severity of the syndrome is dependent on the percentage of cells involved. The earlier the mutation occurs, the more cells are affected. There is some evidence that a second mutation must occur before the clinical manifestations become evident.
The McCune-Albright syndrome is not hereditary.
Demographics
This syndrome is uncommon. As of 1996, there were only 158 cases reported in scientific papers. Of course, this figure probably underestimates the true prevalence of the syndrome, since only patients with typical or severe clinical features were likely to be reported. The female to male ratio is approximately two to one.
Signs and symptoms
The McCune-Albright syndrome is classically characterized by the three main features described below.
| | |
| --- | --- |
| 720 | G A L E E N C Y C L O P E D I A O F G E N E T I C D I S O R D E R S | Abnormal bone development
Pockets of abnormal fibrous tissue develop within the bone, which may cause deformity, fractures, and nerve entrapment. Most of these lesions appear during the first decade of life. The pelvis and femur, or thigh bone, are the most commonly involved areas of the skeleton. Bony abnormalities in the skull can cause blindness or deafness. The majority of patients with McCuneAlbright syndrome have many of these lesions, hence the name polyostotic fibrous dysplasia.
In addition to these fibrous lesions, some patients develop osteosarcoma, which is a malignant tumor of the bone. Although it has not been proven, these tumors may originate from the fibrous lesions within the bone.
Pigmented skin spots
Patients with McCune-Albright syndrome typically have pigmented skin lesions called café au lait spots. These are flat areas of discoloration of the skin that may be associated with a variety of conditions. Those that are found in McCune-Albright syndrome have irregular borders. They are located on one side of the body, usually on the buttocks or lower back. Sometimes these lesions are present at birth.
Endocrine gland dysfunction
The McCune-Albright syndrome is striking for its association with a number of endocrine abnormalities. Endocrine glands are those that secrete hormones directly into the blood stream to be transported to other tissues of the body. In McCune-Albright syndrome, one or more of these glands secrete abnormally high amounts of hormone.
The most common endocrine abnormality in McCune-Albright syndrome is excessive function of the gonads, which are ovaries in females and testicles in males. The ovaries secrete estrogen and the testicles secrete testosterone. When these organs secrete too much estrogen or testosterone in children, the result is early puberty. Females are more commonly affected than males. In fact, early puberty in a girl is the hallmark sign of McCune-Albright syndrome. Typically, these girls will develop secondary sexual characteristics, such as breasts and pubic hair, before the age of nine. Menses also begins early. Sometimes the normal sequence of development is disrupted, in that affected girls might have menses before breast or pubic hair development.
Hyperfunction of the pituitary gland also occurs in McCune-Albright syndrome, resulting in excess production of growth hormone and/or prolactin. Excess growth hormone leads to acromegaly, or marked overgrowth of
K E Y T E R M S
Dysplasia—The abnormal growth or development of a tissue or organ.
Pituitary gland—A small gland at the base of the brain responsible for releasing many hormones, including luteinizing hormone (LH) and folliclstimulating hormone (FSH).
certain bones and tissues, especially in the face and extremities. Some people with acromegaly grow to very tall stature. Acromegaly in McCune-Albright syndrome affects boys and girls equally. If too much prolactin is produced, then breast tissue will secrete milk inappropriately, both in boys and girls. This is called galactorrhea. In some patients, the pituitary gland dysfunction is caused by a tumor.
Other endocrine glands that may be hyperactive are the thyroid and adrenal glands. The thyroid gland produces thyroid hormones, which help regulate the body's metabolism. If excess thyroid hormones are produced, i.e. hyperthyroidism, then patients may have diarrhea, weight loss, nervousness, tremor, and rapid heartbeat. In some patients, the hyperthyroidism is caused by thyroid nodules. The adrenal gland produces several hormones in the steroid hormone class, such as cortisol, aldosterone, and testosterone. Cortisol is most commonly over-pro- duced. Similar to the pituitary gland, hyperfunction of the adrenal gland in McCune-Albright syndrome is sometimes caused by tumors.
Another feature of McCune-Albright syndrome is phosphate deficiency caused by excess excretion of phosphate in the urine. Since phosphate is a vital mineral for bone formation, this results in soft bones and some degree of pain. This condition is called rickets in children and osteomalacia in adults. There are two theories that have been proposed to explain the loss of phosphate in the urine. First of all, it is thought that the fibrous bone lesions may produce an agent that circulates through the blood stream to the kidneys that makes the kidneys unable to retain phosphate. Secondly, perhaps the kidneys are intrinsically unable to retain the appropriate amount of phosphate.
It is important to emphasize the variability of clinical features among patients with McCune-Albright syndrome. Not every patient has the three features of bony lesions, pigmented skin spots, and endocrine abnormalities. Each patient is affected differently. There are also rare subtypes of the syndrome in which patients have hepatitis, cardiac arrythmias, or intestinal polyps.
| | |
| --- | --- |
| G A L E E N C Y C L O P E D I A O F G E N E T I C D I S O R D E R S | 721 |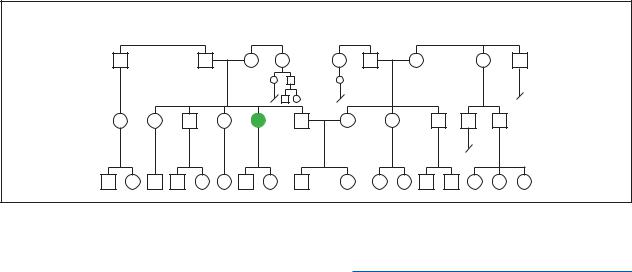 McKusick-Kaufman syndrome
(Gale Group)
Diagnosis
There is no single test that is diagnostic for McCuneAlbright syndrome. Certain clinical features can be easily observed, such as skin pigmentation and early puberty. The bony abnormalities can be confirmed by x ray. Blood tests for hormone levels can detect endocrine gland dysfunction.
Treatment and management
Likewise, there is no specific treatment that cures the disease. Testalactone, a drug that inhibits estrogen production, has been successful in the short term treatment of girls with early puberty, but long term treatment has not been very effective. Patients with pituitary tumors may benefit from drugs to reduce tumor size, or surgery to remove the tumors. Thyroid nodules can be treated by surgical removal or destruction with radioactive iodine. In addition, adrenal tumors can be removed by surgery.
Prognosis
The lifespan in patients with McCune-Albright syndrome is essentially normal. Women who experienced early puberty as girls are generally fertile.
Resources
BOOKS
"Multiple-Organ Syndromes: Polyglandular Disorders." In Cecil Textbook of Medicine, edited by Lee Goldman, et al. 21st ed. Philadelphia: W.B. Saunders Company, 2000.
WEBSITES
"McCune-Albright Syndrome."http://www.healthcentral.com .
Kevin Osbert Hwang, MD
I McKusick-Kaufman syndrome
Definition
The McKusick-Kaufman syndrome (MKS) is a developmental disorder characterized by a group of conditions that include congenital heart disease, buildup of fluid in the female reproductive tract and extra toes and fingers.
Description
McKusick reported the first case of a disorder which he called hydrometrocolpos syndrome in 1964. Shortly thereafter, Kaufman described another individual with a very similar group of abnormalities. Subsequent writers combined these syndromes into one, calling it the McKusick-Kaufman syndrome and characterizing its wide range of features.
MKS is the first human disorder to be attributed to a mutation occurring in a gene and affecting a type of molecule called a chaperonin. Chaperonins are sometimes called "protein cages" in that they protect cells by capturing and refolding misshapen proteins that could otherwise interfere with normal cellular functions.
Genetic profile
MKS is inherited in an autosomal recessive pattern, meaning that a child must inherit two altered genes, one from each parent, to be affected. An altered gene responsible for a rare developmental syndrome found predominantly among the Old Order Amish population has been identified. Mutations in the gene responsible for MKS have been identified on chromosome 20p12 in an Amish family. Scientists have isolated the McKusick-Kaufman syndrome gene by positional cloning.
| | |
| --- | --- |
| 722 | G A L E E N C Y C L O P E D I A O F G E N E T I C D I S O R D E R S | Based on an earlier genetic analysis of the Old Order Amish population, a research group looked at a region of chromosome 20 thought to contain the gene responsible for the syndrome. A technique called sample sequencing was then used to find candidate genes in that region. One of those genes, dubbed MKS, was altered in a sample from an Amish person as well as in a sample from a nonAmish person diagnosed with MKS. In both people, errors or "misspellings" in the genetic code were found that would disturb the function of the MKS gene. It was observed that the chemical building blocks (amino acids) coded by the MKS gene appeared to be very similar to those that make up the chaperonins. Although the function of the protein made by the MKS gene is unclear as of 2001, it appears to be involved in the production of proteins associated with the development of limbs, the heart, and the reproductive system.
In 2000, researchers identified a gene mutation that causes Bardet-Biedl syndrome (BBS), a rare genetic disorder that is related to MKS. BBS is believed to be due to a complete absence of the gene responsible for MKS.
Demographics
Between one and three percent of the Amish people of Lancaster County, Pennsylvania are believed to be carriers of the disease, having just one copy of the altered gene. The related Bardet-Biedl syndrome is estimated to occur between one in 125,000 and one in 160,000 people. Among an isolated community in Newfoundland, Canada, the prevalence is estimated to be ten times higher.
Signs and symptoms
Many abnormalities associated with MKS are visible in a physical exam. They include the following abnormalities:
•Limbs: polydactyly (extra fingers or toes)
•Genitourinary system in females: hydrometrocolpos (accumulation of fluids in the uterus and vagina), transverse vaginal membrane, vaginal atresia (absence of a vagina)
•Genitourinary system in males: hypospadias (abnormal opening of the urinary tract), prominent scrotal raphe (ridges), micropenis, cryptorchidism (undescended testicles)
•Cardiac: congenital heart defects
•Head: pituitary dysplasia (abnormal development of the pituitary gland), choanal atresia (bony or membranous blockage of the passageway between the nose and pharynx), retinitis pigmentosa (overactive cells in the retina of the eye leading to blindness), tracheo-
K E Y T E R M S
Atresia—An abnormal condition in which a structure that should be hollow is fused shut.
Chaperonin—A molecule that captures and refolds misshapen proteins that might interfere with normal cellular functions; also called a protein cage.
Choanal atresia—A bony or membranous blockage of the passageway between the nose and pharynx at birth.
Cryptorchidism—A condition in which one or both testes fail to descend normally.
Dysplasia—The abnormal growth or development of a tissue or organ.
Genome—A term used to describe a complete representation of all of the genes in a species.
Hydrometrocolpos—An abnormal accumulation of fluids in the uterus and vagina.
Hydrops fetalis—A condition characterized by massive edema in a fetus or newborn.
Hypospadias—An abnormality of the penis in which the urethral opening is located on the underside of the penis rather than at its tip.
Polydactyly—The presence of extra fingers or toes.
Positional cloning—Cloning a gene simply on the basis of its position in the genome, without having any idea of the function of the gene.
Tracheo-esophageal fistula—Abnormal connection between the trachea and esophagus, frequently associated with the esophagus ending in a blind pouch.
esophageal fistula (abnormal passage in the throat region)
•Skeleton: vertebral anomalies
•Abdomen: distension, peritoneal cysts, Hirschsprung megacolon (enlarged and poorly functioning large intestine)
•Other: nonimmune hydrops fetalis (massive build-up of fluids in a fetus or newborn)
Diagnosis
A diagnosis of McKusick-Kaufman syndrome is usually made at birth when a newborn is given a post-natal physical exam. The diagnosis is made by noting physical
syndrome Kaufman-McKusick
| | |
| --- | --- |
| G A L E E N C Y C L O P E D I A O F G E N E T I C D I S O R D E R S | 723 |

McKusick-Kaufman syndrome has a high incidence amoung Amish families. (Photo Researchers, Inc.)
abnormalities such as: polydactyly, hydrometrocolpos, a transverse vaginal membrane, vaginal atresia, hypospadias, prominent scrotal raphe, micropenis, cryptorchidism, congenital heart defects, pituitary dysplasia, choanal atresia, tracheo-esophageal fistula, vertebral anomalies, abdominal distension, peritoneal cysts, Hirschsprung megacolon, or nonimmune hydrops fetalis. The probability of a correct diagnosis increases with each additional abnormality present. A diagnosis may sometimes be confirmed with a chromosomal analysis. Abnormal development of the pituitary gland (pituitary dysplasia) and vertebral abnormalities are visible in a CT or MRI scan. Peritoneal cysts are commonly diagnosed by ultrasonography.
Treatment and management
Treatment of MKS is limited to surgical correction of defects. Timing is often important. Many abnormalities, if uncorrected, can quickly become life threatening. For example, hydrops fetalis is often fatal. Genetic counseling before marriage is recommended for persons who are possible carriers of MKS. Affected rural and Amish girls should be delivered in settings that allow rapid surgical intervention and correction of abnormalities. Such actions could be life saving.
Prognosis
With appropriate genetic counseling and complete family histories, individuals born with MKS can receive prompt treatment. With rapid initial surgical intervention,
most of these persons can live relatively normal lives. Some abnormalities, such as hypospadias, vaginal atresia, choanal atresia, tracheo-esophageal fistula, or Hirschsprung megacolon, may require multiple operations. Due to the risk of retinitis pigmentosa, vision should be monitored closely.
Resources
BOOKS
Duckett, John W. "Hypospadias." In Campbell's Urology. Walsh, P. C. et al.eds W. B. Saunders, Philadelphia, 1998.
McKusick, Victor A. Mendelian Inheritance in Man: A Catalog of Human Genes and Genetic Disorders, 12th ed. Johns Hopkins University Press, Baltimore, 1998.
Nelson, Waldo E., et al., eds. "Anomalies of the penis and urethra." In Nelson Textbook of Pediatrics. W. B. Saunders, Philadelphia, 2000.
PERIODICALS
David, A., et al. "Hydrometrocolpos and polydactyly: a common neonatal presentation of Bardet-Biedl and McKusickKaufman syndromes." Journal of Medical Genetics 36 (1999): 599-603
Slavotinek, A. M., and L. G. Biesecker. "Phenotypic overlap of McKusick-Kaufman syndrome with Bardet-Biedl syndrome: a literature review," American Journal of Medical Genetics 95 (2000): 208-215
ORGANIZATIONS
Hypospadias Association of America. 4950 S. Yosemite Street, Box F2-156, Greenwood Village, CO 80111. hypospadiasassn @yahoo.com. http://www.hypospadias.net .
National Institutes of Health, Office of Rare Diseases. 31 Center Dr., Bldg. 31, Room 1B-19, MSC 2084, Bethesda, MD 20892-2084. (301) 402-4336. Fax: (301) 480-9655. hh70f@nih.gov. http://rarediseases.info.nih.gov/ord .
Support for Parents with Hypospadias Boys. http://clubs
.yahoo.com/clubs/mumswithhypospadiaskids .
WEBSITES
"Hypospadias." Atlas of Congenital Deformities of the External Genitalia. http://www.atlasperovic.com/contents/9.htm .
Society for Pediatric Urology. http://www.spu.org/ . "Hypospadias." The Penis.com.
http://www.the-penis.com/hypospadias.html .
L. Fleming Fallon. Jr., MD, PhD, DrPH
I Meckel's diverticulum
Definition
Meckel's diverticulum is a congenital pouch (diverticulum) approximately two inches in length and located at the lower (distal) end of the small intestine. It was
| | |
| --- | --- |
| 724 | G A L E E N C Y C L O P E D I A O F G E N E T I C D I S O R D E R S | named for Johann F. Meckel, a German anatomist who first described the structure.
Description
The diverticulum is most easily described as a blind pouch that is a remnant of the omphalomesenteric duct or yolk sac that nourished the early embryo. It contains all layers of the intestine and may have ectopic tissue present from either the pancreas or stomach.
The rule of twos is the classical description. It is located about 2 ft from the end of the small intestine, is often about 2 in in length, occurs in about 2% of the population, is twice as common in males as females, and can contain two types of ectopic tissue—stomach or pancreas. Many who have a Meckel's diverticulum never have trouble but those that do present in the first two decades of life and often in the first two years.
There are three major complications that may result from the development of Meckel's diverticulum. The most common problem is inflammation or infection that mimics appendicitis. This diagnosis is defined at the time of surgery for suspected appendicitis. Bleeding caused by ectopic stomach tissue that results in a bleeding ulcer is the second most frequent problem. Bleeding may be brisk or massive. The third potential complication is obstruction due to intussusception, or a twist around a persistent connection to the abdominal wall. This problem presents as a small bowel obstruction, however, the true cause is identified at the time of surgical exploration.
Genetic profile
Meckel's diverticulum is not hereditary. It is a vestigial remnant of the omphalomesenteric duct, an embryonic structure that becomes the intestine. As such, there is no genetic defect or abnormality.
Demographics
Meckel's diverticulum is a developmental abnormality that is present in about 2% of people, but does not always cause symptoms. Meckel's diverticula (plural of diverticulum) are found twice as frequently in men as in women. Complications occur three to five times more frequently in males.
Signs and symptoms
Symptoms usually occur in children under 10 years of age. There may be bleeding from the rectum, pain and vomiting, or simply tiredness and weakness from unnoticed blood loss. It is common for a Meckel's diverticulum to be mistaken for the much more common disease
K E Y T E R M S
Appendectomy—The procedure to surgically remove an appendix.
Appendicitis—Inflammation of the appendix.
Appendix—A portion of intestine attached to the cecum.
Cecum—The first part of the large bowel.
Congenital—Refers to a disorder which is present at birth.
Distal—Away from the point of origin.
Ectopic—Tissue found in an abnormal location.
Intussusception—One piece of bowel inside another, causing obstruction.
Isotope—Any of two or more species of atoms of a chemical element with the same atomic number and nearly identical chemical behavior but with differing atomic mass and physical properties.
Peptic ulcer—A wound in the bowel that can be caused by stomach acid or a bacterium called
Helicobacter pylori.
Volvulus—A twisted loop of bowel, causing obstruction.
appendicitis. If there is obstruction, the abdomen will distend and there will be cramping pain and vomiting.
Diagnosis
The situation may be so acute that surgery is needed on an emergency basis. This is often the case with bowel obstruction. With heavy bleeding or severe pain, whatever the cause, surgery is required. The finer points of diagnosis can be accomplished when the abdomen is open for inspection during a surgical procedure. This situation is called an acute abdomen.
If there is more time (not an emergency situation), the best way to diagnose Meckel's diverticulum is with a nuclear scan. A radioactive isotope injected into the bloodstream will accumulate at sites of bleeding or in stomach tissue. If a piece of stomach tissue or a pool of blood shows up in the lower intestine, Meckel's diverticulum is indicated.
Treatment and management
A Meckel's diverticulum that is causing discomfort, bleeding, or obstruction must be surgically removed. This procedure is very similar to an appendectomy.
| | |
| --- | --- |
| G A L E E N C Y C L O P E D I A O F G E N E T I C D I S O R D E R S | 725 |

A patient with Meckel diverticulum. (Custom Medical Stock Photo, Inc.)
Prognosis
The outcome after surgery is usually excellent. The source of bleeding, pain, or obstruction is removed so the symptoms also disappear. A Meckel's diverticulum will not return.
Resources
BOOKS
Aspinall, Richard J., and Simon T. Taylor-Robinson. Mosby's
Color Atlas & Text of Gastroenterology. St. Louis: MosbyYear Book, 2001.
Cousins, Claire, and Ralph Boulton. A Color Handbook of Gastroenterology. New York: McGraw-Hill, 1999.
Isselbacher, Kurt J., and Alan Epstein. "Diverticular, Vascular, and Other Disorders of the Intestine and Peritoneum." In
Harrison's Principals of Internal Medicine. New York: McGraw Hill, pp. 1648-1655, 1998.
Lipsky, Martin S., and Richard Sadovsky. Gastrointestinal Problems. Philadelphia: Lippincott Williams & Wilkins Publishers, 2000.
Sanderson, Ian R., and W. Allan Walker. Development of the Gastrointestinal Tract. Hamilton, Ontario, Canada: B. C. Decker, 1999.
Stringer, David A., and Paul S. Babyn. Pediatric
Gastrointestinal Imaging and Intervention, 2nd edition. Hamilton, Ontario, Canada: B. C. Decker, 2000.
PERIODICALS
al Mahmeed, T., J. K. MacFarlane, and D. Filipenko. "Ischemic Meckel's diverticulum and acute appendicitis." Canadian Journal of Surgery 43, no. 2 (2000): 146-47.
Arnio, P., and I. S. Salonen. "Abdominal disorders arising from 71 Meckel's diverticulum." Annals of Surgery and Gynecology 89, no. 4 (2000): 281-84.
Heider, R., D. M. Warshauer, and K. E. Behrns. "Inverted Meckel's diverticulum as a source of chronic gastrointestinal blood loss." Surgery 128, no. 1 (2000): 107-08.
Martin, J. P., P. D. Connor, and K. Charles. "Meckel's diverticulum." American Family Physician 61, no. 4 (2000): 1037-42.
Nagler, J., J. L. Clarke, and S. A. Albert. "Meckel's diverticulitis in an elderly man diagnosed by computed tomography."
Journal of Clinical Gastroenterology 30, no. (2000): 8788.
ORGANIZATIONS
American Academy of Family Physicians. 11400 Tomahawk Creek Parkway, Leawood, KS 66211-2672. (913) 9066000. http://www.aafp.org/ , fp@aafp.org.
American Academy of Pediatrics. 141 Northwest Point Boulevard, Elk Grove Village, IL 60007-1098. (847) 4344000. Fax: (847) 434-8000. kidsdoc@aap.org.http://www.aap.org/default.htm .
American College of Gastroenterology. 4900 B South 31st Street, Arlington, VA 22206. (703) 820-7400. Fax: (703) 931-4520. http://www.acg.gi.org .
American College of Surgeons. 633 North St. Clair St., Chicago, IL 60611-32311. (312) 202-5000. Fax: (312) 202-5001. postmaster@facs.org. http://www.facs.org/ .
American Medical Association. 515 N. State Street, Chicago, IL 60610. (312) 464-5000. http://www.ama-assn.org/ .
WEBSITES
American Academy of Family Physicians.
http://www.aafp.org/afp/20000215/1037.html . "Meckel's Diverticulum." Merck Manual. http://www.merck
.com/pubs/mmanual/section19/chapter268/268d.htm . "Gastroenterology: Meckel's Diverticulum." Vanderbilt Uni-
versity Medical Center, 1998. http://www.mc.vanderbilt
.edu/peds/pidl/gi/meckel.htm .
L. Fleming Fallon, Jr., MD, DrPH
Meckel syndrome see Meckel-Gruber syndrome
I Meckel-Gruber syndrome
Definition
Meckel-Gruber syndrome (MGS) is an inherited condition that causes skull abnormality, enlarged cystic kidneys, liver damage, and extra fingers and toes. Findings vary between affected infants (even in the same family), as well as between ethnic groups. Infants with MGS are usually stillborn or die shortly after birth.
| | |
| --- | --- |
| 726 | G A L E E N C Y C L O P E D I A O F G E N E T I C D I S O R D E R S | Description
The first reports of MGS were published in 1822 by Johann Friedrich Meckel. G.B. Gruber also published reports of MGS patients in 1934 and gave it the name dysencephalia splanchnocystica. MGS is also known as Meckel syndrome and Gruber syndrome.
MGS affects many different organ systems including the central nervous system (brain and spinal cord), face, kidneys, liver, fingers and toes, and occasionally the bones of the arms and legs. Some researchers believe that abnormal development and differentiation of the embryonic mesoderm (the early tissue layer that contributes to the formation of the bones, cartilage, muscles, reproductive system, blood cells, heart, and kidneys) is related to MGS. The cells of the mesoderm must divide, migrate, associate, and specialize in a precise manner to form these body parts. Any problem in any step of the process can lead to multiple abnormalities in various organ systems.
Since MGS causes severe birth defects and death in the newborn period, it can be devastating for families. Extensive examination and autopsy is often needed to confirm a diagnosis of MGS, delaying the family's answers regarding their child's death. Most parents do not know they are at risk until they have a child with MGS. This can cause feelings of anger, disbelief, and guilt.
Genetic profile
The autosomal recessive inheritance pattern in MGS is well-documented. MGS affects males and females equally. Parents of affected children are assumed to be carriers and have a 25% chance of MGS recurrence in each pregnancy. A healthy brother or sister of an affected child has a two-thirds chance of being an MGS carrier.
Research involving families in Finland (where MGS is more common) led to the first MGS gene being mapped (localized) to the short arm of chromosome 17. This means that the gene location has been narrowed down to a small potential area, but the exact location and precise details about the gene are still unknown. NonFinnish families did not show evidence of a causative gene linked to chromosome 17. This led to the search for a second MGS gene. Studies of Northern African and Middle Eastern families resulted in the second MGS gene being mapped to the short arm of chromosome 11. More research is being performed to learn more about the precise location of both MGS genes, gene changes that cause MGS, and the role of the genes in early development.
K E Y T E R M S
Bile duct—A passageway that carries bile (fluid secreted by the liver involved in fat absorption) from the liver to the gallbladder to the small intestine.
Clubfoot—Abnormal permanent bending of the ankle and foot. Also called talipes equinovarus.
Trimester—A three-month period. Human pregnancies are normally divided into three trimesters: first (conception to week 12), second (week 13 to week 24), and third (week 25 until delivery).
Demographics
MGS has an estimated incidence between one in 13,000 births and one in 140,000 births. This means that between one person per 50 and one person per 180 is an MGS carrier. The incidence varies among ethnic groups. Several ethnic populations have an increased incidence of MGS. The incidence in Finland is one in 9,000 births (one person in 50 is a carrier). The incidence is also higher among Belgians and Bedouins in Kuwait with one affected birth in 3,500 (one person in 30 is a carrier). The highest incidence is reported in the Gujarati Indians with one affected birth per 1,300 (one person in 18 is a carrier). The incidence among Jews in Israel is one in 50,000 (one person in 112 is a carrier). Cases of MGS have been reported in North America, Europe, Israel, Indonesia, India, Kuwait, and Japan.
Signs and symptoms
The three hallmark features of MGS are encephalocele, polycystic kidneys, and polydactyly. Approximately 90% of infants with MGS have an encephalocele. This is an opening in the skull that allows brain tissue to grow outside of the skull. Virtually 100% of infants with MGS have enlarged kidneys with cysts. Polydactyly (extra fingers and/or toes) is present in about 80% of affected children. The polydactyly is usually postaxial (the extra fingers/toes are on the same side of the hand/foot as the smallest finger/toe). In MGS, the polydactyly usually affects both the hands and feet. There may also be webbing of the fingers and toes—the skin between the fingers or toes fails to separate—leaving the digits attached to each other.
Internal examination of babies with MGS also revealed that virtually 100% have liver abnormalities. This can include halted development of the bile ducts,
| | |
| --- | --- |
| G A L E E N C Y C L O P E D I A O F G E N E T I C D I S O R D E R S | 727 |
extra bile ducts, enlarged bile ducts, and loss of blood vessels. The liver is also usually enlarged. These liver changes are now considered by most to be another hallmark feature of MGS.
Babies with MGS often have similar facial features. Some reported features are eyes that are closer together or farther apart than usual, broad and flat nose, broad cheeks, and a wide mouth with full lips. Other features are commonly seen in MGS and are thought to be caused by a low amount of amniotic fluid surrounding the baby before birth. These features are sloping forehead, small jaw, low-set ears, and short, webbed neck. Low fluid prior to birth also frequently causes clubfoot in the newborn.
Other common features of MGS are abnormalities of the genitalia and cleft palate. The external (visible) genitalia are often small or ambiguous (not clearly male or female). There have also been reports of babies with MGS having both male and female reproductive parts (hermaphrodite). Cleft palate is seen in about 45% of babies with MGS. Cleft lip is less common but has been reported.
The symptoms of MGS are variable. Not all infants with MGS show the same signs and the characteristic signs range in severity. Some features have been described in some babies with MGS but are not as common. These include heart defects, enlarged spleen, extra spleen, hydrocephaly (extra water in the brain), absence or underdevelopment of other brain structures, and arm and leg bones that are shortened, thickened, and bowed.
Diagnosis
Some of the features of MGS can be detected on prenatal ultrasound early in the second trimester. At that time, an encephalocele can often be seen as well as other brain abnormalities. Enlarged kidneys can also be detected at this time. As the pregnancy continues, a low amount of amniotic fluid becomes apparent. Enlarged kidneys make the abdomen appear and measure larger than usual. Cysts will make the kidneys appear bright or white on an ultrasound instead of the usual gray color.
Measurement of the alpha-fetoprotein (AFP) level from either maternal blood or amniotic fluid may help to detect an encephalocele (although most encephaloceles are closed and do not elevate AFP levels). AFP can be measured in amniotic fluid after about 12 weeks of pregnancy and in maternal blood after about 15 weeks of pregnancy. AFP elevation in either test increases the chance of an encephalocele or other abnormality in the baby's skull or spine.
When signs of MGS are seen on prenatal ultrasound in the absence of a family history, MGS is often suspected but not confirmed until after birth and autopsy. A chromosome test can be performed before birth to rule out chromosome abnormalities such as trisomy 13. However, autopsy is usually needed to distinguish MGS from other syndromes with similar features. Every organ system of the baby is carefully examined for abnormal development.
Families at risk for recurrence of MGS can combine early ultrasound with either maternal blood AFP or amniotic fluid AFP for early detection. If early ultrasound reveals no signs of MGS, later scans are still recommended because of the variability in expression and severity. No routine genetic tests are currently available to these families.
Treatment and management
There is no effective treatment or cure for MGS. Babies with MGS have extensive birth defects that require many surgeries to repair. Encephaloceles can be repaired by surgery after birth. Surgeries are most successful for infants with small skull abnormalities. Encephaloceles put infants at high risk for infection. The abnormalities seen in the kidneys and liver often leave the organs nonfunctional. There is often no way to repair the organs other than transplant. Even if all of these problems could be solved, infants with MGS often have underdeveloped lungs that cannot support life after birth. The lungs are underdeveloped because of the low amount of amniotic fluid prior to birth. Due to the extensive birth defects, the extensive surgeries needed to correct them, and the poor prognosis, babies born with MGS are given minimum care for comfort and warmth.
When MGS is suspected in an unborn baby, parents should be given information about the range of symptoms of MGS and the poor prognosis. Parents should also be cautioned that a diagnosis of MGS often cannot be confirmed until after birth. Prognosis can vary if the baby has atypical signs of MGS or if the baby has a different syndrome. Elective termination of affected pregnancies may be an option for some couples.
Prognosis
The prognosis for MGS is quite poor. Many infants with MGS are stillborn. Those that are born living usually die shortly after birth in the first hours, days, or weeks of life. Death is usually due to inability to breathe (underdeveloped lungs), infection (opening in the skull), or organ failure (decreased function of kidneys and liver). MGS is variable and there have been a couple reports of
| | |
| --- | --- |
| 728 | G A L E E N C Y C L O P E D I A O F G E N E T I C D I S O R D E R S |