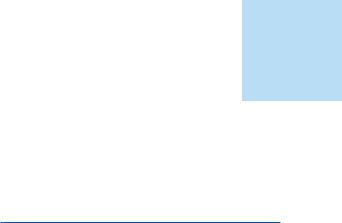 I Nail-patella syndrome
Definition
Nail-patella syndrome, is a genetic disease of the connective tissue that produces defects in the fingernails, knee caps, and kidneys.
Description
Nail-patella syndrome is also known as Fong Disease, Hereditary Onycho-Osteodysplasia (H.O.O.D.), Iliac Horn Disease, and Turner-Kieser syndrome. Patients who have nail-patella syndrome may show a variety of physical abnormalities. The hallmark features of this syndrome are poorly developed fingernails, toenails, and patellae (kneecaps). Other common abnormalities include elbow deformities, abnormally shaped pelvis bone (hip bone), and kidney (renal) disease.
Less common medical findings include changes in the upper lip, the roof of the mouth, and unusual skeletal abnormalities. Skeletal abnormalities may include poorly developed scapulae (shoulder blades), sideways bent fingers (clinodactyly), clubfoot, scoliosis, and unusual neck bones. There are also other effects, such as thickening of the basement membrane in the skin and of the tiny clusters of capillaries (glomeruli) in the kidney. Scientists have recognized an association between nail-patella syndrome and colon cancer. Nail-patella syndrome is associated with open-angle glaucoma, which, if untreated, may lead to blindness. Patients may also have cataracts, drooping eyelids (ptosis), or corneal problems such as glaucoma.
People with nail-patella syndrome may display only a few or many of the recognized signs of this disease. Symptoms vary widely from person to person. Signs even vary within a single family with multiple affected members.
Genetic profile
Nail-patella syndrome has been recognized as an inherited disorder for over 100 years. It is caused by
mutations in a gene known as LIM Homeobox Transcription Factor 1-Beta (LMX1B), located on the long arm of chromosome 9.
The LMX1B gene codes for a protein that is important in organizing embryonic limb development. Mutations in this gene have been detected in many unrelated people with nail-patella syndrome. Scientists have also been able to interrupt this gene in mice to produce defects similar to those seen in human nail-patella syndrome.
Nail-patella syndrome is inherited in an autosomal dominant manner. This means that possession of only one copy of the defective gene is enough to cause disease. When a parent has nail-patella syndrome, each of their children has a 50% chance to inherit the diseasecausing mutation.
A new mutation causing nail-patella syndrome can also occur in a person with no family history. This is called a sporadic occurrence and accounts for approximately 20% of cases of nail-patella syndrome. The children of a person with sporadic nail-patella syndrome are also at a 50% risk of developing signs of the disorder.
Demographics
The incidence of nail-patella syndrome is approximately one in 50,000 births. This disorder affects males and females equally. It is found throughout the world and occurs in all ethnic groups. The strongest risk factor for nail-patella syndrome is a family history of the disease.
Signs and symptoms
Medical signs of nail-patella syndrome vary widely between patients. Some patients with this disorder do not display symptoms. These patients are discovered to have the nail-patella syndrome only when genetic studies trace their family history. Scientists are now working to learn what causes different people to display such different symptoms of nail-patella syndrome.
| | |
| --- | --- |
| G A L E E N C Y C L O P E D I A O F G E N E T I C D I S O R D E R S | 789 | K E Y T E R M S
Chorionic villus sampling (CVS)—A procedure used for prenatal diagnosis at 10-12 weeks gestation. Under ultrasound guidance a needle is inserted either through the mother's vagina or abdominal wall and a sample of cells is collected from around the fetus. These cells are then tested for chromosome abnormalities or other genetic diseases.
Glomeruli—Tiny clusters of capillaries in the kidney.
Hematuria—The presence of blood in the urine.
Patella—The kneecap.
Proteinuria—Excess protein in the urine.
The most obvious signs associated with nail-patella syndrome is absent, poorly developed, or unusual fingernails. Fingernail abnormalities are found in over 80% of patients with this disorder. Abnormalities may be found in one or more fingernails. Only rarely are all fingernails affected. This disease most commonly affects the fingernails of the thumbs and index fingers. The pinky fingernail is least likely to be affected. Fingernails may be small and concave with pitting, ridges, splits, and/or discoloration. Toenails are less often affected. The lunulae, or light-colored crescent moons, at the base of the fingernail bed next to the cuticle are sometimes triangularlyshaped in people with nail-patella syndrome.
Kneecap abnormalities are the second most common sign associated with this disorder. Either or both kneecaps may be missing or poorly formed. If present, kneecaps are likely to be dislocated. The knees of people with nail-patella syndrome may have a square appearance. Besides the kneecap, other support structures including bones, ligaments, and tendons may also be malformed. These support structures stabilize the knee, therefore patients with some leg malformations may have difficulty in walking.
The hip bones of approximately 80% of patients with nail-patella syndrome have unusual bony projections called posterior iliac horns. These bony projections, or spurs, are internal and not obvious unless they are detected on x ray. This unusual pelvic anatomy is not associated with any other disease.
Kidney disease is present in at least 30% of people with nail-patella syndrome. Biopsy shows lesions that resemble those of inflammation of the clusters of capillaries in the kidneys (glomerulonephritis), but without any infection present. Kidney failure is the most danger-
ous consequence of nail-patella syndrome. It occurs in about 30% of patients who have kidney involvement. An early sign of kidney involvement is the presence of protein or blood in the urine (chronic, benign proteinuria and hematuria). Kidney involvement is progressive, so early diagnosis and treatment of renal disease is important. Kidney disease has been reported in children with nailpatella syndrome, but renal involvement more commonly develops during adulthood.
Various skeletal symptoms may occur. Patients with nail-patella syndrome may not be able to fully straighten their arms at the elbow. This may create a webbed appearance at the elbow joint. Patients may have sideways bent fingers, poorly developed shoulder blades, clubfoot, hip dislocation, unusual neck bones, or scoliosis.
Eye problems may be present and vary from person to person. Nail-patella syndrome is associated with open angle glaucoma. Open angle glaucoma is caused by fluid blocked into the front chamber of the eye. This blocked fluid builds increasing pressure into the eye. If untreated, this increased pressure may lead to permanent damage of the optic nerve and irreversible blindness. Some patients with nail-patella syndrome have ptosis, or drooping eyelids. Nail-patella syndrome has also been associated with abnormalities of the cornea, cataracts, and astigmatism. Additionally, the irises of the eye may be multicolored, possibly displaying a clover-shaped pattern of color.
Diagnosis
As of early 2001, genetic testing for nail-patella syndrome is available only through research institutions that are working to further characterize this disorder. Genetic testing cannot predict which signs of the disease will develop. Nor can genetic testing predict the severity of disease symptoms. Improved genetic testing for nailpatella syndrome is anticipated in the future.
Diagnosis of this disease is most often made on visual medical clues such as the characteristic abnormalities of the fingernails and kneecaps. Diagnosis is confirmed by x ray images of the affected bones and, when indicated, kidney biopsy. The bony pelvic spurs found in 80% of patients with nail-patella syndrome are not associated with any other disease.
Prenatal diagnosis for nail-patella syndrome by third-trimester ultrasound was documented in 1998. Prenatal diagnosis via genetic testing of cells obtained by chorionic villus sampling was reported the same year. As of 2001, prenatal genetic testing for nail-patella syndrome is not yet widely available. There is controversy surrounding the use of prenatal testing for such a variable disorder. Prenatal testing cannot predict the extent of an individual's disease.
| | |
| --- | --- |
| 790 | G A L E E N C Y C L O P E D I A O F G E N E T I C D I S O R D E R S |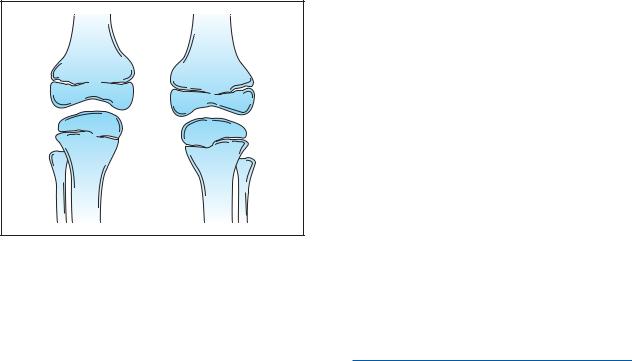 Diagram of two legs affected by nail-patella syndrome. Note the absence of the patella in this image of knees.
(Gale Group)
Treatment and management
Treatment is usually not necessary. Treatment, when required, depends on each patient's specific symptoms. Severe kidney disease is treated with dialysis or a kidney transplant. Patients receiving kidney transplant do not develop nail-patella type renal complications in their new kidney.
A wheelchair may be required if walking becomes painful due to bone, tendon, ligament, or muscle defects. Orthopedic surgery may be necessary for congenital clubfoot deformity. Manipulation or surgery may be required to correct hip dislocation. Cataracts are also surgically treated. Medical treatment at early signs of glaucoma prevents progression of the disease to blindness.
Genetic counseling is offered to persons who have the disease. Parents with this disease have a 50% chance of passing it to each of their children. As of 2001, current genetic testing technology cannot predict the severity or scope of an individual's symptoms.
Because many possible manifestations of nailpatella syndrome exist, patients are advised to pursue extra medical care including regular urinalysis and special eye exams. Children with nail-patella syndrome should be screened for scoliosis.
Prognosis
Survival among patients with nail-patella syndrome is not decreased unless a they exhibit renal complications. It is estimated that 8% of individuals with nailpatella syndrome who seek medical attention eventually die of kidney disease.
Resources
BOOKS
Berkow, R., M. H. Beers, A. J. Fletcher, and R. M. Bogin. The
Merck Manual of Medical Information—Home Edition.
McGraw-Hill, 2000.
WEBSITES
Gene Clinics. http://www.geneclinics.org .
OMIM—Online Mendelian Inheritance in Man.
http://www3.ncbi.nlm.nih.gov/Omim .
John Thomas Lohr
Judy C. Hawkins, MS
Naito-Oyanagi disease see Dentatorubralpallidoluysian atrophy
Nanocephalic dwarfism see Seckel syndrome
I Narcolepsy
Definition
Narcolepsy is a disorder marked by excessive daytime sleepiness, uncontrollable sleep attacks, and cataplexy (a sudden loss of muscle tone, usually lasting up to half an hour).
Description
Narcolepsy is the second-leading cause of excessive daytime sleepiness (after obstructive sleep apnea). Persistent sleepiness and sleep attacks are the hallmarks of this condition. The sleepiness has been compared to the feeling of trying to stay awake after not sleeping for two or three days.
People with narcolepsy fall asleep suddenly—any- where, at any time, maybe even in the middle of a conversation. These sleep attacks can last from a few seconds to more than an hour. Depending on where they occur, they may be mildly inconvenient or even dangerous to the individual. Some people continue to function outwardly during the sleep episodes, such as talking or putting things away. But when they wake up, they have no memory of the event.
Narcolepsy is related to the deep, dreaming part of sleep known as rapid eye movement (REM) sleep. Normally when people fall asleep, they experience 90 minutes of non-REM sleep, which is then followed by REM sleep. People with narcolepsy, however, enter REM
| | |
| --- | --- |
| G A L E E N C Y C L O P E D I A O F G E N E T I C D I S O R D E R S | 791 | K E Y T E R M S
Cataplexy—A symptom of narcolepsy in which there is a sudden episode of muscle weakness triggered by emotions. The muscle weakness may cause the person's knees to buckle, or the head to drop. In severe cases, the patient may become paralyzed for a few seconds to minutes.
Hypnagogic hallucinations—Dream-like auditory or visual hallucinations that occur while falling asleep.
Hypothalamus—A part of the forebrain that controls heartbeat, body temperature, thirst, hunger, body temperature and pressure, blood sugar levels, and other functions.
Sleep paralysis—An abnormal episode of sleep in which the patient cannot move for a few minutes, usually occurring on falling asleep or waking up. Often found in patients with narcolepsy.
sleep immediately. In addition, REM sleep occurs inappropriately throughout the day.
Genetic profile
In 1999, researchers identified the gene that causes narcolepsy. The gene allows cells in the hypothalamus (the part of the brain that regulates sleep behavior) to receive messages from other cells. When this gene is abnormal, cells cannot communicate properly, and abnormal sleeping patterns develop.
The disorder sometimes runs in families, but most people with narcolepsy have no relatives with the disorder. Researchers believe that the inheritance of narcolepsy is similar to that of heart disease. In heart disease, several genes play a role in being susceptible to the disorder, but it usually does not develop without an environmental trigger of some sort.
Demographics
There has been debate over the incidence of narcolepsy. It is thought to affect between one in every 1,000 to 2,000 Americans. The known prevalence in other countries varies, from one in 600 in Japan to one in 500,000 in Israel. Reasons for these differences are not clear.
Signs and symptoms
While the symptoms of narcolepsy usually appear during the teens or 20s, the disease may not be diagnosed
for many years. Most often, the first symptom is an overwhelming feeling of fatigue. After several months or years, cataplexy and other symptoms appear.
Cataplexy is the most dramatic symptom of narcolepsy. It affects 75% of people with the disorder. During attacks, the knees buckle and the neck muscles go slack. In extreme cases, the person may become paralyzed and fall to the floor. This loss of muscle tone is temporary, lasting from a few seconds to half an hour, but frightening. The attacks can occur at any time but are often triggered by strong emotions, such as anger, joy, or surprise.
Other symptoms of narcolepsy include:
•Sleep attacks: short, uncontrollable sleep episodes throughout the day
•Sleep paralysis: a frightening inability to move shortly after awakening or dozing off
•Auditory or visual hallucinations: intense, sometimes terrifying experiences at the beginning or end of a sleep period
•Disturbed nighttime sleep: tossing and turning, nightmares, and frequent awakenings during the night
Diagnosis
If a person experiences both excessive daytime sleepiness and cataplexy, a diagnosis may be made on the patient history alone. Laboratory tests, however, can confirm a diagnosis. These may include an overnight polysomnogram—a test in which sleep is monitored with electrocardiography, video, and respiratory parameters. A Multiple Sleep Latency Test, which measures sleep latency (onset) and how quickly REM sleep occurs, may be used. People who have narcolepsy usually fall asleep in less than five minutes.
If a diagnosis is in question, a genetic blood test can reveal the existence of certain substances in people who have a tendency to develop narcolepsy. Positive test results suggest, but do not prove, the existence of narcolepsy.
Narcolepsy is a complex disorder, and it is often misdiagnosed. It takes 14 years, on average, for an individual to be correctly diagnosed.
Treatment and management
There is no cure for narcolepsy. It is not progressive, and it is not fatal, but it is chronic. The symptoms can be managed with medication or lifestyle adjustment. Amphetamine-like stimulant drugs are often prescribed to control drowsiness and sleep attacks. Patients who do
| | |
| --- | --- |
| 792 | G A L E E N C Y C L O P E D I A O F G E N E T I C D I S O R D E R S |

Narcolepsy causes affected individuals to suddenly fall into a deep sleep, even in the middle of an activity. (Custom Medical Stock Photo, Inc.)
not like taking high doses of stimulants may choose to take smaller doses and "manage" their lifestyles, such as by napping every couple of hours, to relieve daytime sleepiness. Antidepressants are often effective in treating symptoms of abnormal REM sleep.
With the recent discovery of the gene that causes narcolepsy, researchers are hopeful that therapies can be designed to relieve the symptoms of the disorder.
Prognosis
Narcolepsy is not a degenerative disease, and patients do not develop other neurologic symptoms. However, narcolepsy can interfere with a person's ability to work, play, drive, and perform other daily activities. In severe cases, the disorder prevents people from living a normal life, leading to depression and a loss of independence.
Resources

Nephrogenic

 

PERIODICALS

 

Mignot, E. "Genetics of Narcolepsy and Other Sleep

 

Disorders." American Journal of Human Genetics 60

 

(1997): 1289-1302.

diabetes

Siegel, Jeremy M. "Narcolepsy." Scientific American (January

 

2000). http://www.sciam.com/2000/0100issue/0100siegel

 

.html

insipidus

ORGANIZATIONS

 

American Sleep Disorders Association. 1610 14th St. NW,

 

Suite 300, Rochester, MN 55901. (507) 287-6006.

 

Narcolepsy Network. PO Box 42460, Cincinnati, OH 45242.

 

(973) 2760115.

 

National Center on Sleep Disorders Research. Two Rockledge

 

Centre, 6701 Rockledge Dr., Bethesda, MD 20892. (301)

 

435-0199.

 

National Sleep Foundation. 1367 Connecticut Ave. NW, Suite

 

200, Washington, DC 20036. (202) 785-2300.

 

Stanford Center for Narcolepsy. 1201 Welch Rd-Rm P-112,

 

Stanford, CA 94305. (415) 725-6517.

 

University of Illinois Center for Narcolepsy Research. 845 S.

 

Damen Ave., Chicago, IL 60612. (312) 996-5176.

 

WEBSITES

 

"Stanford Researchers Nab Narcolepsy Gene For Sleep

 

Disorders." Stanford University Medical Center. [August

 

5, 1999]. http://www.stanford.edu/%7Edement/ngene

 

.html .

 
Michelle Lee Brandt
I Nephrogenic diabetes insipidus
Definition
Nephrogenic diabetes insipidus (NDI) is a kidney disorder characterized by the organ's inability to respond to the antidiuretic hormone (ADH), also called arginine vasopressin (AVP), produced in the hypothalamus, a structure of the brain. NDI involves an abnormality in the kidney tubules which prevents the proper amount of water from being reabsorbed from the kidneys back into the body. Instead, the water is excreted in large amounts as diluted urine.
Description
There are two categories of nephrogenic diabetes insipidus: inherited and acquired. Within the inherited group, there are three types of NDI: X-linked, autosomal recessive, and autosomal dominant. Unlike the more common diabetic disorder diabetes mellitus, NDI is not
| | |
| --- | --- |
| G A L E E N C Y C L O P E D I A O F G E N E T I C D I S O R D E R S | 793 |
Nephrogenic diabetes insipidus
related to insulin production or levels of sugar in the blood and urine.
Ninety percent of inherited NDI is X-linked, meaning it is caused by an alteration in a gene carried on the X chromosome. Since women have two X chromosomes and men have only one, an X-linked recessive condition is expected to effect men since they do not have a second X chromosome with a normal copy of the gene to produce the needed substance. Autosomal recessive NDI is rarer and equally affects males and females. Autosomal dominant NDI is the most rare of the three and affects both males and females.
Inherited NDI is present from birth and symptoms usually manifest within the first several days of life. If the disorder is not diagnosed and treated early, it will cause the body to lose too much water. This dehydration can lead to brain damage and eventually death. But, with early diagnosis and treatment to avoid severe dehydration, the person can live a normal life span without any mental impairment.
Acquired NDI is the most common type of the disease and can be acquired at any age. It is most frequently acquired through the long-term use of certain prescription medicine, including demeclocycline, methicillin, foscarnet, and some anticancer drugs. In rare instances, it can be caused by an underlying disease or disorder, such as sickle cell anemia, chronic kidney failure, sarcoidosis, amyloidosis, Fanconi syndrome, and Sjögrens syndrome. Other rare causes of acquired NDI are low blood levels of potassium and abnormally high blood calcium levels. Pregnancy can also result in temporary acquired NDI. However, most cases of acquired NDI are caused by long-term use of the prescription drug lithium, used to treat bipolar disorder (manic depression).
NDI, also called gypsy's curse, is caused by the kidneys inability to respond to the water-saving hormone (ADH), a natural chemical manufactured in the brain but works in the kidneys. The body's two kidneys make urine, which is then sent to the bladder, and help to maintain the balance of water, salt, and minerals. A majority of the water is reabsorbed from nephrons in the kidneys into surrounding inner tissue. Each kidney contains hundreds of thousands of nephrons, microscopic-size tubes that filter the water flowing into the kidneys. The water that is not absorbed becomes urine.
The first references to NDI appeared in medical literature in the 1880s, but it wasn't until the 1940s that detailed observations and studies were done. In a landmark 1946 study published in the American Journal of the Diseases of Children, authors A. J. Waring, L. Kajdi, and V. Tappan, summarized the main clinical and pathophysiological aspects of the disorder. "The presenting
complaints were unexplained fever, failure to gain weight, and constipation. The bouts of dehydration are usually not associated with acidosis. The thirst of one of the patients studied was satisfied only when five to six times the normal requirement of fluid was offered. The levels of (blood) serum sodium and chloride decreased to normal and the infant remained free from fever on this high fluid intake."
Genetic profile
Genes are the blueprint for the human body that directs the development of cells and tissue. Mutations in some genes can cause genetic disorders such as inherited nephrogenic diabetes insipidus. Every cell in the body has 23 pairs of chromosomes, 22 pairs of which are called autosomes and contain two copies of individual genes. The 23rd pair of chromosomes is called the sex chromosome because it determines a person's sex. Men have an X and a Y chromosome while women have two X chromosomes. X-linked nephrogenic diabetes insipidus is caused by a defect in the vasopressin-2 receptor (AVPR2) gene in the X chromosome which renders the kidneys unreceptive to ADH.
Since inherited NDI is usually inherited as an X- linked condition, almost all persons with the disorder are male. Females have two X chromosomes, which means they have two copies of each gene. Males have only one X chromosome and one copy of each gene. If a male has an altered AVPR2 gene, he will have NDI. If a female has one altered gene, she will be a carrier and will be at risk to pass the altered gene on to her children. If her son inherits the altered gene, he will be affected. If her daughter inherits the affected gene, she will be a carrier like her mother. If her son does not inherit the altered gene, he will not be affected and will not pass the altered gene on to his children. If a daughter does not inherit the altered gene, she will not pass it on to her children. If an affected male has children, all of his daughters will be carriers but none of his sons will be affected.
Women who have the abnormal AVPR2 gene may have milder symptoms of NDI than males. This is because early in development, one X-chromosome in each cell of a female is "turned off" at random. If by chance a woman has more than half of the X chromosomes that carry the normal AVPR2 gene turned off, she may have mild symptoms of NDI. Approximately 90% of people with inherited NDI have it as a result of this X- linked gene.
The gene that produces aquaporin-2 (AQP2) can cause autosomal recessive and autosomal dominant NDI when altered. The AQP2 gene produces a protein that helps the kidneys reabsorb water into the body and con-
| | |
| --- | --- |
| 794 | G A L E E N C Y C L O P E D I A O F G E N E T I C D I S O R D E R S |

centrate urine. Since the AQP2 gene is carried on chromosome 12, a non-sex chromosome, it is carried in both males and females. Also, an abnormal AQP2 gene is recessive, meaning if only one of the person's two AQP2 genes is abnormal, it will not cause NDI. If both genes are abnormal, then that person will have NDI. A child born to a couple who are both carriers of autosomal recessive NDI has a 25% chance to be affected since the child is at risk to receive a copy of the altered gene from its mother and father. In autosomal dominant NDI, either parent may be affected and may pass the altered gene to the child. Also, only one altered gene is necessary to be present for the condition to manifest. Acquired NDI is not hereditary and can not be genetically passed on from parents to their offspring.
Demographics
In general, the various types of NDI appear to affect people regardless of age, race, or ethnicity. However, in X-linked NDI, the predominance of cases is among males. The exact number of people with NDI is not known. Estimates range from one in every 500,000 to five in every 100,000. In acquired NDI, one of the diseases that can cause it is sickle cell anemia, which occurs primarily in people of African descent.
Signs and symptoms
The primary symptoms for all types of NDI are generally the same: polyuria (excreting large amounts of dilute urine), and polydipsia, drinking excessive amounts of water, from 3-10 gal (12-38 L) per day. In infants born with NDI, symptoms begin to occur within a few days after birth. But since a child cannot verbally communicate its need for larger than normal amounts of water, parents, physicians, and other caregivers must be alert to other signs of the disorder. Overt signs include fever, irritability, and constipation, all of which may indicate dehydration. The child may also vomit often, be anorexic, and prefer water to milk. Other signs include rapid and severe dehydration if fluids are restricted or withheld, high levels of sodium and chloride in the blood, and urine that does not have a high specific gravity.
Elderly people, usually those with acquired NDI, may need close monitoring for symptoms especially if they are unable to communicate their need for lots of water, such as patients with Alzheimer disease or other mental deterioration. Also, elderly persons may be less sensitive to their need for water. Because of this, elderly persons with NDI can be more prone to dehydration, leading to such problems as infection, kidney failure, confusion, lethargy, and constipation.
K E Y T E R M S
Acidosis—A condition of decreased alkalinity resulting from abnormally high acid levels (low pH) in the blood and tissues. Usually indicated by sickly sweet breath, headaches, nausea, vomiting, and visual impairments.
Alzheimer disease—A degenerative disease of the central nervous system characterized by premature senility and other mental deterioration.
Amyloidosis—Accumulation of amyloid deposits in various organs and tissues in the body such that normal functioning of an organ is compromised.
Dehydration—An extreme loss of water in the body which, if untreated, can lead to brain damage and death.
Electrolyte—A solution or a substance in a solution consisting of various chemicals that can carry electric charges. They exist in the blood as acids, bases, and salts, such as sodium, calcium, potassium, chlorine, and magnesium.
Fanconi syndrome—A reabsorbtion disorder in the kidney tubules.
Kidney tubules—A portion of the kidneys that causes water to be excreted as urine or reabsorbed into the body.
Nephrons—Microscopic-size tubes that filter the water that flows into the kidneys.
Osmolarity—The concentration of an osmotic solution, especially when measured in osmols or milliosmols per liter of solution.
Osmotically—Referring to the movement of a solvent through a semipermeable membrane (as of a living cell) into a solution of higher solute concentration that tends to equalize the concentrations of solute on the two sides of the membrane.
Sarcoidosis—A chronic disease characterized by nodules forming in the lymph nodes, lungs, bones, and skin.
Sickle cell anemia—A chronic, inherited blood disorder characterized by sickle-shaped red blood cells. It occurs primarily in people of African descent, and produces symptoms including episodic pain in the joints, fever, leg ulcers, and jaundice.
Sjogren syndrome—A chronic inflammatory disease often associated with rheumatoid arthritis.
insipidus diabetes Nephrogenic
| | |
| --- | --- |
| G A L E E N C Y C L O P E D I A O F G E N E T I C D I S O R D E R S | 795 |
Nephrogenic diabetes insipidus
For acquired NDI, close medical monitoring should be done for people at high risk for the disorder. These include people undergoing long-term treatment with lithium, and people with sickle cell anemia, chronic kidney failure, other kidney problems, very low blood levels of potassium and protein, and high blood levels of calcium.
Diagnosis
NDI is one of four types of diabetes insipidus (DI). In all four types, the basic symptoms are extreme thirst and excessive urination. Depending on other symptoms and conditions present in the patient, it can often be easy for a physician to suspect NDI. But additional tests are required to confirm it. These include a test of urine concentration to measure the ratio of osmotically active particles (such as sodium) to body water, a blood test to determine plasma concentrations, measuring urine volume, and a test to determine the level of the antidiuretic hormone AVP in blood plasma.
Sometimes physicians will have the patient take a water deprivation test to help determine the type of NDI present. In this test, the patient goes without water or other liquids for up to six hours. The blood plasma concentrations and urine volume are then measured. Even though a patient with NDI will become dehydrated during this test, the doctor monitors the patient's body weight and blood plasma osmolarity levels to insure they remain within safe parameters. At the end of the test, the patient is generally diagnosed with NDI if he or she has high levels of osmotically active particles in the blood and low levels of osmotically active particles in the urine.
The patient is also given desmopressin acetate (DDAVP), a synthetic version of AVP, to determine if the patient has a different form of DI called pituitary diabetes insipidus, also known as central diabetes insipidus. In addition, the physician measures heart rate and diastolic blood pressure to help determine whether the NDI is caused by defective AVPR2 genes or defective AQP2 genes.
Treatment and management
Although there is no cure for NDI, all forms of the disorder are treatable. Drinking plenty of water is the first and foremost treatment. Regardless of age of the patient, water must be available at all times. However, it is important for a child to maintain control of their NDI with medication so that they can eat, drink, and grow normally.
Medications used to treat NDI include one or a combination of indomethacin (Indocin), amiloride (Midamor), the thiazide diuretics hydrochlorothiazide (Hydrodiuril) or Chlorothiazide (Diuril), and occasionally desmopressin.
Management of NDI is also accomplished through restricting the intake of sodium and sometimes protein. Thiazide diuretics can reduce a patient's urine output, but they may also cause potassium depletion. Potassium supplements may be required. NDI that occurs during pregnancy usually goes away after delivery of the child. NDI caused by diet abnormalities are usually reversible once the diet becomes balanced. Acquired NDI caused by electrolyte imbalances such as low levels of calcium in the blood plasma or high levels of potassium in the blood plasma can be reversed once the imbalance is corrected.
In patients with lithium-induced NDI, thiazide diuretics are used cautiously since they reduce the kidneys' ability to excrete lithium. In many, but not all cases, people with lithium-induced NDI can improve when the dosage is decreased or stopped. In some cases, the lithium-induced NDI is irreversible.
Prognosis
Infants and children with inherited NDI can live a normal life span providing they are diagnosed correctly, treated early, and properly manage the disorder. Without early diagnosis and treatment in infancy, NDI can lead to mental retardation and even death. Infants and children with NDI tend to be slightly smaller and weigh less than children without NDI. As children with NDI mature into adults, they tend to be slightly shorter than their parents, but with a normal weight. With appropriate treatment and management, NDI should not interfere with activities such as school, work, or sports.
Resources
BOOKS
Czernichow, P. Diabetes Insipidus in Man. S. Karger Publishing, Basel, Switzerland, 1985.
Narins, Robert G. Maxwell and Kleeman's Clinical Disorders of Fluid and Electrolyte Metabolism, Fifth Edition. McGraw-Hill Publishing, Inc., New York, 1994.
Scriver, Charles R., et al. The Metabolic Basis of Inherited
Disease, Eighth Edition. McGraw-Hill Publishing, Inc., New York, 2000.
PERIODICALS
Arthus, M. F., et al. "Report of 33 Novel AVPR2 Mutations and Analysis of 117 Families with X-linked Nephrogenic Diabetes Insipidus." Journal of the American Society of Nephrology (June 2000): 1044-1054.
Bichet, D. G. "Nephrogenic Diabetes Insipidus." American Journal of Medicine (November 1998): 431-442.
Stone, Dr. Kurt A. "Lithium-induced Nephrogenic Diabetes Insipidus." Journal of the American Board of Family
Practice (January/February 1999): 43-47.
Oksche, A., and W. Rosenthal. "The Molecular Basis of Nephrogenic Diabetes Insipidus." Journal of Molecular Medicine (April 1998): 326-337.
| | |
| --- | --- |
| 796 | G A L E E N C Y C L O P E D I A O F G E N E T I C D I S O R D E R S |

Schulz, Pasel K., et al. "Functional Characterization of the Molecular Defects Causing Nephrogenic Diabetes Insipidus in Eight Families." Journal of Clinical Endocrinology and Metabolism (April 2000): 1703-1710.
Van Lieburg, Angenita F., et al. "Clinical Presentation and Follow-up of 30 Patients with Congenital Nephrogenic Diabetes Insipidus." Journal of the American Society of Nephrology (October 1999): 1958-1964.
Wildin, R. S., and D. E. Cogdell. "Clinical Utility of Direct Mutation Testing for Congenital Nephrogenic Diabetes Insipidus in Families." Pediatrics (March 1999): 632-639.
ORGANIZATIONS
Nephrogenic Diabetes Insipidus Foundation. PO Box 1390,
Eastsound, WA 98245. (888) 376-6343. Fax: (888) 376-
3842. http://www. Ndi.org .
WEBSITES
Diabetes Insipidus Foundation.
http://diabetesinsipidus.maxinter.net .
Ken R. Wells
I Neu-Laxova syndrome
Definition
Neu-Laxova syndrome is a rare disorder characterized by onset of severe growth delay during pregnancy, multiple birth defects, and abnormal physical development of the brain. Affected infants typically die shortly after delivery or are stillborn.
Description
In 1971, Dr. Neu published the first report of a family that included three children with a unique pattern of multiple birth defects. Each child had an unusually small head (microcephaly) and abnormalities of their arms, legs, skin, and external genitalia. The two affected daughters were each stillborn, while the affected son only lived for seven weeks. In 1972, Dr. Laxova described a different family whose children had birth defects similar to those first described by Dr. Neu. The parents in this second family were first cousins to one another. Taken together, these two families were considered evidence of a previously unrecognized genetic syndrome. The disorder was named Neu-Laxova syndrome in honor of these two physicians.
Neu-Laxova syndrome (NLS) has since become known as a rare, lethal inherited condition characterized by a specific pattern of facial, brain, and limb abnormalities. Other associated abnormalities often include dry, scaly skin, generalized swelling of body tissues (edema), and extremely slow growth.
Genetic profile
Neu-Laxova syndrome is inherited as an autosomal recessive condition. Males and females are equally likely to be affected. It has been reported in a variety of ethnic groups. Proof of autosomal recessive inheritance includes the birth of more than one affected child to normal parents, and the observed incidence of infants with NLS among the children of two blood relatives. Consanguinity, or the mating of two biologically related individuals, increases the possibility of having a child with a genetic disorder. Since any two relatives will share a portion of their genes in common, they are more likely to each be a carrier of the same autosomal recessive gene.
In order to be affected with NLS, an individual must inherit two copies of the NLS gene, or one copy from each carrier parent. A carrier has one NLS gene and one normal gene; as such, a NLS carrier appears completely normal. However, two carriers face a risk of 25%, or a one in four chance, of having a child with NLS. Conversely, they also have a 75% chance of having an unaffected child. These risks apply to each of their pregnancies together.
Infants with NLS have also been born to non-con- sanguineous, or unrelated, couples. Anytime a child with NLS is born, the parents must be obligate, or mandatory, carriers of one NLS gene. As such, they face an increased risk in future pregnancies together of having another affected child.
The gene for NLS has not yet been identified. Thus, it is not possible to perform direct genetic testing to determine carrier status, confirm a clinical diagnosis, or provide accurate prenatal diagnosis.
Demographics
Adequate data are not available to provide a specific statistic regarding the frequency of NLS. The condition is very rare. According to a 1995 publication, only 40 cases of Neu-Laxova syndrome had been reported up to that point in medical literature.
Signs and symptoms
Stillborn or newborn infants with NLS have a characteristic pattern of internal and external abnormalities. Not all affected infants will have all of the features listed below, and some anomalies are slightly more common than others.
Infants with Neu-Laxova syndrome often have unusual facial features. Their heads are very small, and their foreheads appear to slant backwards. The distance between the eyes is wider than normal (hypertelorism),
| | |
| --- | --- |
| G A L E E N C Y C L O P E D I A O F G E N E T I C D I S O R D E R S | 797 | K E Y T E R M S
Agenesis of the corpus callosum—Failure of the corpus callosum to form and develop. The corpus callosum is the band of nerve fibers located between the two sides, or hemispheres, of the brain.
Cataract—A clouding of the eye lens or its surrounding membrane that obstructs the passage of light resulting in blurry vision. Surgery may be performed to remove the cataract.
Cerebellum—A portion of the brain consisting of two cerebellar hemispheres connected by a narrow vermis. The cerebellum is involved in control of skeletal muscles and plays an important role in the coordination of voluntary muscle movement. It interrelates with other areas of the brain to facilitate a variety of movements, including maintaining proper posture and balance, walking, running, and fine motor skills, such as writing, dressing, and eating.
Cleft lip—A separation of the upper lip that is present from birth but originates early in fetal development. A cleft lip may appear on one side (unilateral) or both sides (bilateral) and is occasionally accompanied by a cleft palate. Surgery is needed to completely repair cleft lip.
Cleft palate—A congenital malformation in which there is an abnormal opening in the roof of the mouth that allows the nasal passages and the mouth to be improperly connected.
Dandy-Walker malformation—A complex structural abnormality of the brain frequently associated with hydrocephalus, or accumulation of excess fluid in the brain. Abnormalities in other areas of the body may also be present. Individuals with Dandy-Walker malformation have varying degrees of mental handicap or none at all.
Placenta—The organ responsible for oxygen and nutrition exchange between a pregnant mother and her developing baby.
Stillbirth—The birth of a baby who has died sometime during the pregnancy or delivery.
and the eyes are prominent or bulging. Cataracts may be present. The eyelids are typically absent. The bridge of the nose is wide and slightly flattened. The ears are abnormally shaped. The lower jaw appears recessed as compared to the upper jaw (retrognathia), and the mouth
itself is usually open with abnormally thick lips. Cleft lip may be present, with or without cleft palate.
The external features of the head and face are a reflection of severe physical abnormalities of the brain. It is not unusual for an infant with NLS to have an underdeveloped cerebellum or even lissencephaly, a more serious malformation characterized by a smooth brain surface. Normal development of the brain includes an intricate pattern of grooves, or gyri, on its outer surface. A lack of these grooves leads to profound mental retardation among survivors and an increased frequency of medical complications, such as seizures. Other reported brain malformations include agenesis of the corpus callosum and Dandy-Walker malformation.
A variety of limb abnormalities have also been described in NLS. Affected individuals often have shortened arms and legs that are held out from the body in an unusual, fixed position. This positioning is often referred to as flexion contractures. The fingers and toes may appear underdeveloped (hypoplastic) and/or fused together (syndactyly). The heels of the feet are often rounded (rocker-bottom feet), and the neck is short.
Other abnormalities more common to NLS include markedly limited physical growth. This typically begins during pregnancy and, as such, is referred to as intrauterine growth restriction (IUGR). Edema, or an excessive amount of fluid in the tissues of the body, is a hallmark of NLS. The edema may either be generalized and very severe throughout the body or limited only to the face or scalp. The skin is often extremely dry and scaly, a medical condition called ichthyosis. The lungs are often hypoplastic (underdeveloped), even when delivery occurs at term. The external genitalia are often abnormal, but this is more obvious in males than in females since males typically have a small, underdeveloped penis.
Finally, in addition to IUGR during pregnancy, an excessive volume of amniotic fluid (polyhydramnios) often develops. This is due to a combination of abnormal fluid production and impaired fetal swallowing from the associated nervous system abnormalities. The placenta is also usually abnormal in appearance and function.
Diagnosis
Many infants with NLS have been born into families with no previous history of the disorder and/or ones in which the parents are unrelated. Thus, an exact diagnosis of NLS during pregnancy may be very difficult, particularly for a couple with no apparent risk factors. Direct genetic testing for NLS will not be possible until the responsible gene has been identified. Some non-specific prenatal findings should, however, alert the physician that additional prenatal evaluation is warranted. These
| | |
| --- | --- |
| 798 | G A L E E N C Y C L O P E D I A O F G E N E T I C D I S O R D E R S |