Добавил:
Upload
Опубликованный материал нарушает ваши авторские права? Сообщите нам.
Вуз:
Предмет:
Файл:
[Edit] Plays
Dido, Queen of Carthage (c.1586) (possibly co-written with Thomas Nashe)

Tamburlaine, part 1 (c.1587)

Tamburlaine, part 2 (c.1587–1588)

The Jew of Malta (c.1589)

Doctor Faustus (c.1589, or, c.1593)

Edward II (c.1592)

The Massacre at Paris (c.1593)
The play Lust's Dominion was attributed to Marlowe upon its initial publication in 1657, though scholars and critics have almost unanimously rejected the attribution.
[Edit] Poetry
Translation of Book One of Lucan's Pharsalia (date unknown)

Translation of Ovid's Elegies (c. 1580s?)

"The Passionate Shepherd to His Love" (pre-1593; because it is constantly referred to in his own plays we can presume an early date of mid-1580s)

Hero and Leander (c. 1593, unfinished; completed by George Chapman, 1598)
7. William Shakespeare (baptised 26 April 1564; died 23 April 1616)[nb 1] was an English poet and playwright, widely regarded as the greatest writer in the English language and the world's pre-eminent dramatist.[1] He is often called England's national poet and the "Bard of Avon".[2][nb 2] His surviving works, including some collaborations, consist of about 38 plays,[nb 3] 154 sonnets, two long narrative poems, and several other poems. His plays have been translated into every major living language and are performed more often than those of any other playwright.[3]
Shakespeare was born and brought up in Stratford-upon-Avon. At the age of 18, he married Anne Hathaway, with whom he had three children: Susanna, and twins Hamnet and Judith. Between 1585 and 1592, he began a successful career in London as an actor, writer, and part owner of a playing company called the Lord Chamberlain's Men, later known as the King's Men. He appears to have retired to Stratford around 1613 at age 49, where he died three years later. Few records of Shakespeare's private life survive, and there has been considerable speculation about such matters as his physical appearance, sexuality, religious beliefs, and whether the works attributed to him were written by others.[4]
Shakespeare produced most of his known work between 1589 and 1613.[5][nb 4] His early plays were mainly comedies and histories, genres he raised to the peak of sophistication and artistry by the end of the 16th century. He then wrote mainly tragedies until about 1608, including Hamlet, King Lear, Othello, and Macbeth, considered some of the finest works in the English language. In his last phase, he wrote tragicomedies, also known as romances, and collaborated with other playwrights.
Many of his plays were published in editions of varying quality and accuracy during his lifetime. In 1623, two of his former theatrical colleagues published the First Folio, a collected edition of his dramatic works that included all but two of the plays now recognised as Shakespeare's.
Shakespeare was a respected poet and playwright in his own day, but his reputation did not rise to its present heights until the 19th century. The Romantics, in particular, acclaimed Shakespeare's genius, and the Victorians worshipped Shakespeare with a reverence that George Bernard Shaw called "bardolatry".[6] In the 20th century, his work was repeatedly adopted and rediscovered by new movements in scholarship and performance. His plays remain highly popular today and are constantly studied, performed, and reinterpreted in diverse cultural and political contexts throughout the world.
Shakespeare's first plays were written in the conventional style of the day. He wrote them in a stylised language that does not always spring naturally from the needs of the characters or the drama.[131] The poetry depends on extended, sometimes elaborate metaphors and conceits, and the language is often rhetorical—written for actors to declaim rather than speak. The grand speeches in Titus Andronicus, in the view of some critics, often hold up the action, for example; and the verse in The Two Gentlemen of Verona has been described as stilted.[132]
Soon, however, Shakespeare began to adapt the traditional styles to his own purposes. The opening soliloquy of Richard III has its roots in the self-declaration of Vice in medieval drama. At the same time, Richard's vivid self-awareness looks forward to the soliloquies of Shakespeare's mature plays.[133] No single play marks a change from the traditional to the freer style. Shakespeare combined the two throughout his career, with Romeo and Juliet perhaps the best example of the mixing of the styles.[134] By the time of Romeo and Juliet, Richard II, and A Midsummer Night's Dream in the mid-1590s, Shakespeare had begun to write a more natural poetry. He increasingly tuned his metaphors and images to the needs of the drama itself.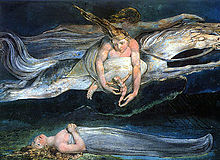 Pity by William Blake, 1795, Tate Britain, is an illustration of two similes in Macbeth: "And pity, like a naked new-born babe, / Striding the blast, or heaven's cherubim, hors'd / Upon the sightless couriers of the air".
Shakespeare's standard poetic form was blank verse, composed in iambic pentameter. In practice, this meant that his verse was usually unrhymed and consisted of ten syllables to a line, spoken with a stress on every second syllable. The blank verse of his early plays is quite different from that of his later ones. It is often beautiful, but its sentences tend to start, pause, and finish at the end of lines, with the risk of monotony.[135] Once Shakespeare mastered traditional blank verse, he began to interrupt and vary its flow. This technique releases the new power and flexibility of the poetry in plays such as Julius Caesar and Hamlet