Добавил:
Upload
Опубликованный материал нарушает ваши авторские права? Сообщите нам.
Вуз:
Предмет:
Файл:
Literary style
Dickens loved the style of the 18th century picturesque or Gothic romance novels,[citation needed] although it had already become a target for parody.[44] One "character" vividly drawn throughout his novels is London itself. From the coaching inns on the outskirts of the city to the lower reaches of the Thames, all aspects of the capital are described over the course of his body of work.
His writing style is florid and poetic, with a strong comic touch. His satires of British aristocratic snobbery—he calls one character the "Noble Refrigerator"—are often popular. Comparing orphans to stocks and shares, people to tug boats, or dinner-party guests to furniture are just some of Dickens's acclaimed flights of fancy. Many of his characters' names provide the reader with a hint as to the roles played in advancing the storyline, such as Mr. Murdstone in the novel David Copperfield, which is clearly a combination of "murder" and stony coldness. His literary style is also a mixture of fantasy and realism.
Characters
Dickensian characters, especially so because of their typically whimsical names, are amongst the most memorable in English literature. The likes of Ebenezer Scrooge, Tiny Tim, Jacob Marley, Bob Cratchit, Oliver Twist, The Artful Dodger, Fagin, Bill Sikes, Pip, Miss Havisham, Charles Darnay, David Copperfield, Mr. Micawber, Abel Magwitch, Daniel Quilp, Samuel Pickwick, Wackford Squeers, Uriah Heep are so well known as to be part and parcel of British culture, and in some cases have passed into ordinary language: a scrooge, for example, is a miser.
The author worked closely with his illustrators supplying them with a summary of the work at the outset and thus ensuring that his characters and settings were exactly how he envisioned them.[45] He would brief the illustrator on plans for each month's instalment so that work could begin before he wrote them. Marcus Stone, illustrator of Our Mutual Friend, recalled that the author was always "ready to describe down to the minutest details the personal characteristics, and ... life-history of the creations of his fancy."[30] This close working relationship is important to readers of Dickens today. The illustrations give us a glimpse of the characters as Dickens described them. Film makers still use the illustrations as a basis for characterisation, costume, and set design.
Often these characters were based on people he knew. In a few instances Dickens based the character too closely on the original, as in the case of Harold Skimpole in Bleak House, based on James Henry Leigh Hunt, and Miss Mowcher in David Copperfield, based on his wife's dwarf chiropodist. Indeed, the acquaintances made when reading a Dickens novel are not easily forgotten. The author Virginia Woolf maintained that "we remodel our psychological geography when we read Dickens" as he produces "characters who exist not in detail, not accurately or exactly, but abundantly in a cluster of wild yet extraordinarily revealing remarks."[46]
27. William Makepeace Thackeray (  /ˈθækəri/; 18 July 1811 – 24 December 1863) was an English novelist of the 19th century. He was famous for his satirical works, particularly Vanity Fair, a panoramic portrait of English society. Thackeray, an only child, was born in Calcutta,[1] India, where his father, Richmond Thackeray (1 September 1781 – 13 September 1815), was secretary to the board of revenue in the British East India Company. His mother, Anne Becher (1792–1864) was the second daughter of Harriet Becher and John Harman Becher, who was also a secretary (writer) for the East India Company.
William's father died in 1815, which caused his mother to decide to return William to England in 1816 (she remained in India). The ship on which he travelled made a short stopover at St. Helena where the imprisoned Napoleon was pointed out to him. Once in England he was educated at schools in Southampton and Chiswick and then at Charterhouse School, where he was a close friend of John Leech. He disliked Charterhouse,[2] parodying it in his later fiction as "Slaughterhouse." (Nevertheless Thackeray was honoured in the Charterhouse Chapel with a monument after his death.) Illness in his last year there (during which he reportedly grew to his full height of 6' 3") postponed his matriculation at Trinity College, Cambridge, until February 1829. Never too keen on academic studies, he left the University in 1830, though some of his earliest writing appeared in university publications The Snob and The Gownsman.[3]
He travelled for some time on the continent, visiting Paris and Weimar, where he met Goethe. He returned to England and began to study law at the Middle Temple, but soon gave that up. On reaching the age of 21 he came into his inheritance but he squandered much of it on gambling and by funding two unsuccessful newspapers, The National Standard and The Constitutional for which he had hoped to write. He also lost a good part of his fortune in the collapse of two Indian banks. Forced to consider a profession to support himself, he turned first to art, which he studied in Paris, but did not pursue it except in later years as the illustrator of some of his own novels and other writings.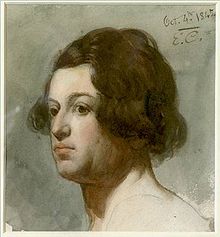 Thackeray portrayed by Eyre Crowe, 1845
Thackeray's years of semi-idleness ended after he married (20 August 1836) Isabella Gethin Shawe (1816–1893), second daughter of Isabella Creagh Shawe and Matthew Shawe, a colonel, who had died after extraordinary service, primarily in India. They had three children, all girls: Anne Isabella (1837–1919), Jane (died at 8 months) and Harriet Marian (1840–1875). He now began "writing for his life," as he put it, turning to journalism in an effort to support his young family.
He primarily worked for Fraser's Magazine, a sharp-witted and sharp-tongued conservative publication, for which he produced art criticism, short fictional sketches, and two longer fictional works, Catherine and The Luck of Barry Lyndon. From 1837 to 1840 he also reviewed books for The Times.[4] Later, through his connection to the illustrator John Leech, he began writing for the newly created Punch magazine, where he published The Snob Papers, later collected as The Book of Snobs. This work popularised the modern meaning of the word "snob."
Tragedy struck in his personal life as his wife succumbed to depression after the birth of their third child in 1840. Finding he could get no work done at home, he spent more and more time away, until September of that year, when he realised how grave her condition was. Struck by guilt, he took his ailing wife to Ireland. During the crossing she threw herself from a water-closet into the sea, but she was pulled from the waters. They fled back home after a four-week domestic battle with her mother. From November 1840 to February 1842 she was in and out of professional care, her condition waxing and waning.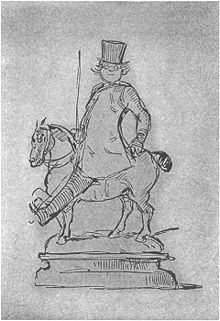 Caricature of Thackeray by Thackeray
She eventually deteriorated into a permanent state of detachment from reality, unaware of the world around her. Thackeray desperately sought cures for her, but nothing worked, and she ended up confined in a home near Paris. She remained there until 1893, outliving her husband by thirty years. After his wife's illness, Thackeray became a de facto widower, never establishing another permanent relationship. He did pursue other women, in particular Mrs. Jane Brookfield, and Sally Baxter. In 1851 Mr Brookfield barred Thackeray from further visits to or correspondence with Jane. Baxter, an American twenty years his junior whom he met during a lecture tour in New York City in 1852, married another man in 1855.
In the early 1840s, Thackeray had some success with two travel books, The Paris Sketch Book and The Irish Sketch Book. He achieved more recognition with his Snob Papers (serialised 1846/7, published in book form in 1848), but the work that really established his fame was the novel Vanity Fair, which first appeared in serialised instalments beginning in January 1847. Even before Vanity Fair completed its serial run, Thackeray had become a celebrity, sought after by the very lords and ladies whom he satirised; they hailed him as the equal of Dickens.
He remained "at the top of the tree," as he put it, for the remaining decade and a half of his life, producing several large novels, notably Pendennis, The Newcomes, and The History of Henry Esmond, despite various illnesses, including a near fatal one that struck him in 1849 in the middle of writing Pendennis. He twice visited the United States on lecture tours during this period.
Thackeray also gave lectures in London on the English humourists of the eighteenth century, and on the first four Hanoverian monarchs. The latter series was published in book form as The Four Georges. In Oxford, he stood unsuccessfully as an independent for Parliament. He was narrowly beaten by Cardwell (1070 votes, against 1005 for Thackeray).
In 1860 Thackeray became editor of the newly established Cornhill Magazine, but was never comfortable as an editor, preferring to contribute to the magazine as a columnist, producing his Roundabout Papers for it.
His health worsened during the 1850s and he was plagued by a recurring stricture of the urethra that laid him up for days at a time. He also felt he had lost much of his creative impetus. He worsened matters by over-eating and drinking and avoiding exercise, though he enjoyed horseback riding (he kept a horse). He could not break his addiction to spicy peppers, further ruining his digestion. On 23 December 1863, after returning from dining out and before dressing for bed, Thackeray suffered a stroke and was found dead on his bed in the morning. His death at the age of fifty-two was entirely unexpected, and shocked his family, friends, and reading public. An estimated 7000 people attended his funeral at Kensington Gardens. He was buried on 29 December at Kensal Green Cemetery, and a memorial bust sculpted by Marochetti can be found in Westminster Abbey.