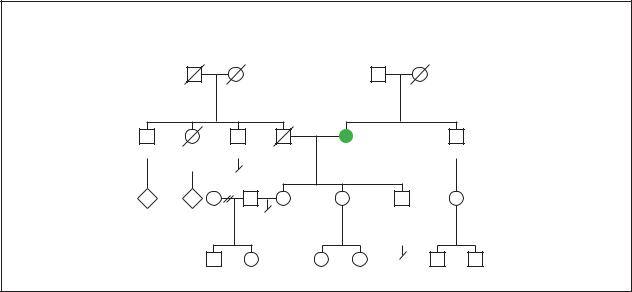 Alzheimer Disease
Autosomal Dominant
 

 

 

 

 

d.62y

 

 

 

 

82y

Possible psychiatric

 

 

 

 

 

illness

 

 

 

 

57y

 

 

68y

d.51y

64y

d.60y

dx.53y

 

55y

Alzheimer disease

 

accident

lung cancer

 

 

 

 

 

2

3

 

 

 

 

 

 

 

 

37y

33y

29y

29y

 

 

 

 

Seizure

 

 

 

 

 

disorder

 

 

19y

15y

 

5y 18mos

6y

3y
(Gale Group)
such as not recognizing a family member or accusing a spouse of infidelity. A patient with Alzheimer's may also perceive objects in their environment that do not actually exist.
In the final stage of Alzheimer's, patients may need assistance with the simplest activities of daily living such as feeding ones self and changing clothes. A majority of patients will be bedridden and their muscles will be stiff to the point where they cannot bend. Many are unable to talk and have lost total control of their bowel and urinary functions. Abnormal jerking movements of the body may occur for no reason. Touching a patient or certain noises may precipitate these abnormal body movements. When reflexes such as the knee (tapping of the leg below the knee) are tested, there are frequently exaggerated responses. Some patients additionally experience whole body contractions, known as a generalized seizure.
Diagnosis
Diagnosis is established based upon exclusion of other possible causes for dementia. Obtaining an accurate medical history is essential in this process. An accurate family history including a history of family members who have had Alzheimer disease and age of onset must be obtained.
The earliest changes in the structure of the brain are seen using PET scans. MRI and CT scans are most useful in the early phase of the disease to exclude other brain abnormalities that may be causing dementia. As the disease progresses, use of MRI and CT scans will show
changes in the structure of the brain tissue that indicate brain cell death. As of 2000, studies indicate that MRI is statistically accurate in predicting who may or may not develop Alzheimer disease in the future.
Diagnosis is not confirmed unless an autopsy is preformed after death. The brain of a patient with Alzheimer's will have A-beta amyloid neuritic plaques (senile plaques) and intraneuronal neurofibrillary tangles. These are changes in specific proteins and nerve structures of the brain that occur normally as an individual ages but are greatly increased in patients with Alzheimer disease. These brain changes are similar in sporadic, familial early onset, familial late onset, and patients with Down syndrome related Alzheimer disease. It is also noted that the longer the disease process for an individual lasts, the smaller their brain is upon death.
Treatment and management
Because the course of Alzheimer disease has great individual variation, treatment is aimed at being supportive of both patient and caretakers. Neurological and behavioral problems are treated as needed.
Alzheimer disease is associated with decreased levels of specific chemicals called acetylcholine and norepinephrine. Acetylcholine and norepinephrine are chemicals important in many processes in the body including digestion, blood vessel dilation and constriction (usually refers to blood vessel diameter becoming smaller), and regulation of heart beat. Acetylcholinesterase is an enzyme in the body that breaks down acetyl-
| | |
| --- | --- |
| 68 | G A L E E N C Y C L O P E D I A O F G E N E T I C D I S O R D E R S |
choline. One class of drugs is currently available in the United States that inhibits this process. Use of these medications has been shown to increase levels of acetylcholine in the brain, resulting in improved brain function in patients who are in the early phase of the disease.
Many early phase patients with Alzheimer's experience depression. Antidepressants such as selective serotonin reuptake inhibitors are the most commonly used class of drugs for treatment of depression. This class of drugs helps to stabilize certain chemicals in the brain. Seizures, anxiety, agitation, defiant behavior, inability to sleep, and hallucinations are treated on an as needed basis. Patient and caregiver should establish a relationship with a primary care provider. Nutritional intake needs monitoring since patients will eventually lose capabilities required for maintaining their diet and also because advancing age itself results in decreased appetite. The home environment must be made as safe as possible and the patient should be monitored closely for the point at which they are no longer able to drive safely. Because disorientation is frequently experienced, it is important to maintain the patient within a stable and familiar environment.
Caregivers need to remain calm and offer reassurance. Community organizations that offer help should be sought. Support groups for caretakers offer places to express feeling and help in anticipating future problems. The patient must be monitored closely during the times when they are unable to determine their own care. Financial assets and plans for the ongoing management of the disease should be addressed before this advanced stage is reached. Nursing home placement is an option for patients with Alzheimer disease without caretakers or for patients who become unmanageable in the home environment.
Individuals who have a history of familial Alzheimer disease in their family should consider genetic counseling. Genetic counseling will help to clarify possible risk factors and determine the appropriate usefulness of available genetic tests. The test for the ApoE genetic defect is not considered to be useful for prediction of sporadic Alzheimer disease in patients who do not currently have signs or symptoms of the disease.
Research treatment
Patients with Alzheimer disease have abnormal amounts of A-beta Amyloid deposited in their brain as plaques. Research involving mice in 1999 demonstrated that immunizing the animals with certain protein components of amyloid prevented the development of Alzheimer's related changes, such as plaque formation, in the brains of the mice. Immunization was also shown to slow
down the brain changes in older mice. Future benefits for human use are still under investigation.
Several other drugs and combinations of drugs are currently in the beginning and end stage of research studies. Drugs affecting several different chemicals in the brain are being investigated in addition to the use of nonsteroidal anti-inflammatory drugs (drugs that reduce inflammation in the body), estrogen, and vitamin E in the prevention and alleviation of Alzheimer disease.
In April of 2001 the first use of human gene therapy for the treatment of Alzheimer disease was undertaken. Scientists isolated the gene of a protein found in healthy brains called nerve growth factor. This gene was transplanted into the brain of a woman with early stage Alzheimer disease. Because nerve growth factor has been shown to increase the amounts of acetylcholine in the brain, hope is that this will delay the Alzheimer's process. Further studies in this area are ongoing.
Prognosis
On average, the duration of the disease process associated with Alzheimer disease lasts eight to ten years. Death is most frequently related to malnutrition, secondary infection (infection that is not the initial medical problem) or heart disease. Malnutrition is a state when not enough calories are taken in to support the normal functions of the human body. An individual is additionally more susceptible to infections when they are malnourished. Having Alzheimer disease does not mean a patient is more likely to have heart disease. The correlation that occurs between heart disease and Alzheimer disease is the fact that both increase in incidence as patients age.
Resources
BOOKS
Bird, T. D. "Alzheimer's Disease and other Primary Dementias." In Harrison's Principles of Internal Medicine, 14th ed., edited by Anthony S. Fauci et. al. McGraw-Hill, 1998, pp. 3248-56.
Wiedemann, H. R., J. Kunze, and F. R. Grosse. "Down Syndrome." In Clinical Syndromes, 3rd ed., edited by Gina Almond. Mosby-Wolfe, 1997, pp. 306-7.
PERIODICALS
de la Monte, S. M. "Molecular abnormalities of the brain in Down syndrome: Relevance to Alzheimers neurodegeneration." Journal of Neural Transmission Supplementation. 57 (1999): 1-19.
Emilien, G., K. Beyreuther, C. L. Masters, and J. M. Maloteaux. "Prospects for pharmacological intervention in Alzheimer Disease." Archives of Neurology 57, no. 4 (April 2000): 454-9.
Killiany, R. J., et al. "Use of structural magnetic resonance imaging to predict who will get Alzheimers Disease." Annals of Neurology 47, no. 4 (April 2000): 430-9.
| | |
| --- | --- |
| G A L E E N C Y C L O P E D I A O F G E N E T I C D I S O R D E R S | 69 |

Nochlin, D., G. van Belle, T. D. Bird, and S. M. Sumi. "Comparison of the Severity of Neuorpathologic Changes in familial and Sporadic Alzheimer's Disease." Alzheimer's Disease and Associated Disorders 7, no. 4 (1993): 212-22.
Schenk, D., and P. Seubert. "Immunization with amyloid-B attenuates Alzhemer-disease-like pathology in the PDAPP mouse." Nature 400 (July 1999): 173-77.
ORGANIZATIONS
Alzheimer's Association. 919 North Michigan Ave., Suite 1000, Chicago, IL 60611-1676. (800) 272-3900.
Council of Regional Networks for Genetic Services. Genetic Services Program, Wadsworth Center Labs & Research, PO Box 509, Room E299, Empire State Plaza, Albany, NY 12201-0509. (518) 474-7148. http://www.cc.emory.edu/ PEDIATRICS/corn/corn.htm .
Laith Farid Gulli, MD
Nicole Mallory, MS
I Amelia
Definition
Amelia is an extremely rare birth defect marked by the absence of one or more limbs. The term may be modified to indicate the number of legs or arms missing at birth, such as tetra-amelia for the absence of all four limbs. A related term is meromelia, which is the partial absence of a limb or limbs. Several older terms are no longer in use in international nomenclature because of their imprecision: phocomelia, peromelia, dysmelia, ectromelia, and hemimelia.
Description
The complete absence of an arm or leg in amelia occurs when the limb formation process is either prevented or interrupted very early in the developing embryo: between 24 and 36 days following fertilization. Nearly 25% of all congenital limb defects are amelia. A single limb is involved about 60% of the time and symmetrical amelia is uncommon. The likelihood for upper versus lower limb absence varies with the syndrome.
Amelia may be present as an isolated defect, but more than 50% of the time it is associated with major malformations in other organ systems. The malformations most frequently seen with amelia include cleft lip and/or palate, body wall defects, malformed head, and defects of the neural tube, kidneys, and diaphragm. Facial clefts may be accompanied by other facial anomalies
such as abnormally small jaw, and missing ears or nose. The body wall defects allow internal organs to protrude through the abdomen. Head malformations may be minor to severe with a near absence of the brain. The diaphragm may be herniated or absent and one or both kidneys may be small or absent.
Other abnormalities associated with amelia include severe defects of the lungs, vertebrae, heart, internal and external genital system, and anus. There is usually a severe growth deficiency, both before and after birth, and mental retardation may be present in survivors. Benign facial tumors made up of clusters of blood vessels (hemangiomas) may be present.
Amelia was traditionally thought to be a sporadic anomaly with little risk of recurrence, or evidence of genetic origins. However, an estimated 20% of amelia cases can now be traced to probable genetic causes. These genetic conditions may be due to recessive or dominant mutations, or involve chromosomal aberrations where entire sections of chromosomes are deleted, duplicated, or exchanged. The best defined of these genetic diseases is known as Roberts SC phocomelia or Pseudothalidomide syndrome, caused by an autosomal recessive mutation of unknown location. There is a great variability of expression of the disease, even within families. Classic signs of Roberts SC phocomelia include symmetrical defects of all four limbs including amelia, severe growth deficiency, head and face (craniofacial) abnormalities such as small head and cleft lip or palate, sparse, silvery blond hair, and facial hemangiomas.
A very small group of genetically based amelia cases is referred to as "autosomal recessive tetra-amelia" which consists of an absence of all four limbs, with small or absent lungs, cleft lip or palate, malformed head and other anomalies. A similar "X-linked tetra-amelia" is highly lethal to the fetus and involves the same set of abnormalities. The abnormal gene for X-linked tetraamelia is assumed to be located on the X chromosome. Very few cases have been documented for either of these inherited conditions but the defective gene seems to be more prevalent in Arab populations of the Middle East or in small isolated cultures where consanguineous relationships (intermarriage within extended families) is more common. There is disagreement as to whether these conditions represent new syndromes or are severe cases of Roberts SC phocomelia.
Amelia is associated with various other genetic syndromes. It is seen in the autosomal recessive BallerGerold syndrome and Holt-Oram syndrome, an autosomal dominant condition that sometimes involves amelia. It has been proposed that many of the new, isolated cases of amelia are due to autosomal dominant
| | |
| --- | --- |
| 70 | G A L E E N C Y C L O P E D I A O F G E N E T I C D I S O R D E R S | mutations where only one copy of a defective gene on a non-sex chromosome is powerful enough to cause amelia to be displayed. Absent limbs have also been seen in chromosomal aberrations such as Trisomy 8 (three copies of chromosome 8) and a deletion of region 7q22 found on the long arm of chromosome 7.
Sporadic amelia may be the end result of various types of disturbances of limb development in the embryo. These disturbances can be vascular, mechanical, due to teratogens (substances that cause birth defects), or accompany other disease processes such as diabetes. An example of vascular disturbance would be hemorrhage in the embryo causing lack of blood and oxygen flow to surrounding tissue. The type and number of resulting defects would depend on the location of the hemorrhage and the point of embryo development when the bleed took place. Defects in limbs and the body wall tend to result from this type of disturbance.
Mechanical disruption can be seen following rupture of the amnion (the thin but tough membrane surrounding the embryo) due to infection, direct trauma such as attempted abortion or removal of IUD, or familial predisposition to rupture. Strands of the collapsed amnion and adhesions (fibrous bands which abnormally connect tissue surfaces) may entangle and amputate developing limbs and cause a variety of other defects including facial clefts.
Various teratogens are well-established causes of amelia. A well-documented historic instance was due to thalidomide use by pregnant women from 1958 to 1963. Thalidomide was used as a sedative and anti-nausea drug but was found to cause a wide array of limb deficiencies, including amelia. It is estimated to have caused 5,800 cases of malformed fetuses, mostly in Europe, but also in North America and wherever it was available worldwide. The mechanism by which thalidomide causes birth defects is still not known but may involve disruption of nerve processes. Although thalidomide is again in use today to treat certain cancers, infections, and arthritis, it should not be used by women of childbearing age.
Alcohol (ethanol) consumption by pregnant women, especially in the first trimester, has been documented by several surveys to cause limb deformities. The abnormalities range from frequent, minor defects such as shortened fingers to the much rarer amelia. It is hypothesized that alcohol interrupts the blood supply to the developing limb resulting in malformation or non-growth. Additional teratogens known to cause amelia include methotrexate, other chemotherapeutic agents and potent vasoconstrictive drugs such as epinephrine and ergotamine.
K E Y T E R M S
Amnion—Thin, tough membrane surrounding the embryo and containing the amniotic fluid.
Autosomal dominant mutation—An abnormal gene on one of the 22 pairs of non-sex chromosomes that will display the defect when only one copy is inherited.
Autosomal recessive mutation—A pattern of genetic inheritance where two abnormal genes are needed to display the trait or disease.
Consanguineous—Sharing a common bloodline or ancestor.
Craniofacial—Relating to or involving both the head and the face.
Hemangioma—Benign tumor made up of clusters of newly formed blood vessels.
Homeotic genes—Developmental control genes active in the embryo.
Homozygous—Having two identical copies of a gene or chromosome.
Teratogen—Any drug, chemical, maternal disease, or exposure that can cause physical or functional defects in an exposed embryo or fetus.
X-linked mutation—An abnormal gene transmitted on the X chromosome.
Maternal diabetes mellitus (non-gestational) has long been associated with congenital anomalies, rarely including amelia. There is a two to threefold risk for congenital abnormalities in children of diabetic mothers and limb defects of various types occur in about one percent of infants of these mothers. It is thought that either abnormal maternal carbohydrate metabolism, or vascular disease resulting in decreased oxygen flow to the fetus, might play a role in causing malformations.
Genetic profile
Amelia is generally considered to be sporadic with scattered cases occurring infrequently. These rare events are presumably influenced by environmental factors, such as teratogenic drugs, maternal factors such as diabetes mellitus, and vascular accidents in the uterus. The role of genetics in causing this condition is still undetermined but two large epidemiological studies estimate that nearly 20% of amelia cases are of genetic origin.
| | |
| --- | --- |
| G A L E E N C Y C L O P E D I A O F G E N E T I C D I S O R D E R S | 71 |
Mutations in more than one gene with different modes of transmission can lead to this severe limb deficiency.
Recurrence of amelia within families is the exception. When this occurs, it is most often associated with other malformations in autosomally recessive syndromes such as Roberts SC phocomelia, autosomal recessive amelia, and X-linked amelia. Roberts SC phocomelia has a clearly identifiable genetic abnormality that can be seen during chromosome analysis. The abnormality is called either Premature Centromeric Separation (PCS) or Heterochromatin Repulsion (HR). The darkly staining heterochromatin of the chromosome can be seen puffing and splitting. The PCS test is positive in about 80% of patients with Roberts SC phocomelia.
Demographics
The rarity of amelia makes the study of it on a population level speculative. A few large-scale studies pooling decades of information from malformation registries in several countries do provide preliminary data. Amelia has an incidence of 11-15 cases per million live births and 790 cases per million stillbirths. The condition is probably under reported due to lack of documentation of some miscarriages, stillbirths, and neonatal deaths.
There is no significant difference between number of males and females affected except in the select, extremely rare cases of X-linked amelia, which are all male. Only men would be affected since the abnormal gene is inherited on the X chromosome and men only receive one copy of an X chromosome. Since females inherit two copies of the X chromosome, the normal copy of the gene on the second X chromosome can usually mask the more severe complications that would result if only the abnormal gene was expressed.
The disorder occurs worldwide and there are no geographic clusters except for two. Amelia resulting from the use of thalidomide occurred primarily in Europe and other areas where the drug was available. Autosomal recessive and X-linked amelia has mostly occurred in Arabic and Turkish families. This suggests ethnic differences for an abnormal recessive gene but is based on less than 20 cases. Such a recessive gene is likely to be homozygous (meaning two copies of the abnormal gene need to be inherited for amelia to result), and thus expressed in malformation more often in any culture that tends to be isolated and has more intermarriage from a limited gene pool.
Signs and symptoms
Prior to clinical observation of absent limbs, certain signs in the pregnant mother may indicate a greater like-
lihood of amelia. Abnormal vaginal bleeding, diabetes mellitus, and toxemia (disturbed metabolism during pregnancy characterized by high blood pressure, swelling and protein in the urine) are all associated with amelia in the fetus. Alpha fetoprotein is a protein normally produced by the liver of the fetus which then circulates in the mother's blood. An increased alpha fetoprotein in the maternal blood may indicate neural tube defects that can accompany limb defects. Besides seeing missing limbs by ultrasound, signs in the fetus accompanying amelia include breech and other non-cephalic presentations at birth (where the baby is not in the normal head-first, face-down delivery positon), an increased frequency of only a single artery in the umbilical cord, low placental weight and extremely low birth weight, not accounted for by the lack of limbs. The average birth weight for an infant with amelia is less than the third percentile for its age.
Diagnosis
Detection of an absent limb is generally simple. Clinical observation of the missing limb is either made at birth or prenatally by ultrasonography. However, more than 50% of amelia cases are accompanied by malformations of other organ systems, and in these cases, determination of a specific syndrome can be difficult. Defects overlap greatly between conditions. A family history including a pedigree chart to map other affected family members can be very helpful in detecting genetic causes. A prenatal history should include determination of maternal exposure to alcohol, thalidomide, and other teratogenic drugs. Maternal diabetes mellitus should be considered a risk factor for congenital abnormalities.
Roberts SC phocomelia must be differentiated from other autosomal recessive or X-linked amelias. Genetic testing for PCS should be performed on cells from amniotic fluid. Darkly staining heterochromatin of the chromosome puffs out abnormally and splits in a positive test. The PCS test will be positive in nearly 80% of Roberts SC phocomelia cases but negative in the other syndromes. A positive PCS test along with some of the signs listed above, is diagnostic for Roberts SC phocomelia. Further chromosome studies should be done to detect gross chromosomal aberrations such as deletions or Trisomy 8.
Treatment and management
Preventive measures to avoid serious limb defects such as amelia include avoidance of thalidomide and other teratogens in women of childbearing years, avoidance of alcohol during pregnancy, and comprehensive
| | |
| --- | --- |
| 72 | G A L E E N C Y C L O P E D I A O F G E N E T I C D I S O R D E R S |

management of diabetes mellitus throughout pregnancy. A prenatal ultrasound that detects an absence of limbs can be followed by chromosome analysis and genetic counseling to make informed decisions regarding termination.
Children with amelia can be fitted with a prosthesis to substitute for the missing limb. Surgery is often performed to repair craniofacial defects. Minimal to full time care may be needed depending on the degree of mental retardation.
Prognosis
When amelia occurs as an isolated abnormality, prognosis is good. However, when amelia is combined with multiple other defects, the prognosis is grim. Abnormalities accompanying amelia may include cleft lip and/or palate, body wall defects, malformed head, and abnormalities of the neural tube, kidneys, and diaphragm. Many infants die prior to birth. Sixty percent of newborns die within the first year, with half not surviving the first day. Mild cases of Roberts SC phocomelia are likely to survive past the first few years and reach adulthood. Infants with severe growth deficiency and craniofacial defects from Roberts SC phocomelia and amelia do not live past the first few months.
Resources
BOOKS
Moore, Keith L., and T. V. N. Persaud. "Anomalies of Limbs." In The Developing Human, Clinically Oriented Embryology, 6th ed. Philadelphia: W.B. Saunders Company, 1998.
Stevenson, Roger E., and Leslie C. Meyer. "The Limbs" In
Human Malformations and Related Anomalies Vol. II. edited by Roger E. Stevenson, et al. New York: Oxford University Press, 1993
Watts, Hugh G., and Mary Williams Clark. Who is Amelia?
Caring for children with limb difference. American Academy of Orthopedic Surgeons, 1998.
PERIODICALS
Froster-Iskenius, Ursula G., and Patricia A. Baird. "Amelia: Incidence and Associated Defects in a Large Population." Teratology. 41 (1990): 23-31.
Van Den Berg, David J., and Uta Francke. "Roberts Syndrome: A Review of 100 Cases and a New Rating System for Severity." American Journal of Medical Genetics. 47 (1993): 1104-1123.
ORGANIZATIONS
National Organization for Rare Disorders (NORD). PO Box 8923, New Fairfield, CT 06812-8923. (203) 746-6518 or (800) 999-6673. Fax: (203) 746-6481. http://www
.rarediseases.org .
Marianne F. O'Connor, MT (ASCP), MPH
I Amniocentesis
Definition
Amniocentesis is an optional procedure offered to women during pregnancy in order to obtain more information about a developing fetus. A doctor uses a thin, hollow needle to remove a small sample of amniotic fluid from around the developing baby. An ultrasound exam is usually performed at the same time to help guide the needle. The fluid sample is used to look for specific types of medical problems in the fetus. Tests done on amniotic fluid obtained by amniocentesis cannot evaluate the fetus for every potential kind of problem. The information it does provide, however, is very accurate. The procedure is associated with a slightly increased chance for pregnancy loss. Women who undergo amniocentesis typically do so either to obtain reassurance about fetal well-being or, if the results are abnormal, to plan for the remainder of their prenatal care.
Description
Amniocentesis is the most common invasive prenatal diagnosis technique offered to pregnant women. A sample of amniotic fluid can be used to detect chromosomal abnormalities in a fetus, certain other types of congenital disorders, or other medical indicators. Its safety and accuracy are well-established, and it is generally considered the "gold standard" by which other prenatal diagnosis techniques are measured.
The word amniocentesis is derived from the Greek words, amnion and kentesis, meaning "lamb" and "puncture," respectively. In order to perform the procedure, a doctor inserts a thin needle into the mother's uterus and the amniotic sac. A continuous ultrasound evaluation is typically used so that the doctor can avoid touching both the baby and the umbilical cord with the needle. The amniotic sac is made up of two membranes: the inner amnion and the outer chorion. The amnion and chorion both develop from the fertilized egg. They are initially separate but begin to fuse early in pregnancy. This fusion is usually completed by approximately the fourteenth to fifteenth week of pregnancy.
Amniocentesis is usually performed in the second trimester, usually during weeks 16–18 (mid-trimester). The amniotic sac holds the fetus suspended within the amniotic fluid, an almost colorless fluid that protects the
| | |
| --- | --- |
| G A L E E N C Y C L O P E D I A O F G E N E T I C D I S O R D E R S | 73 |
fetus from harm, helps maintain a consistent temperature, and prevents the fetus, or parts of it, from becoming attached to the amnion. The amniotic fluid is produced and absorbed by the fetus throughout pregnancy. Fetal cells, primarily derived from the skin, digestive system, and urinary tract, are suspended within the fluid. A smaller number of cells from the amnion and placenta are also present. Finally, the fetus produces a number of different chemical substances that also pass into the amniotic fluid. These substances may be used, in some higher-risk pregnancies, either to assess fetal lung maturity or to determine if the fetus has a viral infection. In the second trimester of pregnancy, one particular protein, called alpha-fetoprotein, is commonly used to screen for certain structural birth defects.
It is possible to perform amniocentesis in a twin pregnancy. Amniocentesis in some higher-order pregnancies, such as triplets, has also been reported. In a multiple pregnancy, it is important to ensure that a separate sample of amniotic fluid is obtained from each fetus. To accomplish this, a doctor injects a small amount of harmless blue dye into the amniotic sac of the first baby after a sample has been withdrawn. The dye will temporarily tinge the fluid blue-green. A second needle is inserted into the next amniotic sac with ultrasound guidance. If the fluid withdrawn is pale yellow, a sample from the next fetus has been successfully obtained. In the case of monoamniotic (in one amniotic sac) twins or triplets, the genetic material in each fetus is identical, so only one sample needs to be taken.
Indications for amniocentesis
Amniocentesis has been considered a standard of obstetrical care since the 1970s. It is not, however, offered to all pregnant women. The American College of Obstetricians and Gynecologists (ACOG) recommends that amniocentesis be offered to all expectant mothers age 35 and older. This age cut-off has been selected because advancing maternal age is associated with an increasing risk of having a baby with a numerical chromosome abnormality. At age 35, this risk is approximately equivalent to the risk of pregnancy loss associated with amniocentesis.
A person normally has a total of 46 chromosomes in each cell of his or her body, with the exception of sperm or egg cells, which each have only 23. As women get older, there is an increased risk of producing an egg cell with an extra chromosome. This leads to an egg cell with 24 chromosomes rather than the normal 23. Pregnancies with an abnormal number of chromosomes are referred to as aneuploid. Aneuploidy results in a conceptus (product of conception) with either too much or too little genetic material. This, in turn, leads to abnormal
development. Common effects of aneuploidy include an increased risk for pregnancy loss or, in live borns, for mental retardation and physical abnormalities.
Down syndrome is the most common form of aneuploidy in live born infants, occurring in approximately one in 800 births, regardless of maternal age. In women who are 35 years old, the risk of having a child with Down syndrome is higher, or roughly one in 385 at delivery. It is important to realize that Down syndrome is not the only chromosome abnormality that may occur. Other numerical abnormalities are possible, yielding genetic conditions that may be either more or less severe than Down syndrome. Thus, a woman is often given a risk, based solely on her age, of having a child with any type of chromosome abnormality. At age 35, this total risk is approximately one in 200. By age 40, this risk has increased to one in 65, and, at age 45, this risk is one in 20. These numbers reflect the risk at the time of delivery.
Women younger than 35 years may also have children with chromosomal or other genetic disorders. Therefore, other indications for amniocentesis or other forms of prenatal diagnosis include a family history of, or a previous child with, a known genetic condition; abnormal prenatal screening results, such as ultrasound or a blood test; or one parent with a previously identified structural chromosome rearrangement. All of the above may make it more likely for a couple to have a child with a genetic condition.
Side effects
Women who have had an amniocentesis often describe it as uncomfortable, involving some mild pressure or pain as the needle is inserted. Fewer women describe it as extremely painful. A local anesthetic may be used to numb the upper layer of the mother's skin prior to testing. This medicine has no effect on the fetus, but may help the mother feel more comfortable during the procedure. An experienced physician can, on average, perform amniocentesis in approximately one to two minutes.
Common complaints after amniocentesis include mild abdominal tenderness at the site of needle insertion or mild cramping. These usually go away within one to two days. More serious complications are significantly less common but include leakage of amniotic fluid, vaginal bleeding, or uterine infection. These complications are estimated to occur in fewer than 1% of pregnancies. In some women, complications after amniocentesis may lead to a miscarriage, or loss of the pregnancy. A woman's background risk of having a miscarriage, without amniocentesis, is approximately 2–3% in her second trimester. When performed by an experienced physician or technician, the risk for an amniocentesis-related preg-
| | |
| --- | --- |
| 74 | G A L E E N C Y C L O P E D I A O F G E N E T I C D I S O R D E R S | Amnion—Thin, tough membrane surrounding the embryo and containing the amniotic fluid.
Anesthetic—Drug used to temporarily cause loss of sensation in an area of the body. An anesthetic may either be general, associated with a loss of consciousness, or local, affecting one area only without loss of consciousness. Anesthetics are administered either via inhalation or needle injection.
Chorion—The outer membrane of the amniotic sac. Chorionic villi develop from its outer surface early in pregnancy. The villi establish a physical connection with the wall of the uterus and eventually develop into the placenta.
Chromosome—A microscopic thread-like structure found within each cell of the body and consists of a complex of proteins and DNA. Humans have 46 chromosomes arranged into 23 pairs. Changes in either the total number of chromosomes or their shape and size (structure) may lead to physical or mental abnormalities.
Conceptus—The products of conception, or the union of a sperm and egg cell at fertilization.
Cystic fibrosis—A respiratory disease characterized by chronic lung disease, pancreatic insufficiency and an average age of survival of 20 years. Cystic fibrosis is caused by mutations in a gene on chromosome 7 that encode a transmembrane receptor.
Down syndrome—A genetic condition characterized by moderate to severe mental retardation, a characteristic facial appearance, and, in some individuals, abnormalities of some internal organs. Down syndrome is always caused by an extra copy of chromosome 21, or three rather than the normal two. For this reason, Down syndrome is also known as trisomy 21.
nancy loss is estimated to be an additional 0.25%–0.50%, or roughly one in every 200–400 pregnancies.
Much attention is often paid to the physical side effects of amniocentesis. However, it is important to also emphasize some of the emotional side effects of amniocentesis. Many of these are applicable to other forms of prenatal diagnosis.
The offer of prenatal testing is associated with increased anxiety. This appears to be true whether a woman knew prenatal testing would be offered to her
Fetus—The term used to describe a developing human infant from approximately the third month of pregnancy until delivery. The term embryo is used prior to the third month.
Fibroid—A non-cancerous tumor of connective tissue made of elongated, thread-like structures, or fibers, which usually grow slowly and are contained within an irregular shape. Fibroids are firm in consistency but may become painful if they start to break down or apply pressure to areas within the body. They frequently occur in the uterus and are generally left alone unless growing rapidly or causing other problems. Surgery is needed to remove fibroids.
Sickle cell anemia—A chronic, inherited blood disorder characterized by sickle-shaped red blood cells. It occurs primarily in people of African descent, and produces symptoms including episodic pain in the joints, fever, leg ulcers, and jaundice.
Tay-Sachs disease—An inherited biochemical disease caused by lack of a specific enzyme in the body. In classical Tay-Sachs disease, previously normal children become blind and mentally handicapped, develop seizures, and decline rapidly. Death often occurs between the ages of three and five years. Tay-Sachs disease is common among individuals of eastern European Jewish background but has been reported in other ethnic groups.
Trimester—A three-month period. Human pregnancies are normally divided into three trimesters: first (conception to week 12), second (week 13 to week 24), and third (week 25 until delivery).
Uterus—A muscular, hollow organ of the female reproductive tract. The uterus contains and nourishes the embryo and fetus from the time the fertil-
during the pregnancy or if it comes about unexpectedly, as is usually the case following abnormal screening results. Women to whom genetic amniocentesis is presented must consider the perceived benefits of testing, such as the reassurance that comes when results are normal, and compare them to the possible risks. Potential risks include not only complications after testing but also learning of having a child with a serious disability or chronic medical condition. The nature of the child's possible diagnosis is also important. For example, could it lead to an early death, be more subtle and cause few out-
| | |
| --- | --- |
| G A L E E N C Y C L O P E D I A O F G E N E T I C D I S O R D E R S | 75 |
ward signs of a problem, or be somewhere in between? There are few treatments available to correct the hundreds of genetic disorders so far described. Couples may consider whether or not they would consider early termination of the pregnancy if a serious abnormality were detected. The definition of "serious" is often a matter of personal opinion. A couple's value system and family history, including that of other pregnancies and their outcomes, all influence their decision regarding amniocentesis. Ideally, a woman and her partner will have discussed at least some of these issues with each other and with either the woman's doctor or a genetic counselor prior to testing. The choice to have amniocentesis depends on many factors and should remain a personal decision.
Results
Genetic testing is available on amniotic fluid obtained by amniocentesis. The most common test result is a complete analysis of the fetal chromosomes. After a sample of amniotic fluid is obtained, the genetic laboratory isolates the cells, referred to as amniocytes, out of the fluid. The cells are placed into two or more containers filled with liquid nutrients, establishing different cultures in which the cells will continue to grow. The cells are cultured anywhere between one to two weeks before the actual analysis begins. This is done in order to synchronize the growth of the cells within a culture. Also, chromosomes are only microscopically visible at a specific point during cell division.
Once there appears to be an adequate number of cells to study, the cultures are harvested. Harvesting prevents additional cell growth and stops the cells at whatever point they were in their division process. A careful study of the total number and structure of the chromosomes within the cells may now be performed. Typically, chromosome results are available within 7–14 days after amniocentesis. Results may be delayed by slow-growing cultures. This rarely reflects an abnormal result but does extend the time until final results are ready.
Many laboratories are beginning to incorporate a special technique called fluorescence in situ hybridization (FISH) into their chromosome studies. This adjunct testing provides limited information about certain chromosomes within one to two days after amniocentesis. It does not replace a complete chromosome study using amniocyte cultures. In fact, FISH results are often reported as preliminary, pending confirmation by cultured results. They can, however, be very useful, particularly when there is already a high level of suspicion of a fetal chromosome abnormality.
FISH is performed using a small sample of uncultured amniotic fluid cells. Special molecular tags for particular chromosomes are used. These tags attach themselves to the chromosome. Under specific laboratory conditions, they can be made to "light up" or fluoresce. Their signals can then be counted using a special kind of microscope. FISH is most often used to quickly identify a change in the number of chromosomes from pairs 13, 18, 21, and the two sex chromosomes, X and Y. Abnormalities of these chromosomes account for nearly 95% of all chromosomal abnormalities. Other chromosomal abnormalities will be missed since FISH cannot identify structural rearrangements of the chromosomes or abnormalities involving other pairs. A full chromosome evaluation on cultured cells is a necessary follow-up to interphase FISH results.
A sample of amniotic fluid may be used to measure alpha-fetoprotein (AFP). AFP is a protein made by the fetal liver. It passes out of the fetus and enters both the amniotic fluid and the mother's blood. Screening for open neural tube defects, abnormal openings in the fetal head or spinal cord, or ventral wall defects, openings along the belly wall, can be done by measuring AFP during the fifteenth to twentieth weeks of pregnancy. AFP levels normally show a gradual increase during this time. An unusually high level of serum AFP does not necessarily indicate a problem with fetal development, but is cause for some concern. A high AFP level in amniotic fluid will detect up to 98% of all openings on the fetal body that are not covered by skin. Further studies may be suggested if the AFP is high. Most initial AFP results are available within two to three days after amniocentesis.
Finally, amniotic fluid samples obtained by amniocentesis may also be used for more specialized genetic studies, such as biochemical or DNA testing. Both often require cell cultures and additional time to complete. These studies are not done on every sample. Rather, they are offered to those couples who, based on their family history or other information, are at increased risk of having a child with a single gene, or Mendelian, disorder. Hundreds of such disorders have been described. Examples include Tay-Sachs disease, cystic fibrosis, and sickle cell anemia. If biochemical or DNA studies are performed, all of the results may not be ready until three to four weeks after testing, although for each patient, the waiting time may be slightly different.
It is important to emphasize that normal results from tests done on amniotic fluid do not necessarily guarantee the birth of a normal infant. Each couple in the general population faces a risk of roughly 3–4% of having a child with any type of congenital birth defect. Many of these
| | |
| --- | --- |
| 76 | G A L E E N C Y C L O P E D I A O F G E N E T I C D I S O R D E R S |

Amniocentesis
Amniocentesis may be performed to detect several types of genetic disorders. Here, a physician uses an ultrasound monitor (left) to position the needle for insertion into the amnion during the amniocentesis procedure. (Photo Researchers, Inc.)
will not be detected with tests done on amniotic fluid samples obtained by amniocentesis. Babies with birth defects are often born into families with no history of genetic disorders.
Chorionic villus sampling
Mid-trimester amniocentesis has been available for nearly thirty years. Chorionic villus sampling (CVS) has been available in the United States since the 1980s. CVS is usually performed between ten to twelve weeks of pregnancy. It involves the removal of a small sample of the developing placenta, or chorionic villi. It has been an attractive alternative to amniocentesis, particularly for those women who desire both testing and results earlier in their pregnancies. Some of the benefits of earlier testing include reassurance sooner in pregnancy and fewer physical complications following first trimester pregnancy termination, for those couples who choose this option after testing. CVS is, however, associated with a higher risk of miscarriage than mid-trimester amniocentesis. At experienced centers, this risk is approximately 1% (or, 1 in 100).
Early amniocentesis
Early amniocentesis is performed before the thirteenth completed week of pregnancy. It has been considered experimental for many years. The results of the largest early amniocentesis trial, published in 1998, have caused physicians worldwide to reconsider the benefit and risks of this procedure.
The Canadian early and mid-trimester amniocentesis trial (CEMAT) is the largest multi-center, randomized clinical trial of early amniocentesis to date. The purpose of the trial was to examine and compare the safety and accuracy of early (EA) versus mid-trimester amniocentesis (MTA). In order to accomplish this, 4,374 pregnant women were identified and enrolled in the study. Ultrasound was performed in the first trimester to confirm the gestational age of all pregnancies. Computer randomization was used to evenly divide the women into either the EA or MTA groups. Ultimately, 1,916 women underwent EA and 1,775 women had MTA. Follow-up was obtained on nearly all pregnancies. Two striking conclusions were reached: EA is associated with an
| | |
| --- | --- |
| G A L E E N C Y C L O P E D I A O F G E N E T I C D I S O R D E R S | 77 |