Добавил:
Upload
Опубликованный материал нарушает ваши авторские права? Сообщите нам.
Вуз:
Предмет:
Файл:
segregation_and_apartheid_in_twentieth_century
.pdf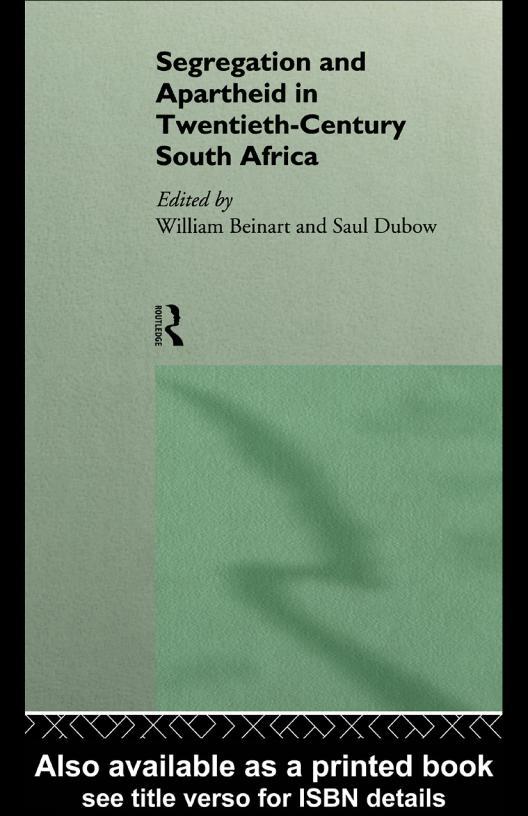 SEGREGATION
AND APARTHEID IN
TWENTIETH-CENTURY
SOUTH AFRICA
'This is an outstanding collection…gathering the harvest of twenty years of intense scholarly and political debate.
Jim Campbell, Northwestern University, Illinois
'Well-known to South Africanists as individual contributions, this collection of seminal essays deserves, and will now find, a wider and more multidisciplinary audience.'
C.R.D.Halisi, Indiana University
Beinart and Dubow's selection of some of the most important essays on racial segregation and apartheid in twentieth-century South Africa provides an unparalleled introduction to this contentious and absorbing subject. The volume includes:
•a specially written introduction by the editors which contextualizes the historiographical controversy, taking into account the 1994 election and associated changes;
•explanatory notes and article summaries to improve the accessibility of the material;
•a glossary of unusual terms to facilitate understanding.
William Beinart is Reader in History at the University of Bristol. Saul Dubow is Lecturer in History at the School of African and Asian Studies, University of Sussex.
Rewriting Histories
Rewriting Histories focuses on historical themes where standard conclusions are facing a major challenge. Each book presents 8 to 10 papers (edited and annotated where necessary) at the forefront of current research and interpretation, offering students an accessible way to engage with contemporary debates.
Series editor Jack R.Censer is Professor of History at George Mason University
REWRITING HISTORIES
Series editor: Jack R.Censer
Already published
THE INDUSTRIAL REVOLUTION AND WORK IN
NINETEENTH-CENTURY EUROPE
Edited by Lenard R.Berlanstein
SOCIETY AND CULTURE IN THE SLAVE SOUTH
Edited by J.William Harris
ATLANTIC AMERICAN SOCIETIES
From Columbus through Abolition
Edited by J.R.McNeill and Alan Karras
GENDER AND AMERICAN HISTORY SINCE 1890
Edited by Barbara Melosh
DIVERSITY AND UNITY IN EARLY NORTH AMERICA
Edited by Philip D.Morgan
Forthcoming
NAZISM AND GERMAN SOCIETY 1933–1945
Edited by David Crew

APARTHEID IN
TWENTIETH-
CENTURY SOUTH
AFRICA
Edited by William Beinart and Saul Dubow
First published 1995 by Routledge
11 New Fetter Lane, London EC4P 4EE
This edition published in the Taylor & Francis e-Library, 2003.
Simultaneously published in the USA and Canada by Routledge
29 West 35th Street, New York, NY 10001
Editorial contributions © 1995 William Beinart and Saul Dubow © 1995 Individual contributions
All rights reserved. No part of this book may be reprinted or reproduced or utilized in any form or by any electronic, mechanical, or other means, now known or hereafter invented, including photocopying and recording, or in any information storage or retrieval system, without permission in writing from the publishers.
British Library Cataloguing in Publication Data
A catalogue record for this book is available from the British Library
Library of Congress Cataloguing in Publication Data
Segregation and apartheid in twentieth-century South Africa/edited by William Beinart and Saul Dubow.
p. cm.—(Rewriting histories) Includes bibliographical references.
1.Apartheid—South Africa. 2. South Africa—Race relations.
3.South Africa—History—1909–1961. 4. South Africa— History—1960– I. Beinart, William. II. Dubow, Saul.
III.Series.
DT1757.S44 1995 323.1'68'0904–dc20 94–36134
ISBN 0-203-42544-8 Master e-book ISBN
ISBN 0-203-73368-1 (Adobe eReader Format)
ISBN 0-415-10356-8 (hbk) ISBN 0-415-10357-6 (pbk)
CONTENTS
| | | |
| --- | --- | --- |
|   | Series editor's preface | vii |
|   | List of tables and maps | xi |
|   | INTRODUCTION: The historiography of segregation |   |
|   | and apartheid | 1 |
|   | William Beinart and Saul Dubow |   |
| 1 | THE SANITATION SYNDROME: Bubonic plague |   |
|   | and urban native policy in the Cape Colony, 1900–09 | 25 |
|   | Maynard W.Swanson |   |
| 2 | BRITISH HEGEMONY AND THE ORIGINS OF |   |
|   | SEGREGATION IN SOUTH AFRICA, 1901–14 | 43 |
|   | Martin Legassick |   |
| 3 | CAPITALISM AND CHEAP LABOUR POWER IN |   |
|   | SOUTH AFRICA: From segregation to apartheid | 60 |
|   | Harold Wolpe |   |
| 4 | NATAL, THE ZULU ROYAL FAMILY AND THE |   |
|   | IDEOLOGY OF SEGREGATION | 91 |
|   | Shula Marks |   |
| 5 | MARXISM, FEMINISM AND SOUTH AFRICAN |   |
|   | STUDIES | 118 |
|   | Belinda Bozzoli |   |
| 6 | THE ELABORATION OF SEGREGATIONIST |   |
|   | IDEOLOGY | 145 |
|   | Saul Dubow |   |
v
| | | |
| --- | --- | --- |
|   | CONTENTS |   |
| 7 | CHIEFTAINCY AND THE CONCEPT OF |   |
|   | ARTICULATION: South Africa circa 1900–50 | 176 |
|   | William Beinart |   |
| 8 | THE GROWTH OF AFRIKANER IDENTITY | 189 |
|   | Hermann Giliomee |   |
9THE MEANING OF APARTHEID BEFORE 1948: Conflicting interests and forces within the
| | |
| --- | --- |
| Afrikaner Nationalist alliance | 206 |
| Deborah Posel |   |
| 10 DISPLACED URBANIZATION: South Africa's rural |   |
| slums | 231 |
| Colin Murray |   |
11ETHNICITY AND PSEUDO-ETHNICITY IN THE CISKEI
J.B.Peires
SERIES EDITOR'S PREFACE
Rewriting history, or revisionism, has always followed closely in the wake of history writing. In their efforts to re-evaluate the past, professional as well as amateur scholars have followed many approaches, most commonly as empiricists, uncovering new information to challenge earlier accounts. Historians have also revised previous versions by adopting new perspectives, usually fortified by new research, which overturn received views.
Even though rewriting is constantly taking place, historians' attitudes towards using new interpretations have been anything but settled. For most, the validity of revisionism lies in providing a stronger, more convincing account that better captures the objective truth of the matter. Although such historians might agree that we never finally arrive at the 'truth', they believe it exists and over time may be better approximated. At the other extreme stand scholars who believe that each generation or even each cultural group or subgroup necessarily regards the past differently, each creating for itself a more usable history. Although these latter scholars do not reject the possibility of demonstrating empirically that some contentions are better than others, they focus upon generating new views based upon different life experiences. Different truths exist for different groups. Surely such an understanding, by emphasizing subjectivity, further encourages rewriting history. Between these two groups are those historians who wish to borrow from both sides. This third group, while accepting that every congeries of individuals sees matters differently, still wishes somewhat contradictorily to fashion a broader history that incorporates both of these particular visions. Revisionists who stress empiricism fall into the first of the three camps, while others spread out across the board.
vii
SERIES EDITOR'S PREFACE
Today the rewriting of history seems to have accelerated to a blinding speed as a consequence of the evolution of revisionism. A variety of approaches has emerged. A major factor in this process has been the enormous increase in the number of researchers. This explosion has reinforced and enabled the retesting of many assertions. Significant ideological shifts have also played a major part in the growth of revisionism. First, the crisis of Marxism, culminating in the events in Eastern Europe in 1989, has given rise to doubts about explicitly Marxist accounts. Such doubts have spilled over into the entire field of social history which has been a dominant subfield of the discipline for several decades. Focusing on society and its class divisions implied that these are the most important elements in historical analysis. Because Marxism was built on the same claim, the whole basis of social history has been questioned, despite the very many studies that directly had little to do with Marxism. Disillusionment with social history simultaneously opened the door to cultural and linguistic approaches largely developed in anthropology and literature. Multi-culturalism and feminism further generated revisionism. By claiming that scholars had, wittingly or not, operated from a white European/American male point of view, newer researchers argued that other approaches had been neglected or misunderstood. Not surprisingly, these last historians are the most likely to envision each subgroup rewriting its own usable history, while other scholars incline towards revisionism as part of the search for some stable truth.
Rewriting Histories will make these new approaches available to the student population. Often new scholarly debates take place in the scattered issues of journals which are sometimes difficult to find. Furthermore, in these first interactions, historians tend to address one another, leaving out the evidence that would make their arguments more accessible to the uninitiated. This series of books will collect in one place a strong group of the major articles in selected fields, adding notes and introductions conducive to improved understanding. Editors will select articles containing substantial historical data, so that students—at least those who approach the subject as an objective phenomenon—can advance not only their comprehension of debated points but also their grasp of substantive aspects of the subject.
The study of segregation and apartheid provides a long history of revisions of common understandings. Scholarly opinion had
SERIES EDITOR'S PREFACE
held that forms of white domination related particularly to the racism of the Afrikaner population. More recently, historians pointed to British culpability and economic motivations. While historians have not abandoned these last two factors, this volume emphasizes both the role of ideas and the ability of black South Africans to resist control. Also included are essays documenting the ironies and contradictory effects of segregation and apartheid. Recognizable in the transformation of this subject are trends present in other historical fields. Of particular interest is the emphasis here on agency, in this case of blacks. More generally, this approach might be added to those responsible for changing the entire field of history.
Jack R.Censer
ACKNOWLEDGEMENTS
All extracts and articles published in this volume, with the exception of the piece by Martin Legassick, have already been published. We would like to thank the following copyright holders for permission to reproduce their work:
Maynard Swanson, '"The Sanitation Syndrome": Bubonic Plague and Urban Native Policy in the Cape Colony, 1900–1909', Journal of African History 18 (1977) (Cambridge University Press).
Harold Wolpe, 'Capitalism and Cheap-Labour Power in South Africa: From Segregation to Apartheid', Economy and Society 1 (1972) (Routledge).
S.Marks, 'Natal, the Zulu Royal Family and the Ideology of Segregation', Journal of Southern African Studies 4 (1978).
B.Bozzoli, 'Marxism, Feminism and Southern African Studies',
Journal of Southern African Studies 9 (1983).
S.Dubow, 'The Elaboration of Segregationist Ideology', in
Racial Segregation and the Origins of Apartheid in South Africa c. 1919–1936 (Macmillan, 1989).
W.Beinart, 'Chieftaincy and the Concept of Articulation: South Africa c. 1900–1950', Canadian Journal of African Historical Studies 19 (1985).
D.Posel, 'The Meaning of Apartheid Before 1948: Conflicting Interests and Forces within the Afrikaner Nationalist Alliance',
Journal of Southern African Studies 14 (1987).
H.Giliomee, 'The Growth of Afrikaner Identity', in H.Adam