Добавил:
Upload
Опубликованный материал нарушает ваши авторские права? Сообщите нам.
Вуз:
Предмет:
Файл:
OCTOBER 2012-TRANSPORT
.docx
10. Read the article. Sum it up. Do you think this initiative will make roads safer.
DRIVING AGE COULD RISE TO 18 TO MAKE ROADS SAFER
By Ray Massey The Daily Mail
20 September, 2006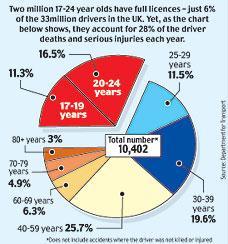 How the young can be a danger on the roads
Young learner drivers could soon be forced to take lessons for a year before taking their test - making 18 the minimum age for a full driving licence.
A 12 month 'L-plate' probationary period would raise the minimum age by which teenagers could qualify for a full licence and drive unsupervised on the road from 17 to 18.
But it would also cut deaths on UK roads by 1,000 lives each year, says a major report to ministers by a coalition of leading insurance, motoring and road safety groups and parliamentary advisers.
The problem is not just 'boy racers' but also inexperience, they say. The sheer number and influence of the groups behind the report means it is be very hard for the Government to ignore their demands.
The minimum 12 month probation should cover drivers in the 17 to 20 age group who are most at risk, say the report's authors.
At present it is possible for a teenager with a valid provisional licence to take and pass a test within 24 hours of his or her 17th birthday - passing the theory test on day one and the practical driving test the next day.
The year-long probationary period is one of a package of measures aimed at reducing the disproportionate number of serious accidents - many of them fatal - involving younger drivers. As well as the human cost, it means higher insurance premiums for all drivers.
The proposals were being announced today at the first national motor conference organised by the Association of British Insurers (ABI), which is part of the coalition.
The ABI is being backed by the RAC Foundation, the Parliamentary Advisory Council for Transport Safety, and road safety groups Brake, Roadsafe, and the Make Roads Safe Campaign.
Shocking statistics show nearly half of young male drivers have a crash in their first year of driving.
Last year nearly 1,200 drivers were killed or seriously injured on UK roads - nearly three a day.
Male motorists in the 17 to 20 age group are almost 10 times more likely to be killed than more experienced drivers.
They are also five times more likely than a man aged 30 to 59 to be involved in a road accident involving a casualty.
And almost a quarter of passengers who has been seriously injured was travelling with a young driver. Young men are far more likely than young women to be involved in accidents.
Young men aged 17 to 20 account for just three per cent of the country's driving population - but 33 per cent of convictions for dangerous driving, including causing death and bodily harm.
The average insurance claim made by 17- 18 year old is £4,473 - more than three times the £1,459 for a 30 - 59 year old man.
The experts' report from the 'great and the good' of the motoring and road safety world was being handed today to ministers whose officials said the radical proposals would be studied seriously.
The experts' report also proposed limiting the number of passengers - typically to two - that drivers can carry in their first few months on the road.
They also raised the idea of a night curfew for young drivers - or at the very least encouraging them to drive less at night when more than half you driver accidents occur.
The new system would be similar to rules in California where restrictions on young drivers include a ban on newly licensed drivers aged under 18 from driving other young people for a year. They also cannot drive between 11pm and 5am unless it is a medical emergency or for school or work reasons.
Experts say a typical accident involving a young driver takes place late at night after a pub or club has closed.
Most accidents also involve a car packed with youngsters, with up to six people who seldom wear seat belts squeezed into a car.
Learners should also have their hours and performance recorded in a logbook by their instructors, says their report.
Their joint report acknowledged that not all young drivers are 'boy racers' but an ABI spokesman said 'There should a longer period before they are let loose on the driving test.'
The report concludes: "If a 12-month minimum learning period were introduced, there would be up to 1,000 fewer deaths and serious injuries on our roads each year."
The report entitled 'Young Drivers - Reducing Death on the Roads' explains: "A minimum learning period before the driving test would enable drivers to undertake supervised practice without an incentive to rush to take the practical test."
It said there were "clear benefits" but currently few incentives to learner drivers getting more experience. "Each year 50,000 17-year-olds in the UK pass their driving test with less than six months driving experience.
"By contrast, in many European countries - where the minimum driving age is often 18 - minimum learning periods are commonplace."
It says Sweden has had a minimum learning period for more than a decade and seen accident rates slump by 40 per cent among young drivers.
Transport Minister Stephen Ladyman said: "The Government takes extremely seriously the safety issues associated with young and newly qualified drivers.
"We work closely with the insurance industry to influence the behaviour of young and newly qualified drivers through incentives rather than regulation."
But he also stressed the UK driving test has been "considerably strengthened" and is "one of the most demanding in the world."
ABI director-general Stephen Haddrill said: "Every day, four people are killed or seriously injured in crashes involving young drivers.
"The trend is getting worse not better. We urge the Government to adopt these proposals to improve safety on our roads and reduce this tragic loss of life."
Robert Gifford of the Parliamentary Advisory Council for Transport Safety said: "Too many young drivers are still killed and injured on our roads. These numbers are out of proportion to the percentage of young drivers acquiring driving licences.The proposals outlined here offer a way forward."
Also participating at today's conference will be South Yorkshire Chief Constable Meredydd Hughes, head of roads policing at the Association of Chief Police officers (ACPO).
The RAC Foundation said the proposals could help reduce 'pointless' young deaths on the road: "A combination of youthful optimism, lack of experience and peer group pressure makes young drivers particularly vulnerable."
Earlier this month, insurance giant Norwich Union warned young drivers face a hike of up to 40 per cent on their insurance policies because of the appalling record of young male drivers.
The average customer Britain's second-biggest insurance firm, will see a 16 per cent increase on their premiums.