 SOT23, Very High Precision, 3V/5V
Rail-To-Rail Op Amps
Pin Description
PIN

 

NAME

FUNCTION

SOT23

 

SO/µMAX

 

 

 

 

 

 

 

1

 

6

OUT

Amplifier Output

 

 

 

 

 

2

 

4

VEE

Negative Power Supply. Bypass with a 0.1 F capacitor to ground. Connect to GND

 

for single-supply operation.

 

 

 

 

 

 

 

 

 

3

 

3

IN+

Noninverting Amplifier Input

 

 

 

 

 

4

 

2

IN-

Inverting Amplifier Input

 

 

 

 

 

5

 

8

SHDN

Shutdown Input. Do not leave floating. Connect to VCC for normal operation or GND

 

to enter the shutdown mode.

 

 

 

 

 

 

 

 

 

6

 

7

VCC

Positive Supply Input. Bypass with a 0.1 F capacitor to ground.

—

 

1, 5

N.C.

No Connection. Not internally connected.

 

 

 

 

 
Detailed Description
The MAX4236/MAX4237 are high-precision op amps with a CMOS input stage and an excellent set of DC and AC features. The combination of tight maximum voltage offset, low offset tempco and very low input current make them ideal for use in high-precision DC circuits. They feature low-voltage operation, low-power consumption, high-current drive with rail-to-rail output swing and high-gain bandwidth product.
High Accuracy
The MAX4236/MAX4237 maximum input offset voltage is 20µV (5µV, typ) for grade A version and 50µV for grade B version at +25°C. The maximum temperature coefficient of the offset voltage for grade A and B are guaranteed to be 2µV/°C and 4.5µV/°C respectively. The parts have an input bias current of 1pA. Noise characteristics are 14nV/√ Hz, and a low frequency noise (0.1Hz to 10Hz) of 0.2µVp-p. The CMRR is 102dB, and the PSRR is 120dB. The combination is what is necessary for the design of circuits to process signals while keeping high signal-to-noise ratios, as in stages preceding high-resolution converters, or when they are produced by sensors or transducers generating very small outputs.
Rail-to-Rail Outputs, Ground-Sensing Input
The input common-mode range extends from (VEE - 0.15V) to (VCC - 1.2V) with excellent common-mode rejection. Beyond this range, the amplifier output is a nonlinear function of the input, but does not undergo phase reversal or latch-up (see Typical Operating Characteristics).
The output swings to within 150mV of the power-supply rails with a 1kΩ load. The input ground sensing and the rail-to-rail output substantially increase the dynamic range.
Power-Up and Shutdown Mode
The MAX4236/MAX4237 have a shutdown option. When the shutdown pin (SHDN) is pulled low, the sup-
ply current drops to 0.1µA, and the amplifiers are disabled with the output in a high-impedance state. Pulling SHDN high enables the amplifiers. The turn-on time for the amplifiers to come out of shutdown is 4µs.
Applications Information
As described above, the characteristics of the MAX4236/MAX4237 are excellent for high-precision/ accuracy circuitry, and the high impedance, low-cur- rent, low-offset, and noise specifications are very attractive for piezoelectric transducers applications. In these applications, the sensors generate an amount of electric charge proportional to the changes in the mechanical stress applied to them. These charges are transformed into a voltage proportional to the applied force by injecting them into a capacitance and then amplifying the resulting voltage. The voltage is an inverse function of the capacitance into which the charges generated by the transducer/ sensor are injected. This capacitance and the resistance that discharges it, define the low-frequency response of the circuit. It is desirable, once the preferred low-frequency response is known, to maintain the capacitance as low as possible, because the amount of necessary upstream amplification (and the signal-to-noise ratio deterioration) is directly proportional to the capacitance value. The MAX4236/MAX4237 high-impedance, low-
______________________________________________________________________________________ 11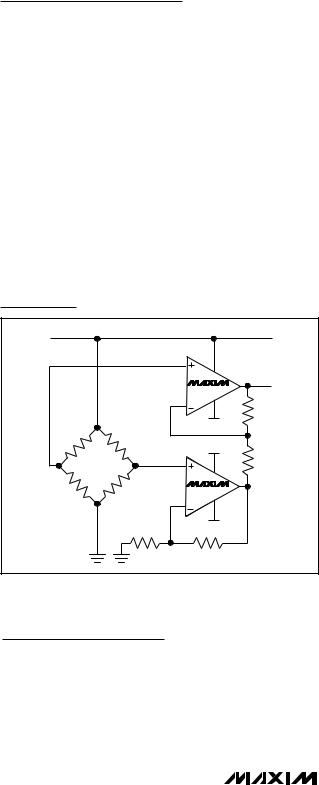 SOT23, Very High Precision, 3V/5V
Rail-To-Rail Op Amps
current, low-noise inputs allow a minimum of capacitance to be used.
Piezoresistive transducers applications require many of the same qualities. For those applications the MAX4236/MAX4237 high CMRR, PSRR, and offset stability are also a good match.
A typical application for a piezoresistive transducer instrumentation amplifier design using the MAX4236/MAX4237 is shown in the Typical Application Circuit.
In general, the MAX4236/MAX4237 are good components for any application in which an amplifier with an almost zero input current is required, including highprecision, long time-constant integrators and electrochemical sensors.
Power Supplies
The MAX4236/MAX4237 can operate from a single +2.4V to +5.5V power supply, or from ±1.2V to ±2.75V power supplies. The power supply pin(s) must be bypassed to ground with a 0.1µF capacitor as close to the pin as possible.
Layout and Physical Design
A good layout improves performance by decreasing the amount of parasitic and stray capacitance, inductance and resistance at the amplifier's inputs, outputs, and power-supply connections. Since parasitics might be unavoidable, minimize trace lengths, resistor leads, and place external components as close to the pins as possible.
In high impedance, low input current applications, input lines guarding and shielding, special grounding, and other physical design and layout techniques, are mandatory if good results are expected.
The negative effects of crosstalk, EMI and other forms of interference and noise (thermal, acoustic, etc.) must be accounted for and prevented beforehand for good performance in the type of sensitive circuitry in which the MAX4236/MAX4237 are likely to be used.
Selector Guide
| | | | |
| --- | --- | --- | --- |
|   |   | MINIMUM |   |
| PART | GRADE | STABLE | TOP MARK |
|   |   | GAIN |   |
|   |   |   |   |
| MAX4236EUT | — | 1 | AAUV |
|   |   |   |   |
| MAX4236AEUA | A | 1 | — |
|   |   |   |   |
| MAX4236BEUA | B | 1 | — |
|   |   |   |   |
| MAX4236AESA | A | 1 | — |
|   |   |   |   |
| MAX4236BESA | B | 1 | — |
|   |   |   |   |
| MAX4237EUT | — | 5 | AAUW |
| MAX4237AEUA | A | 5 | — |
|   |   |   |   |
| MAX4237BEUA | B | 5 | — |
|   |   |   |   |
| MAX4237AESA | A | 5 | — |
|   |   |   |   |
| MAX4237BESA | B | 5 | — |
|   |   |   |   |
Typical Application Circuit
+VS
VOUT
MAX4236
-VS
+VS
LOAD CELL
MAX4236
-VS
Chip Information
TRANSISTOR COUNTS: 224
PROCESS: BiCMOS
12 ______________________________________________________________________________________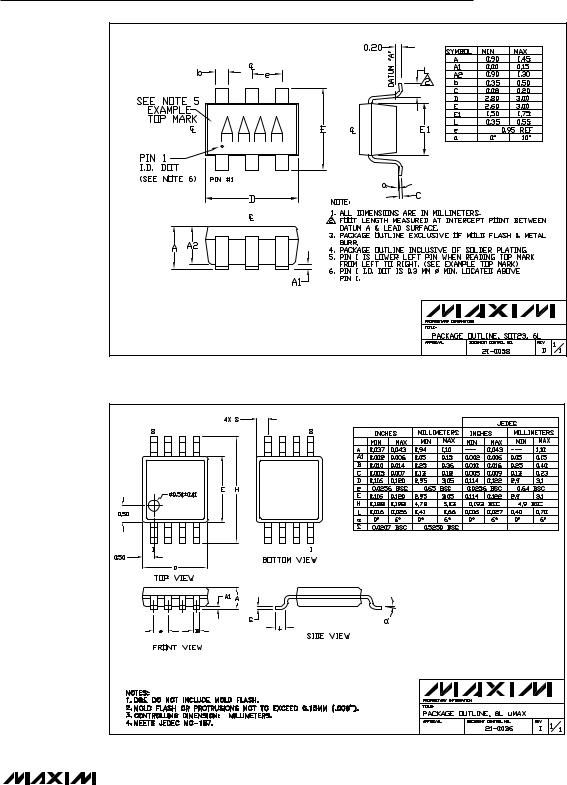 SOT23, Very High Precision, 3V/5V
Rail-To-Rail Op Amps
Package Information
______________________________________________________________________________________ 13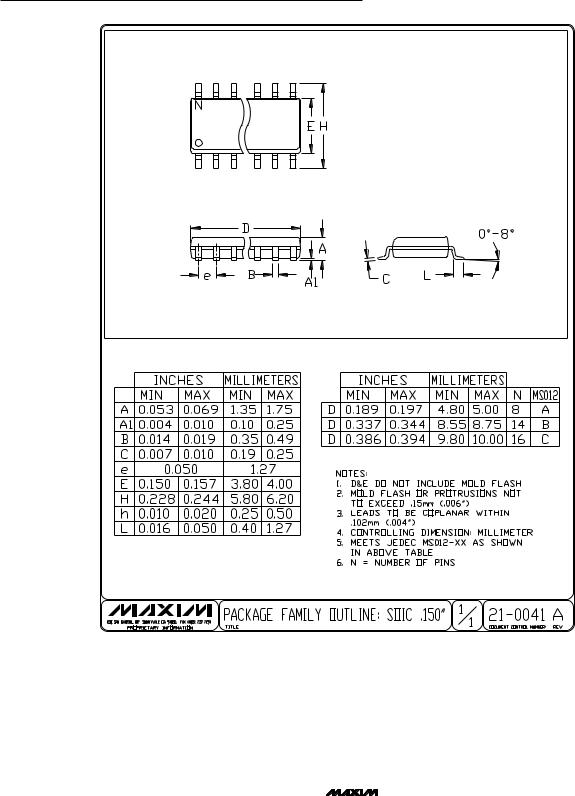 SOT23, Very High Precision, 3V/5V
Rail-To-Rail Op Amps
Package Information (continued)
SOICN.EPS
Maxim cannot assume responsibility for use of any circuitry other than circuitry entirely embodied in a Maxim product. No circuit patent licenses are implied. Maxim reserves the right to change the circuitry and specifications without notice at any time.
14 ____________________Maxim Integrated Products, 120 San Gabriel Drive, Sunnyvale, CA 94086 408-737-7600
| | | |
| --- | --- | --- |
| © 2001 Maxim Integrated Products | Printed USA | is a registered trademark of Maxim Integrated Products. |