Добавил:
Upload
Опубликованный материал нарушает ваши авторские права? Сообщите нам.
Вуз:
Предмет:
Файл:
THE COUNTRY AND ITS PEOPLE: AN INTRODUCTION FOR LEARNERS OF ENGLISH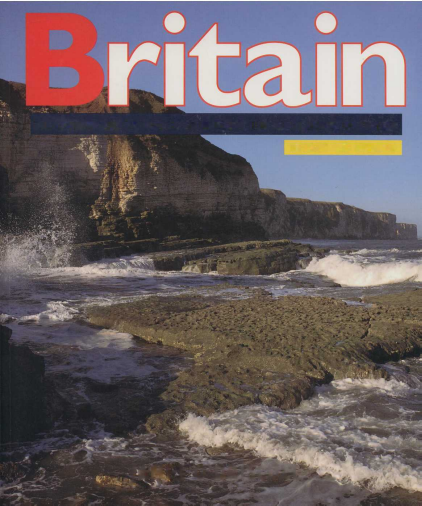 REVISED AND UPDATED
JAMES O'DRISCOLL
Oxford
Oxford University Press
Great Clarendon Street, Oxford ox2 6dp
Oxford New York
Auckland Bangkok Buenos Aires Cape Town Chennai Dar es Salaam Delhi Hong Kong Istanbul Karachi Kolkata Kuala Lumpur Madrid Melbourne Mexico City Mumbai Nairobi Säo Paulo Shanghai Taipei Tokyo Toronto
oxford and oxford english
are trade marks of Oxford University Press.
ISBN o 19 432429 x
© Oxford University Press 1995
First published 1993 Tenth impression 2003
No imauthorized photocopying
All rights reserved. No part of this publication may be reproduced, stored in a retrieval system, or transmitted, in any form or by any means, without die prior permission in writing of Oxford University Press, or as expressly permitted by law, or under terms agreed with the appropriate reprographics rights organization. Enquiries concerning reproduction outside the scope of the above should be sent 10 the ELT Rights Department, Oxford University Press, at the address above
You must not circulate this book in any other binding or cover and you must impose this same condition on any acquirer
Any websites referred to in this publication are in the public domain and their addresses are provided by Oxford University Press for information only. Oxford University Press disclaims any responsibility for the content.
Printed in China ACKNOWLEDGEMENTS
The publisher and author would like to thank the following for their permission to use extracts ffom Copyright material:
BBC Enterprises Ltd for extracts frorn Yes, Prime Minister by Jonathan Lynn and Antony Jay.
Cambridge University Press for extracts from 'The Invisible Scot' in English Today 18 April 1989.
Penguin Books Ltd for extracts from How to be Inimitable by George Mikes (Penguin Books 1966, first published by Andre Deutsch) Copyright © George Mikes, i960.
Radio Times/BBC Magazines for extract from 'Peter Snow's Armchair Guide/ Radio Times, April 1992.
Reed Consumer Books for extracts from The Queen and I by Sue Townsend (Methuen, London), © 1992 by Sue Townsend.
Times Newspapers Ltd for extracts from 'Mad about plaid' by A A Gill, The Sunday Times, London, 23 January 1994, © Times Newspapers Lid 1994: 'Who gives a caber toss?' by Harry Ritchie, The Sunday Times, London, 23 January 1994, © Times Newspapers Ltd 1994; 'Defiant English hold out against Welsh arsonists' by Stuart Wavell, The Sunday Times, London,
15 November 1992, © Times Newspapers Ltd 1992: and 'Britain bans EC Medals' from News Digest, The Sunday Times,
18 April 1993, © Times Newspapers Ltd 1993.
A P Watt Ltd on behalf of The National Trust for extracts from 'The White Man's Bürden' and 'Recessional' by Rudyard Kipling.
Cover photograph:
Collections Photo Library/Gary Smith
Illustrations by:
Brei Breckon pages 10, 13 Matthew Lawrence page 1 1 o Alan Nanson all chapter openers
Oxford University Press cartographic department pages 9, 3 1, 34, 86, 87, 113, 209 Oxford University Press technical graphics department pages 32, 33, 46, 89, 91, 104, 108, 109, 1 21, 132, 133, 137, 143, 143, 146, 152, 133, 138, 160, 171, 180, 181, 193, 199, 202 Murray Zanoni pages 1 74, 1 76
Studio photography by:
Haddon Davies pages 118, 134, 133, 211
The publisher would like to thank the following for their permission to reproduce photographs and other Copyright material:
Action Images page 199; AKG London page 21 (Henry VIII); Allsport Photo Library page 196 (R Cheyne); Aquarius Photo Library page 160; The Automobile Association (for use of their logo) page 162; BBC Photo Library pages 50, 103, (old swingometer), 107 (Dixon of Dock Green); Barclays Bank (for use of their logo) page 147; The Bridgeman Art Library/john Noot Galleries, Broadway page 23; Bryant Homes page 173; Collections Photo Library pages 13 (R Hallman), 37 (Land's End: P Watts),
138 (A Gordon), 209 (rock shop: A Le Garsmeur); Colorsport page 194; The Conservative Party (for use of their logo) page 73;
Lupe Cunha page 172; Dominic Pictures page 213 (C Ashmore);
The Environmental Picture Library page 197 (A Testa);
Eye Ubiquitous page 37 (farmland: T Page); Garden News page 192 (T Sandall); Sally and Richard Greenhill Photo Library pages 182, 214; Sue Hallet page 202; House of Commons Press Office page 97 (Black Rod); Hulton Deutch Library page 27; Images/Landscape Only Photo Library pages 16, 40; The Independani page 129 (R Perry); The Kobal Collection page 17; The Labour Party (for use of their logo) page 73; The Liberal Democrais (for use of their logo) page 73; Life File pages 6i (Polesden Lacey: A Ward), 80 (I Richards), 136 (J Hoare); Lloyds Bank (for use of their logo) page 147; Lord Snooty, © DC Thompson and Co Ltd 1989 page 39; Magnum Photo Library pages 113 (C Steele-Perkins), 1 19 (Free Derry: L Freed), 1 31 (P Marlow), 187 (M Parr); Mary Evans Picture Library pages 10, 11, 21 (Elizabeth I); Midland Bank (for use of their logo) page 147; NatWest Bank (for use of their logo) page 147; Neal's Yard Remedies page 173; Network Photo Library pages 61 (üllotments: H Sykes), 1 1 1 (M Abrahams), 1 19 (Freedom Fighters murul; G Mendel), 123 (both pics by H Sykes), 147 (B Lewis), 149 (Barry Lewis), 163 (B Lewis), 164 (traffic cones: H Sykes), (beach:
P Jordan); The Performing Arts Library page 204 (C Barda); Photofusion pages 144 (J Martin), 189; Popperfoto pages 47 (D Joyner), 66, 79, 124; The Press Association pages 33, 74, 83, 93; Punch Publications Ltd page 190; RAC (for the use of their logo) page 162; RSPCA Photo Library page 64 (T Sambrook); The Retrograph Archive page 210; Rex Features pages 36, 69, 78 (D Hartley), 90, 97 (state opening of Parliament), 101 (J Bradley),
103 (new swingometer: P Brooker), 188, 206 (N Jorgensen); The Samaritans page 170; Scope Features page 107 (The Bill); Skyscan Balloon Photography page 178; Frank Spooner Pictures pages 33 (Gamma, T Bitchburn), 63 (K Bernstein/ESP), 91 (Gamma;
K Bernstein), 114 (Gamma); The Still Moving Picture Company päg0 43! The Sun Newspaper/News International page 1 18; John Walmsley Photo Library pages 38, 44, 164 (traffic worden); Warwick University page 139.
We would also like to thank Gertrude Erbach at the reference library, News International for her help in obtaining illustrative material and Derek Heater, founder Chairman of the Politics Association, for his advice on the chapters concerning history and polidcs.
O
/E.

>

pp

o

James O'Driscoll

Oxford University Press

Contents

Introduction

67

Country and people

Geographically speaking • Politically speaking The f'our nations - The dominance of England ■ National loyalties

6 Political life

The public attitude to politics ■ The style of democracy • The Constitution ■ The style of politics The party System ■ The modern Situation

History k

Preliistory • The Roman period (43-410) •

The Germanic invasions (41 o-1066) ■ The medievil period (1066-1483) • The sixteenth Century ■

The :seventeenth Century ■ The eighteenth Century ■ The nitieteexnh Century ■ The twentieth Century

The monarchy 77

The appearance ■ The reality ■ The role of the monarch ■ The value of the monarchy ■ The future of the monarchy

82

8 The government

Geography

The cabinet • The Prime Minister ■ The civil scrvice ■ Central and local government ■ Local government

Ciimate ■ Land and Settlement ■ The environment and pollution ■ London ■ Southern England •

The Midlands • Northern England ■ Scotland ■ Wales ■ Northern Ireland

Identity 42

Ethnie identity: the native British • Ethnie identity: the non-native British - The family - Geographical identity • Class • Men and women ■ Religious and political identity ■ Social and everyday contacts ■ Identity in Northern Ireland • Being British

9 Parliament 90

The atmosphere of Parliament ■ An MP's life ■ Parliamentary business ■ The party System in Parliament ■ The House of Lords

10 jElections

The System ■ Formal arrangements ■ The cam Polling day ■ Election night ■ Recent results at future

Attitudes

Stereotypes and change ■ English versus British • Multiculturalism ■ Conservatism ■ Being different ■ The love of nature ■ The love of animals • Fonnality and infonnality • Public spiritedness and amateurism • Privacy and Sex

11 The law

The police and the public • Crime and criminal procedure • The System of justice - The legal profession

International relations nj

18 Welfare

The end of empire • The armed forces - Transatlantic relations • The sovereignty of the union: Europe ■ The sovereignty of the union: Scotland and Wales • The sovereignty of the union: Northern Ireland

168

The benefits System ■ Social Services and charilies ■ The national health service • The medical profession

'74

19 Housing

Religion 121

Religion and politics ■ Anglicanism • Catholicism ■ Other conventional Christian churches • Other religions, churches and religious movements

Houses, not flats • Private property and public property • The importance of'home' • Individuality and conformity ■ Interiors: the importance of cosiness - Owning and renting ■ Homelessness

Education

'30

Historical background - Organization ■ Style ■ Recent developments • School life ■ Public exams • Education beyond sixteen

The economy and 141

everyday life

Earning money - Work organizations • The structure of trade and industry ■ The distribution of wealtb • Finance and Investment- Spending money: shopping • Shop opening hours

JAMES O'DRISCOLL 1

Contents 5

Introduction 5

Country and people 5

6 Political life 5

History k 5

The monarchy 77 6

8 The government 6

Identity 42 6

9 Parliament 90 6

10 jElections 7

Attitudes 7

11 The law 7

International relations nj 9

19 Housing 9

Religion 121 9

Education 9

The economy and 141 10

everyday life 10

Themedia 151 13

23 Holidays and special 208 13

occasions 13

Transport 162 14

Introduction 15

I 17

Country and people 17

4 79

Identity 79

5 103

Attitudes 103

6 117

Political life 117

7 134

The monarchy 134

8 145

The government 145

9 158

Parliament 158

13 121

Religion 121

The economy and everyday life 152

16 165

The media 165

RAC 165

17 165

Transport 165

18 172

Welfare 172

19 181

Housing 181

20 214

Food and drink 214

21 224

Sport and competition 224

23 253

Holidays and special occasions 253

Britain 301

The arts in society ■ The characteristics of British arts andletters ■ Theatre and cinema - Music • Literature ■ The fine arts

Themedia 151

The importance of the national press ■ The two types of national newspaper ■ The characteristics of the national press: politics - The characteristics of die national press: sex and sc.andal. • The BBC - Television: Organization • Television: style

23 Holidays and special 208

occasions

Traditional seaside holidays. ■ Modem holidays ■ Christmas and New Year • Other notable annual

Transport 162

On the road - Public transport in towns and cities - Public transport between towns and cities • The story of the chunnel - Air and water