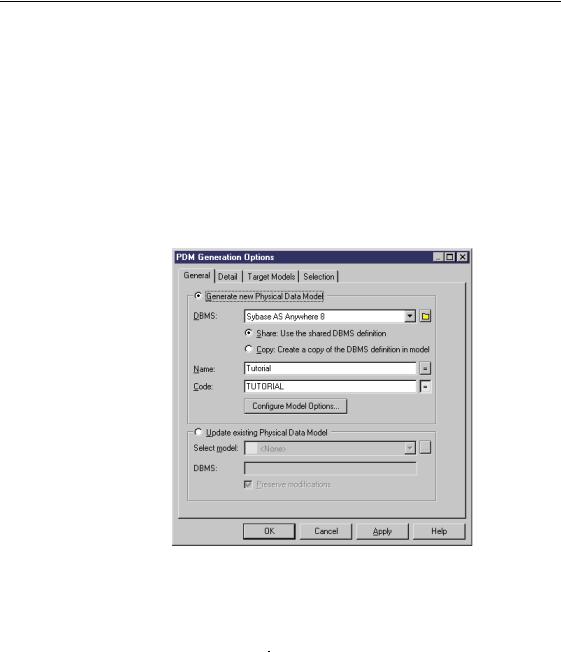 &KDSWHU *HQHUDWLQJ WKH 3'0 IURP WKH &'0
*HQHUDWH WKH 3'0
1Select 7RROV→*HQHUDWH 3K\VLFDO 'DWD 0RGHO.
The PDM Generation Options dialog box appears.
2Select 6\EDVH $6 $Q\ZKHUH from the DBMS dropdown listbox.
The dialog box proposes TUTORIAL as the default name for the PDM file. It is the same as the CDM file name but with the extension .PDM.
3Select the 6KDUH radio button.
You indicate to use the DBMS definition file stored in the DBMS library.
4Click the 'HWDLO tab.
The Detail page appears.
5Select or clear the following options:
 

*URXS ER[

 

6HOHFWHG ,WHP

 

 

Options

 

Check model

 

 

 

Save generation dependencies

CDM Getting Started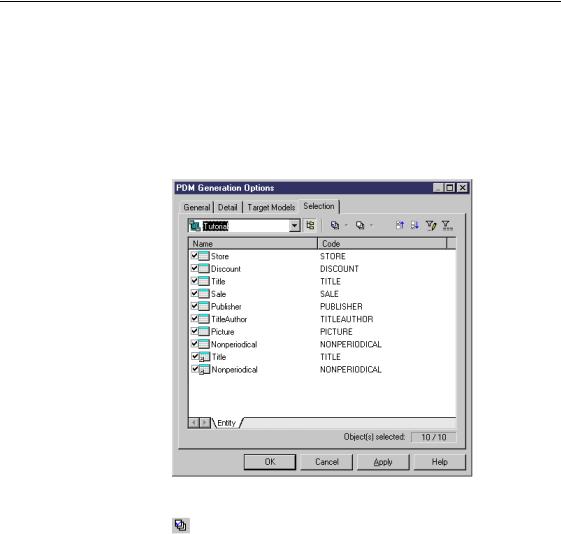 The model will be verified by the Check Model before generation. The Save Generation Dependencies option determines that PowerDesigner saves the object identification tag for each object in the model. This option is mainly useful when merging two PDM generated from the same CDM.
6Select the 6HOHFWLRQ tab.
The 6HOHFWLRQ page appears. It lists all the objects in the CDM. By default, all object checkboxes are selected.
7If all the object checkboxes are not selected, click the Select All tool.
8Click 2..
A Result List window displays warning messages indicating that the CDM reuses certain data items for more than one entity. These warnings are informational and do not prevent PowerDesigner from generating the PDM.
9Close the 5HVXOW window when the generation process has finished.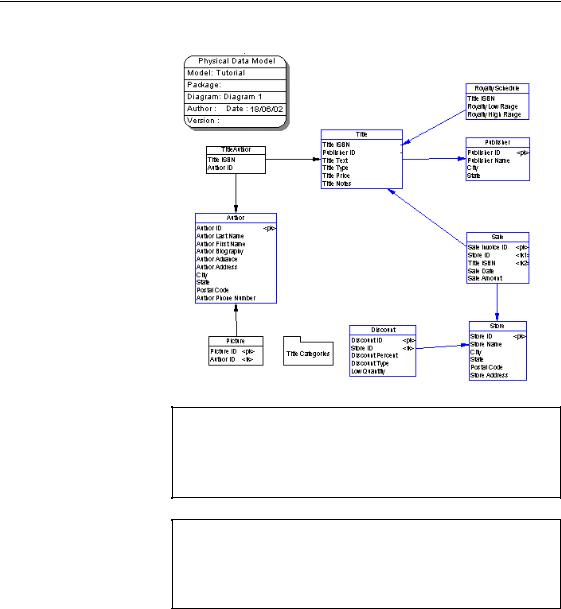 &KDSWHU *HQHUDWLQJ WKH 3'0 IURP WKH &'0
The PDM appears in the model window.
&URZGHG 3'0
If your PDM is difficult to read because tables display too much information, you can reduce the amount of information displayed by selecting Tools→Display Preferences and clearing checkboxes for the appropriate object.
7KUHH LQKHULWDQFH HQWLWLHV UHVXOWHG LQ RQH WDEOH
In the CDM, you defined the inheritance Title Inherit to generate the parent only. In the PDM, the resulting table, Title, includes a column, Periodical, that indicates if a title is a periodical or not. It also includes columns related to periodicals or non periodicals.
What you learned In this section, you learned how to:
♦Define generation parameters according to how you want to generate objects in the PDM
♦Generate a PDM from a CDM

6DYH DQG FORVH WKH 3'0
You will save the generated PDM.
1Select )LOH→6DYH $V from the menu bar. The File Save As dialog box appears.
2Type *(178725 3'0 in the File Name box. This is the new name for the generated PDM file.
3Click 2..
This saves your model in the GENTUTOR.PDM file.
4Select )LOH→&ORVH from the menu bar.
This closes the PDM window and returns you to the CDM window.

&KDSWHU *HQHUDWLQJ WKH 3'0 IURP WKH &'0
([LW 3RZHU'HVLJQHU
You will save and close the CDM, then exit PowerDesigner.
1Select )LOH→6DYH. This saves the CDM.
2Select )LOH →&ORVH. This closes the model.
3Select )LOH→([LW.
A confirmation box asks you if you want to save the Workspace.
4Click the 1R button.
You exit the PowerDesigner application. You have now completed the CDM tutorial.

association
business rule
column
Conceptual Data
Model (CDM)
constraint
data item
domain
entity
entity attribute
foreign key
Identifier
Inheritance
Physical Data
Model (PDM)
primary key
property sheet
reference
CDM Getting Started
In the Merise modeling methodology an association is a connection between entities
Written statement specifying what the information system must do or how it must be structured to support business needs
Data structure that contains an individual data item within a row in a PDM
Entity-relationship diagram that models the information system without considering the details of physical implementation
Named check that enforces data requirements, default values, or referential integrity on an entity or a entity attribute
Elementary piece of information
Set of values for which a data item is valid
Person, place, thing, or concept that has characteristics of interest to the enterprise and about which you want to store information
Elementary piece of information attached to an entity
Column or columns in a PDM whose values depend on and migrate from a primary key, or an alternate key, in another table
Entity attribute, or a combination of entity attributes, whose values uniquely identify each occurrence of the entity
Special relationship that defines an entity as a special case of a more general entity
Table-reference diagram that models the information system including the details of physical implementation
Column or columns whose values uniquely identify a row in a table in PDM
Window that displays the properties of an object
Link between a parent table and a child table in a PDM. A reference can link tables by shared keys or by specified columns
referential integrity
relationship table
Rules governing data consistency, specifically the relationships among primary keys and foreign keys of different tables in a PDM
Named connection or association between entities
Collection of rows (records) in a PDM that have associated columns (fields)
PowerDesigner
$
add

 

 

 

data item to entity

47

object to package

72

title box 84

 

adjust display

16

 

align symbol

87

 

arrange symbol

87

 

attach

 

 

 

business rule to entity 41, 57

data item to domain

38

attribute

 

 

 

create

50

 

 

define

47

 

 

entity

41

 

 
%
bibliography

vii

business rule

23

attach to entity 41, 57

create

25

define

23

fact

23

 

formula

23

sort

26

 

validate

23
&
cardinality

59

 

one to many

59

relationship

59

CDM

 

 

check parameter 24

close

97

 

define

1, 17

 

display

83

 

install

4

 
CDM (FRQWLQXHG)

 

open

16

 

 

 

option

 

17

 

 

preferences

17

 

properties

20

 

save

21, 97

 

 

center

 

 

 

 

 

model

 

89

 

 

symbol

77

 

 

check parameter

24

close

 

 

 

 

 

CDM

 

97

 

 

PDM

96

 

 

code for data type

30

color

 

 

 

 

 

title box

85

 

 

window

 

86

 

 

create

 

 

 

 

 

business rule

25

data item

34

 

domain

 

29

 

 

entity

 

43, 46

 

entity attribute

50

inheritance

76

 

package

 

68

 

 

relationship

61

 
'
data item

 

23

 

add to entity

47

attach to domain 38

create

 

34

 

define

 

23

 

diverge

19

 

sort

35

 

data type

 

 

 

code

30

 

default

33

 

default data type

33

define

 

 

 

entity

 

41

 
define

(FRQWLQXHG)

 

inheritance

 

75, 78

relationship

59, 63

delete

 

 

 

 

 

object

14

 

 

 

symbol

14

 

 

designate identifier

53

detach symbol

14

 

diagram for package

70

display

 

 

 

 

 

adjust

16

 

 

 

CDM

83

 

 

 

organize

83

 

 

preferences

17

 

relationship

66

 

diverge domain

19

 

domain

23

 

 

 

create

29

 

 

 

data item

38

 

define

23

 

 

diverge

19

 

 

enforce

19

 

 
(
enforce domain 19

entity

 

add 47

child

75

create

43, 46

define

41

identifier 41

parent

75

sort

44
*
| | |
| --- | --- |
| generate PDM | 93 |
| global model | 67 |
| graphic to print | 90 |
,
identifier

53

inheritance

child

76

create

76
inheritance (FRQWLQXHG)
define

75, 78

mutually exclusive 75

parent

76

property

78

install CDM 4
0
model

 

center

89

print

90

move symbol 45
1
name
identifier 53 relationship 63
2
object

 

 

add to package 72

delete

14

 

open

 

 

CDM

16

 

diagram

70

 

option

 

 

CDM

17

 

define

17

 

relationship

63

organize display

83
3
package

67

 

add object

72

create

68

 

open diagram 70

palette

10

 

PDM 1

 

close

96

 

generate

93

generate from CDM 91

save

96

 
PowerDesigner application 8
PowerDesigner