Добавил:
Upload
Опубликованный материал нарушает ваши авторские права? Сообщите нам.
Вуз:
Предмет:
Файл:
Markus_Zusak_The_Book_Thief_2007
.pdf
THE HANDOVER MAN
Yes, I have seen a great many things in this world. I attend the greatest disasters and work for the greatest villains.
But then there are other moments.
Theres a multitude of stories (a mere handful, as I have previously suggested) that I allow to distract me as I work, just as the colors do. I pick them up in the unluckiest, unlikeliest places and I make sure to remember them as I go about my work. The Book Thief is one such story.
When I traveled to Sydney and took Liesel away, I was finally able to do something Id been waiting on for a long time. I put her down and we walked along Anzac Avenue, near the soccer field, and I pulled a dusty black book from my pocket.
The old woman was astonished. She took it in her hand and said, Is this really it?
I nodded.
With great trepidation, she opened The Book Thief and turned the pages. I cant believe . . . Even though the text had faded, she was able to read her words. The fingers of her soul touched the story that was written so long ago in her Himmel Street basement.
She sat down on the curb, and I joined her.
Did you read it? she asked, but she did not look at me. Her eyes were fixed to the words.
I nodded. Many times.
Could you understand it?
And at that point, there was a great pause.
A few cars drove by, each way. Their drivers were Hitlers and Hubermanns, and Maxes, killers, Dillers, and Steiners. . . .
I wanted to tell the book thief many things, about beauty and brutality. But what could I tell her about those things that she didnt already know? I wanted to explain that I am constantly overestimating and underestimating the human racethat rarely do I ever simply estimate it. I wanted to ask her how the same thing could be so ugly and so glorious, and its words and stories so damning and brilliant.
None of those things, however, came out of my mouth.
All I was able to do was turn to Liesel Meminger and tell her the only truth I truly know. I said it to
the book thief and I say it now to you.
A LAST NOTE FROM YOUR NARRATOR
I am haunted by humans.
Acknowledgments
I would like to start by thanking Anna McFarlane (who is as warm as she is knowledgeable) and Erin Clarke (for her foresight, kindness, and always having the right advice at the right time). Special thanks must also go to Bri Tunnicliffe for putting up with me and trying to believe my delivery dates for rewrites.
I am indebted to Trudy White for her grace and talent. Its an honor to have her artwork in these pages.
A big thank-you to Melissa Nelson, for making a difficult job look easy. It hasnt gone unnoticed.
This book also wouldnt be possible without the following people: Cate Paterson, Nikki Christer, Jo Jarrah, Anyez Lindop, Jane Novak, Fiona Inglis, and Catherine Drayton. Thank you for putting your valuable time into this story, and into me. I appreciate it more than I can say.
Thanks also to the Sydney Jewish Museum, the Australian War Memorial, Doris Seider at the Jewish Museum of Munich, Andreus Heusler at the Munich City Archive, and Rebecca Biehler (for information on the seasonal habits of apple trees).
I am grateful to Dominika Zusak, Kinga Kovacs, and Andrew Janson for all the pep talks and endurance.
Lastly, special thanks must go to Lisa and Helmut Zusakfor the stories we find hard to believe, for laughter, and for showing me another side.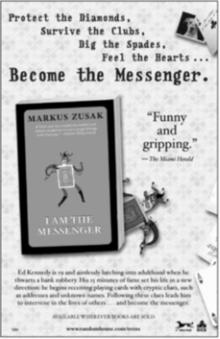 THIS IS A BORZOI BOOK PUBLISHED BY ALFRED A. KNOPF
Text copyright 2006 by Markus Zusak
All rights reserved under International and Pan-American Copyright Conventions. Published in the United States by Alfred A. Knopf, an imprint of Random House Childrens Books, a division of Random House, Inc., New York.
Distributed by Random House, Inc., New York. Originally published in Australia in 2005 by Pan Macmillan Australia Pty Limited.
[http://www.randomhouse.com/teens] www.randomhouse.com/teens
KNOPF, BORZOI BOOKS, and the colophon are registered trademarks of Random House, Inc.
Library of Congress Cataloging-in-Publication Data
Zusak, Markus.
The book thief / by Markus Zusak.1st American ed. p. cm.
SUMMARY: Trying to make sense of the horrors of World War II, Death relates the story of Liesela young German girl whose book-stealing and story-telling talents help sustain her family and the Jewish man they are hiding, as well as their neighbors.
March 2006
First American Edition
[http://www.randomhouse.com] www.randomhouse.com
eISBN: 978-0-307-43384-8
v3.0