Добавил:
Upload
Опубликованный материал нарушает ваши авторские права? Сообщите нам.
Вуз:
Предмет:
Файл:
англ яз для 7 класу 2015
.pdf
Англійська мова
Калініна Л.В., Самойлюкевич І.В.
English
A textbook for Grade 7 of secondary schools specializing in English
«Англійська мова для спеціалізованих шкіл з поглибленим вивченням англійської мови»
підручник для 7 класу загальноосвітніх навчальних закладів
Умовні позначення:

– вправи на аудіювання, фонетичне опрацювання мовленнєвого матеріалу

– письмові вправи

– Домашнє завдання

Любий друже!
Цього року ти продовжиш вивчати англійську мову. Підручник містить сім розділів, кожен з яких – це велика тема, наприклад "Family and Friends" або "Balance Your School Life". Для того щоб з книжкою було зручніше працювати, уроки поділено на декілька частин: Pronunciation Warm-up, Grammar Smart, Word Smart, Time to Read, Conversation Warmup, Time to Listen, Time to Write.
Кожен урок починається з бесіди – Conversation Warm-up. Це допоможе тобі активно включитися в роботу, «зануритися» в середовище англійської мови, відновити в пам'яті набуті знання.
Утебе з'являться нові друзі, теж семикласники. Це персонажі Ann, Steve, Lucy, Helen та інші, з якими ти будеш спілкуватися англійською, вивчати граматику, поповнювати словниковий запас.
Діти розкажуть тобі про життя школярів у своїх країнах, навчать спілкуватися мовою, яка є для них рідною. Разом ви поговорите про улюблені кінофільми, відомих спортсменів, побуваєте в популярних театрах ваших країн. Ти зможеш розказати своїм закордонним друзям про столицю України – Київ, ознайомиш їх з визначними місцями міста.
Укінці підручника ти знайдеш довідник (First Aid Kit), тексти для аудіювання (Audioscripts), ключі до тестових завдань (My progress in English), англо-український словник (Vocabulary) та таблицю неправиль-
них дієслів (Irregular Verbs).
Зверни увагу на завдання, які потрібно буде виконати в робочому зошиті. Це допоможе тобі швидше й краще засвоїти матеріал.
З уривків творів відомих англійських та американських письменників, вміщених у підручнику, ти більше дізнаєшся про англомовні країни. Це допоможе тобі поглибити знання з англійської мови, щоб згодом стати цікавим співрозмовником.
Good luck! Хай щастить!
Автори
3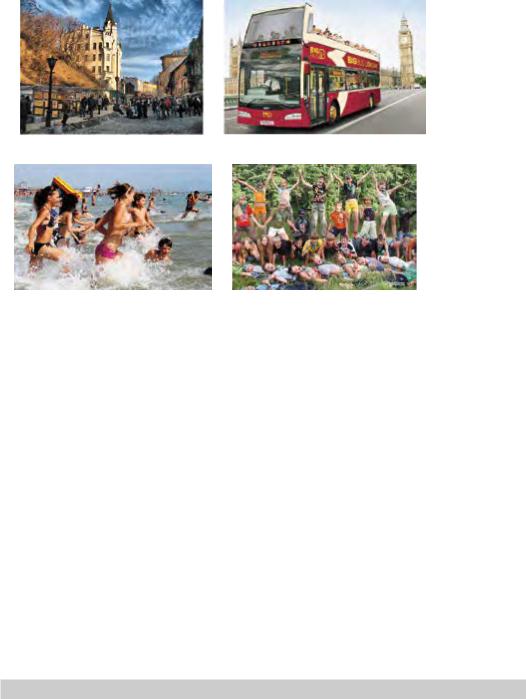 Summer Travel
I. Conversation Warm-up
Look and say where children travelled in summer. Where did you travel in summer?
E x a m p l e: Some children visited Kyiv and saw many places of interest. My family and I travelled to Turkey.

II. Pronunciation Warm-up
Read the chant and practise the rhythm. Say what your favourite kind of travelling is.
Travelling Chant
–Do you like travelling?
–Yes, I do.
–Are you fond of sightseeing?
–Yes, I am.
–Do you enjoy swimming and lying in the sun?
–Sure, I do. Summer is fun.
III.Grammar Smart
Read and recall: the Present Perfect and the Past Indefinite
1. Let's play a completion game.
E x a m p l e: We went to … last summer. → We went to Odessa last summer.
4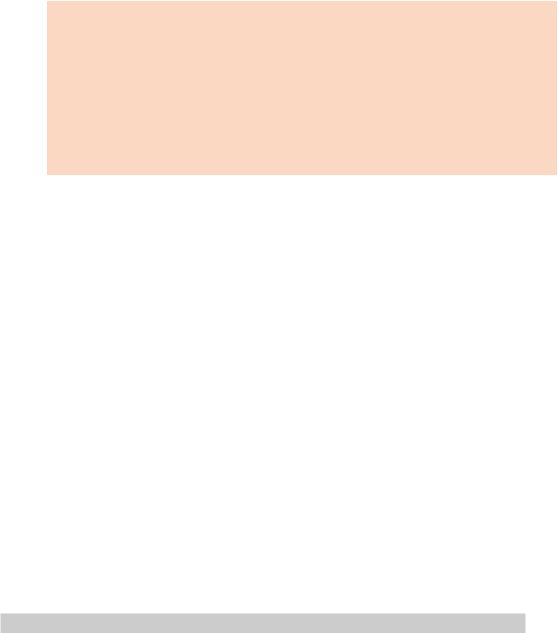 1.We have just … .
2.My friend has already… .
3.… yesterday.
4.… a month ago.
5.I have never … .
6.… last weekend.
2. Make up sentences on the table.
E x a m p l e: I was the best at swimming at school, that's why I went to a swimming camp in summer.
1.

I was the best at swim-

 

a) we packed rucksacks.

 

ming at school,

 

b) I went to the swimming

2.

It was dark,

 

camp in summer.

3.

Our class decided to go on

 

c) I have taken pictures of

 

a hike,

that's why

them.

4.

The weather was wonder-

d) we decided to put up a tent.

 

ful,

 

e) we spent the last weekend

5.

I like the sights,

 

out of town.

6.

Nick is a great traveller,

 

f) he has chosen a walking

 

 

 

tour for Sunday.

 

 

 

 
IV. Time to Read
1. Read/listen to the children discussing their summer travel and say why Ann enjoys travelling.
Travelling Experience
Ann: Look here, Helen, there are pictures of Big Ben and Westminster Palace on your T-shirt and I can see the Union Jack on your schoolbag. Does it mean that you have accomplished your dream and visited London this summer or just had a shopping trip for a new school year?
Helen: I adore shopping, of course, and I did do some shopping but in London.
Ann: Great! Was it a sightseeing tour or a study visit?
Helen: Both. We had English lessons four days a week at a private school and the rest of the week was given to sightseeing. I was very impressed by visiting the British Museum, especially by its Egyptian collection.
Ann: No wonder, travelling is always exciting. The more you travel, the more you learn.
Helen: I knew you would say this as you are the most experienced traveller in our class. Where have you been this time?
Ann: I've been on the move all my summer holidays. At the beginning of the summer I visited Lviv. My cousin Denis invited me. He was having his international friends over from Canada and I participated in the welcoming party.
5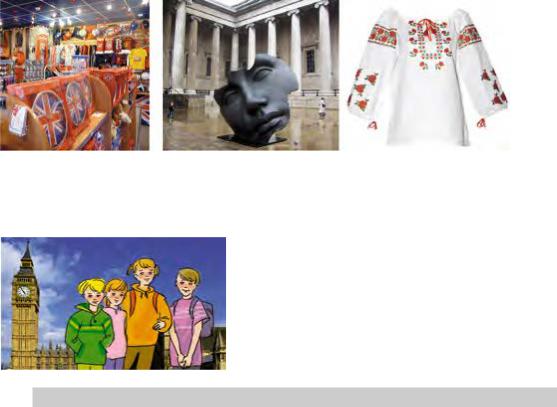 Helen: Let me guess your contribution. You cooked Ukrainian national dishes – varenyks, pancakes, pies and you sang your favourite Ukrainian folk songs.
Ann: Poor guess. I did nothing of the sort. The Canadian girls liked my vyshyvanka and I taught them how to embroider in Ukrainian national style.
Helen: Great! You had a chance to practise your hobby, I believe.
Ann: In a way, but it was a good experience. Then I went to Odessa and spent three weeks there swimming in the sea and lying in the sun. And finally, I went to my granny's place to Belarus and stayed there up to the end of my holidays. I saw and learned a lot there.
Helen: So, we prove the truth of the old saying again, 'Travelling is worth trouble taking'.
2. Answer the questions.
1.What was Helen's dream?
2.Did Helen accomplish it?
3.Which girl is an experienced traveller?
4.How did Ann practise her hobby?
5.What did you learn about the Ann other hobbies?
6.Where did Ann spend the last days of her summer holidays?
3. Look at the pictures and describe the situations in them, using the text "Travelling Experience".
E x a m p l e : Helen was wearing a T-shirt with pictures of Big Ben and Westminster Palace on it.
V. Time to Communicate
a) Act as Helen and describe your trip to London. Use:
to accomplish one's dream; a shopping trip;
to have a sightseeing tour; to be impressed by something; to have memorable holidays.
6