Добавил:
Upload
Опубликованный материал нарушает ваши авторские права? Сообщите нам.
Вуз:
Предмет:
Файл:
The Teachers Grammar Book - James Williams
.pdf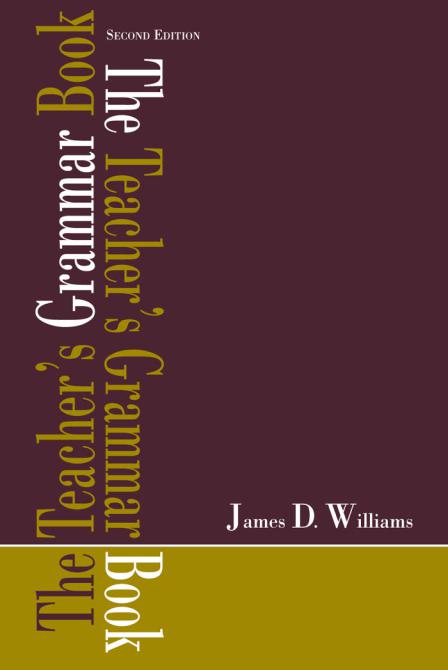 The Teacher's Grammar Book
Second Edition

The Teacher's Grammar Book
Second Edition
James D. Williams
Soka University
LAWRENCE ERLBAUM ASSOCIATES, PUBLISHERS
| | |
| --- | --- |
| 2005 Mahwah, New Jersey | London |

Copyright © 2005 by Lawrence Erlbaum Associates, Inc.
All rights reserved. No part of this book may be reproduced in any form, by photostat, microform, retrieval system, or any other means, without prior written permission of the publisher.
Lawrence Erlbaum Associates, Inc., Publishers 10 Industrial Avenue
Mahwah, New Jersey 07430 www.erlbaum.com
Cover design by Kathryn Houghtaling Lacey
Library of Congress Cataloging-in-Publication Data
Williams, James D. (James Dale), 1949–
The teacher's grammar book / James D. Williams.—2nd ed. p. cm.
Includes bibliographical references and index. ISBN 0-8058-5221-2 (pbk. : alk. paper)
1. English language—Grammar. 2. English language—Grammar— Study and teaching. I. Title.
PE1112.W46 2005
428.2—dc22 2004056421 CIP
Books published by Lawrence Erlbaum Associates are printed on acid-free paper, and their bindings are chosen for strength and durability.
Printed in the United States of America 10 9 8 7 6 5 4 3 2 1

Contents
Preface

 

 

 

ix

Acknowledgments

 

 

 

xiii

1 A Short History of Grammar

 

1

Agreeing on a Definition

1

 

Greek Beginnings

2

 

 

 

Grammar in Rome

5

 

 

 

Grammar in the Middle Ages

7

The Age of Enlightenment

9

 

The Age of Reason

12

 

 

 

Modern Grammars

15

 

 

 

2 Teaching Grammar

 

 

 

17

Recognizing the Challenges

17

Learning Outcomes

19

 

 

Grammar and Writing

23

 

 

Why Teach Grammar?

40

 

Best Practices 41

 

 

 

 

Suggested Activities

47

 

 
vi

 

 

 

 

 

 

CONTENTS

3

Traditional Grammar

 

 

50

 

Prescriptive Grammar in Our Schools

50

 

Form and Function in Grammar 53

 

 

Subjects and Predicates

54

 

 

Nouns

59

 

 

 

 

 

 

Pronouns

60

 

 

 

 

 

Verbs

70

 

 

 

 

 

 

Modifiers

77

 

 

 

 

 

Function Words

82

 

 

 

4

Phrase Structure Grammar

 

97

 

From the Universal to the Particular

97

 

Phrase–Structure Rules

101

 

 

Tree Diagrams

107

 

 

 

 

Coordination 114

 

 

 

 

Progressive Verb Forms

130

 

 

Perfect Verb Forms 133

 

 

 

Possessives

133

 

 

 

 

Restrictive and Nonrestrictive Modification 134

 

Subordinate Clauses

136

 

 

Complement Clauses

139

 

 

Relative Clauses

142

 

 

 

 

Negatives

152

 

 

 

 

 

Nonfinite Verb Forms

154

 

 

Summary of Phrase–Structure Rules

156

5 Noam Chomsky and Grammar

161

 

The Chomsky Revolution

161

 

 

Deep Structure and Surface Structure

166

 

The Basics of Transformation Rules

169

 

Relative Clause Formation 174

 

 

The Minimalist Program

162

 

 

A Critique of the Minimalist Program

191

6

Cognitive Grammar

 

 

 

197

 

What Is Cognitive Grammar? 197

 

 

Modularity

198

 

 

 

 

Determining Meaning

199

 

 

Cognitive Grammar and Language Acquisition 206
CONTENTS

 

 

vii

7

Dialects

 

 

220

 

What Is a Dialect? 220

 

 

How Do Dialects Develop? 221

 

 

Students and Dialects

224

 

 

Slang 228

 

 

 

 

Development of a Prestige Dialect

230

 

Nonstandard Dialects

230

 

 

Dialects and Education

233

 

 

Black English

236

 

 

 

Chicano English

245

 

 

 

Chicano English Grammar 246

 

 

Chicano English in the Classroom

248

 

Spanglish 250

 

 

 

 

Code Switching

250

 

 

 

References

 

 

254

 

Index

 

 

265

Preface
The Teacher's Grammar Book is designed for students who are preparing to become English or language arts teachers, as well as for credentialed teachers who want to know more about grammar. Most grammar books focus on terminology. Some add a discussion of the connection between grammar and writing. The Teacher's Grammar Book, however, is different. Certainly, it treats terminology thoroughly, but it is far more than just a list of grammar terms. It is not a handbook and was never intended to be one. The Teacher's Grammar Book was designed to offer an easy-to-use guide to teaching methods and grammar and usage questions, a combination that has not been readily available before. In addition, it provides an overview of English grammar that is informed not only by historical developments in the field but also by a variety of pedagogical, research, and philosophical issues that underlie grammar and our efforts to understand grammar, language, writing, and teaching. Out of this wide-ranging exploration emerges the view that a teacher's choice of grammar reflects philosophical and pedagogical orientations that influence both the content and the methods of language arts instruction.
The Teacher's Grammar Book grew out of my experience teaching grammar and composition methods courses to education students since 1981. What I discovered early in my career is that large numbers of prospective teachers do not feel confident about their knowledge of English grammar. They experience a certain degree of anxiety as a result. Most have recognized that they will be required to teach grammar—and they aren't happy about it. Many have had bad experiences with grammar in the past. They "didn't get it," or, sadder still, they "just didn't like it." Nearly all are surprised when, a few weeks into my grammar courses, they discover not only that they are "getting it" but that grammar is
actually fun. The Teacher's Grammar Book aims to take readers on a similar voyage of discovery.
What's New in the Second Edition
The many teachers and students who used the first edition of The Teacher's Grammar Book provided various suggestions over the years intended to make the text better. I've tried to incorporate their suggestions into the second edition as much as possible, and I hope they are happy with the result of this indirect collaboration. In many respects, the finished product is significantly different from the original. The more important changes are:
•A new chapter providing a short history of grammar and its role in education.
•A new chapter on teaching grammar that examines not only the challenges teachers face but also what research, theory, and classroom experience tell us constitutes "best practices."
•A significant reduction in the formalism associated with phrase structure grammar so as to focus more on the descriptive goals of this approach to language analysis.
•A complete revision of the chapter on transformational–generative grammar that significantly reduces the discussion of transformation rules and tree diagrams so as to focus more on other features of this approach, such as its influence on teaching and psychology; also new is a summary of the model—the minimalist program—that Noam Chomsky developed to replace trans- formational–generative grammar.
•A complete revision of the chapter on cognitive grammar that not only makes the discussion more current but also more detailed, addressing how cognitive grammar provides insight into common problems associated with teaching writing, such as creating meaning and errors in language.
•A thorough revision of the chapter on dialects to make it both more current and more detailed; the discussion of Chicano English is significantly expanded, and new in this edition is a brief analysis of Spanglish and an exploration of code switching.
•Also new is the focus on teaching grammar and language as a thread that winds through each chapter, making the text more thoroughly a tool to help teachers meet the challenge of grammar instruction.
Chapter One. The first chapter offers a brief history of grammar in the Western tradition. Although there are some interesting stories to tell about the study of grammar in places like India, China, and the Middle East, they are not very relevant to American public education, based as it is on Greek and Roman models. The goal of this chapter, therefore, is to give readers a sense of the place
grammar has held in Western education since the days of Plato and Aristotle so that they can better understand and appreciate why we expect students to learn something about the English language.
Chapter Two. Chapter 2 explores various approaches to teaching grammar, and in many respects it is central to developing an effective classroom methodology. There are many different ways to teach grammar, and this chapter examines the most common, assessing their strengths and weaknesses with the aim of identifying best practices.
Central to this chapter is the section on grammar and writing. Most teachers and many textbooks, such as Weaver's (1996) Teaching Grammar in Context and Noden's (1999) Image Grammar: Using Grammatical Structures to Teach Writing, advocate teaching grammar in the context of writing. However, few recognize the difficulties and faulty assumptions inherent in this approach as it usually is applied. Emphasizing the linguistic perspective that informs the entire book, this section makes an important distinction between grammar and usage, explaining why most of the sentence errors we see in student writing are not problems of grammar but rather problems of usage. An important feature of The Teacher's Grammar Book are the Usage Notes that appear at key points to explain a wide range of common usage problems. Finally, the chapter examines existing research and explores the most pedagogically sound ways to link grammar and writing.
Chapter Three. Although chapter 2 is important for every English/language arts teacher, chapter 3, "Traditional Grammar," may be even more important because it provides the foundation for actually teaching grammar. The subsequent chapters are built on this foundation, and together they will eliminate any lack of confidence readers may have about their knowledge of grammar. The chapter begins by introducing basic grammatical terms and explaining their role in language study. It does not assume that readers have any significant knowledge of grammar at all so as to create a comfortable space for learning. Taking a standard approach, grammar is divided into two categories of analysis, form and function.
Chapter 3 also builds on the grammar/usage distinction by introducing a fundamental feature of modern language study—appropriateness conditions. Based in part on Hymes' (1971) principles of communicative competence, appropriateness conditions contextualize language use and allow students to understand more thoroughly the factors that make writing different from speech and that enable us to recognize that the language we use when talking with friends over pizza and beer will be different from the language we use during a