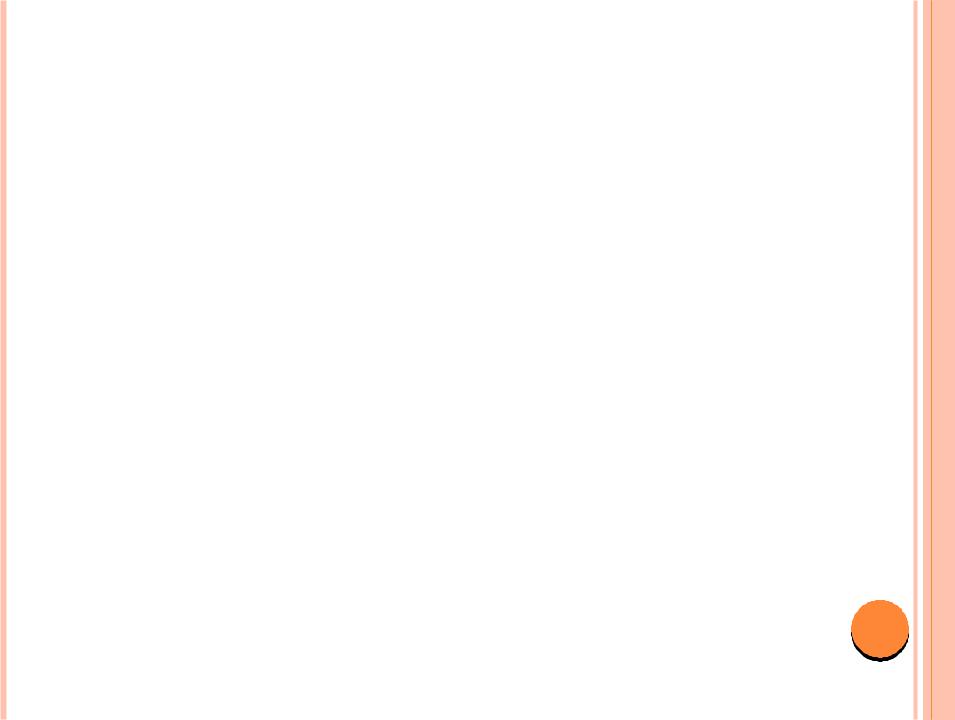 1.

WHAT SORT OF

ENTITY

IS THE PHONEME?

Twaddell (1935)

1) phoneme is a physical reality

"count for practical purposes as if they were one and the same." JONES (1967: 258)

2) it is a psychological notion

a mental or psychological reality

the phoneme is a constant acoustic and auditory image

(Sommerfelt); a thought sound (Beni); a sound idea (Trubetzkoy); a psychological equivalent of an empirical sound (UÓaszyn);

In modern terms:
phoneme is some sort of mental representation

11

 
TWADDELL criticized this mental phenomenon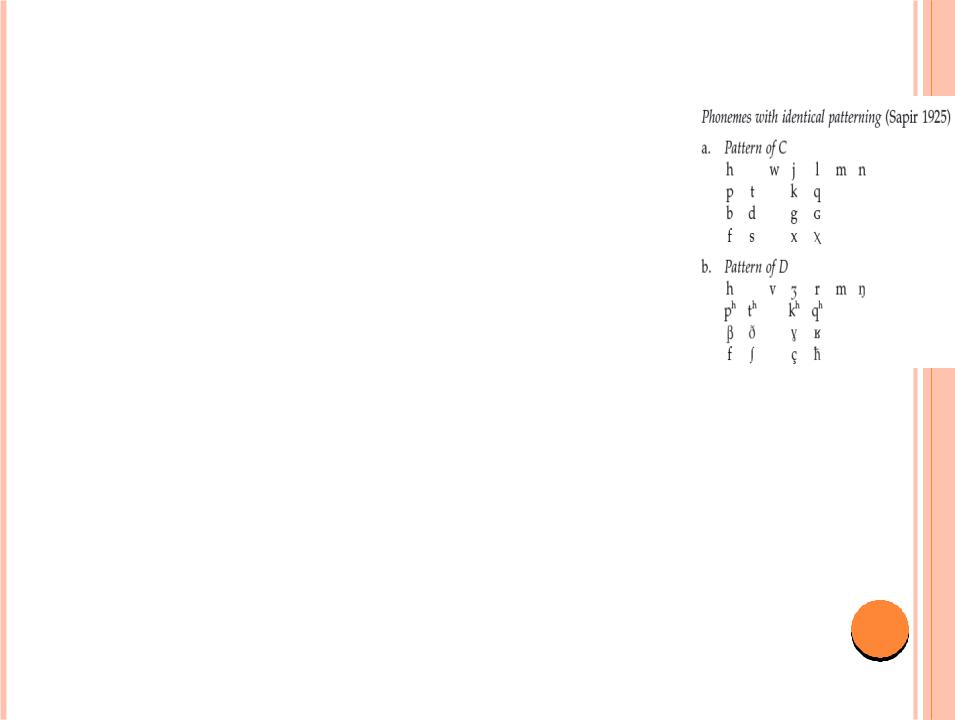 2. WHAT IS THE
CONTENT

OF THE

PHONEME

What are phonemes made of? How are they represented?

what position specific phoneme takes in the

given phonemic system.

Which phoneme is in the opposition to a specific

Sapir (1925, 1933) Sapir's "point in the pattern."

phoneme as a set of contrastively underspecified features

underspecified, in the sense that it consists only of contrastive properties and other features are omitted

This notion further corresponded to the theory of Distinctive feature
| | |
| --- | --- |
| this underspecification theory has been proposed under generative | 12 |
| phonology under the name Modified Contrastive Specification |   |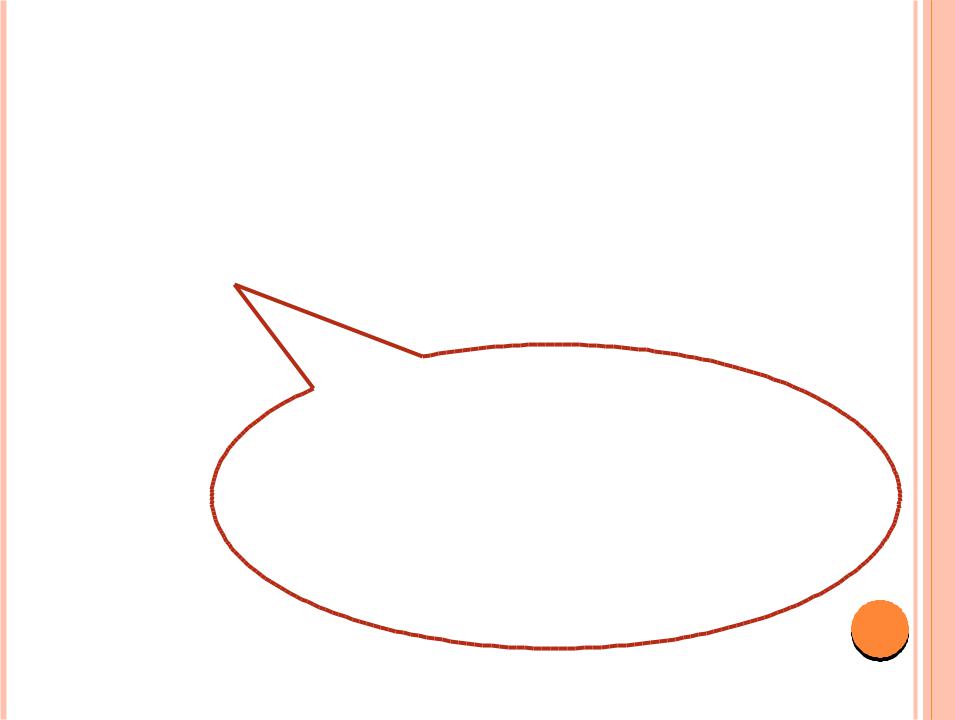 CONTINUE…
Prague School: Phonemic make-up or content
phonemic make-up(Jakobson)
phonemic content of the phoneme (Trubetzkoy)
those properties which are common to all variants of a phoneme
Each phoneme has a definable phonemic content only because the system of distinctive oppositions shows a definite order or structure.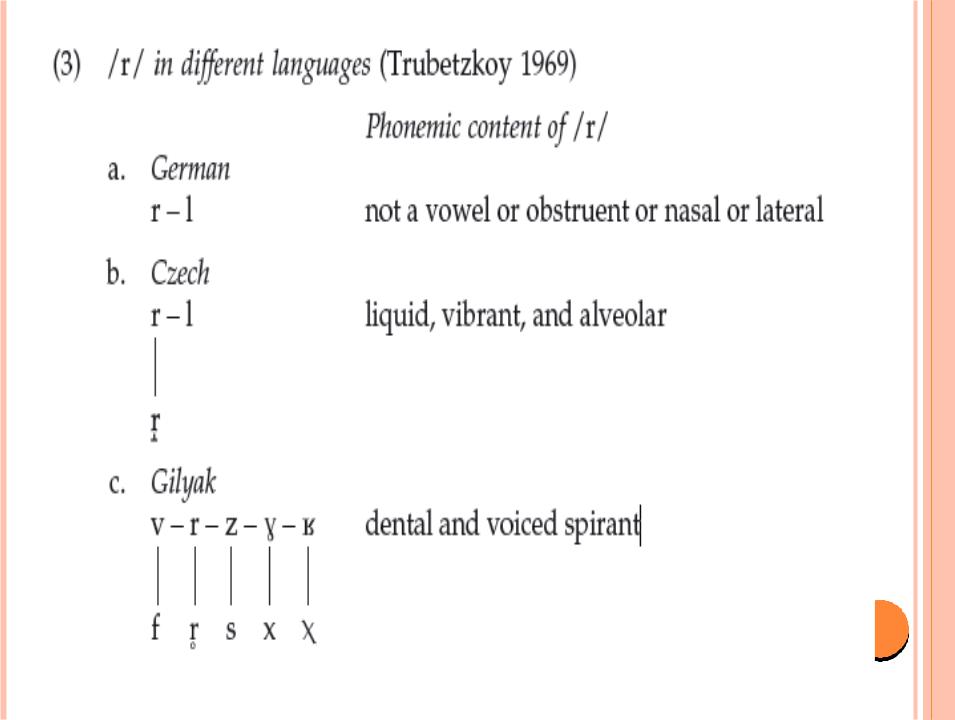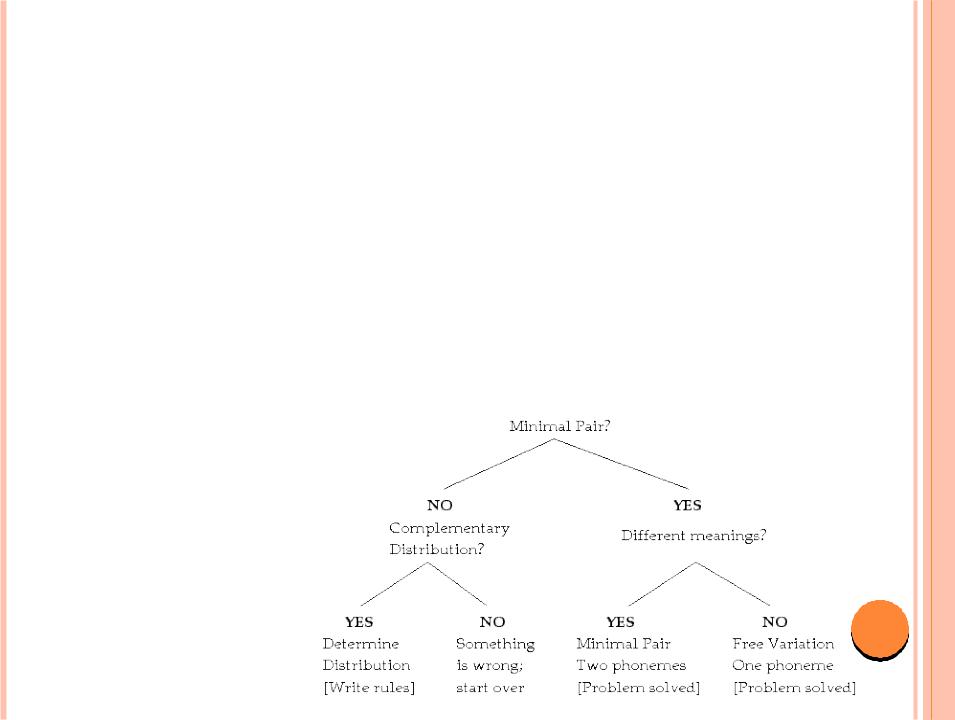 3.

HOW DOES ONE

IDENTIFY

PHONEMES

Practical aspect of phoneme: phonemic analysis

whether a sound is a

single phoneme (/ts/,/nd/, or /oe/)

a sequence of phonemes (/t-s/, /n-d/, or /s-j/).

Minimal pair

Differ in one phonological element (phone, phoneme, toneme or

chroneme )

complementary distribution

Contrastive distribution

Free variation

Mutation methods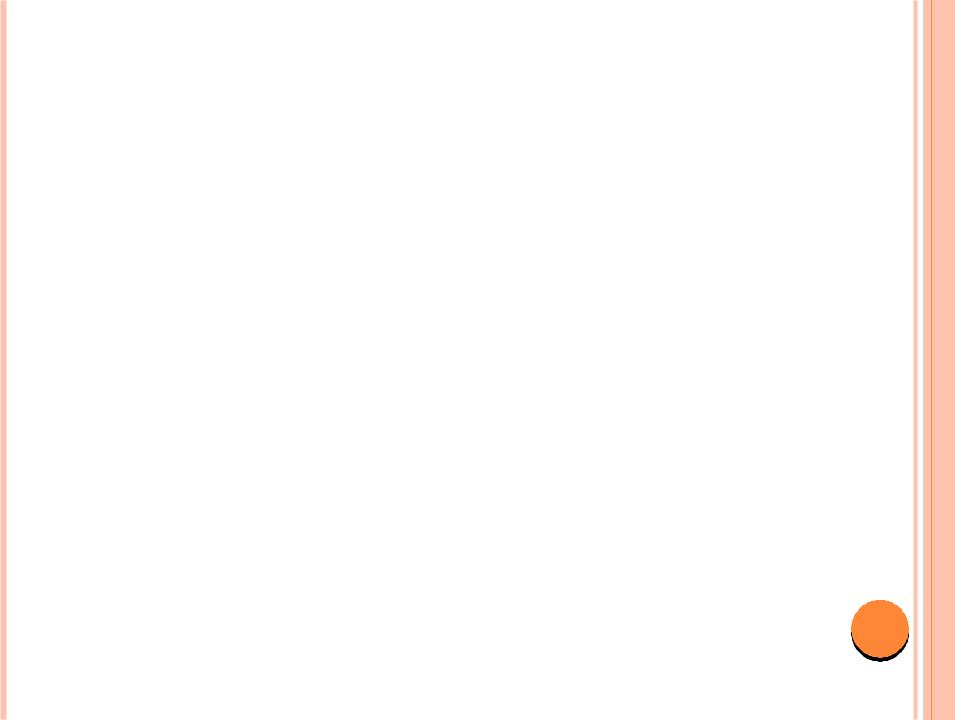 VIEWS OF WHAT THE PHONEME IS
Empiricist notion: Twaddell
the phoneme is a collection of sounds (a fictitious unit )
Mentalist: Chomsky ( realistic view)
the phoneme is the mental category that corresponds to a coherent set of sounds in a language
American structuralist tradition:
a phoneme is defined according to its allophones and environments
generative tradition:

16

a phoneme is defined as a set of distinctive features.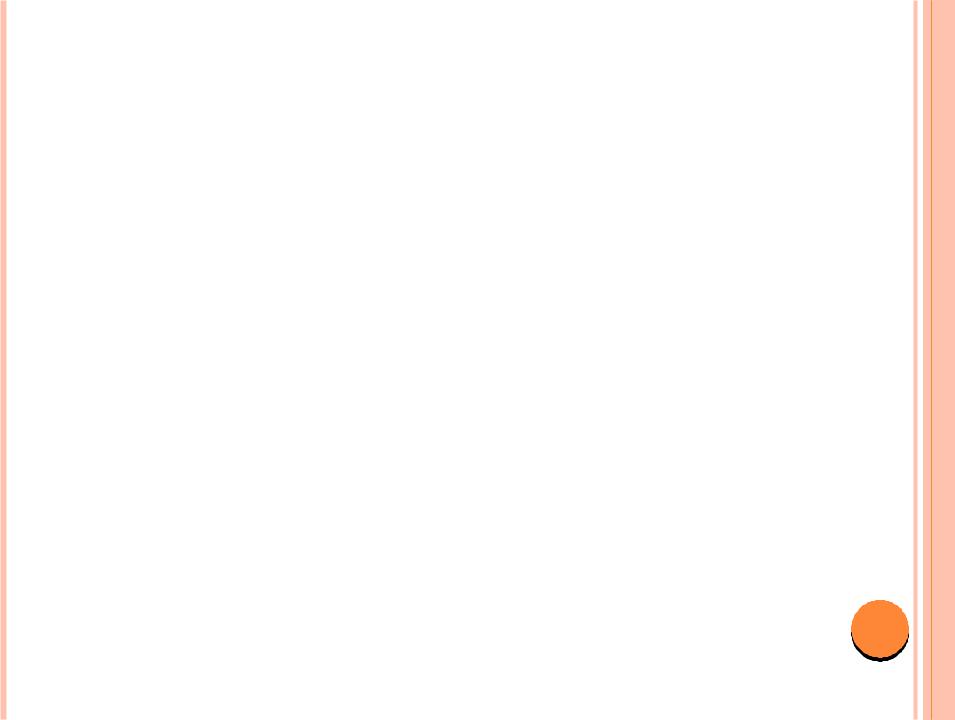 BLOOMFIELD'S PHONEME
"The smallest units which make a difference in meaning"
"A minimum unit of distinctive sound feature" (p. 77).
non-mentalistic unit
He identifies "primary" (segmental sounds) and "secondary" (stress and tone) phonemes according to their function in language (primary: syllable forming; secondary: structuring larger units).
17
Phonemes are defined by their participation in structural sets.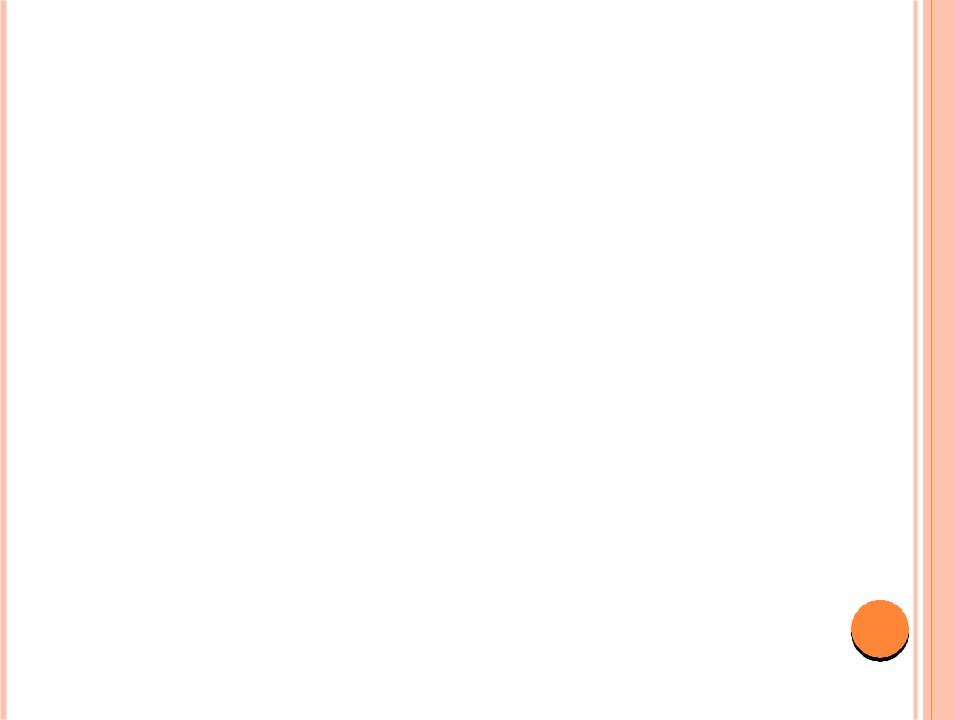 COMMON PHONEMIC RULES
Aspiration [h]
Unreleased Stop [ ̚]
Flap [ɾ]
Dental Consonants [ ]
Velarization [ɫ]
Voicelessness [˚]
Vowel lengthening [׃]
Vowel nasalization [~]
Phonemic Awareness
Phonemic Awareness is a subset of
phonological awareness in which listeners are able to hear, identify and manipulate phonemes, the smallest units of sound that can differentiate meaning.
Separating the spoken word "cat" into three distinct
phonemes,
19
/k/, /æ/, and /t/, requires phonemic awareness skill.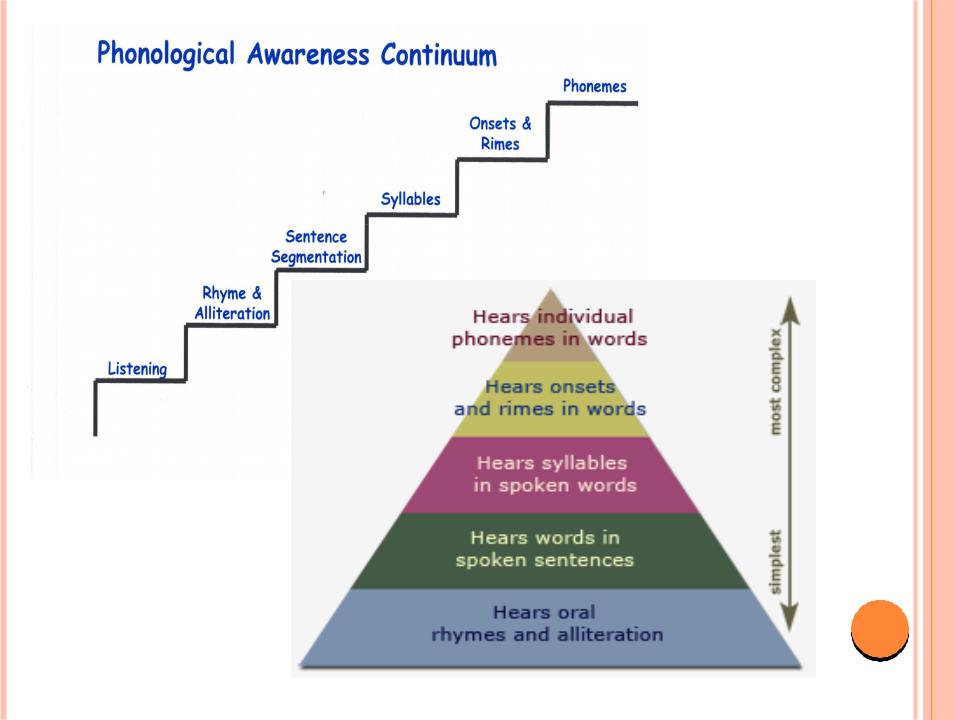 20