Добавил:
Вуз:
Предмет:
Файл:
Dictionary of Military Terms
.pdf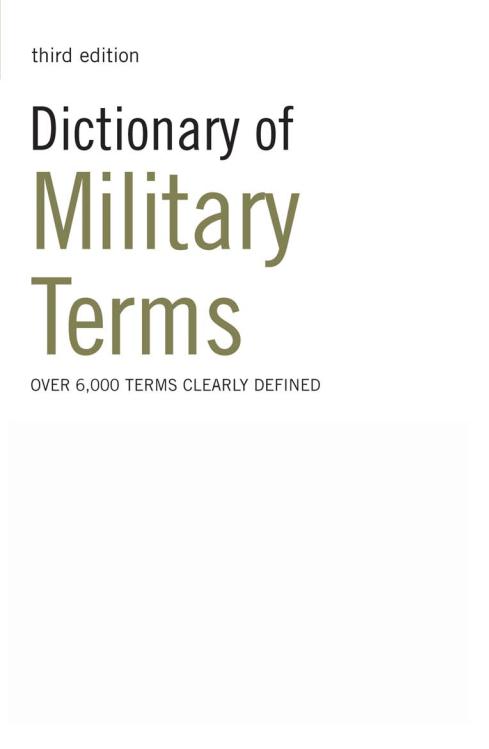 DICTIONARY OF
MILITARY TERMS
THIRD EDITION
Specialist dictionaries

 

Dictionary of Accounting

0 7475 6991 6

Dictionary of Agriculture

0 7136 7778 3

Dictionary of Banking and Finance

0 7136 7739 2

Dictionary of Business

0 7136 7918 2

Dictionary of Computing

0 7475 6622 4

Dictionary of Economics

0 7136 8203 5

Dictionary of Environment and Ecology

0 7475 7201 1

Dictionary of Food Science and Nutrition

0 7136 7784 8

Dictionary of Human Resources and Personnel Management

0 7136 8142 X

Dictionary of ICT

0 7475 6990 8

Dictionary of Information and Library Management

0 7136 7591 8

Dictionary of Law

0 7475 6636 4

Dictionary of Leisure, Travel and Tourism

0 7475 7222 4

Dictionary of Marketing

0 7475 6621 6

Dictionary of Media Studies

0 7136 7593 4

Dictionary of Medical Terms

0 7136 7603 5

Dictionary of Nursing

0 7475 6634 8

Dictionary of Politics and Government

0 7475 7220 8

Dictionary of Publishing and Printing

0 7136 7589 6

Dictionary of Science and Technology

0 7475 6620 8

Dictionary of Sport and Exercise Science

0 7136 7785 6

Easier English™ titles

 

Easier English Basic Dictionary

0 7475 6644 5

Easier English Basic Synonyms

0 7475 6979 7

Easier English Intermediate Dictionary

0 7475 6989 4

Easier English Student Dictionary

0 7475 6624 0

Check Your English Vocabulary workbooks

Academic English

0 7475 6691 7

Business and Administration

0 7136 7916 6

Human Resources

0 7475 6997 5

IELTS

0 7136 7604 3

Law

0 7136 7592 6

Living in the UK

0 7136 7914 X

Medicine

0 7136 7590 X

PET

0 7475 6627 5

Phrasal Verbs and Idioms

0 7136 7805 4

TOEFL

0 7475 6984 3

TOEIC

0 7136 7508 X
Visit our website for full details of all our books: www.acblack.com
DICTIONARY OF
MILITARY TERMS
THIRD EDITION
Richard Bowyer
Originally published in 1999 by
Peter Collin Publishing
Second edition published 2002
Third edition published 2004 by Bloomsbury Publishing Plc
Reprinted 2007 by A&C Black Publishers Ltd
38 Soho Square, London W1D 3HB
Copyright © Richard Bowyer 1999, 2002, 2004
Copyright © A&C Black and Richard Bowyer 2007
All rights reserved. No part of this publication may be reproduced in any form or by any means without the prior written permission of the publishers.
A CIP record for this book is available from the British Library
eISBN-13: 978-1-4081-0210-7
Text Production and Proofreading
Katy McAdam, Heather Bateman, Stephen Curtis, Emma Harris
This book is produced using paper that is made from wood grown in managed, sustainable forests. It is natural, renewable and recyclable. The logging and manufacturing processes conform to the environmental regulations of the country of origin.
Text processed and typeset by A&C Black
Printed in Spain by GraphyCems
Preface
English is the language most frequently used in international military and peacekeeping operations. This dictionary aims to provide a basic vocabulary of British and American terms relating to the three services, and covers subjects such as rank, organization, training, operations in the field, logistics, radio communications, and some of the more common weapons and equipment currently in use. In addition, there are selected items of general vocabulary relating to geography, terrain, weather, medical treatment and other relevant matters. New terms used by the media in reporting on recent conflicts are also included, making this an ideal reference source for anyone involved in teaching English to the military or armed police forces.
Definitions are written in simple English, making them easily accessible to anyone with a basic knowledge of the language, and phonetic symbols are used to show the correct pronunciation. Encyclopedic comments are provided where necessary and most entries include example sentences, showing how the words and expressions are used in practice.
At the back of the book is a supplement of further useful information on topics such as ranks, the phonetic alphabet, formal orders, and military grouping symbols.
Pronunciation
The following symbols have been used to show the pronunciation of the main words in the dictionary.
Stress is indicated by a main stress mark ( ) and a secondary stress mark ( ) . Note that these are only guides, as the stress of the word changes according to its position in the sentence.
| | | | |
| --- | --- | --- | --- |
| Vowels |   | Consonants |   |
|   | back | b | buck |
| ɑ | harm | d | dead |
| ɒ | stop | ð | other |
| a | type | d | jump |
| aυ | how | f | fare |
| a ə | hire |   | gold |
| aυə | hour | h | head |
| ɔ | course | j | yellow |
| ɔ | annoy | k | cab |
| e | head | l | leave |
| eə | fair | m | mix |
| e | make | n | nil |
| eυ | go | ŋ | sing |
|   | word | p | print |
| i | keep | r | rest |
| i | happy | s | save |
| ə | about | ʃ | shop |
|   | fit | t | take |
| ə | near | tʃ | change |
| u | annual | θ | theft |
| u | pool | v | value |
| υ | book | w | work |
| υə | tour | x | loch |
| ' | shut |   | measure |
|   |   | z | zone |

A1 Echelon / e wɒn eʃəlɒn/ noun combat supplies
A2 Echelon / e tu eʃəlɒn/ noun rations, spares, clothing, etc.
A-4 / e fɔ / noun an American-de- signed multirole attack aircraft, designed to operate from an aircraft carrier. Also called Skyhawk (NOTE: The plural is A-4s / e fɔ z/.)
A-6 / e s ks/ noun an American-de- signed ground-attack aircraft, designed to operate from an aircraft carrier. Also
called Intruder (NOTE: The plural is A- 6s / e s ks z/.)
A-7 / e sevən/ noun an American-de- signed ground-attack aircraft. Also
called Corsair (NOTE: The plural is A- 7s / e sevənz/.)
A-10 / e ten/ noun an American-de- signed ground-attack aircraft. Also called Thunderbolt, Warthog, Tank-
buster (NOTE: The plural is A-10s / etenz/.)
A-40 / e fɔ ti/ noun a Soviet-de- signed airborne early warning and control (AEW & C) aircraft with a large disc-like antenna (radome) mounted on the fuselage (NOTE: known to NATO as
Mainstay)
AA abbreviation anti-aircraft
AAA abbreviation anti-aircraft artillery
AAAV / e e e vi / noun an Ameri- can-designed amphibious infantry fighting vehicle (IFV), which is designed to disembark from a landing ship at a considerable distance from the shore and is capable of travelling on water at high speed. Full form advanced amphibious assault vehicle
AAC abbreviation Army Air Corps
AAM abbreviation air-to-air missile
AAR / e e ɑ / noun US the debriefing held at the conclusion of an exercise, in which the participants discuss their performance with the umpires. Full form after action review
Aardvark / ɑ dvɑ k/ noun an unofficial name for the American-designed F- 111 fighter bomber
AAV-7A1 / e e vi sevən e w n/ noun an American-designed amphibious tractor. Full form amphibious assault vehicle seven. Also called
Landing Vehicle Tracked Personnel (LVTP)
AAW abbreviation anti-air warfare
AAWS abbreviation anti-air warfare system
AB abbreviation able rating abandon /ə b ndən/ verb 1. to leave a vehicle or ship (usually for reasons of safety) The captain gave the order to abandon ship. 2. to leave behind We had to abandon large quantities of ammunition during the retreat. 3. to terminate an enterprise before it has been completed Poor visibility forced us to abandon the remainder of patrol. abort
abandoned /ə b ndənd/ adjective deserted We found the enemy trenches abandoned.
abatis / bət s, ə b t s/ noun an obstacle constructed by felling trees to block a likely approach The road was blocked by an abatis.
Abbot / bət/ noun a British 105mm self-propelled howitzer (SPH)
ABCCC / e bi si si si / noun US a command team operating from a C-130 aircraft, in order to coordinate close air

support. Full form airborne command, control and communications
abeam /ə bi m/ adverb at right angles to the length of a ship or aircraft The torpedo missed because we weren't properly abeam of the target.
able rating / e b(ə)l re t ŋ/ noun the lowest non-commissioned rank in the navy (equivalent of an experienced or well-qualified private soldier in the army). Also called able seaman. Abbr
AB (NOTE: The ranks of ordinary rating and junior rating were abolished in April 1999)
ablutions /ə blu ʃ(ə)nz/ plural noun a room or building containing washing facilities and toilets The ablutions were in a filthy state.
aboard /ə bɔ d/ adverb on or onto a boat or ship or aircraft or vehicle He is already aboard. Come aboard. Also called on board
abode /ə bəυd/ noun a home
abort /ə bɔ t/ verb to stop an enterprise before it has been completed We were forced to abort the mission. abandon
abortive /ə bɔ t v/ adjective unsuccessful The enemy launched several abortive attacks.
about /ə baυt/ adverb the opposite direction to that which you are now facingabout turn! turn around and face the opposite direction (drill command)
Abrams / e brəmz/ noun an American 1980s-era main battle tank abreast /ə brest/ adverb side by side and facing the same direction The infantry advanced in line abreast. The tanks halted abreast of each other.
abseil / bse l/ verb to descend, using a rope We had to abseil down the cliff.
rappel
absent / bsənt/ adjective away from a military unit (usually without permission) He's been absent for three days.
AWOL
absent without leave / bsənt wðaυt li v/ adjective full form of AWOL
AB triple C / e bi tr p(ə)l si / noun same as ABCCC
AC / e si / abbreviation aircraftman noun a type of blood agent. Full form hydrogen cyanide. Also called HCN
A/C abbreviation aircraft
AC-130 / e si w n θ$ t / noun a ground-attack variant of the Hercules C-130 transport aircraft
COMMENT: Despite its age and oldfashioned appearance, the AC-130 possesses an enormous amount of firepower and earned itself a fearsome reputation during the Gulf War of 1991. Its slow speed makes it vulnerable to surface-to-air missiles, so it is most effective at night. AC-130 aircraft are often referred to as gunships.
ACC / e si si / noun US the department of the US forces with overall responsibility for the use of all combat aircraft of the US Air Force. Full form
Air Combat Command
COMMENT: Air Combat Command is an amalgamation of the former Strategic Air Command (SAC) which was responsible for heavy longrange bombers and ICBMs and the former Tactical Air Command (TAC) which was responsible for fighters and attack aircraft. Inter-con- tinental ballistic missiles are now the responsibility of Strategic Command (STRATCOM).
access / kses/ noun 1. a way of approaching or entering Access to the building is at the rear. 2. an opportunity to look at or use I need access to the company records. verb to activate a programme or open a file on a computer
I cannot access the database. (NOTE: As a noun, access is often used without the definite or indefinite article.) accessible /ək ses b(ə)l/ adjective 1. approachable The castle is only accessible in good weather. 2. readily available That information is not accessible at the moment.
accident / ks d(ə)nt/ noun 1. physical harm or damage as a result of an error in judgement, defective equipment or bad luck There has been an accident on the grenade range. 2. an event which occurs by chance or without apparent cause He was there purely by accident.

accidental / ks dent(ə)l/ adjective happening by chance or as a result of an error in judgement or defective equipment There will be an official enquiry over the accidental shooting of Sgt Jones.
accidental discharge
/ ks dent(ə)l d stʃɑ d%/ noun same as negligent discharge
accidentally / ks dent(ə)li/ adverb by accident He shot the woman accidentally.
acclimatization /ə kla mətaze ʃ(ə)n/, acclimatisation noun the process of becoming acclimatized acclimatize /ə kla məta z/, acclimatise verb 1. to allow someone to become accustomed to new conditions (especially climate) We will need at least ten days to acclimatize the troops to the heat. 2. to become accustomed to new conditions The men will need at least ten days to acclimatize. accommodate /ə kɒməde t/ verb to provide shelter We were accommodated in a factory.
accommodation /ə kɒmə de ʃ(ə)n/ noun 1. a place to live The officer inspected the soldiers' accommodation.
2. an act of providing shelter You are responsible for the accommodation of refugees.
accomplice /ə k mpl s/ noun someone who helps another person to carry out an illegal act The gunman had an accomplice.
accomplish /ə k mpl ʃ/ verb to complete a task successfully accoutrements /ə ku trəmənts/ plural noun a soldier's equipment, not including clothing or weapons accusation / kju ze ʃ(ə)n/ noun an act of saying that a person has carried out an illegal act He has made an accusation of sabotage against you.
accuse /ə kju z/ verb to say that a person has carried out an illegal act
He was accused of war crimes.
ACE abbreviation 1. Allied Command Europe 2. armoured combat earthmover
acetate / s te t/ noun clear plastic sheeting, used for map overlays
achieve /ə tʃi v/ verb to complete a task successfully We have achieved our mission. to achieve a solution to have a target in the sights of a guided weapon, with the guidance system activated He achieved a solution on the leading plane. lock-on achievement /ə tʃi vmənt/ noun a successful completion of a task It was a great military achievement.
acknowledge /ək nɒl d%/ verb 1. to confirm that a piece of information has been received and understood 2. to recognize that something is true
acknowledgement /əknɒl d%mənt/ noun 1. confirmation that
a piece of information has been received and understood 2. recognition that something is true
ACLANT abbreviation Allied Command Atlantic
ACMI / e si em a , km / noun a computerized data system, which is used during air-to-air combat exercises to provide exercise controllers with information concerning an individual aircraft's speed, altitude, heading, etc.
Each aircraft was fitted with an ACMI pod. Full form air combat manoeuvring and instrumentation
ACP abbreviation ammunition control point
acquire /ə kwa ə/ verb 1. to obtain something Where did you acquire that food? 2. to have a target in the sights of a weapon He acquired the tank with his thermal imaging sight. 3. to select and lock onto a target using a weaponguidance system This missile can acquire a target automatically.
acquired immunodeficiency syndrome /ə kwa əd mjυnəυdf ʃ(ə)nsi s ndrəυm/ noun full form of
AIDS
acquisition / kw z ʃ(ə)n/ noun an act of acquiring He is responsible for the acquisition of food from local sources.
acquisition logistics / kwz ʃ(ə)n lə d% st ks/ noun the logistics