Добавил:
Upload
Опубликованный материал нарушает ваши авторские права? Сообщите нам.
Вуз:
Предмет:
Файл:
Anglysky_Yazyk_Dlya_Studentov_Universitetov_Cht.
...doc
Lesson 7 meals and cooking
Introductory reading and talk
Living in Russia one cannot but stick to a Russian diet. Keeping this diet for an Englishman is fatal. The Russians have meals four times a day and their cuisine is quite intricate.
Every person starts his or her day with breakfast. Poor English­men are sentenced to either a continental or an English breakfast. From the Russian point of view, when one has it continental it ac­tually means that one has no breakfast at all, because it means drinking a cup of coffee and eating a bun. A month of continental breakfasts for some Russians would mean starving. The English breakfast is a bit better, as it consists of one or two fried eggs, grilled sausages, bacon, tomatoes and mushrooms. The English have tea with milk and toast with butter and marmalade. As a choice one may have corn flakes with milk and sugar or porridge.
In Russia people may have anything for breakfast. Some good-humoured individuals even prefer soup, but, of course, sandwiches and coffee are very popular. One can easily understand that in Great Britain by one o'clock people are very much ready for lunch. Lunch is the biggest meal of the day. That would be music for a Russian's ears until he or she learns what lunch really consists of. It may be a meat or fish course with soft drinks followed by a sweet course.
The heart of a Russian person fills with joy when the hands of the clock approach three o'clock. His or her dinner includes three courses. A Russian will have a starter (salad, herring, cheese, etc.), soup, steaks, chops, or fish fillets with garnish, a lot of bread, of course, and something to drink. The more the better. At four or five the Russians may have a bite: waffles, cakes with juice, tea, cocoa, or something of the kind.
In Great Britain they have dinner at five or six. Soup may be served then, but one should not be misled by the word "soup". British soup is just thin paste and a portion is three times smaller than in Russia. A lot of British prefer to eat out. "Fish and Chips" shops are very popular with their take-away food. The more sophisticated public goes to Chinese, Italian, seafood or other restaurants and ex­periments with shrimp, inedible vegetables and hot drinks.
Supper in Russia means one more big meal at seven. The table groans with food again. In England it is just a small snack — a glass of milk with biscuits at ten.
Most Russians have never counted calories and they are deeply convinced that their food is healthy. Some housewives may admit that it takes some time to prepare all the stuff, including pickles, home-made preserves and traditional Russian pies and pancakes. But they don't seem to mind too much and boil, fry, roast, grill, broil, bake and make. Paraphrasing a famous proverb one can say:
'What is a Russian man's meat is a British man's poison'*.
* What is one man's meat is another man's poison — Что русскому хорошо, то немцу — смерть (поcл.).
1. Say when you have meals and what you like to eat and drink for breakfast, dinner and supper.
2. Say what you dislike for breakfast, dinner and supper.
3. Say what they serve in the refectory at your university and what you usually choose.
4. Say what you can cook in five minutes.
5. Look of the pictures and say what food is typically English and typically Russian.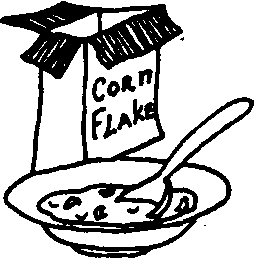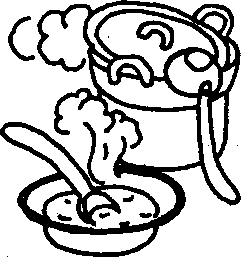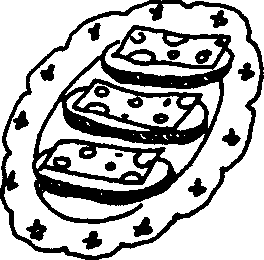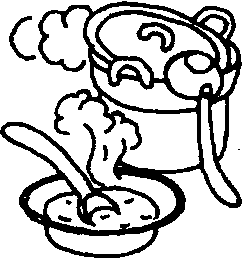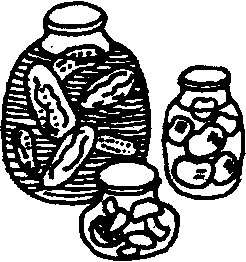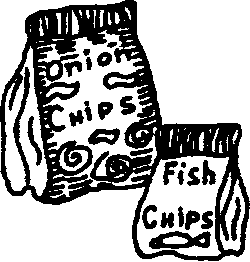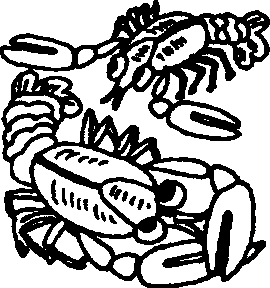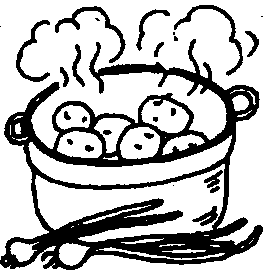 ○ TEXT
The Three Fat Women of Antibes
(Extract from the story by S. Maugham. Abridged)
One was called Mrs. Richman and she was a widow. The second was called Mrs. Sutcliffe; she was American and she had. divorced two husbands. The third was called Miss Hickson and she was a spinster.
They were great friends, Miss Hickson, Mrs. Richman and Ar­row Sutcliffe. It was their fat that had brought them together' and bridge that had cemented their alliance. They would have been in­dependent of anyone else if they had not needed a fourth at bridge.2 It was for this reason that Frank* invited Lena Finch to come and stay with them at Antibes. They were spending some weeks there on Frank's suggestion. She proposed then that they should take a house at Antibes, where they could get plenty of exercise — everyone knew that nothing slimmed you like swimming. With a cook of their own they could at least avoid things that were obviously fattening. The plan worked very well.
* Frank — Frances Hickson
But the fourth at bridge continued to be the difficulty. One morning when they were sitting in pyjamas on the terrace, drin­king their tea (without milk or sugar), Frank looked up from the let­ters.
'Lena Finch is coming down to the Riviera,' she said. 'What about asking her to come here for a fortnight?'
'Does she play bridge?' asked Beatrice*.
* Beatrice — Mis. Richman
'You bet your life she does,'3 boomed Frank in her deep voice. 'And a damned good game too. We should be absolutely independ­ent of outsiders.'4
It was settled. And three days later Lena Finch arrived. Frank met her at the station. She was in deep mourning for the recent death of her husband. Lena was not, however, unduly depressed. Frank introduced the stranger to her two friends and they sat down in what was known as the Monkey House. It was crowded with chattering people, who were seated at the tables having drinks. The conversation was gay and easy, and presently they strolled back to the villa for luncheon.
In each napkin were two little antifat rusks. Lena gave a bright smile as she put them by the side of her plate.
'May I have some bread?' she asked.
The grossest indecency would not have fallen on the ears of those three women.5 Not one of them had eaten bread for ten years.
Frank, the good hostess, recovered herself first.
'Of course, darling,' she said and turning to the butler asked him to bring some.
'And some butter,' said Lena in that pleasant easy way of hers.
There was a moment's embarrassed silence.
'I don't know if there's any in the house,' said Frank, 'but I'll inquire'.
The butler brought a long crisp roll of French bread. Lena slit it in two and plastered it with the butter, which was miraculously pro­duced.6
A grilled sole was served. The rest of the luncheon consisted of lamb cutlets, with the fat carefully removed, and spinach boiled in water, with stewed pears to end up with, Lena tasted her pears and gave the butler a look of inquiry. That resourceful man understood her at once and though powdered sugar had never been served at that table before handed her without a moment's hesitation a bowl of it. She helped herself liberally.7 The other three pretended not to notice. Coffee was served and Lena took three lumps of sugar in hers.
'You have a very sweet tooth,' said Arrow in a tone which she struggled to keep friendly.8
But human nature is weak. You must not ask too much of it. They ate grilled fish while Lena ate macaroni sizzling with cheese and butter; they ate grilled cutlets and boiled spinach while Lena ate pate de foie gras;9 twice a week they ate hard-boiled eggs and raw tomatoes, while Lena ate peas swimming in cream and potatoes cooked in all sorts of delicious ways. The chef was a good chef and he leapt at the opportunity afforded him10 to send up one dish more rich, tasty and succulent than the other.
The butler disclosed the fact11 that he could make half a dozen kinds of cocktail and Lena informed them that the doctor recom­mended her to drink burgundy at luncheon and champagne at din­ner. The three fat women persevered.
Lena was going to stay with friends on the Italian Riviera and Frank saw her off by the same train as that by which she had arrived. When she turned away from the departing train she heaved such a vast sigh of relief12 that the platform shook beneath her.
She passed through the Monkey House, looking about her to say Good morning to anyone she knew, and then stopped dead still.13 Beatrice was sitting at one of the tables, by herself.
'Beatrice, what are you doing?' she cried in her deep voice. Beatrice looked at her coolly.
'Eating,' she answered.
In front of Beatrice was a plate of croissants14 and a plate of butter, a pot of strawberry jam, coffee and a jug of cream. Beatrice was spreading butter thick on the delicious hot bread, covering this with jam, and then pouring the thick cream overall.
The tears welled up to Frank's eyes. Suddenly she felt very weak and womanly. Speechless she sank down on a chair by Beatrice's side. A waiter came up. With a pathetic gesture she waved towards the coffee and croissants.
'I'll have the same,' she sighed. In a moment the waiter brought her croissants, butter, jam and coffee.
'Where's the cream, you fool?' she roared like a lioness.
She began to eat. She ate gluttonously. The place was beginning to fill up with bathers. Presently Arrow strolled along. On her way she caught sight of Frank and Beatrice. She stopped. She could hardly believe her eyes.
'My God!' she cried. 'You beasts. You hogs.'
She seized a chair. 'Waiter.' In the twinkling of an eye the waiter was at her side.
'Bring me what these ladies are having,' she ordered.
Frank lifted her great heavy head from her plate.
'Bring me some pate de foie gras,' she boomed.
The coffee was brought and the hot rolls and cream and the pate de foie gras. They spread the cream on the pate and they ate it. They devoured great spoonfuls of jam. They crunched the delicious crisp bread voluptuously. They ate with solemn, ecstatic fervour.
'I haven't eaten potatoes for twenty-five years,' said Frank in a far-off brooding tone.
'Waiter,' cried Beatrice, 'bring fried potatoes for three.' The po­tatoes were brought. They ate them with their fingers.
'Bring me a dry Martini,' said Arrow.
'Bring me a double dry Martini,' said Frank.
'Bring three double dry Martinis,' said Beatrice.
They were brought and drunk at a gulp.
'I wonder if they've got any chocolate eclaires,' said Beatrice.
'Of course they have.'
And of course they had. Frank thrust one whole into her huge mouth, swallowed it and seized another, but before she ate it she looked at the other two and plunged a vindictive dagger into the heart of the monstrous Lena.15
'You can say what you like, but the troth is she played a damned rotten game of bridge, really.'
'Lousy,' agreed Arrow.
But Beatrice suddenly thought she would like a meringue.
Proper Names
Antibes ['ti:b] (French) — Антиб
Somerset Maugham ['smst 'mm] — Сомерсет Моэм
Beatrice Richman [btrs 'rmn] — Беатрис Ричмен
Arrow Sutcliffe ['r 'stklf] —Эрроу Сатклифф
Frances Hickson ['frnss 'hksn] — Фрэнсис Хиксон
Lena Finch ['li:n fn] — Лина Финч
Riviera [,rv'еr] — Ривьера
Martini [m'ti:n] — мартини (Прим.: коктейль из джина, вермута и горькой настойки)