Добавил:
Upload
Опубликованный материал нарушает ваши авторские права? Сообщите нам.
Вуз:
Предмет:
Файл:
The_Economist_-_September_12_2015
.pdf
The Economist September 12th 2015
2 and the rest of the Kanto region of eastern Japan. Mobsters in the port cities of Kobe and Osaka were left with slimmer pickings as industry declined.
Kodo-kai also fell out with the police. Rather than co-operating with the cops, as other factions do, it started intimidating them. The gang has many ethnic Koreans as members. That makes it harder for it to rub along with a xenophobic police, says Jake Adelstein, an American expert on the yakuza. The police appear even to be helping the breakaway group, which will call itself the Kobe Yamaguchi-gumi.
Many Japanese dare to hope that the split is a sign that the yakuza are diminishing in power and influence. They are a source of a certain embarrassment, and America, in particular, has been critical of their semi-tolerated status. A national antimob law passed in 1992 achieved little until it was tightened recently. And since 2009 local governments have enacted organ- ised-crime exclusion ordinances, making it illegal for businesses to pay extortion money to the yakuza or do business with them. These ordinances are having an e ect.
Still, signs of strong yakuza presence throughout the economy surface regularly. Tokyo's Olympic games in 2020—with construction projects and pleasure-seeking visitors—is a tempting honeypot. In the Diet there have been questions about a possible link between Mr Tsukasa and the vice-president of Japan's Olympic Committee. In October 2013 the financial watchdog caught a part of Mizuho, a huge banking group, lending generously to yakuza. Mobsters have long been involved in finding lowly workers for nuclear-power plants, including for the clean-up at the Fukushima Dai-ichi plant, the site of the 2011 nuclear disaster.
Curiously, yakuza see themselves as victims. They complain of growing social discrimination against their members and bemoan the bullying of their children at school. Perhaps to garner popularity, they are even trying to take advantage of growing sentiment against the prime minister, Shinzo Abe. The Yamaguchi-gumi's website warns that under Mr Abe, a right-wing- er with revisionist views of Japan's militarist aggression, the country risks heading back to pre-second world war thinking. It is a new line from a force that used to help Mr Abe's Liberal Democratic Party (LDP) quash unions and left-wing demonstrators in the 1950s and 1960s.
Back then the LDP used openly to get money from yakuza bosses. The ties are no longer overt, says Kenji Ino, an author on the gangs, but there are behind-the-scenes connections. Many a politician, he says, still attends monthly dinners in honour of the local yakuza boss in some discreet, high-class ryotei restaurant. It is not clear whether such time-honoured rituals will now su er a brief period of disruption. 7
The Pacific Islands Forum
Australasia feels the heat
WELLINGTON
Low-lying islands take the moral high ground
AUSTRALIA and New Zealand have never found it easy to corral Pacific-island leaders into supporting their initiatives. It is getting harder. Pacific politicians are no longer so dependent on aid from their rich neighbours, and they have greater capacity to embarrass them on issues such as climate change, fisheries policy and support for secessionists in West Papua, in eastern Indonesia. These all loomed large at the summit of the Pacific Islands Forum (PIF) held in Port Moresby, capital of Papua New
Guinea (PNG), from September 7th to 11th. It was attended by both Australia's
prime minister, Tony Abbott, and New Zealand's, John Key. They were probably relieved not to be joined by Frank Bainimarama, the former military commander who led a coup in Fiji in 2006. Fiji was suspended from the forum in 2009, but readmitted after Mr Bainimarama won a general election last year. Some of his o - cials attended, but he himself is boycotting PIF meetings until the forum is reformed— and Australia and New Zealand are expelled. Other Pacific nations are less strident. But they too want to reshape the PIF's agenda, particularly on climate change.
Mr Bainimarama has launched a rival group, the Pacific Island Development Forum, which held its third annual meeting in Fiji from September 2nd to 4th. The resultant communiqué endorsed the goal of keeping global average temperatures no
Australia: our world—until yesterday
Asia 55
more than 1.5˚Celsius above pre-industrial levels (the existing goal agreed among developed countries is 2˚). It is part of a strategy of "deep decarbonisation" that Mr Bainimarama hopes to take to the UN's cli- mate-change conference to be held in Paris in December. Tony De Brum, the Marshall Islands' foreign minister, says Australia's proposed 26-28% cut in emissions from 2005 levels is far too low to stop the atoll states from disappearing beneath the waves. He wants much bolder targets. Anote Tong, president of Kiribati, said that island leaders might ask Australia to leave the PIF; or they might stage a walkout if it refuses to sign up to the 1.5˚ target.
Australia's moral authority in the region has been dented. It has cut its foreignaid budget and disbanded its specialised aid agency, AusAID, with greater aid emphasis now on Australia's commercial interests. And the shunting of Australia's unwanted refugees to "O shore Processing Centres" on Nauru and in PNG has looked mean-minded, despite sweeteners such as refurbished hospitals, roads and local jobs for the host countries.
On tiny Nauru, with a population of only 10,000, the refugee centres have supplanted phosphates as the biggest source of earnings. Electoral self-interest means no politician dares oppose the centres. Nauru's politics are troubled. An authoritarian government, led by Baron Waqa, has removed most opposition MPs from parliament. One MP, Roland Kun, has had his passport seized and been prevented from rejoining his family in New Zealand. The Australian government has refrained from criticising its island ally. But, in a rare Pacif- ic-policy split with Australia, New Zealand suspended its aid to Nauru's judicial sector in early September.
Unlike Nauru, Papua New Guinea, which, with 7.2m people is the largest Pacific Island state, has other sources of foreign exchange, including a $19 billion ExxonMobil liquefied-natural-gas project. But PNG's politicians are more likely to turn on the unpopular detention centre on Manus island. Relations with Australia are often frosty. In July the prime minister, Peter O'Neill, announced a ban on foreign (mostly Australian) consultants. Then PNG stopped Australian vegetable imports.
New donors, such as Indonesia and, most noticeably, China, are o ering money to the island states. So island leaders have greater leeway to pursue independent foreign policies. But that too generates its own challenges. It is harder, for example, for regional groups such as the PIF to adopt a coherent policy towards pro-independence activists in Indonesian-ruled West Papua. Many Melanesians have instinctive sympathy for the freedom-fighters. But they are much less willing to antagonise Indonesia than to tell Australia and New Zealand to mind their own business. 7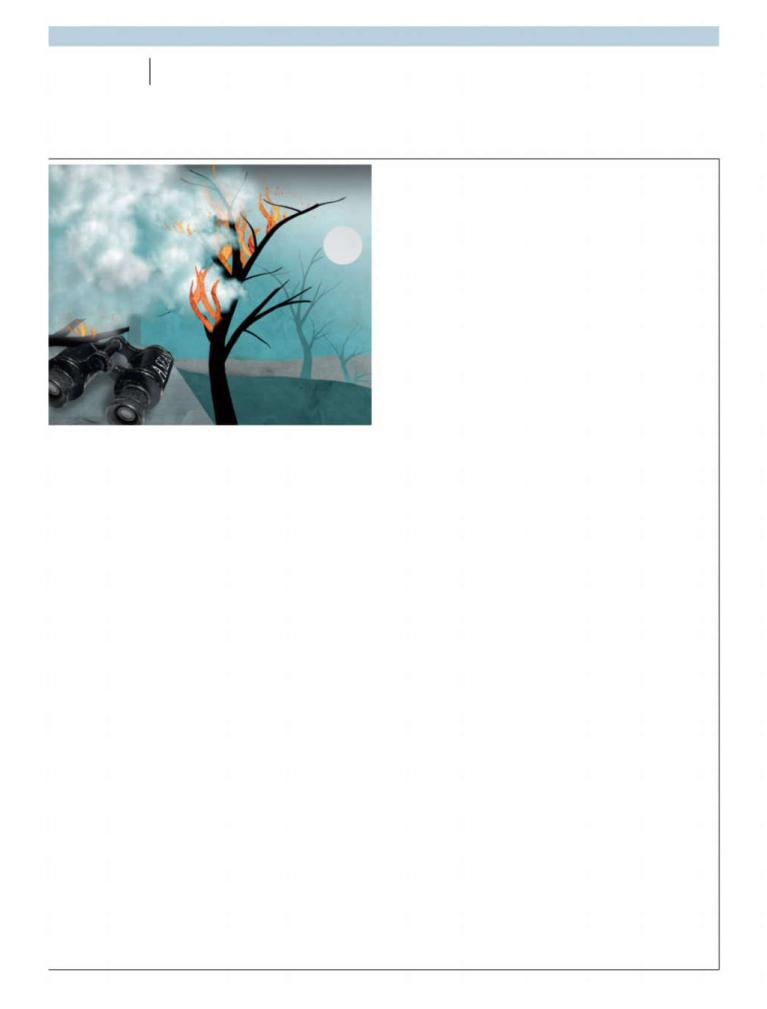 | | |
| --- | --- |
| 56 Asia | The Economist September 12th 2015 |
Banyan Hazing rituals
After all the meetings and promises, the smog in South-East Asia still proves ineradicable
OF COURSE there is an app for it. Air4ASEAN, produced by the Thai government, sends smartphones a pretty if depressing map of the parts of South-East Asia a icted with "the haze", the foul smog that has been almost an annual curse for two decades now. It also o ers data for each of the ten member countries of the Association of South-East Asian Nations (ASEAN). Tap "Indonesia", however, and the page that loads is one of several with nothing but the word "soon". That is apt. The haze emerged as a manmade catastrophe in 1997, when forest fires in Indonesia and Malaysia shrouded much of the region, causing severe disruption and untold damage to human health. Ever since, ASEAN, and in particular Indonesia, the biggest source of the haze, have been promising to tackle it. However, ASEAN's e orts have tested the organisation's aspiration to become more than a talking-shop
among governments and to forge a co-operative "community". ASEAN was designed precisely to foster the kind of regional
co-operation that cross-border pollution seems to demand. And the scourge a ects all its members. Smog caused by burning forests in Myanmar is now an annual event in northern Thailand. Last month Cambodia, Laos, Myanmar, Thailand and Vietnam, the ASEAN countries that share the Mekong river, met for the fifth time to discuss haze-prevention. It is, however, in the southern ASEAN countries—Indonesia, Malaysia and Singapore—that the smog has become perennial and seemingly insoluble.
This haze season is the first since Indonesia ratified the "ASEAN Agreement on Transboundary Haze Pollution", 12 years after it was signed, and launched its "one map" initiative, a cartographic exercise which was supposed to make it clearer who owns the land where fires are burning. This would give teeth to a "Haze Monitoring System" which ASEAN introduced in 2013. But if it knows whose land the fires are on, Indonesia is not telling its neighbours. Simon Tay and Lau Xin Yi of the Singapore Institute for International A airs, a think-tank, lamented in an article this month that "the progress and co-operation" of past years may now be receding. It did not help that earlier this year Indonesia's vice-president, Jusuf Kalla, castigated Singaporeans for complaining about the haze instead of thanking Indonesia for the 11 months a year when they enjoy "nice air from Indonesia".
In little Singapore such comments evoke a deep-seated fear of
being at the mercy of its huge neighbour. And now the smog is back. The island's Pollution Standards Index (PSI), which measures air quality, has been creeping into the "unhealthy" level of over 100, reaching a three-hour average of 137 on September 10th. So far this year's haze has been mild compared with 2013, when the PSI briefly passed 400 (above 300 is considered "hazardous"). Yet the level is still alarming for a regional hub that relies on providing a pleasant and healthy place to live, in comparison with, for example, more polluted Hong Kong. Last year Singapore passed a law enabling legal action to be brought in its own courts against those accused of poisoning its air.
Singapore's murky air is still pristine compared with the peasouper choking parts of Sumatra, the big Indonesian island nearby. In Riau province, in the north of Sumatra, the PSI reached 436 on September 3rd. Poor visibility closed the airport, and children were kept home from school. In all, six provinces in Sumatra were put on "emergency alert" as hundreds of "hotspots" of burning trees and vegetation flared and smouldered. They were being fought with water-bombing from helicopters and cloudseeding aeroplanes. On September 10th more than 1,000 soldiers were deployed to fight fires. Four days earlier Indonesia's president, Joko Widodo, visited South Sumatra, one of the worst-af- fected provinces. Mr Joko said he had ordered the police to get tough on companies found to have started the fires, with a new task-force formed to co-ordinate the battle of the fires. But he sounded exasperated: "Everyone knows what needs to be done."
He had a point. Everybody knows the fires are lit as the cheapest way of clearing land for farming or a plantation—especially for oil palm. Some burn out of control and some, on peatland, can smoulder underground for years, flaring up during a prolonged dry spell (linked, this year, to the Pacific-wide El Niño phenomenon). Everybody also knows that the solution is not to find more e ective ways to fight the fires, but to stop them being lit in the first place. That means making sure everybody knows how much harm they do, as well as changing the firelighter's calculation of risk and reward. Peter Holmgren of the Centre for International Forestry Research, with its headquarters in Indonesia, sums up the solution in two words: propaganda and prosecution.
Keeping the home fires burning
The propaganda seems to have worked at least among the big palm-oil producers, most of which now flaunt their green credentials, seeking to have their produce certified as "sustainable". Since 2011 Indonesia's government itself has imposed a moratorium on clearing primary forest and peatland for plantations. And the police in Sumatra have this year caught 39 people suspected of illegal land-burning. Yet the remnants of what just a generation ago were vast swathes of virgin rainforest still smoulder and flame. Oil palm remains a lucrative crop. Powerful interests perhaps still profit too much from the fires, and local governments fail to implement orders issued from Jakarta, the capital. The central government may be failing to share information simply because it does not have it.
Even if it is wilfully secretive, ASEAN cannot realistically enforce disclosure. Its guiding principle is not to meddle in its members' internal a airs. All it can do is embarrass them, and invoke "the ASEAN way" of consensus and co-operation. But Indonesians are su ering the worst of the haze. If their government cannot solve the problem for them, it is unlikely to be shamed into doing so for the sake of gasping Singaporeans and Malaysians. 7
The Economist September 12th 2015 57
Also in this section
58 Buddhists releasing animals
Local-government debt
Looking for ways to spend
CHANGZHOU
Buried in debt, the government struggles to lure investors in local projects
THE Ensen Care old-age home, which is soon to open, knows its target market. A mah-jong table takes pride of place in its recreation room. Space has been made outside for tai chi practice in the morning and line dancing, much loved by Chinese pensioners, at dusk. Photos in glass cabinets depict the imagined lives of its prospective residents: grainy pictures of youths in Red Guard uniforms next to studio portraits with grandchildren in more prosperous
later years.
Few homes for Chinese senior citizens have the pedigree of Ensen Care, a subsidiary of Legend Holdings, owner of Lenovo, one of the world's biggest computer manufacturers. The old-age home in Changzhou, a city of 4.7m west of Shanghai, is a pilot project designed to demonstrate what can be achieved when private investors provide public services. In exchange for a subsidised parcel of land, Ensen is building a hospital and a community centre, which it will transfer to the municipal authorities. The hope is that this model of public-priv- ate partnership (PPP) will help local governments bring projects to fruition without adding to their already sizeable debts.
If that is the idea, the old-age home testifies to the challenges not only of doing PPP deals in China but also, more broadly, of fixing shaky government finances. Ensen's managers thought that they had a good arrangement. With China's population ageing rapidly, demand for old-age care is ris-
ing. Plenty of companies want to break into the sector. But securing operating licences is di cult. By entering into a formal partnership with the local government, Ensen thought that the obstacles would melt away.
Yet in its first year the company had to submit 38 reports to municipal o cials to obtain all manner of approvals. Then the city government asked it to pay taxes in advance, even before the home opened its doors, in order to boost depleted local coffers. Ensen had hoped for an investment return of 7% on the home. Now, one executive complains, 3% looks optimistic. He says that the company is unlikely to do big projects like this in future.
Local difficulties
China's local-government debt by source, % of GDP
| | |
| --- | --- |
| Bank loans | LGFV* bond issuance |
| LGFV* trust loans | Local-government bonds |
| | | | | | | | | |
| --- | --- | --- | --- | --- | --- | --- | --- | --- |
| 2005 | 06 | 07 | 08 | 09 | 10 | 11 | 12 | 13 |
Sources: IMF; Bank for International Settlements
For daily analysis and debate on China, visit
Economist.com/china
It is such experiences that make investors across China balk at the idea of teaming up with government. Local governments have over 1,000 PPP projects up for grabs, seeking to raise some 2 trillion yuan ($314 billion) in private-sector funding for roads, hospitals, power plants and more. Backers have been found for less than a fifth of them. Would-be investors have a long list of concerns, among them the unclear legal status of projects, poor financial prospects and government meddling. To plug the hole, provinces have even started to launch their own dedicated funds for investing in PPP projects. Yet that rather defeats the point, says Lin Caiyi of Guotai Junan Securities, a stockbrokers. Instead of public-private partnerships, they are fast becoming public-public.
The push for PPPs, such as they are, is part of a bigger e ort to shore up the fiscal position of local governments. Public debt has soared since the global financial crisis of 2008, when the government unleashed a huge stimulus to boost growth. Much of this has not been borne by the central gov-
ernment, which portrays itself as a picture1
 

Total debt, % of GDP

 

Others

 

China

250

 

 

50

 

Emerging 200

 

 

40

 

markets

 

 

average

150

 

 

Brazil

30

 

 

 

India

 

 

 

100

20

 

Russia

 

 

10

 

 

50

 

 

 

0

 

 

0

14† 15‡

2007

2014

 
*Local Government Financing Vehicle †Estimate ‡Forecast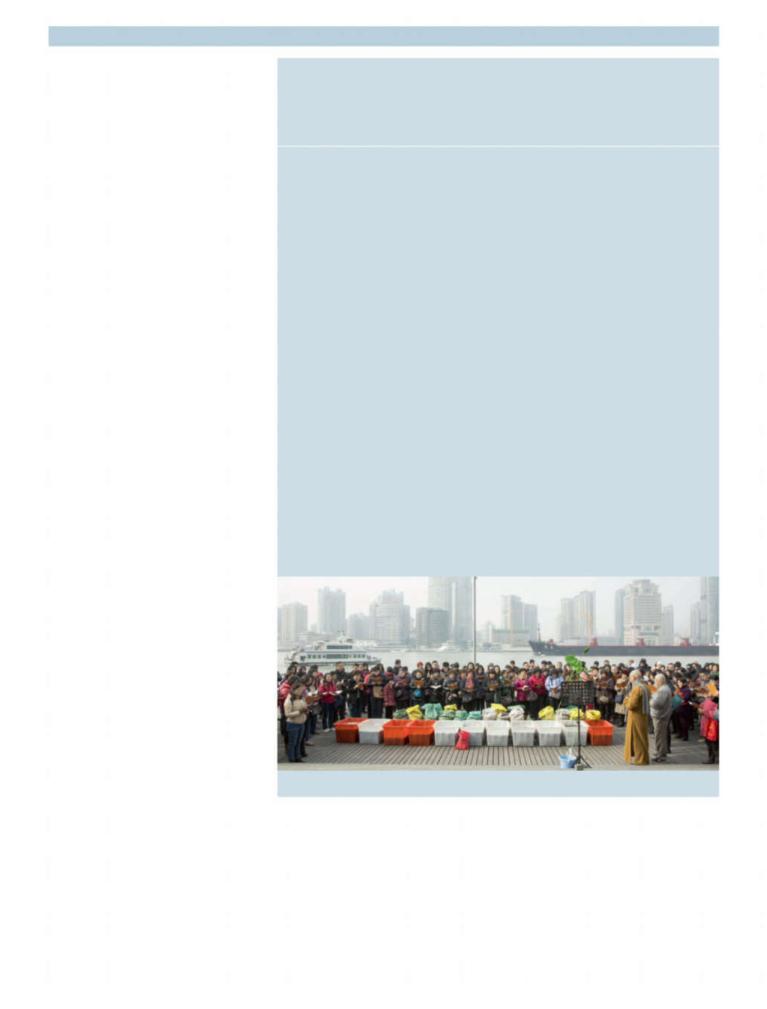 58 China
2 of fiscal rectitude. Instead, it has leant on provinces and cities to foot the bill. Localgovernment debts have more than doubled over the past five years, to 24 trillion yuan, equivalent to nearly two-fifths of GDP (see chart on previous page). By itself that sum would be manageable. Yet China's public finances look precarious when the corporate liabilities of state entities are added in, since many are implicitly guaranteed by the government. At more than 250% of GDP, China's total debt is unusually high for an emerging market, and its recent pace of increase is worrying.
Slowing the accumulation of debt has thus become a priority for China—includ- ing the contribution made by local governments. The authorities have cracked down on local governments' rampant use of o - balance-sheet entities. Technically, China's cities and provinces are barred from borrowing money. To get around the ban, they created thousands of arm's-length companies, known as local government financing vehicles, which were able to borrow. The popularity of these vehicles, operating in the vast grey space between China's private and public sectors, made it tough for the central government to keep tabs on the rapid rise in local debt—of which they account for nearly half.
But blocking this source of finance has contributed to a slowdown in the growth of local-government revenues at a time when other hoped-for sources of funds have underwhelmed. One hope was loan securitisation, with the government telling state banks to parcel loans together and sell them on, so supposedly freeing up space for new loans. Another was a roaring stockmarket that would allow indebted state companies to bring in new investors. Yet loan securitisation is proceeding slowly, and a collapsing stockmarket has shut o the possibility of new investors. Meanwhile, land sales, one of the biggest sources of local revenues, have fallen by nearly two-fifths this year.
Yet a pressing demand for investment remains. Even though China has spent a staggering 190 trillion yuan over the past five years on building homes, roads, factories, airports and more, it still has glaring gaps. China's capital stock per worker is just a quarter of South Korea's and a fifth of America's. Old people's care is one such shortfall. To reach the levels of provision of developed economies, China needs to double the 5.8m beds in its old-age homes. Other shortfalls include water pipelines, mass-transit systems, hospitals and low-in- come housing.
And so, in the context of a weakening economy, the government has started to turn back towards debt. It is trying to make things a little cleaner this time. Instead of allowing local governments to use their shadowy financing vehicles again, it is giving central institutions a much bigger role.
The Economist September 12th 2015
A religious revival
Animal spirits
SHANGHAI
Releasing animals into the wild is in vogue—with unwelcome consequences
EVERY Saturday morning hundreds of devotees gather by Shanghai's
Huangpu river to liberate fish. Over three hours some 2,000 loach are tipped into the murky waters to the sound of chants.
This is fang sheng, or "animal release", an East Asian Buddhist ritual in which captive creatures are freed. The point is to demonstrate compassion and earn merit. The practice is ancient, though along with everything else, it was condemned as so much superstition under Mao Zedong. Today fang sheng is making a comeback, especially among the young and well-o . O cials estimate around 200m fish, snakes, turtles, birds and even ants are released each year—though no one really has a clue.
Fang sheng associations can rake in around 1m yuan ($157,000) in annual donations. For some monks it has become a racket. The greatest price, however, is paid by the animals themselves and the ecosystems from which they come and into which they go.
A vast and mainly illegal wildlife trade caters to the demand for animals. Figures are hard to come by, but one paper estimated that in Hong Kong two markets sold over 630,000 birds a year, most destined for fang sheng. Many ani-
mals—perhaps half of all the birds—die during capture or transit from stress, disease or mishandling.
Nor does using reared or exotic species help. They create havoc in local ecosystems. Zhou Zhuocheng, chairman of China's main body on aquatic ecology, cites the case of the mosquito fish from North America, a popular fish for fang sheng. It feeds on the eggs of the native Japanese rice fish, causing the latter to disappear completely in some areas. To add to the grimness, many animals, once released, are hoovered up and sold again to fresh devotees. Animals that do not survive the trauma are often sold as food.
Wang Tianbao, a 26-year-old programmer and evangelical Buddhist, admits that paying for animals that have only recently been released is "a waste of money". Yet still he is prepared to spend oodles on fang sheng, through whose associations he can disseminate Buddhist information and reach new followers. He says he first practised fang sheng as a student, releasing two turtles that cost him 98 yuan, his food budget for three weeks. Today he spends 5,000- 7,000 yuan, or about 5% of his annual salary. There may just be better ways to earn merit.
The Huangpu: hardly loach heaven
For instance, over the next couple of years China Development Bank and other gov- ernment-controlled lenders in Beijing are expected to sell bonds worth more than 1 trillion yuan to invest in new construction. And the finance ministry has given provinces bigger quotas for selling bonds, while letting them swap some of their financing vehicles' debt for cheaper o cial bonds. It has also just pledged to provide more direct fiscal support for a softening economy.
Initially the ministry planned for a bud-
get deficit of 2.3% of GDP for this year, but analysts now reckon that the deficit will be closer to 3%. Lian Ping of Bank of Communications predicts that infrastructure spending will soon accelerate, picking up some of the slack left behind by sluggish corporate spending. That would help keep growth near the 7% target which the government set for this year—though at the time it hoped that the growth would come from kick-starting private investment rather than falling back on public debt. 7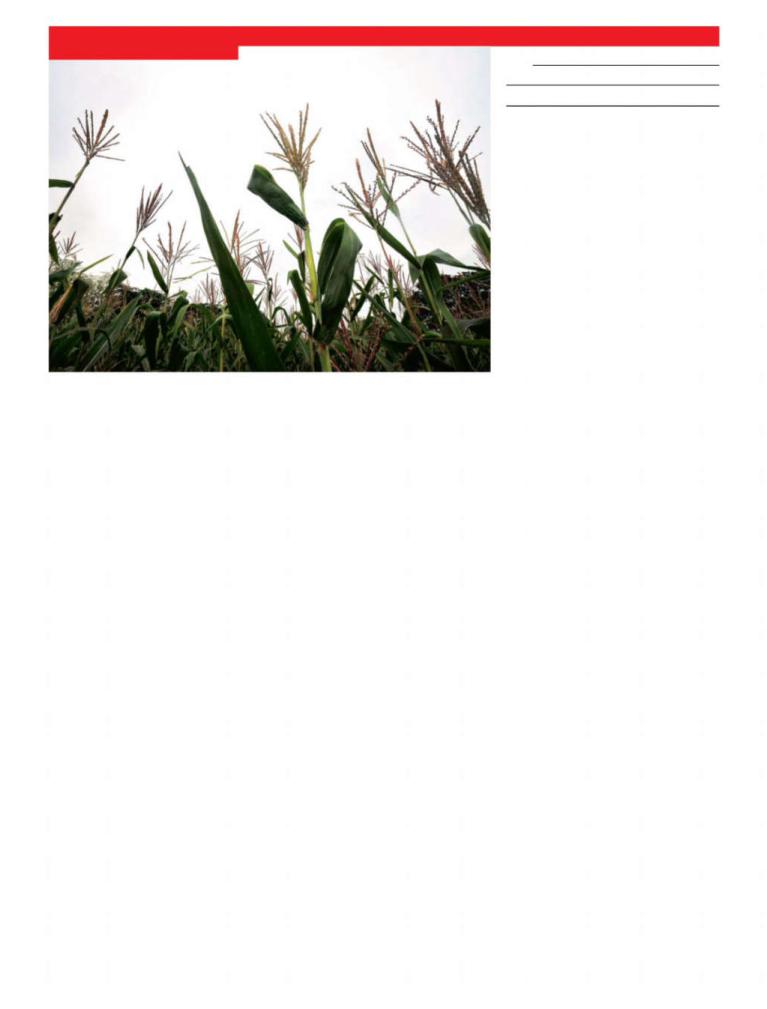 International
Agricultural biodiversity
Banks for bean counters
CALI
The wild ancestors of the world's most important crops could help avert devastating problems. But time is running out to collect them
IN THE early 1970s Asia's rice farmers faced ruin. The brown planthopper, an insect up till then found mostly in Japan, began to appear across the region. It fed on young plants and transmitted grassy stunt virus, causing crops to shrivel and brown. As it swept through Asia's paddy fields, yields crashed. By the end of the decade it had caused damage costing over $300m—
more than $1 billion in today's money. Scientists raced to find a solution. They
screened over 6,000 samples of rice and its wild relatives until they found a unique sample from central India of a wild species called Oryza nivara that was resistant to the virus. By crossing it with domesticated rice strains, plant-breeders transferred the resistant genes into a new variety. Today, millions of farmers across Asia grow rice derived from such crosses.
"Crop wild relatives"—the wild ancestors of cultivated plants—are a valuable weapon in the fight against hunger. Together with varieties used by traditional farmers, they contain a wealth of genetic diversity. Yet they are under-researched and under-collected. With their survival threatened by population growth and environmental damage, the race is on to find them before it is too late.
Climate change is expected to cause higher temperatures and more frequent droughts, changing the distribution of pests and diseases. Population growth will
add to the pressure on productive land: the UN expects the number of people in the world to rise from 7.3 billion today to 9.7 billion by 2050. This, together with a switch to more meat-eating, will mean a big increase in the demand for food. The UN Food and Agriculture Organisation (FAO) says humanity will need 70% more food by then.
Dependence on a few staples worsens the consequences of any crop failure. Just 30 crops provide humans with 95% of the energy they get from food, and just five— rice, wheat, maize, millet and sorghum— provide 60%. A single variety of banana— Cavendish—accounts for 95% of exports. A fast-spreading pest or disease could see some widely eaten foodstu s wiped out.
That makes it even more important to preserve the genetic diversity found in crop wild relatives and traditional varieties as an insurance policy. Alas, much of it has already disappeared. The FAO estimates that 75% of the world's crop diversity was lost between 1900 and 2000. As farming intensified, commercial growers favoured a few varieties of each species— those that were most productive and easiest to store and ship.
According to Cary Fowler of the Global Crop Diversity Trust, an international organisation based in Germany, in the 1800s American farmers and gardeners grew 7,100 named varieties of apple. Today, at
The Economist September 12th 2015 59
Also in this section
60 Plant-collecting: a risky business
least 6,800 of them are no longer available, and a study in 2009 found that 11 accounted for more than 90% of those sold in America. Just one, "Red Delicious", a variety with a thick skin that hides bruises, accounts for 37%.
Meanwhile urbanisation, pollution, changing land use and invasive species are threatening the crop wild relatives that survive. A study in 2008 concluded that 16-22% of those related to peanuts, potatoes and cowpeas (a legume grown in semiarid tropics) will have vanished by 2055 as a result of climate change.
Seed banks are the best hope of preserving those that remain. Dehydrating and freezing seeds means that they can be kept for hundreds, perhaps even thousands, of years, and still sprout when given light and water (as botanists need to do on occasion). Some 7.4m samples are already in seed banks around the world, but huge gaps exist.
Unbalanced diet
As part of a study to be published later this year, Colin Khoury and Nora CastañedaÁlvarez of the International Centre for Tropical Agriculture (CIAT), a research facility in Colombia, studied the state of conservation of more than a thousand crop wild relatives in seed banks. They found that for over 70% there were either too few samples for safety or none at all.
The Millennium Seed Bank (MSB) in Sussex, part of Britain's Royal Botanic Gardens, is the world's largest wild-plant seed bank, housing 76,000 samples from more than 36,000 species. It co-ordinates "Adapting Agriculture to Climate Change", a $50m, ten-year international programme funded by Norway to collect and store wild relatives of 29 important crops, cross
them with their domesticated kin and1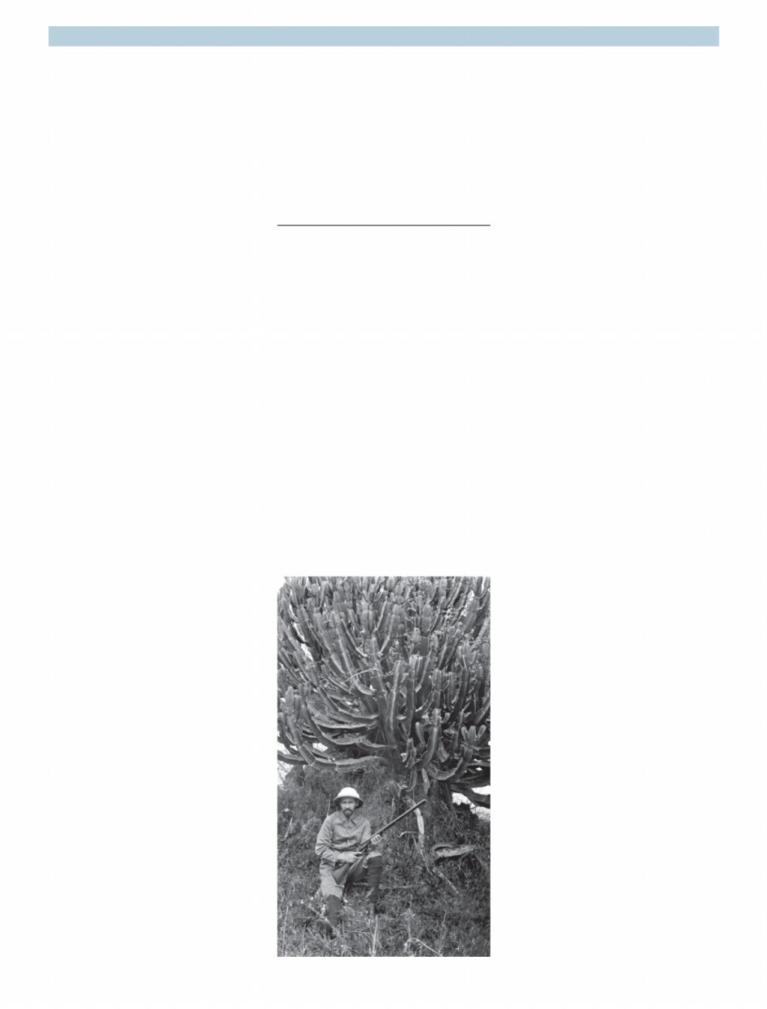 60 International
2 share the results with breeders and farmers. Its freezers are solar-powered and its vault is built to withstand a direct hit by a plane (Gatwick airport is close by). Other seed banks are more vulnerable. Sta at the International Centre for Agricultural Research in the Dry Areas, an institute once based in Syria, now found in Lebanon, shipped 150,000 samples to save them from being damaged in the former country's civil war; seed banks in Afghanistan and Iraq have been destroyed. The Philippines lost one to fire.
Located in Cali, Colombia's third-larg- est city, CIAT is home to more than 300 scientists. It has a mandate from the UN to protect, research and distribute beans and cassava, staple foodstu s for 900m people around the world. Its seed bank, housed in a former abattoir, contains over 36,000 samples of beans, more than any other seed bank, and varieties developed there feed 30m people in Africa.
For many years CIAT's researchers concentrated on creating varieties that could cope with poor soils and drought. But they have now turned their attention to heat resistance. Earlier this year they announced that they had found heat resistance in the tepary bean, a hardy cousin of the common bean cultivated since pre-Columbian times in northern Mexico and America's south-west. Crosses with commonly cultivated beans such as pinto, black and kidney beans show potential to withstand temperatures up to 5°C higher than those common varieties can cope with. Even a lesser increase in heat resistance, of 3°C, would mean beans could continue to be cultivated in almost all parts of central and eastern Africa, says Steve Beebe of CIAT's bean-breeding programme.
Big agricultural firms are also creating improved crops with the aid of genetic modification. MON863, for example, a maize variety engineered by Monsanto, contains an artificially inserted protein which targets the larvae of the rootworm, a pest which causes around $1 billion of damage each year in America alone. But developing such varieties has been expensive and slow in the past—and the fear of "Frankenstein food" can put consumers o . New varieties produced by crossing crop wild relatives are cheaper and less controversial.
In recent years politicians have stepped up e orts to conserve crop genetic diversity. The International Treaty on Plant Genetic Resources for Food and Agriculture, which came into e ect in 2004 and has been signed by 135 countries and the European Union, identifies 35 food crops that are considered so important to global food security and sustainable agriculture that their genetic diversity should be widely shared. But it has worked less well than hoped. In 2013 a group of Norwegian researchers sent letters to 121 countries re-
questing seeds. Only 44 complied. Communication broke down with 23 and 54 did not even reply.
If a big crop were to fail, a single useful gene lurking in one wild relative could prevent calamity. PwC, an accountancy firm, values the genes derived from the wild relatives of the 29 crops regarded as most important by the MSB at $120 billion. Preserving the genetic diversity that remains would be an excellent investment. 7
Botany and bureaucracy
A dying breed
Specimen-hunting has become less dangerous, but takes persistence
PLANT-COLLECTING has long attracted mavericks with a thirst for adventure. In Borneo in the 1960s John Wood, now at Oxford University, had to shave leeches o his legs with a machete. In the 1970s, at the outbreak of Lebanon's civil war, Geo Hawtin, now a trustee of the Royal Botanic Gardens in Kew, drove a collection of legumes down a mined road to the Syrian border (and back again when he found it was closed). In the 1980s Daniel Debouck, a Belgian bean-collector based in Colombia, narrowly escaped capture by narcos in
Mexico and guerrillas in Peru.
Botanists think there are up to 80,000
Not for pansies
The Economist September 12th 2015
wild species of flowering plant left to discover. But a scarcity of funds hampers efforts to collect them. The UN Convention on Biological Diversity of 1992, ratified by 195 states and the European Union, made things more complicated. It recognised plants as part of countries' national heritage and outlawed "biopiracy"—profiting from plants without compensating the countries in which they were found.
That made exploiting plants fairer but collecting them harder. Some o cials saw a chance to get rich. "Suddenly everyone thought these plants were incredibly valuable," says Mr Hawtin. Getting permission to go on a collecting trip became nearly impossible. "Anybody could say no to a collecting expedition and very few people could say yes."
Permits became sine qua non, but in poorer countries the environment ministries that were expected to issue them did not always exist. Collectors might see their applications bounced from one department to another, each unwilling to wield its rubber stamp. "No one wanted to be accused in their local paper of helping the biopirates," says Mr Hawtin.
Persistent botanists have since earned some governments' trust. It is now much easier to get approval for expeditions than it was in the 1990s, though often with restrictions on what may be collected. "Things are much better now than they were ten years ago," says Sandy Knapp, head of the plants division at the Natural History Museum in London. A three-year permit from the Peruvian government allows her to collect specimens of Solanaceae, the family that includes tomatoes, potatoes and aubergines.
Cutting through red tape can be easier with the help of locals. "When you're talking to landowners trying to get permission to collect, it helps to have someone who can speak the language," says Ruth Eastwood, who oversees the Crop Wild Relative Project at Britain's Millennium Seed Bank. That is one reason institutions that once sent collectors to the tropics have started to train people who already live there. Another is that familiarity with the landscape means that they can often spot subtle di erences between plants that outsiders miss.
The Millennium Seed Bank now holds workshops in many countries on collection and conservation techniques. It collaborates on expeditions and produces guidebooks to help locals locate and collect seeds for themselves. Yet some countries persist in imposing self-defeating restrictions. India's biodiversity law, passed in 2002, makes exporting seeds very di - cult and sits poorly with its international obligations. If governments fail to understand the urgency of preserving—and shar- ing—their biodiversity, there may soon be precious little left to collect. 7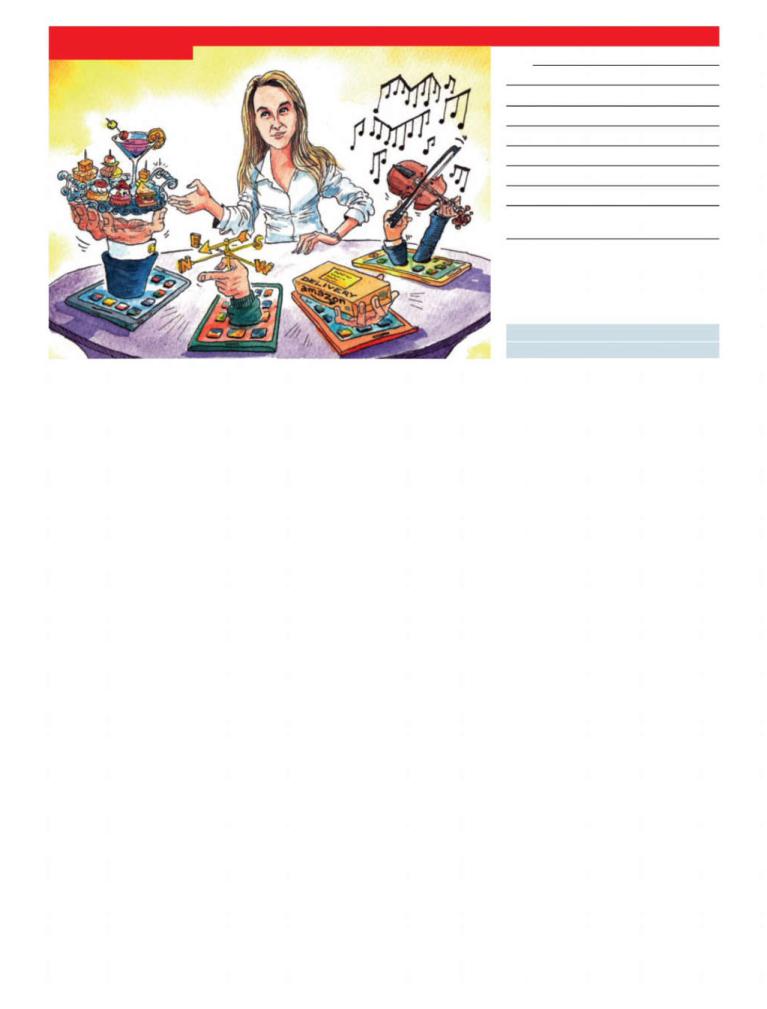 The Economist September 12th 2015 61
Also in this section
62 Why Google may return to China
64Glencore and commodity traders
64Hard times for Spanish family firms
65E-commerce's potential in India
66AirAsia's recovery hopes
67Mitsubishi in Mexico
68Schumpeter: Scientific management in the digital era
Virtual personal assistants
The software secretaries
SAN FRANCISCO
Technology firms are vying to become consumers' personal secretaries, which may threaten privacy and competition
APEPPY crowd poured into the Bill Graham Civic Auditorium in San Francisco on September 9th. They had turned up
at the venue, which usually hosts rock concerts, to watch a show by Apple, a firm with a cult following of its own. Executives took the stage to unveil updates to the Apple Watch, iPhone and iPad, as well as a new television set-top box, which makes it easier to find TV shows and play games.
The real star of the show, however, was Siri, Apple's personal-assistant technology. Siri, which is already available on iPhones, responds to voice commands and will be embedded in Apple's new TV remote controls, so users will not have to lift a finger to change channel or find new shows. If users want to know the weather or the results of a sporting event they can ask Siri, and be met with a rapid reply.
Siri's migration to television exemplifies the rise of virtual-assistant software that mimics some of the skills of human secretaries: creating reminders for appointments, looking up information and completing other tasks. Apple, which bought Siri in 2010 for an estimated $200m, has been a leader in this area, but many tech firms have been working on rival products.
Google and Microsoft o er digital assistants on smartphones, called Google Now and Cortana, respectively, which have deep knowledge of their users' habits and schedules. Amazon sells a stand-alone device that, among other things, plays mu-
sic, reads books aloud and can help buy items through Amazon. On September 8th Baidu, a Chinese internet giant, announced its own digital agent, Duer. And recently Facebook announced that a concierge service, called M, would be available through its messaging app. To start with, tasks will be completed by humans, but that could change over time.
All these firms still have kinks to work out, but the sophistication and range of functions of their personal-assistant software are expanding (see table, next page). The rise of Siri et al signals two important trends that will shape the future of the consumer internet: the evolution of "search", away from typed search-engine queries towards a more personalised, interactive service, and a gradual shift from individual apps to an ecosystem of services that is mediated by a powerful software assistant.
According to Gartner, a research firm, around 38% of American consumers have used virtual-assistant services on their smartphones recently; by the end of 2016 an estimated two-thirds of consumers in developed markets will use them daily. Software robots are getting better at predicting what users need based on past behaviour and current location.
The virtual secretaries o ered by a variety of tech giants form part of their wider e orts to master artificial intelligence and, in particular, "machine learning"—teach- ing computers to crunch vast amounts of
For daily coverage of business, visit
Economist.com/business-finance
data, recognise patterns and get better at what they do. Firms are spending billions of dollars buying startups in this area, and are rushing to hire specialists in artificial intelligence. Apple alone is reportedly looking to hire around 90 experts, and Facebook has hired a star artificial-intelli- gence academic, Yann LeCun, to head its research centre on the subject.
Voice recognition is quickly improving, although it remains imperfect. Two years ago Google Now used to misinterpret around 25% of words spoken, but today it only misses 8%, according to Aparna Chennapragada, who oversees the product. Firms' big focus has become how to use the information consumers store on their devices to make proactive recommendations instead of just responding to requests.
Google is especially good/creepy at this. For example, it goes through users' e- mails to prompt them about when to leave for appointments or flights. Microsoft's Cortana does this too but until recently it has been limited to Windows devices. Glo- bal-positioning technology, already a standard feature on smartphones, is helping virtual assistants to do their job better. If a consumer wants to be reminded to buy milk when he next goes to the supermarket, an alert will flash when the phone detects that he has arrived.
Technology is also making it possible to automate the headache of arranging meetings. A few startups, including Clara Labs and x.ai, o er virtual scheduling assistants that employ a combination of algorithms and humans to help set up appointments. Subscribers copy in the software robot on e-mails; it scans their calendars and chooses a convenient slot on their behalf. On average it takes humans around seven e-mails to set up a meeting, so virtual assistants can save lots of time. People tend to be nice to virtual assistants, even when1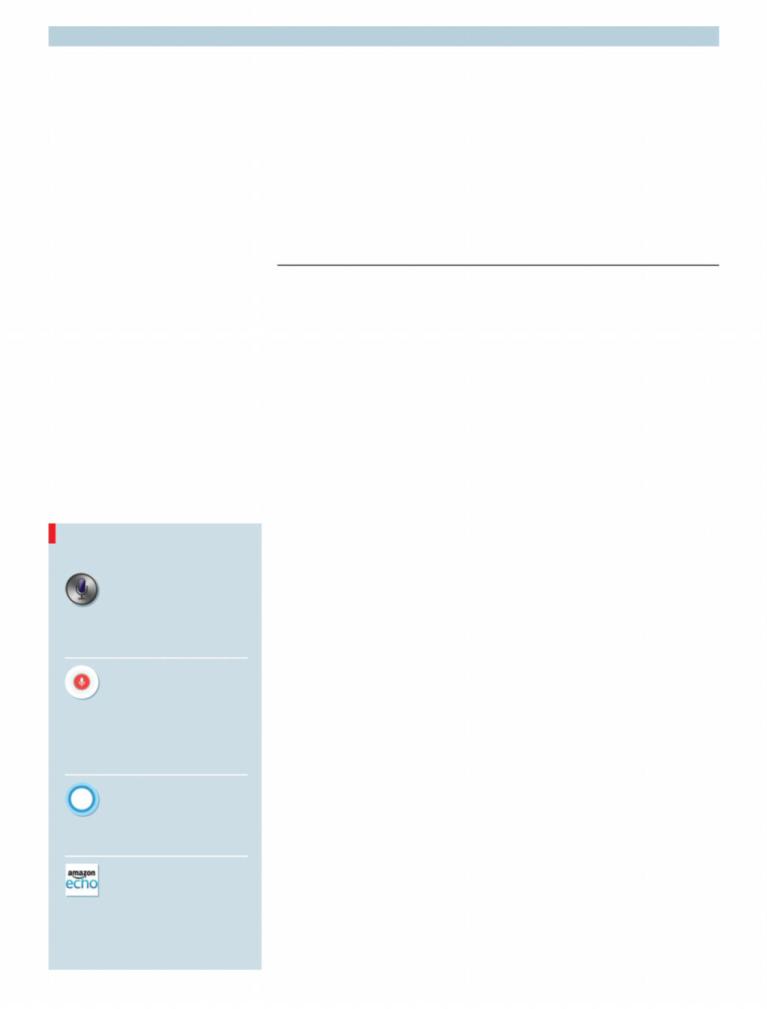 62 Business
2 they know they are corresponding with a robot, says Dennis Mortensen, the boss of x.ai. In time, the software will become so good they may never know their interlocutor is a machine.
Most real-life personal assistants do not need to worry about their jobs being threatened by technology—at least yet. Digital assistants serve as a hands-free way to search for information but struggle to complete actions that require more complex steps, such as booking flights. Your correspondent spent several days "employing" a variety of available digital assistants. Although they can find nearby restaurants and make a booking through OpenTable, they do not yet know her well enough or have the judgment to tell her which is the "best" Italian food. Echo, Amazon's product, can recite the definition of "personal assistant" without hesitation, but had no idea how to respond when your correspondent asked whether Echo was her personal assistant.
To please their masters, virtual assistants will need to do better at connecting to outside services to fulfil requests. This is the vision of Viv, a startup led by the founders of Siri, which is expected to launch a service in this vein next year. Existing virtual assistants are also making steps to open up. Cortana links to Uber, for example, to help its users book cars, and recently started to show them relevant coupons
The big four
Virtual personal assistants
Siri (Apple, 2011)
Like others, can search for information, send text messages by voice, play
music, book restaurant tables and more. Has a sense of humour, but struggles with speech recognition and more complicated requests. Free on Apple devices, not available on Android.
Google Now (Google, 2012)
Probably the best virtual assistant for the largest number of people, given
the popularity of Gmail and Google Calendar, with which it integrates. Can find information and fulfil requests, and uses "cards", which push reminders and useful information to users. Integrates with some third-party apps. Available on Android and Apple devices.
Cortana (Microsoft, 2014)
Good at voice recognition. Can read calendar and screen phone calls, and is
proactive with reminders. Integrated across Windows devices, desktop and mobile. But limited availability beyond Microsoft products.
Echo (Amazon, 2014)
Strong understanding of voice commands from a distance. Unlike
rivals wants to be a hub for the "smart home". Makes it easy to order items from Amazon through voice commands. Open to third-party developers. Costs around $180, whereas competitors are free.
The Economist September 12th 2015
when they go to shops or browse online. The rise of virtual assistants poses sev-
eral challenges. One is privacy. The best services will have access to troves of data, but how consumers' information will be shared with outside firms that fulfil requests has yet to be ironed out. Unlike human secretaries who work for one person or firm, virtual assistants have divided loyalties. For example, Google Now and Facebook M may work on behalf of consumers, but their parent companies make money by selling targeted ads and mining consumer data. Apple, in contrast, has made
Android in China
privacy one of its main selling-points.
A similar dilemma is raised when it comes to commerce. As virtual assistants help purchase more things online, they will have the power to boost certain firms and deprive others of business. When asked to booka ticket from San Francisco to London, will a virtual assistant select the cheapest fare, or a ticket on an airline that has a promotional relationship with the company that invented the assistant? As virtual secretaries become more powerful, the question of who works for whom will become more pressing. 7
The lure of the mobile kingdom
Re-entering China will be hard for Google, but it may still try
"IT'S all speculation." Google's reaction to reports that it is in talks with o - cials and handset-makers to launch an app store in China is no surprise. Such a move would be a high-profile reversal: in 2010 the firm shut down most of its Chinese operations or shifted them to Hong Kong in reaction to government demands to censor online-search results. Even so, on September 8th the firm did take a tentative step back into the country: Motorola, its former handset unit (now owned by Lenovo, a Chinese firm), launched the first smartwatch supported by Google and powered by its operating system, Android, that un-
derstands Chinese voice commands.
It would be remarkable if a company like Google (whose parent firm's chairman, Eric Schmidt, is a director of the Economist Group) were not carefully considering the pros and cons of going back into China in a bigger way. Although its growth has slowed, the country is now the world's biggest mobile-device market, with more than 400m smartphones expected to be sold there this year. Having no presence in China is a serious handicap in the battle with other tech giants, notably Apple.
Google's absence from China is threatening its control ofAndroid. Elsewhere, the operating system usually comes bundled with the firm's mobile services, such as the app store and digital maps. Handset-mak- ers which want Google's stamp of approval have to install these services on their devices and present them prominently. In China, since those Google services are unavailable, manufacturers use open-source versions of Android, which they can adapt as they see fit. As a result, the country's mobile market is much more fragmented, but also more competitive and innovative. It boasts hundreds of app stores. Handset-
makers, in particular Xiaomi, di erentiate their products by, among other things, integrating them with local mobile services. Messaging apps such as WeChat have evolved into rival platforms which host many services similar to Google's.
Not only are all new Android phones sold in China powered by a version of the software which is not certified by Google; the Chinese model is also now spreading to other developing countries, in particular India. Xiaomi, for instance, has big plans there. Teaming up with a big Chinese handset-maker, such as Huawei or ZTE, could help Google to stem the non-Google Android tide—not just in China, but everywhere else.
Yet becoming a force in China's mobile market would be a struggle—for the same reason Microsoft has failed to make it big in smartphones, despite spending billions. It is very hard to establish a mobile ecosystem of developers and handset-makers in a market where other firms—not just Xiaomi, but Baidu, Tencent (which operates WeChat) and others—are entrenched.
There is still the small matter of reaching an accord with the Chinese government. According to The Information, the website that first reported Google's putative app-store plans, the firm would block apps deemed objectionable and limit certain features, such as location information. Even then, the government might prefer to keep Google out of China—after all, its absence has been a boon for local champions. "We are open to newer approaches. We'll have to wait and see," Sundar Pichai, Google's new chief executive, said when asked about China recently. The firm whose motto is "Don't be evil" may be unable to resist returning to a country that is no more virtuous than when it left. 7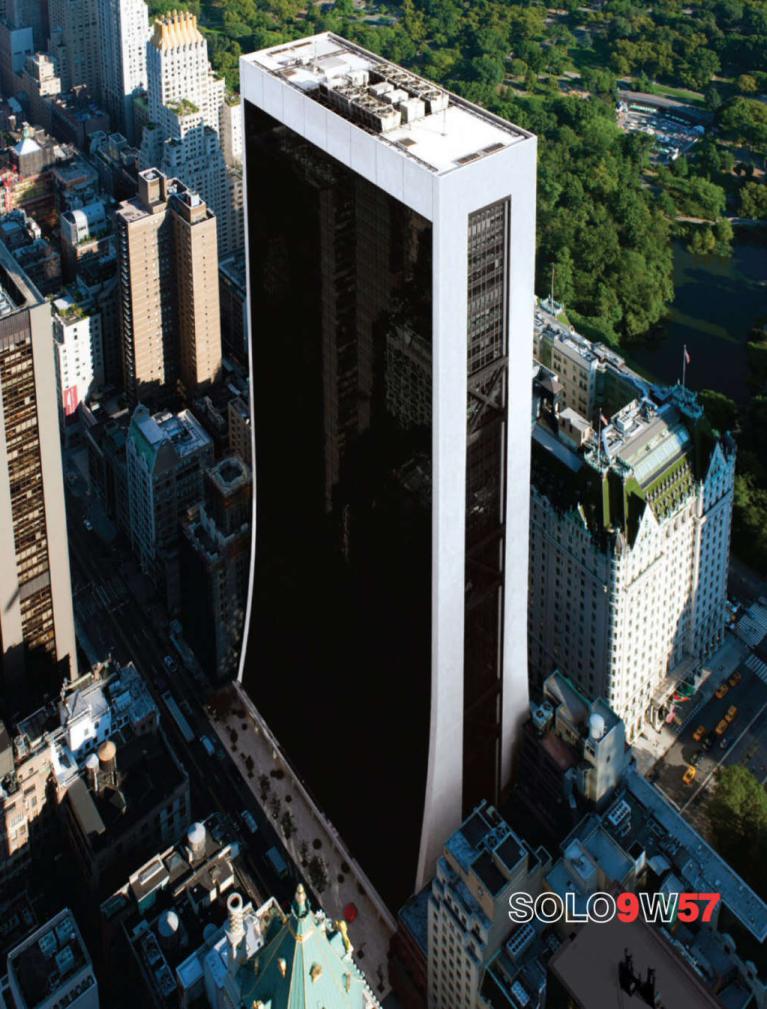 SOLOW BUILDING COMPANY
212.751.1100 EXT 281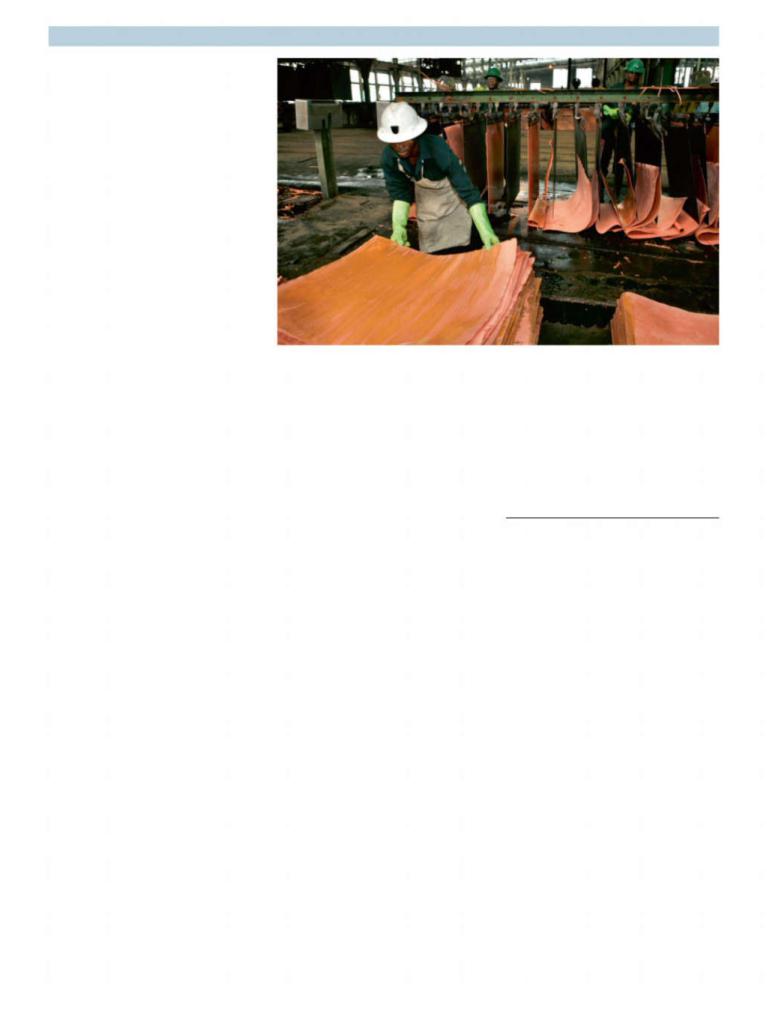 | | |
| --- | --- |
| 64 Business | The Economist September 12th 2015 |
Glencore and commodity traders
Nowhere to hide
Glencore's woes put the spotlight on an industry unused to scrutiny
SWITZERLAND is famous for the inscrutability of its banks. Its commodity-trad- ing houses, middlemen for more than a third of the world's oil and half of its co ee, are also about as murky as a mug of Nescafé. So when Glencore, once the epitome of a secretive trading firm, launched the biggest share o ering in the history of the London Stock Exchange, in 2011, the crucial question was how it would handle the pressures of being a public company. On September 7th it gave an answer, of sorts. After a dismal share-price performance this year, it caught shareholders by surprise, by announcing a $2.5 billion share issue and suspending the dividend. Although such moves normally send a company's shares crashing, Glencore's rose in reaction, out of relief that it was tak-
ing action to restore its battered finances. The main cause of the firm's woes is its
ill-timed reacquisition in 2013 of Xstrata, an Anglo-Swiss mining firm it had once spun o . That catapulted it into the mining big leagues just as slowing Chinese demand for raw materials was signalling the end of the commodities boom. By merging its trading division with a mineral powerhouse, it hoped that it could guarantee a steady supply of copper, coal and other raw materials to its clients around the world. Instead it made what amounted to a bet on metals prices, something that purer traders, who strive to make money by hedging deftly even in falling markets, have traditionally shunned. When China's growth engine sputtered, prices—and pro- fits—tumbled.
Since then Glencore's cash-flow forecasts have gone so awry that it is now promising "drastic" steps. It said it would shut copper mines in the Democratic Republic of Congo and Zambia, removing 400,000 tonnes from global supply over an 18month period, to try to push prices higher. Its share sale and dividend suspension were part of a pledge to cut its $30 billion in debt by a third to avert a ratings downgrade that could threaten the cheap borrowing its trading division depends on. Ivan Glasenberg, Glencore's boss, remains defiant about the wisdom of the Xstrata takeover. Yet not even the trading division performed as well as he had promised in the first half of its financial year.
Mr Glasenberg's oil-and-metals competitors are having a quiet chuckle at his expense. Unlike Glencore, big oil traders like Trafigura and Mercuria, also Swiss-based,
Not such a copper-bottomed investment
have reported solid profits as price volatility has increased over the past year. "A lot of them are looking at Glencore and saying, 'There but for the grace of God go I'," says Craig Pirrong of the University of Houston, who last year wrote a study of the commodity-trading firms sponsored by Trafigura. According to Mr Pirrong's data, Glencore was the most asset-heavy trading firm even before the Xstrata takeover, and has more "upstream" assets, such as mines, than most of its peers.
Yet even those for whom trading remains their bread and butter are being pushed into the more capital-intensive businesses of extracting, transporting and refining raw materials—which, besides making it harder for them to raise profits at times when commodity prices are falling, is likely to increase the public attention they get. Alexander Franke of Oliver Wyman, a consulting firm, says that as markets in far-flung places become more liquid, and data more abundant, trading margins shrink. That encourages firms to seek ways to handle bigger volumes more cheaply, by buying storage tanks, export and import terminals, and other bits of the supply chain. Some have bet heavily on "downstream" facilities, such as fuel distribution. Trafigura's Puma division, for example, has bought such businesses from BP in Africa and ExxonMobil in Latin America. Like Glencore, such capital-hungry businesses may have to tap public markets. Trafigura, for one, is considering listing Puma shares.
More discomfiting scrutiny is on the way. After American regulators, and stricter capital requirements, pushed many Wall Street banks out of the commodities business, European regulators are this month expected to announce rules that treat commodity traders like banks, imposing more transparency on, and requiring more capital against, their derivatives posi-
tions. Noble Group, a big Hong Kong-based commodities house, has come under attack from short-sellers after questions were raised about its accounting practices. Regulators are also cracking down on commodity firms' undisclosed payments to foreign governments. For now, Glencore's peers may relish its public agony. But the spotlight is turning on them too. 7
Spanish family firms
Opening up
MADRID
A debt hangover is forcing some family firms to seek outside help
OUTSIDE scrutiny is not something that El Corte Inglés is used to. Europe's largest department-store chain, with annual sales of more than €14.5 billion ($18.5 billion), has until now been entirely in the hands of relatives of its founder, Ramon Areces, and of employees. However, a row has burst into the open over its board's recent decision to sell a 10% stake to a Qa-
tari investor for €1 billion.
El Corte Inglés joins a steady stream of debt-burdened Spanish companies that have brought in new investors to repair their balance-sheets. The retailer will remain in the grip of the family: its boss, 39- year-old Dimas Gimeno, took over last year from his long-serving uncle. But its new shareholder, Sheikh Hamad Bin Jassim Al Thani, a former prime minister of Qatar, will get a seat on the board.
Not everyone was happy. Corporación Ceslar, a vehicle for some Areces family members which has a 10% stake, publicly accused the board of selling on the cheap.1