Добавил:
Upload
Опубликованный материал нарушает ваши авторские права? Сообщите нам.
Вуз:
Предмет:
Файл:
The_Economist_-_September_12_2015
.pdf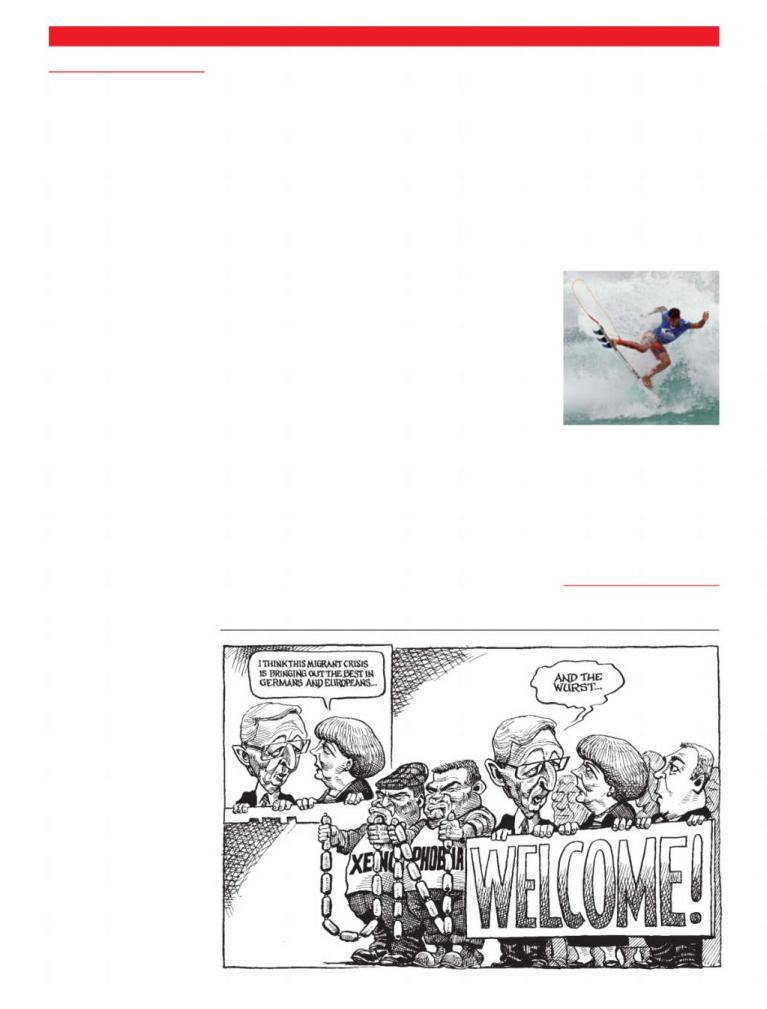 | | |
| --- | --- |
| The Economist September 12th 2015 | The world this week 11 |
Business
Stockmarkets rallied after the Chinese government promised a "more forceful" policy to counter a slowdown in China's economy that has sent a chill through global markets recently. The Nikkei surged by 7.7%, its biggest one-day increase since 2008, a welcome relief for investors in Japan's benchmark share index following a sharp drop in August. But trade data suggested a big decline in China's imports and exports in August. The central bank said that its foreign-exchange reserves dropped by a record $94 billion last month, due to interventions in currency markets.
Will they, won't they?
Some investors were also buoyed by speculation that the Federal Reserve will delay raising interest rates at its next policy meeting on September 16th-17th. Echoing similar advice to the Fed from the IMF, the chief economist of the World Bank warned that increasing rates now would add to the "panic and turmoil" in markets. Fed o cials have given contrasting views of late about the timing of a rise, undermining the central bank's attempt to provide markets with a clear signal ahead of an increase.
Complicating the outlook for interest rates, new figures showed that joblessness in America is now roughly at the Fed's estimate of its "natural rate", which stands at 5-5.2%. If unemployment falls much further, the Fed's models predict that wage growth and inflation will accelerate.
Puerto Rico presented a fiveyear plan to restructure its $72 billion of debt. As well as proposing cuts to public spending under the auspices of an independent board, the plan asks creditors to accept a "consensual compromise" that will force them to take a haircut on the bonds they hold, including on general-obliga- tion bonds that hitherto were considered safer bets.
Standard & Poor's cut Brazil's credit rating to "junk" status. The economy has plunged into recession in part because commodity and energy companies have curtailed investment in response to weaker commodity prices. The downgrade is another headache for the government, which is also trying to tackle rising prices and high unemployment.
Oil prices pared back some of their recent gains when Russia scotched speculation that it would co-ordinate with OPEC to lower oil production and ease a worldwide glut that has caused the price of oil to plummet. The Russian economy relies heavily on oil revenues.
Tarnished metal
Glencore unveiled a strategy for reducing its $30 billion debt pile. The commodities-trading and mining company plans to sort out its finances by closing two copper-mining operations in Africa as well as shedding other assets, postponing its dividend and raising $2.5 billion in new capital. Glencore's share price has slumped over the past year as commodities prices dived. The announcement that it will shut two mines, taking 400,000 tonnes of the metal out of the market, lifted copper prices.
Tesco, Britain's biggest supermarket retailer, also took action to pay down its net debt, which stood at £8.5 billion ($13 billion) in its latest fiscal year. It is selling its operations in South Korea to a private-equity consortium led by MBK Partners, which, at $6.1 billion is South Korea's biggest private-equity deal.
Li Ka-shing, Hong Kong's richest man, carried out another big restructuring of his business empire by merging two companies in a $12 billion transaction. The deal frees up a mountain of cash for Mr Li to make acquisitions as part of his pivot towards Europe and away from China.
In the latest instance of Japanese insurance companies buying foreign assets to o set slow growth at home, Mitsui Sumitomo said it would buy London-based Amlin for £3.5 billion ($5.3 billion). Japanese firms have featured prominently in a wave of merger activity in the insurance industry, which has seen $100 billion in acquisitions since January.
A new study suggested that
Alzheimer's disease might possibly be transmitted through certain medical proce-
dures. Scientists called for more testing to verify the theory.
Je Smisek resigned as the boss of United Airlines as a federal investigation began into whether the carrier had reinstated flights on a lossmaking route to curry favour with New Jersey's port authority, in exchange for improvements to Newark airport.
Caught inside
Quiksilver's American operations filed for bankruptcy protection. The surf-clothing company, which is based in Huntington Beach, or Surf City USA, was totally tubular in the 1990s, but its success prompted a wave of competition from copycat firms that marketed their apparel at the swelling hordes of hodads.
Other economic data and news can be found on pages 90-91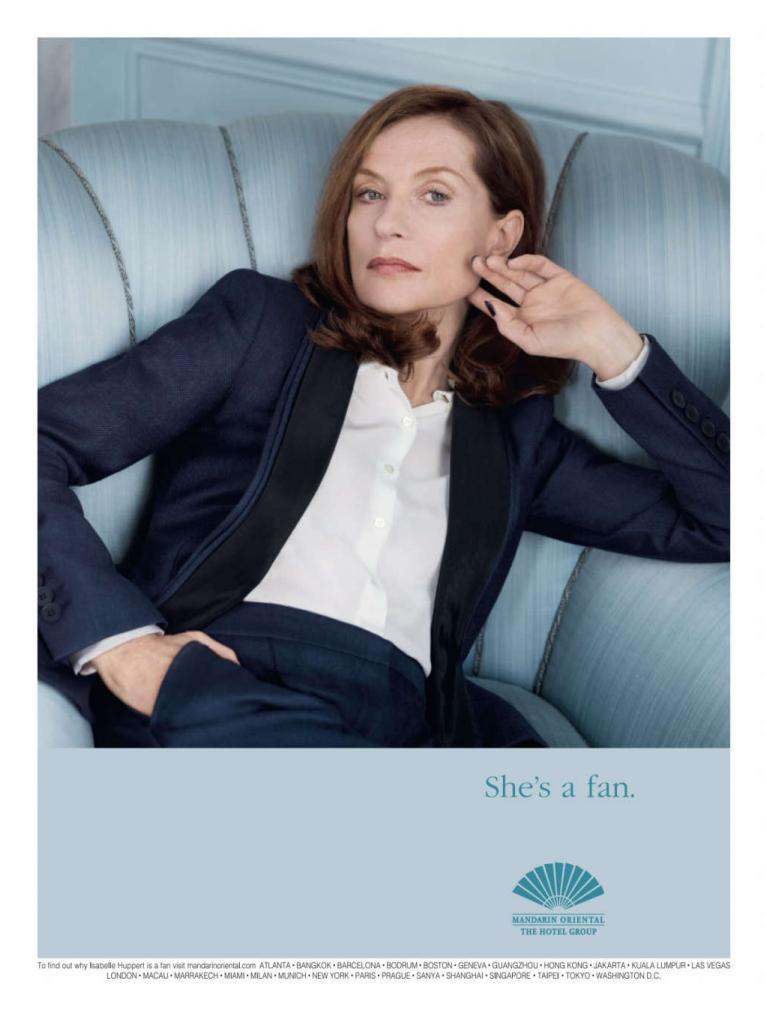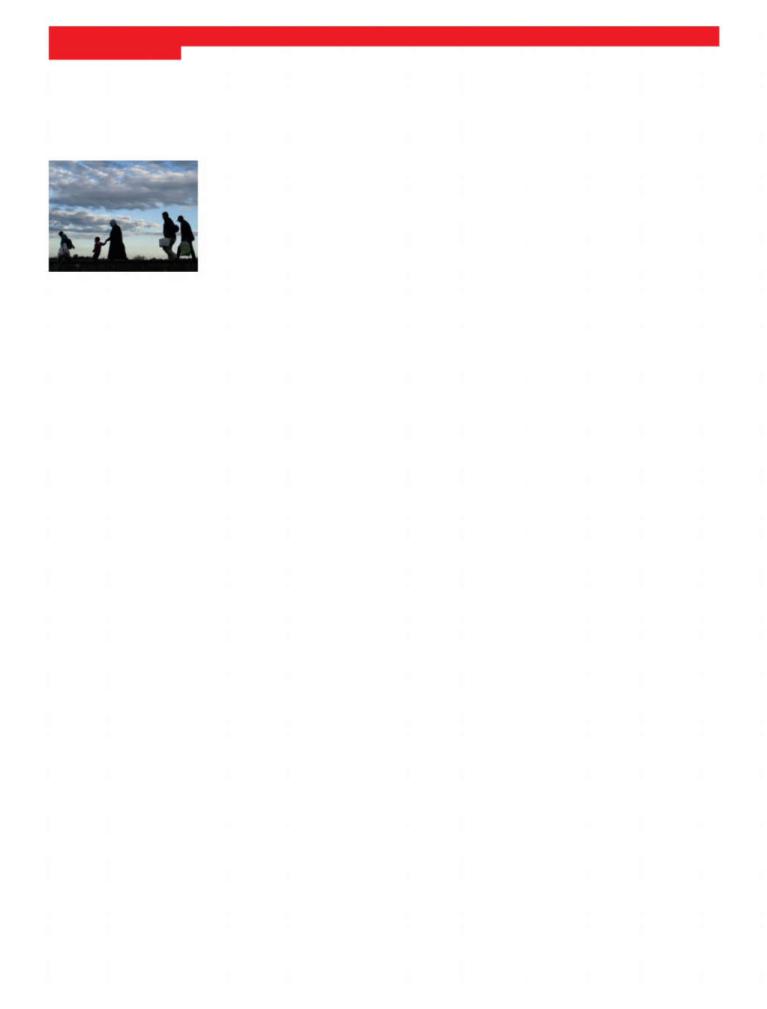 The Economist September 12th 2015 13
Exodus
Europe should welcome more refugees and economic migrants—for the sake of the world and itself
FOR too long Europe has closed its eyes to Syria's foul and bloody civil war, and tried to keep the su ering multitudes out. Suddenly the continent's gates have been pushed open by two political forces. One is moral conscience, belatedly wak-
ened by the image of a drowned Syrian child on a Turkish beach. The other is the political courage of Angela Merkel, the German chancellor, who told her people to set aside their fear of immigrants and show compassion to the needy.
Tens of thousands of asylum-seekers flowed towards Germany by rail, bus and on foot, chanting "Germany! Germany!", to be welcomed by cheering crowds. Germany is showing that old Europe, too, can take in the tired, the poor and the huddled masses yearning to breathe free. It says it can absorb not thousands, but hundreds of thousands of refugees.
Such numbers will inevitably raise many worries: that cultures will be swamped by aliens, economies will be overburdened, social benefits will have to be curbed and even that terrorists will creep in. Anti-immigrant parties have been on the rise across Europe. In America, too, some politicians want to build walls to keep foreigners out.
Yet the impulse to see migrants as chiefly a burden is profoundly mistaken. The answer to these familiar fears is not to put up more barriers, but to manage the pressures and the risks to ensure that migration improves the lives of both immigrants and their hosts. The starting point is a sense of perspective.
Willkommen, bienvenue, salaam alaikum
As a wealthy and peaceful continent surrounded by large areas of poverty and chaos, Europe is a strong draw for many seeking a better life. The 4m Syrian refugees compare with 1.2m from the Balkan wars of the 1990s and 15m after the second world war. The UN refugee agency, UNHCR, counts 59.5m refugees and other forcibly displaced people worldwide. Europe cannot take everybody in. But in truth, most people prefer a decent life at home. In addition, the history of migration is a catalogue of overblown fears (see page 22), with countless examples of exiles forming vibrant communities that enrich their host countries: the Jews, the Armenians, the Vietnamese boat-people and the Ugandan Asians, to name but a few. Germany's Willkommenskultur is right morally, economically and politically. It sets an example to the world.
Policymakers need to think about three groups: refugees, economic migrants and voters at home. Start with refugees. Syrians make up the largest contingent of asylum-seekers in Europe. Oppressed by the barrel-bombs of Bashar al-Assad's regime and the jihadists of Islamic State, Syrians meet any standard for recognition as refugees with a "well-founded fear of persecution", under the terms of the UN convention on refugees of1951. Helping Syrians is a clear moral duty.
That responsibility falls not on Europe alone, but the world as a whole. It needs a co-ordinated policy to manage the Syrian crisis along the entire chain of displacement. There must be a
concerted e ort to contain the war, starting with the creation of protected havens. UN agencies, buckling under the strain, must be properly funded. Syria's neighbours, which have taken in the largest share of refugees, need help to provide education and jobs, not just camps in the desert. America, Western countries and especially the rich monarchies of the Gulf should resettle many more Syrians—just as 1.8m Indochinese refugees were resettled in the1970s and1980s. Transit countries need help to manage human flows and absorb at least some people. Refugees should be able to apply for asylum in Europe without risking their lives at the hands of people-smugglers; that may mean establishing processing centres in transit countries. In Europe refugees should be shared across the EU fairly (see Charlemagne); other migrants denied entry should be speedily repatriated. The countries of the western Balkans (Albania, Kosovo, Serbia) should be deemed safe.
Refugees are intertwined with economic migrants. They get on the same boats and resentment of migrants erodes support for refugees. How, then, to deal with those who want a better life rather than a safer one?
Whereas states may not be able to pick who comes in search of protection, they want to choose who comes to work. A willingness to accept legal migrants gives countries more scope to turn back the illegal sort; issuing more work visas gives neighbouring countries a stake in the system and hence a reason to co-operate in curbing illegal flows. But the fundamental point is that Europe needs economic migrants. It has too few workers to pay for its citizens' retirement and to provide the services they want. Migrants are net contributors to the public purse. They inject economic dynamism. They are, almost by definition, self-starters.
Voters may not be so sanguine, though. Newcomers need housing, schools and health care. There is evidence that they depress wages for the low-paid—though barely. Where labour markets are rigid, migrants can become an underclass. Yet this strengthens the case not for fortress Europe, but for good public policy—and especially for the sort of open, flexible labour markets that Europe needs whether or not it accepts migrants.
Voters fear that immigrants will not fit in. An old idea of Christendom still lurks within modern European identity. Since the 9/11 attacks on America, and terrorist murders in Europe, relations with Muslim minorities have become strained. Yet compassion towards needy Muslims is part of the antidote to a hateful jihadist ideology. By contrast, millions of brutalised Syrians left to fester on Europe's fringe would be a source of extremism that will not respect any border.
Love ye the stranger
There are surely limits to how many migrants any society will accept. But the numbers Europe proposes to receive do not begin to breach them. The boundaries of social tolerance are fuzzy. They change with time and circumstance and leadership. Willkommenskultur shows that the people of Europe are more welcoming than their nervous politicians assume. The politics of fear can be trumped by the politics of dignity. Mrs Merkel understood this; so should the rest of the world. 7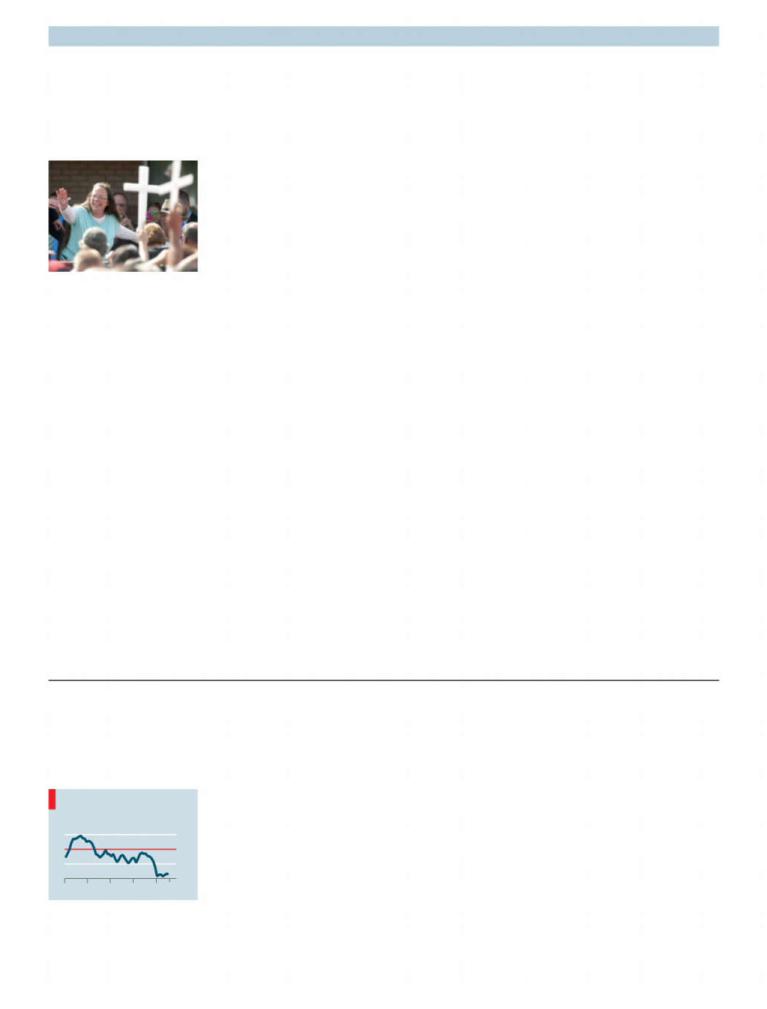 % increase on a year earlier
| | |
| --- | --- |
| 14 Leaders | The Economist September 12th 2015 |
Gay marriage: the aftermath
Some martyr
Gays, not Christians, are still America's truly embattled minority
JAILING Kim Davis for five nights has made her a misleading martyr to a misguided cause. Ms Davis is a clerk in Kentucky who adamantly refused to dispense marriage licences to same-sex couples. Her of- fence—to break the law in order
to preserve her conscience—was even more wrongheaded than her punishment. Though she is now free again, her supporters, including several Republican presidential candidates who ought to know better, see her brief incarceration as the brutal triumph of secular tyranny. They exaggerate both Ms Davis's nobility and the threat faced by Christian America.
After the Supreme Court in e ect legalised same-sex marriage throughout the country in June, several local o cials— among them Ms Davis, the clerk of Rowan County, Kentucky— stopped supplying marriage licences to any couples, gay or straight. She was sued; she lost, predictably and repeatedly. When, after a convoluted legal process, she still refused to comply, she was judged to be in contempt of court and locked up. For all the adulation it has garnered, her stance is deeply confused, not least because issuing licences to pairs of men or women who want to get hitched would not imply her moral approval of their unions. It would signify only that the couples had met the legal requirements for marriage. Ms Davis is fully entitled to her horror, but it is irrelevant to her duties.
If that distinction failed her, she should have resigned, as others in her position have (since her post is elected, she cannot easily be sacked). She might even have stayed out of jail by letting her deputies process the o ending paperwork in her stead (and might go back inside if she prevents them doing so now). That choice does not amount to a tyrannical imposition on her freedom. It simply means that, as a public o cial, she is
bound to uphold the law. To compare her recalcitrance, as some admirers have, to the refusal of Rosa Parks to give up her seat on a Montgomery bus, or to the 19th-century figures who declined to return runaway slaves, is absurd.
Absurd because, unlike slavery or segregation, gay marriage is almost completely victimless. Therein lies another fallacy of Ms Davis's martyrdom: she makes it seem that Christians have been persecuted by the Supreme Court's ruling, directly and en masse, when, in reality, only a few have been inconvenienced (and many more gay Christians stand to benefit). There is a di cult question about whether the handful of devout bakers and florists who would prefer not to cater to same-sex nuptials should be compelled to. The law must either require shopkeepers to treat everyone alike or condone their intolerance—equality is surely better. Meanwhile, despite much scaremongering to the contrary, those pastors who do not wish to oversee such ceremonies are already exempt. Ms Davis's predicament is not only self-inflicted. It is also wholly unrepresentative.
Victim complex
Still, the furore in Kentucky shows the extent to which some Christian Americans feel besieged by what they perceive as a strangulating godlessness. Given the freshness of the gay-mar- riage ruling, perhaps that paranoia is understandable. The truth, though, is that Americans' freedom to practise their faiths is robustly defended by both the constitution and federal law (see page 40). The rights of the godly are actually much more secure than those of gay Americans—who still lack federal protection from prejudice like that granted to other groups by the Civil Rights Act of1964. In most states of America homophobes can still legally discriminate against homosexuals, married or otherwise. That is a much graver scandal than Ms Davis's theatrical refusal to do her job. 7
The Federal Reserve
False start
The Fed should wait until inflation is closer to target before raising rates
THE last time the Federal Reserve raised its benchmark interest rate, there was no one to
 

 

 

FED TARGET

3

tweet about it. That rise, in June

 

 

 

 

 

 

 

2

2006, predated Twitter's public

 

 

 

 

 

 

 

 

 

 

 

 

 

 

 

 

1

release by a month. Nine years

 

 

 

 

 

 

 

 

 

 

 

0

on, as the Fed readies itself to

2011

12

13

14

15

 

 

raise rates again, the public de-

 

 

 

 

 

 
bate between hawks and doves is much noisier. Markets reckon that the Fed will raise its benchmark rate at least once this year, from the 0-0.25% range it has targeted since December 2008—and perhaps do so as soon as its next rate-setting meeting on September16th-17th. But here, it does not pay to go early:
a rise now would needlessly risk America's recovery.
On the face of it, the case for a rise looks perfectly respectable. The American economy is at its fittest in more than a decade. It grew at a 3.7% annualised pace in the second quarter of 2015; after a brutal period of post-recession deleveraging, consumers are spending again. Firms have been hoovering up workers, creating jobs at a rate of about 3m a year, the best performance since 1999 (see page 69). In August the unemployment rate fell to 5.1%. The Fed has repeatedly assured markets that its rate increases will be gradual and gentle: hawks argue that slightly higher rates will not derail the economy.
They also brush aside low inflation. The Fed's preferred measure, which has been below its 2% target for more than1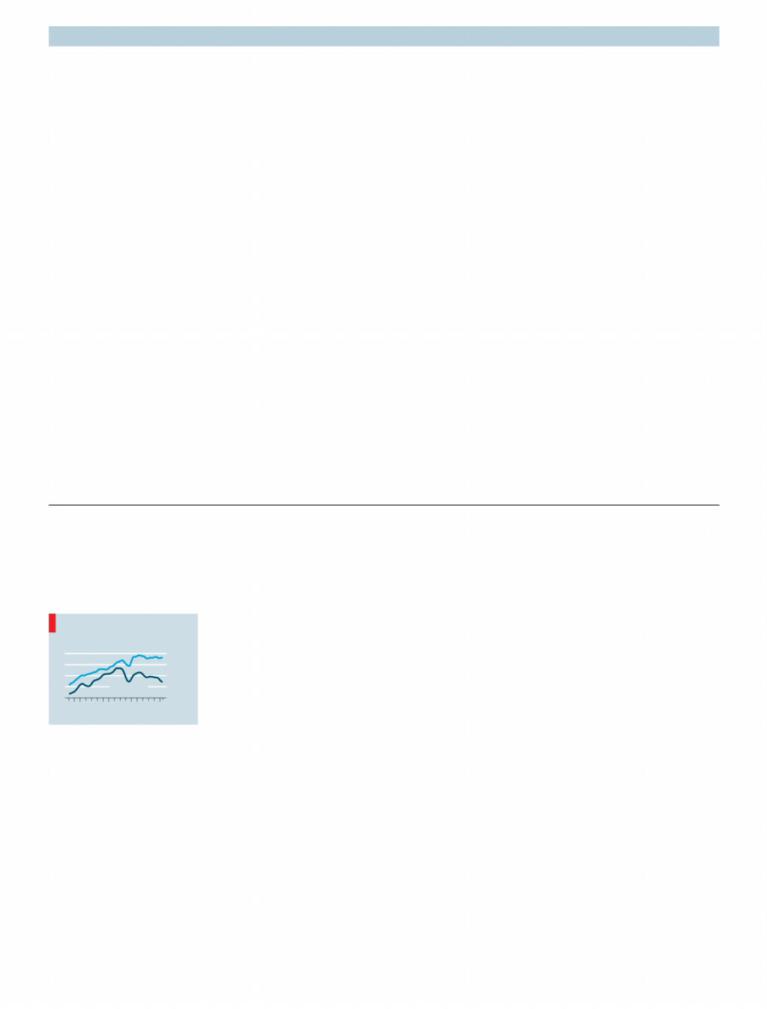 The Economist September 12th 2015
2 three years, stood at 0.3% in July. Yet the central bank is meant to look ahead when making its decisions. With unemployment so low, the Fed is confident that firms will find themselves forced to boost pay to attract workers. That should lead to higher prices. Meanwhile, the e ects of falling oil prices and a rising dollar, which have depressed inflation over the past year, should soon abate, allowing inflation to climb back to 2%—and perhaps higher, if the Fed does not act soon.
Hawks make a third argument for speedily escaping the abnormal world of near-zero interest rates. With borrowing costs so low, they say, it is only a matter of time before yield-hungry investors take on extravagant risks, laying the groundwork for a future financial calamity. The sooner the economy permits a return to higher rates, the better.
Act in haste
Look closer, however, and this case is flawed. A looming rise in inflation is anything but certain. Although the unemployment rate is low, other labour-market measures suggest willing workers are waiting in the wings. Labour-force participation among workers aged 25 to 54 has yet to recover from its recession swoon. Wage growth, at 2.2%, has scarcely risen in four years and remains well below levels reached during the previous three recoveries. That suggests firms can still draw on a reservoir of underemployed workers—which should keep a lid on wages and prices. The financial risks from ultra-low rates have been reduced by tougher regulation.
In addition, the Fed is moving to tighten just as the global economy is weakening. That is not just a concern to wobbly
Business in China
Leaders 15
emerging markets, which fear that rising interest rates in America will prove a magnet for foreign capital. The dollar, up by nearly 20% over the past year on a trade-weighted basis, may float even higher, squeezing American exporters and dragging down inflation. Small wonder markets signal that they expect inflation to remain below 2% for the next few years.
On its own, therefore, the balance of probabilities argues against a rise. But the clinching argument against the hawks is that they ignore a fundamental asymmetry of risks. If the Fed waits too long to tighten, then inflation will rise above 2%. Were that to happen, the Fed has unlimited capacity to raise rates and could do so safe in the knowledge that it had pushed the American economy to its speed limit. If rates then had to rise steeply, the central bank would at least have more room to respond to future troubles by cutting again.
Raising rates too soon would be much costlier. A slowdown in growth could turn low inflation into deflation. To perk the economy back up, the Fed would have little option but to restart quantitative easing. That sort of backtracking is precisely the fate that has befallen other central banks which moved to tighten too swiftly (see page 72). Years of rock-bottom interest rates in Japan might have been avoided had the Bank of Japan been a little more patient in 2000, when it lifted rates in response to quickening growth (and higher stockmarkets) despite falling prices.
Low interest rates have risks. But premature rate increases can make them a near-permanent feature of economic life. For months Fed statements have declared that inflation will soon return to 2%. There is little harm in waiting to be sure. 7
The China that works
If the economic miracle is to continue, o cials must give the private sector more freedom
Return on assets

 

FTER a summer of tumbling

 

Astockmarkets and gloomy

Chinese industrial enterprises*, %

 

10.0

data, the Chinese economy has

Private-owned

the rest of the world on edge.

7.5

 

State-owned

5.0

The value of imports sank by

2.5

14.3% in August year on year, re-

 

0

 

inforcing worries that a sharp

1999 2005 10

15
*7-month moving average

slowdown is under way. Those

 
years of double-digit growth are firmly in the past. The question many ask is whether China can find a new model of growth to replace the old one. The good news is that it already exists. It is called the private sector.
In our special report in this week's issue we show how the private sector has created almost all new urban jobs in the past decade, and now employs about four-fifths of urban workers. Average growth in output at private industrial firms since 2008 has been double that seen at state-owned enterprises (SOEs). The returns on assets at private firms are higher than those at SOEs, where they are below the cost of capital. The country's manufacturing sector, which is almost entirely controlled by private firms, remains the world's most formidable: China's share of global exports rose from 11.5% in 2011 to 14.3% in June.
Important as private firms already are, the onus on them to propel China's economy forward will only grow, for three reasons. The first is China's transition away from investment-led
growth and towards consumption-led industries and services. SOEs have been central to China's long investment boom: they account for perhaps a third of capital spending, against a figure of 5% or less in most rich countries. Consumer industries, by contrast, are the province of world-class private enterprises such as Tencent, an online-gaming and social-media giant, and Xiaomi, a smartphone trailblazer.
Second, China needs to become more inventive. McKinsey Global Institute, a think-tank, reckons that, if China is to sustain annual growth of 5.5-6.5% until 2025, a third to a half of this increase must come from improvements in total factor produc- tivity—essentially, innovation. China's nimble entrepreneurs are brilliant at coming up with new products and services to cater to exacting consumers: a Chinese firm commands half the burgeoning global market for commercial drones, for example. Chinese businesses are also good at business-process innovations designed to increase e ciency.
The third reason for thinking that private firms will become more central is that China's debt-driven growth model is sputtering. The SOEs are the channels through which much o cial credit has been shovelled into the economy, often aimed at white-elephant projects. The average debt-to-equity ratio at state firms is roughly1.6; at private firms it is below 0.8. If China is to keep growing fast, credit will need to be withdrawn from state-owned zombies and directed to flourishing private firms.1
| | |
| --- | --- |
| 16 Leaders | The Economist September 12th 2015 |
2China's leaders know all this, of course. The lash of compebarked on much-needed reform of the SOEs, of China's legal
tition is what turned Chinese exporters into world-beaters. Officials have publicly vowed to give markets a "decisive role" in the domestic economy, too. The problem for them is that, if China Inc is fully to realise its potential, the Communist Party must ease its grip. The tension between liberalisation and control has long existed—successful private firms themselves carefully cultivate good relations with the party. But the slowdown has sharply raised the cost of sacrificing output for dominance.
Brain not brawn
Take innovation. China's central planners are spending more than $200 billion a year on R&D, and want to triple the number of patents awarded in China by 2020. But patents and PhDs get you only so far. If world-class innovation is to flourish, private companies must have access to the best ideas and the brightest people in the world. Yet the party ultimately controls what is taught at the country's universities, and state censors routinely block access to international websites and useful collaborative tools like Google Docs. China also makes it too di - cult for foreigners to immigrate.
It is a similar story in other areas. The government has em-
regime and of the country's financial system. But conflicts, compromises and questions abound. On SOEs, the details are fuzzy but reports this week suggest that the government is minded to split firms into two camps, one commercially oriented and the other focused on something vaguely defined as the public good. The real problem is that vested interests inside the SOEs parry reform. Even if the proposed changes were fully implemented, they do not go far enough. The leadership is still loth to see any state-owned firms go bust, for example.
On the rule of law, the government wants to curb the meddling of city and provincial party o cials in local courts. That is welcome, yet China's legal system and courts remain subservient to the party. On financial reform, interest rates are being liberalised and internet finance is vibrant, but what investors will remember from this summer are the bans on selling shares and the investigations into market participants.
If China is to sustain strong growth—and with it the high employment that buttresses social stability—the only option is to encourage more enterprise and innovation. Such dynamism will not come from stodgy state firms. It can be generated only by the China that works. 7
Biodiversity
Growing pains
Storing wild seeds will save harvests—and lives
FARMING is more e cient than ever. But the search for high yields has also made it more concentrated. From the wheat in steaming noodles to the maize of fresh tortillas, just 30 crops now sate almost all of
humanity's nutritional needs. But monoculture carries great risks. A single disease or pest
can wipe out swathes of the world's food production, an alarming prospect given that its growing and wealthier population will eat 70% more by 2050 (see page 59). The risks are magnified by the changing climate. As the planet warms and monsoon rains intensify, farmlands in Asia will flood. North America will su er more intense droughts, and crop diseases will spread to new latitudes. Pests are on the move, too. Since the 1960s, unwanted beasties, spared harsh winter frosts, have moved polewards at an average of around 3km (2 miles) a year.
The solutions to some of these problems lie in the genes of wild relatives of food crops. Botanists can screen them for valuable traits, and use the genes to breed new domestic varieties. Asian paddy fields were saved from the brown planthopper 40 years ago thanks to one wild Indian rice species. This is often cheaper and less controversial than genetic modification. But success depends on having thousands of varieties to test.
The burden of preserving biodiversity must fall on governments. Biotech firms focus on just a few commercial crops, and control the distribution of their seeds. Developing and maintaining seed banks, which currently hold 7.4m samples of the Earth's bounty in their vaults, is essential. But most seed banks were built in the 1970s and 1980s and have seen little investment since. Some have disappeared altogether owing to war,
as in Afghanistan, and fire, as in the Philippines. And keeping samples healthy requires regular propagation, not just dehydration and freezing. That means hiring and training plenty of botanists—who can also search for new species.
The world's seed banks co-ordinate their work through the International Seed Treaty, which came into e ect in 2004 and has been signed by 135 countries and the European Union. It identifies 35 food crops as so essential to global food security that their genetic diversity should be shared widely.
But some countries' regulations on "biopiracy"—the uncompensated commercialisation of plants and seeds—stop the treaty from being properly implemented. In the 19th century rubber barons enriched themselves by sneaking seeds out of the Amazon. One explorer, Sir Henry Wickham, got 70,000 of them through customs; many were used to establish rubber plantations in Asia, breaking Brazil's monopoly. India, among others, now o ends too far the other way. Scientists working there struggle to get permission to export samples, even when they cite the treaty's provisions, for fear of piracy. And the list of 35 essential crops fails to include some important ones, such as soyabeans and peanuts. It needs to be expanded.
Money well spent
Much harm has been done. In the past century about threequarters of global crop genetic diversity is thought to have been lost, and with it many potentially beneficial traits. Preserving what remains is an insurance policy against the e ects ofclimate change: Britain's Millennium Seed Bank, the world's largest, cost £73m ($112m) to complete in 2010. The damage from the brown planthopper came to $1billion in today's money. Governments should share species and fund seed banks. Their work is a vital safeguard against hunger. 7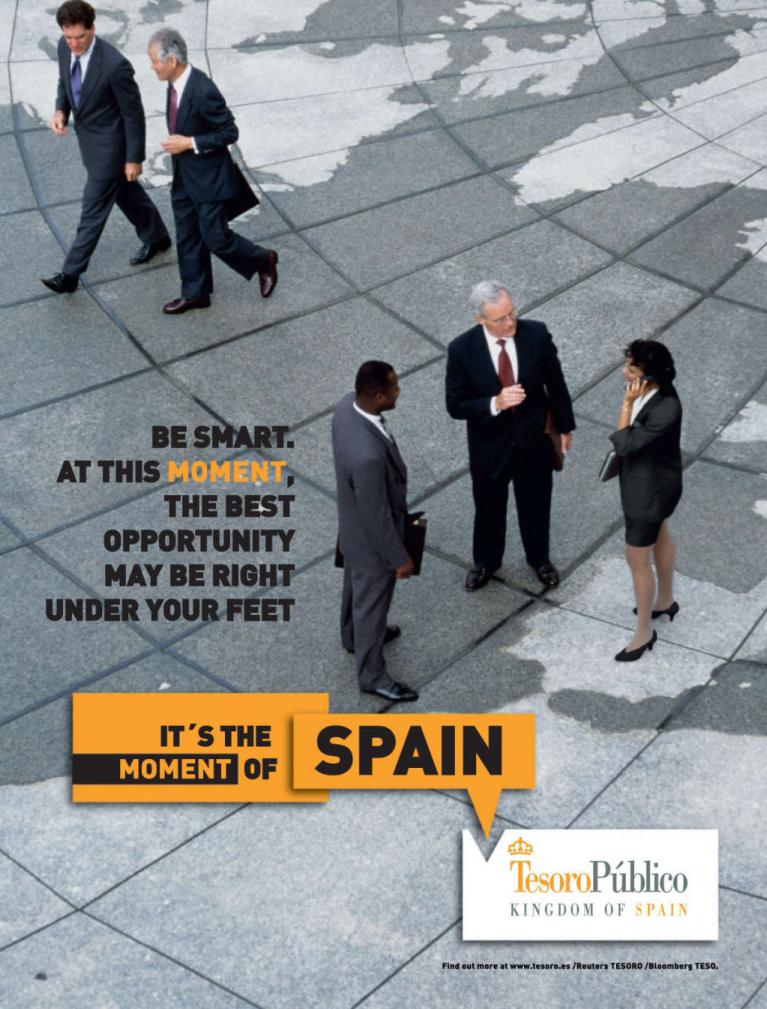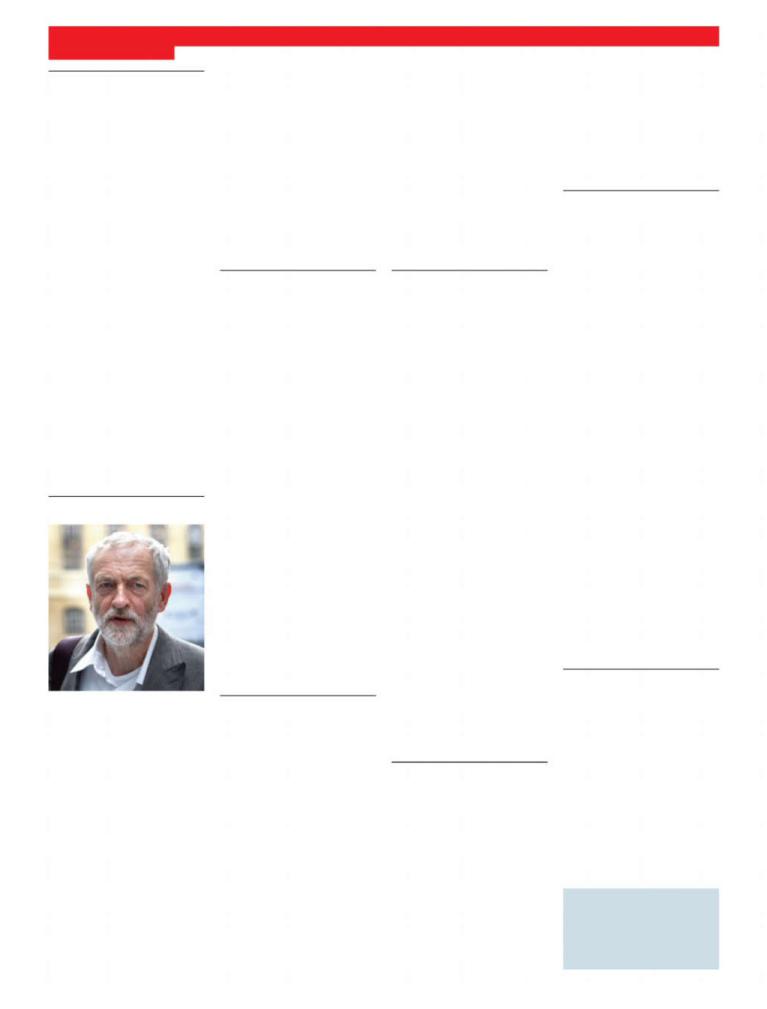 18 Letters
Hunger strikers in Israel
In response to your article on Palestinian hunger strikers, "To feed or to free" (August 22nd), it should be pointed out that around two dozen of Israel's leading bioethicists, doctors and legal experts have issued a position paper favouring the imposition of life-saving feeding on hunger-striking prisoners when there is a clear threat to their life. They declared that in Israeli culture the value of human life should take priority over that of autonomy. This position, in opposition to that of the Israeli Medical Association, is supported by several Israeli court decisions, by the Israeli Patients Rights Law and is in keeping with the position of the European Court of Human Rights.
SHIMON GLICK
Professor, emeritus active Faculty of health sciences Ben-Gurion University of the Negev
Beer Sheva, Israel
Not quite Blake's Jerusalem
Bagehot (September 5th) believes that Labour's Jeremy Corbyn "misreads (or worse, does not like) modern Britain and its instincts". Britain is described as a country of "rampant consumerism" where "the route to happiness is through personal fulfilment". How could Mr Corbyn fault a nation that is, according to Bagehot's sources, increasingly sceptical of organised religion (preferring disorganised, I suppose), of the welfare state (deploring the practice of giving succour to the least fortunate) and of government in general (following the lead of the Tea Party brain trust)?
Sarcasm aside, we can only
hope that it is Bagehot who is misreading his compatriots. It is disheartening to think that this mindset has become dominant in a people who opened the way for democracy, led the fight against African slavery, recognised early the rights of workers and women and instituted one of the world's first systems of universal health care.
LELA STROMENGER
Lexington, Kentucky
How we respond to ads
It is worth bearing in mind that although spending on di erent marketing media has changed fundamentally ("A brand new game", August 29th), advertisers are not so much choosing one medium over another as working out how each of us consumes, and responds to, di erent combinations of media. Some people first notice a product on social media, then research it further online, then buy it in store. Some are inspired by what is o ered through direct mail and buy through e-commerce.
Our research over the past ten years finds that stereotypical preconceptions are on the wane. Older people are doing as much online, if not more, as the young. Younger people are more responsive to all media than cynical older buyers.
PAUL LINDSELL
Managing director MindMetre Research
London
Streamlining taxes
Many agree with the aim of the OECD's Base Erosion and Profit-Shifting project to reduce the scope for canny tax managers who avoid their tax liability by finding discrepancies between national corporatetax codes ("Patently problematic", August 29th). But others fear that it is arbitrary and distortionary to insist that tax competition must operate on headline rates or thresholds.
Not only are rates falling inexorably as globalisation intensifies competition for capital, but taxing profits also creates a harmful debt bias, which can only be fixed by
The Economist September 12th 2015
inelegant, problematic allowances for corporate equity, and is among the most economically damaging of taxes. A government which recognised the fundamental flaw in using profits as a base, and replaced it with a tax on distributions, could reap substantial taxsimplification and economic- e ciency benefits.
RORY MEAKIN
TaxPayers' Alliance
London
Invasion from the sea
"A bigger, better Suez Canal" (August 8th) lauded the economic benefits of the expansion of the canal, but there was no mention of the environmental e ect on the Mediterranean Sea. Marine scientists agree that the canal's enlargement will increase invasions of species from the Red Sea, resulting in a range of harmful e ects on the ecosystem structure and functioning, with real implications for humans.
Some 450 such species have already been recorded in the Mediterranean, many of which are noxious, venomous or ecologically ruinous and pose clear threats to human health, tourism, fisheries and littoral installations. For example, swarms of venomous jellyfish clogging bathing beaches, fishing nets and intake pipes at power plants.
The better canal of your headline augurs ill for the Mediterranean Sea.
BELLA GALIL
Marine biologist National Institute of Oceanography
Haifa, Israel
Getting kids to stay in school
There is a big structural explanation for why so many British children leave school early in addition to the factors you outlined ("Hiding in plain sight", August 22nd). This is the fact that kids "graduate" at 16 with their GCSE exams and often need to change school to continue until 18 with their A-level exams. This gives many pupils a systemically mandated decision point at which they can opt out of
education. Were high school to be a consolidated progression, such as in America and Australia, students would naturally move on to the next grade with a lower chance of leaving.
SIMON GOLDMAN
Cambridge, Cambridgeshire
Learning from the octopus
Reading your report on the decentralised control system and brainpower of certain cephalopods, especially the octopus ("Tentacles that think", August 15th), brought to mind an outside-the-box analysis of what we can learn from nature about protecting ourselves from terrorist threats, natural disaster and pandemics.
In "Learning from the Octopus" the late Rafe Sagarin, a marine ecologist and security analyst at the University of Arizona, developed these ideas in a provocative work documenting the way that certain natural species have survived in a world of predators, adversaries and surprise attacks. His conclusions stress the importance of adaptable, flexible control systems, decentralised decision-making, redundant capabilities and symbiotic relationships with potential enemies.
CHESTER CROCKER
Professor of strategic studies Georgetown University
Washington, DC
A classics argument
Petronius's lampooning of Trimalchio's feast in "Satyricon" is less an ancient example of "anti-business sentiment" and more an attack on the nouveau riche ("What's the alternative", August 15th). Since Roman times plenty of us have loved capitalism, while disliking those who garishly flaunt their capitalist gains.
MIKE GATTO
Glendale, California 7
Letters are welcome and should be addressed to the Editor at
The Economist, 25 St James's Street, London sw1A 1hg
E-mail: letters@economist.com
More letters are available at:
Economist.com/letters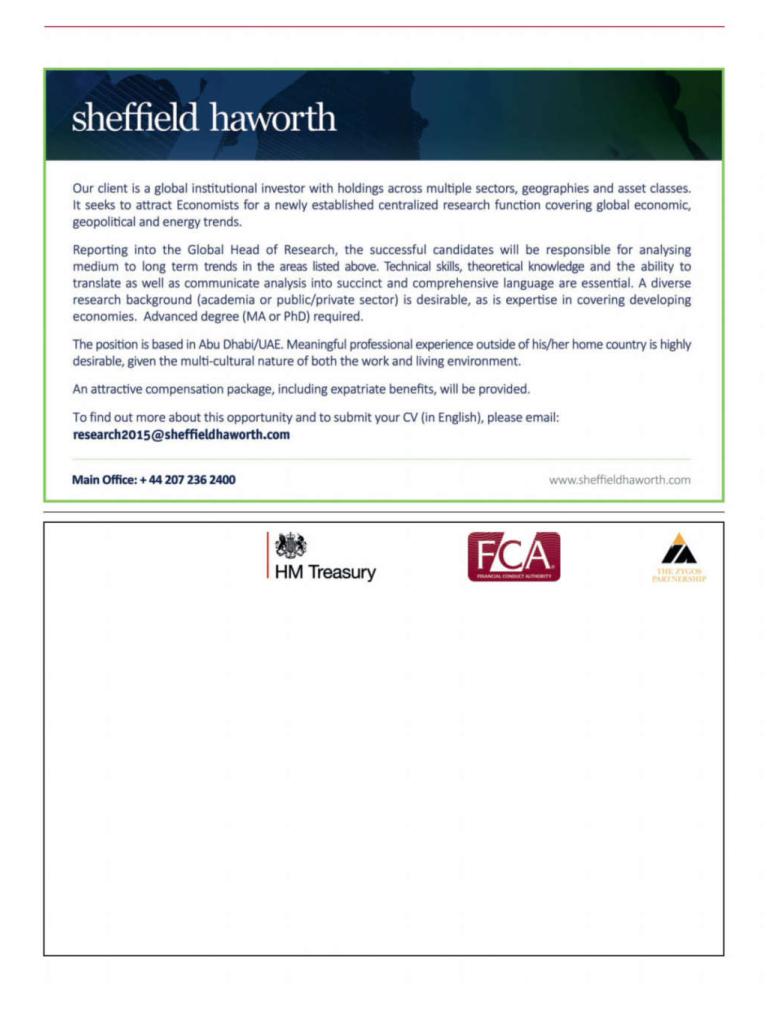 Chief Executive (London base)
The Chancellor of the Exchequer's aim for the UK financial services sector is that it should be the best regulated in the world, with markets of unquestioned integrity and the highest standards of conduct. He is therefore seeking to appoint an exceptional Chief Executive to lead the UK Financial Conduct Authority (FCA). This will be someone who is passionate about protecting consumers, promoting competition and upholding ethical standards.
The FCA is the independent regulator responsible for supervising the conduct of all UK regulated financial firms (currently over 70,000) and for the prudential regulation of those firms not regulated by the UK Prudential Regulation Authority. Its aim is to make sure that markets work well. This means ensuring that it:
•Protects consumers
•Protects and enhances the integrity of the UK financial system
•Promotes effective competition
This is an opportunity to take on an intellectually demanding role at the heart of international financial services leading a sizeable and complex organisation. There is a requirement for strong leadership in a challenging environment, building on the foundations that have been built since the FCA was established in 2013 and taking it to the next stage of its development.
In particular, the next Chief Executive needs to demonstrate:
•Effective leadership. First class management experience, comfort in operating at Board level, with exceptional communication skills and proven capability to build a strong organisation at all levels. High levels of personal effectiveness, determination and resilience.
•Strong stakeholder engagement. Ability to engage with regulated firms, consumers and consumer representatives, domestic and international regulators, and the UK Government and Parliament. Deep understanding of the public policy environment in which the FCA and the companies it regulates operate, both nationally and internationally, and proven effectiveness at influencing it.
•Excellent judgement. Analytical skills, intellectual ability and commercial acumen; capability to develop and articulate clear strategic options and plan effective implementation in the context of a high volume of work and in a situation calling for fast paced decision making.
The successful candidate will need to show an authoritative understanding of the issues in the sectors that the FCA regulates, ideally with exposure to the development and implementation of policy and strategy in these areas, in the UK and/or internationally.
Please apply for an application pack to fca@zygos.com or call 020 7881 2900.
Closing date: Monday 28th September 2015.
The Economist September 12th 2015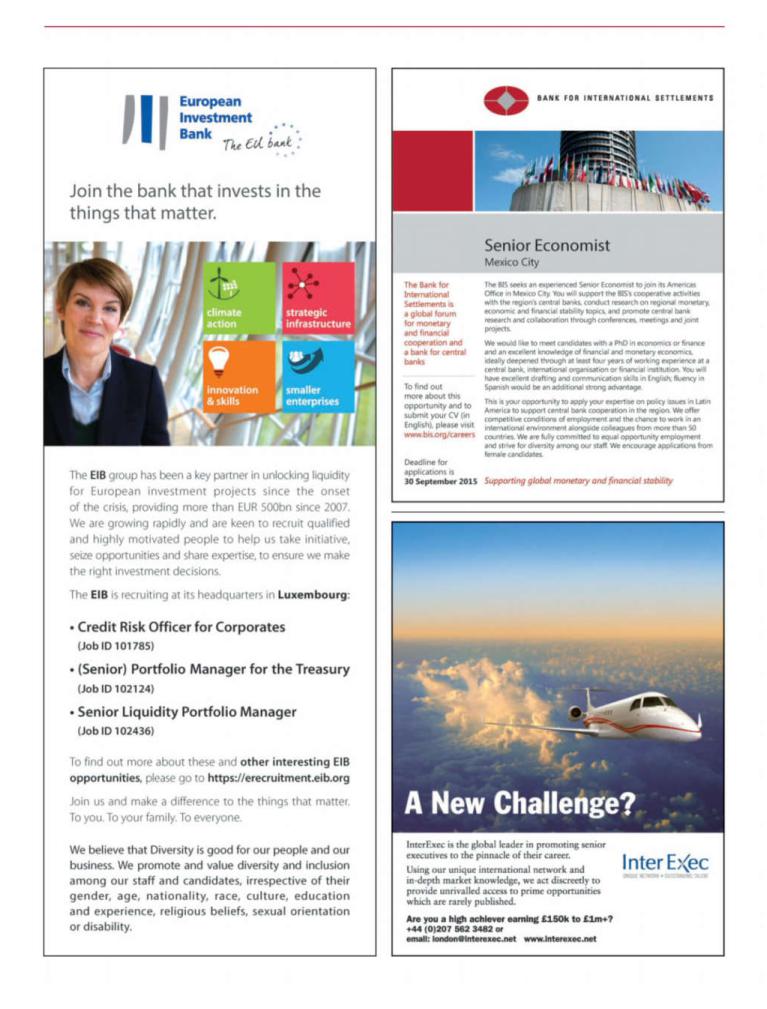 The Economist September 12th 2015