Добавил:
Upload
Опубликованный материал нарушает ваши авторские права? Сообщите нам.
Вуз:
Предмет:
Файл:
Sillabus - Geography of International Tourism
.doc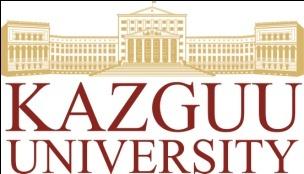 Ъ
Kazakh University of Humanities and Law
GMT 3207 Geography of International Tourism (World Geography of Tourism)
Sillabus
1. General information
| | |
| --- | --- |
| | |
| CODE AND TITLE: | GMT 3207 Geography of International Tourism |
| CREDITS: | 3 credit hours |
| INFORMATION ABOUT INSTRUCTORS: | Raushan Mukhamejanova, MSc |
| Office: | Korgalzhyn, 8, Office # 417 |
| Email: | raushan-muhamedz@mail.ru |
| Telephone: | +7(7172)443146, + 7 7789440421 |
| 2. CONSULTATIONS: | |
| Venue: | Korgalzhyn, 8, Office # 417 |
| Dates: | To be considered upon request |
3. Course materials
This course is developed for the Bachelor students of Tourism and totally based on the internationally recognized textbooks, first of all, the one mentioned below:
Alan Lew, c. Michael Hall, Dallen j. Timothy, World Geography of Travel and Tourism: a Regional Approach. Elsevier Inc.: First Edition, 2008.
The expert author team has included major themes and issues in tourism, and positioned them in a regional context. In this way, this text takes a major step into a more analytical approach to global tourism while still providing a clear account of the geography of travel and tourism.
World Geography of Travel and Tourism makes vital reading for any student seeking an introduction to tourism geography and indeed, international tourism and global geography as a whole. 
4. Course description
World Geography of Tourism addresses the need to understand the cultural, environmental, historical and political context in which international tourism takes place. This course examines the history, components, and spatial structure of travel and tourism as a socioeconomic phenomenon and as one of the major industries in the world; investigates its institutional organization, the motivations and flows of travelers, and global and local interactions and implications.
From a geographical point of view, tourism will be considered from three perspectives:
• the "tourists generating" countries;
• the tourist destination countries;
• the routes travelled between these two sets of locations.
Moreover Human geography and critical issues in tourism geography will be explored. Other than that inbound tourism of Kazakhstan will be illustrated and new vistas uncovered. In addition the subject-matter of this course accommodates specific well-known case studies in the world.
5. Learning outcomes
After completing of this course students must be able to:
- Develops a clear analytical framework and systematic context for the study of international tourism and travel;
- Present a global account of travel geography organized around key regions;
- Provides regional knowledge from around the world that assists to understand some of the main factors that affect tourism patterns and flows;
- Comprehend current trends in international geography of tourism in a global economy, integration processes, role of international tourist organizations;
- Make a complex tourist characteristic of the country and region;
- Make forecasts of tourist flows;
- Student has to own professional terminology, the basic concepts of this course.