Добавил:
Upload
Опубликованный материал нарушает ваши авторские права? Сообщите нам.
Вуз:
Предмет:
Файл: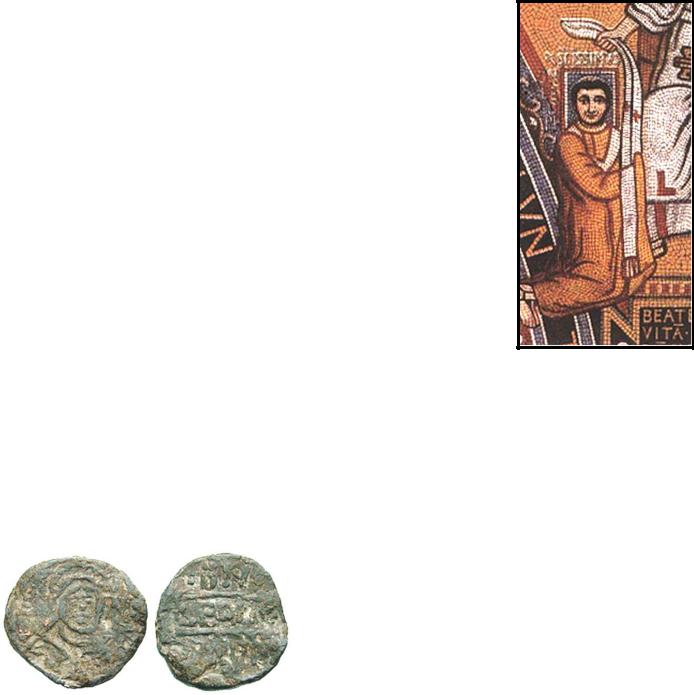 Leo III - 26 Dec. 795 to 12 June 816
Pope Leo III (died June 12, 816) was Pope from 795 to 816.
Leo announced his election to Charlemagne, sending him the keys of Saint Peter's tomb and the banner of Rome, requesting an envoy. Charlemagne in his reply stated that it was his function to defend the church and the popes' to pray for the realm and for victory of the army.
Leo, coming from a common-folk background, aroused the hostility of Rome's nobility, who saw the papal post as reserved for noble candidates. During his rule he was accused of adultery and perjury. In April 799 he was attacked by a gang, who unsuccessfully attempted to gouge out his eyes and cut off his tongue for his earlier actions. He was then formally deposed and sent to a monastery, but escaped and made his way to Charlemagne, who escorted him back to Rome under royal protection. On Christmas Day, Leo placed the imperial crown on Charlemagne's head, creating the office of Holy Roman Emperor (HRE).
Charlemagne went to Rome in November 800, and on December 1 held a council there with representatives of both sides. Leo, on December 23, took an oath of purgation concerning the charges brought against him, and his opponents were exiled. Two days later Leo crowned Charlemagne after the latter prayed at St. Peter's tomb. Charlemagne was to intervene in church affairs, not always being successful.
Leo helped restore King Eardwulf of Northumbria, and settled various matters of dispute between the Archbishops of York and Canterbury. He also reversed the decision of his predecessor in regards to the granting of the pallium to the bishop of Lichfield, Higbert. He believed that the English episcopate had been misrepresented before Hadrian and that therefore his act was invalid. In 803, Lichfield was a regular diocese again.
Leo forbade the addition of "filioque" to Nicene Creed which was added by Franks in Aachen in 809. He also ordered that the Nicene creed be engraved on silver tablets so that his conclusion might not be overturned in the future. He wrote «HAEC LEO POSUI AMORE ET CAUTELA ORTHODOXAE FIDEI» (I, Leo, put here for love and protection of orthodox faith)(VITA LEONIS, LIBER PONTIFICALIS (Ed.Duchene, TII, p.26)
The reasons for the coronation, the involvement beforehand of the Frankish court, and the relationship to the Byzantine Empire are all matters of debate among historians. An effective administrator of the papal territories, Leo contributed to the beautification of Rome.
His feast day, formerly, was June 12.
PAPAL COINS
POPE ST. LEO III. 795-816
Lead Imitative Denaro. Struck circa 796-800. 5.42 g.
Obv.: SCS PETRVS, bust of St. Peter three-quarter facing
Rev.: DN / LEONI / PAPE in three lines.
Reference: Cf. MEC 1033 (Leo III); Berman 13 (Leo III). Also cf. Muntoni I pg. 21, 2- 3, Serafini IV pg. 11, 4 and CNI XV pg. 95, 6 (all as Leo VIII); Extremely rare. Fine. The presence of this type in the Biebrich hoard dated to about 800, makes the present identification of this issue as Leo III certain.
On Christmas day 800, by taking advantage of the tenuous hold on power by Irene in the eastern empire, Pope Leo raised the Frankish king from the status of patricius of the Romans to universal emperor. In so doing he established the legal precedent that the pope alone could confer the imperial crown.
Estimate $500 Sold For $425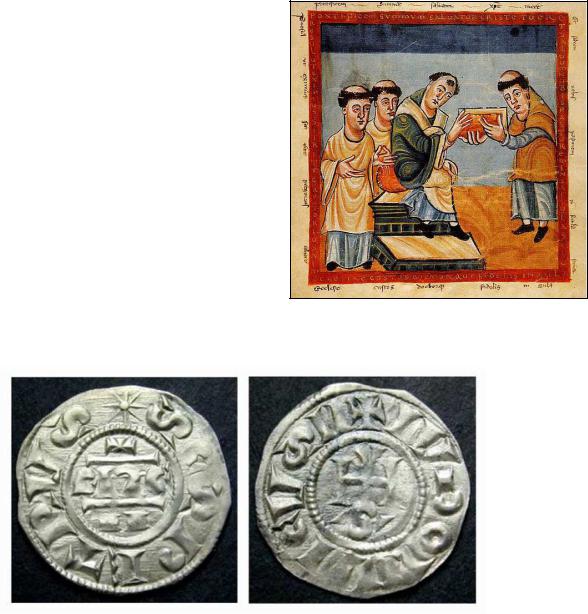 Gregory IV - 827 to January 844
Gregory IV, pope (September 20, 827-January 11, 844), was chosen to succeed Valentine in December 827, on which occasion he recognized the supremacy of the Frankish emperor Louis the Pious in the most unequivocal manner.
Papal dependence on the Holy Roman Emperor loosened through the quarrels of Louis I the Pious and his sons, the future Lothair I, Pepin and Louis the German. On the sons' rebellion against their father, Gregory supported Lothair, hoping his intervention would promote peace, but in practice this action annoyed the Frankish bishops. Gregory's response was to insist upon the primacy of St Peter's successor, the papacy being superior to the Emperor.
The two armies, of Louis and his sons, met at Rotfeld, near Colmar, in the summer of 833. The sons persuaded Gregory to go to Louis' camp to negotiate, but he then found he had been duped by Lothair. Louis was deserted by his supporters and was forced to surrender unconditionally, and was deposed and humiliated. This sequence of events is known as the Campus Mendacii or "field of lies." Louis was subsequently restored, and after his death Gregory made unsuccessful attempts to mediate in the conflict that ensued between the brothers.
Gregory contributed to the architectural development of Rome (he rebuilt the Basilica di San Marco) and promoted the celebration of the feast of All Saints.
PAPAL COINS
GREGORY IV (827-844) with LOUIS the PIOUS
Denaro 827-840. Rome mint. Ag 1,25 g.
Obv.: +SCS PETRVS around PP GRE II
Rev.: LVDOVVICVS IMP MP around PIVS monogram
Reference: Muntoni 2; CNI 4; MEC 1037; Berman 21. Rare. Very fine.
Estimate: 3000 CHF. Price realized: 3,000 CHF (approx. 2,874 U.S. Dollars as of the auction date)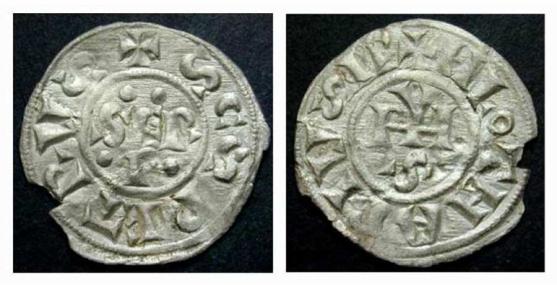 Sergius II - January 844 to 7 January 847
Sergius II was Pope from January, 844-January 24, 847.
On the death of Gregory IV the archdeacon John was proclaimed pope by popular acclamation, while the nobility elected Sergius, a Roman of noble birth. The opposition was suppressed, with Sergius intervening to save John's life. Sergius was then consecrated immediately by the nobles (or the bishops)[citation needed], without seeking the ratification of the Frankish court.
The Holy Roman Emperor Lothair I, however, disapproved of this abandoning of the Constitutio Romana of 824 which included the statute that no pope should be consecrated until his election had the approval of the Frankish emperor. He sent an army under his son Louis, the recently appointed viceroy of Italy, to re-establish his authority. The Church and the Emperor reached an accommodation, with Louis being crowned king of Lombardy by Sergius, although the Pope did not accede to all the demands made upon him.
Sergius contributed to urban redevelopment in Rome, relying on some consider to be dubious means of gaining money. Simony is said to have flourished during the reign of Sergius II.
During his pontificate Rome was ravaged and the churches of St. Peter and St. Paul were sacked by Saracens, who also assaulted Porto and Ostia (August 846). Sergius died while negotiating between two patriarchs and was succeeded by Pope Leo IV.
PAPAL COINS
SERGIUS II with LOTHAR I (844-847)
Denaro. Rome mint. Ag 1,33 g.
Obv.: SCS PETRVS around SER P
Rev.: +HLOTHARIVS MP around PIVS monogram
Reference: Muntoni 1; CNI 5; MEC 1040; Berman 24. Rare. Extremely fine
Estimate: 1750 CHF. Price realized: 19,000 CHF (approx. 18,201 U.S. Dollars as of the auction date).

Leo IV, Saint Leo - Jan. 847 to 17 Jul. 855
Pope Saint Leo IV was pope from April 10, 847 to July 17, 855.
A Roman by birth, he was unanimously chosen to succeed Sergius II. When he was elected, on April 10, 847, he was cardinal of Santi Quattro Coronati, and had been subdeacon of Gregory IV and archpriest under his predecessor. His pontificate was chiefly distinguished by his efforts to repair the damage done by the Saracens during the reign of his predecessor to various churches of the city, especially those of St Peter and St Paul.
The Saracens were sieging Gaeta, and then between 848 and 849 Leo had the walls of the city restored and strengthened. When the Muslims closed to Portus, he summoned the Repubbliche Marinare or mariner cities of Italy: Naples, Gaeta and Amalfi to form a league. The command of the unified fleet was given to Cesarius, son of Duke Sergius I of Naples. The subsequent Battle of Ostia was one of the most famous in the Middle Ages Papacy history, and is celebrated in a famous fresco by Raphael and his pupils in his Rooms of the Vatican Palace in the Vatican City. Another episode of Leo's life celebrated by the Urbinate in his series of frescoes painter is the Incendio di Borgo: it depicts the great burning of the Anglo-Saxon district of Rome (the "Borgo") which, according to the legend, was stopped by Leo simply making the sign of the cross.
In order to definitively counter the Saracen menace, Leo ordered a new line of walls encompassing the suburb on the right bank of the Tiber to be built, including the till now undefended St. Peter's Basilica. The district enclosed by the walls is still known as the Civitas Leonina, namely the City of Leo. He also embellished the damaged churches of St. Paul and St. Peter's: the latter's altar received again (after the former had been stolen) his gold covering, which weighed 206 lb. and was studded with precious gems.
Leo held three synods, one of them in 850, distinguished by the presence of Louis II, but none of them otherwise of importance. The history of the papal struggle with Hincmar of Reims, which began during Leo's pontificate, belongs rather to that of Nicholas I.
Leo died on July 17, 855 and was buried in St. Peter's. Benedict III was Leo's immediate successor. A medieval tradition claimed that a woman, Pope Joan, succeeded him, disguising herself as a man; Joan is generally believed to be fictitious.
PAPAL COINS
Leo IV., 847-855 with Lothar I., 840-855.
Denaro. Rome mint. Ag 22 mm 1,09g.
Obv.: Legend around monogram of the Pope.
Rev.: Legend around Imperial monogram.
Reference: M 2. B 26. MEC 1044. VF.
Estimate CHF 800. Price realized: 950 CHF (approx. 702 U.S. Dollars as of the auction date)
PAPAL COINS
Leo IV., 847-855 with Lothar I., 840-855.
Denaro. Rome mint. Ag 0,86g.
Obv.: Legend around monogram of the Pope.
Rev.: Legend around Imperial monogram.
Very rare. VF+
Estimate: 750 EUR. Price realized: 2,600 EUR (approx. 3,985 U.S. Dollars as of the auction date)
PAPAL COINS
Leo IV., 847-855 with Lothar I., 840-855.
Denaro. Rome mint. Ag 1,44g.
Obv.: Legend around monogram of the Pope.
Rev.: Legend around Imperial monogram.
Reference: Muntoni 2. Very rare. VF.
Estimate: 750 EUR. Price realized: 1,200 EUR (approx. 1,839 U.S. Dollars as of the auction date)
Nicholas I - 24 April 858 to 13 November 867 Saint Nicholas
Pope Nicholas I, (Rome c. 820 – November 13, 867), or Nicholas the Great, reigned from April 24, 858 until his death. He is remembered as a consolidator of papal authority and power, exerting decisive influence upon the historical development of the papacy and its position among the Christian nations of Western Europe, and is considered a saint.
He refused to grant an annulment to Lothar II from Theutberga so that Lothar could marry his mistress Waldrada; when a Council pronounced in favor of annulment, Nicholas I declared the Council to be deposed, its messengers excommunicated, and its decisions void. Despite pressure from the Carolingians, who laid siege to Rome, his decision held. During his reign, relations with the Byzantine Empire soured over his support for Ignatius as Patriarch of Constantinople, who had been removed and Photius appointed to replace him.
Born to a distinguished family, son of the Defensor Theodore, Nicholas received excellent training. Distinguished for his piety, benevolence, ability, knowledge, and eloquence, he entered the service of the Church at an early age, was made subdeacon by Pope Sergius II (844-47), and deacon by Leo IV (847-55). After the death of Benedict III (7 April 858), Louis II, Holy Roman Emperor, who was in the neighbourhood of Rome, came into the city to exert
his influence upon the election. On 24 April Nicholas was elected pope, consecrated, and enthroned in St. Peter's in the presence of the emperor. Three days after, he held a farewell banquet for the emperor, and afterward, accompanied by the Roman nobility, visited him in his camp before the city, on which occasion the emperor came to meet the pope and led his horse for some distance.
To a spiritually exhausted and politically uncertain Western Europe beset by Muslim and Norse incursions, Pope Nicholas appeared as a conscientious representative of the Roman primacy in the Church. He was filled with a high conception of his mission for the vindication of Christian morality, the defence of God's law against powerful, worldly bishops.
Archbishop John of Ravenna oppressed the inhabitants of the papal territory, treated his suffragan bishops with violence, made unjust demands upon them for money, and illegally imprisoned priests. He also forged documents to support his claims against the Roman See and maltreated the papal legates. As the warnings of the pope were without result, and the archbishop ignored a thrice-repeated summons to appear before the papal tribunal, he was excommunicated. Having first visited the Emperor Louis at Pavia, the archbishop repaired, with two imperial delegates to Rome, where Nicholas cited him before the Roman synod assembled in the autumn of 860. Upon this John fled from Rome.
Going in person to Ravenna, the pope then investigated and equitably regulated everything. Again appealing to the emperor, the archbishop was recommended by him to submit to the pope, which he did at the Roman Synod of November, 861. Later on, however, he entered into a pact with the excommunicated archbishops of Trier and Cologne, was himself again excommunicated, and once more forced to make his submission to the pope. Another conflict arose between Nicholas and Archbishop Hincmar of Reims: this concerned the prerogatives of the papacy. Bishop Rothad of Soissons had appealed to the pope against the decision of the Synod of Soissons, of 861, which had deposed him; Hincmar opposed the appeal to the pope, but eventually had to acknowledge the right of the papacy to take cognizance of important legal causes (causae majores) and pass independent judgment upon them. A further dispute broke out between Hincmar and the pope as to the elevation of the cleric Wulfad to the archiepiscopal See of Bourges, but here, again, Hincmar finally submitted to the decrees of the Apostolic See, and the Frankish synods passed corresponding ordinances.
Nicholas showed the same zeal in other efforts to maintain ecclesiastical discipline, especially as to the marriage laws. Ingiltrud, wife of Count Boso, had left her husband for a paramour; Nicholas commanded the bishops in the dominions of Charles the Bald to excommunicate her unless she returned to her husband. As she paid no attention to the summons to appear before the Synod of Milan in 860, she was put under the ban.
The pope was also involved in a desperate struggle with Lothair II of Lorraine over the inviolability of marriage. Lothair had abandoned his lawful wife Theutberga to marry Waldrada. At the Synod of Aachen, 28 April 862, the bishops of Lorraine approved this union, contrary to ecclesiastical law. At the Synod of Metz, June, 863, the papal legates, bribed by the king, assented to the Aachen decision, and condemned the absent Theutberga. Upon this the pope brought the matter before his own tribunal. The two archbishops, Günther of Cologne and Thietgaud of Trier, who had come to Rome as delegates, were summoned before the Lateran Synod of October, 863, when the pope condemned and deposed them as well as John of Ravenna and Hagano of Bergamo. The Emperor Louis II took up the cause of the deposed bishops, while King Lothair advanced upon Rome with an army and laid siege to the city, so that the pope was confined for two days in St. Peter's without food. Yet Nicholas did not waver in his determination; after being reconciled with the pope, the emperor withdrew from Rome and commanded the former Archbishops of Trier and Cologne to return to their homes. Nicholas never ceased from his efforts to bring about a reconciliation between Lothair and his lawful wife, but without effect.
Another matrimonial case in which Nicholas interposed was that of Judith, daughter of Charles the Bald, who had married Baldwin, Count of Flanders, without her father's consent. Frankish bishops had excommunicated Judith, and Hincmar of Reims had taken sides against her, but Nicholas urged leniency, in order to protect freedom of marriage.
Nicholas was seen in the East as trying to extend his papal power beyond what was the canonical authority asserting a "rulership" over the Church instead of the position of "highest honor among equals" accorded to the pope of Rome by the East. He contended that, in violation of ecclesiastical law, the Patriarch Ignatius was deposed in 857 and Photius raised to the patriarchal see. In a letter addressed (8 May 862), to the patriarchs of the East, Nicholas called upon them and all their bishops to refuse recognition to Photius, and at a Roman synod held in April, 863, he excommunicated Photius.
Photius was elected lawfully and canonically in 858 according to the Eastern church. This was affirmed two months later in a true ecumenical council where Ignatios' elevation to the Patriarchate was declared to be uncanonical and Photius was acclaimed as properly elected as the new Patriarch. This led to conflict between East and West over doctrinal issues such as the Filioque and territorial claims due to Nicholas stance as a "ruler" over the church. An ecumenical synod was convened in 867 in Constantinople where Nicholas was excommunicated along with the rejection of his claims of primacy, his intrusion into Bulgaria, and the innovative addition of the Filioque.
Bulgaria having been converted by Greek missionaries, its ruler, Prince Boris, in August, 863, sent an embassy to the pope with one hundred six questions on the teaching and discipline of the Church. Nicholas answered these inquiries exhaustively in his "Responsa Nicolai ad consulta Bulgarorum" (Mansi, "Coll. Conc.", XV, 401 sqq.). At the same time he sent an embassy to Prince Boris in an abortive attempt to convert him to the western usage; ultimately the prince elected to join the Eastern Church.
He encouraged the missionary activity of the Church. He sanctioned the union of the Sees of Bremen and Hamburg, and confirmed to St. Anschar, Archbishop of Bremen, and his successors the office of papal legate to the Danes, Swedes, and Slavs. In many other ecclesiastical matters, he issued letters and decisions, and he took active measures against bishops who were neglectful of their duties.
At Rome, Nicholas rebuilt and endowed several churches, and constantly sought to encourage religious life. His led a pious personal life guided by a spirit of Christian asceticism. Regino of Prüm report s that Nicholas was highly esteemed by the citizens of Rome and by his contemporaries generally (Chronicon, "ad annum 868," in "Mon. Germ. Hist." Script.", I.579), and after death was regarded as a saint.
A much discussed question and one that is important in judging the position taken by this pope is whether he made use of the forged pseudo-Isidorian papal decretals. After exhaustive investigation, Schrörs has decided that the pope was neither acquainted with the pseudo-Isidorian collection in its entire extent, nor did he make use of its individual parts; that he had perhaps a general knowledge of the false decretals, but did not base his view of the law upon them, and that he owed his knowledge of them solely to documents which came to him from the Frankish Empire [Schrörs, "Pap st Nikolaus I. und Pseudo-Isidor" in Historisches Jahrbuch, XXV (1904), 1 sqq.; Idem, "Die pseudoisidorische 'Exceptio spolii' bei Papst Nikolaus I" in Historisches Jahrbuch, XXVI (1905), 275 sqq.].

PAPAL COINS
NICHOLAS I with LOUIS II (858-867)
Denaro. Rome mint. Ag 1,18 g.
Obv.: SCS PETRVS around ADR monogram.
Rev.: +LVDOVVICVS MP around ROMA monogram
Reference: Muntoni 1; CNI 1; MEC 1048; Berman 32. Rare. Extremely fine.
Estimate: 3000 CHF. Price realized: 5,000 CHF (approx. 4,790 U.S. Dollars as of the auction date)
PAPAL COINS
NICHOLAS I with LOUIS II (858-867)
Denaro. Rome mint. Ag 22 mm 1,53 g.
Obv.: SCS PETRVS around ADR monogram.
Rev.: +LVDOVVICVS MP around ROMA monogram
Reference: M 1. B 32. MEC 48. XF.
Estimate CHF 1200. Price realized: 1,400 CHF (approx. 1,035 U.S. Dollars as of the auction date)
PAPAL COINS
NICHOLAS I with LOUIS II (858-867)
Denaro. Rome mint. Ag 1,44 g.
Obv.: SCS PETRVS around ADR monogram.
Rev.: +LVDOVVICVS MP around ROMA monogram
Reference: Muntoni 1. Rare. VF.
Estimate: 500 EUR. Price realized: 2,400 EUR (approx. 3,679 U.S. Dollars as of the auction date)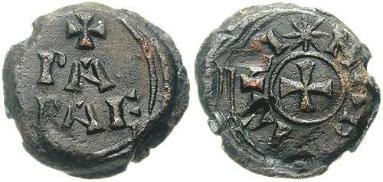 Adrian II - 14 Dec. 867 to 14 Dec. 872
Adrian II (also known as Hadrian II), (792–872), pope from December 14, 867 to December 14, 872, was a member of a noble Roman family, and became pope in 867, at an advanced age.
He maintained, but with less energy, the attitude of his predecessor Nicholas I. Lothar II, king of Lotharingia, died in 869, leaving Adrian to mediate between the Frankish kings with a view to assuring to the Emperor, Louis II, the heritage of Lothar II, Louis's brother.
Photius, the Patriarch of Constantinople, shortly after the council in which he had pronounced sentence of deposition against Pope Nicholas I, was driven from the patriarchate by a new emperor, Basil the Macedonian, who favoured his rival Ignatius. An ecumenical council (called by the Latins the 8th Ecumenical Council) was convoked as the Fourth Council of Constantinople to decide this matter. At this council Adrian was represented by legates, who presided at the condemnation of Photius as a heretic, but did not succeed in coming to an understanding with Ignatius on the subject of the jurisdiction over the Bulgarian church.
Like his predecessor Nicholas I, Adrian was forced to submit, in temporal affairs, to the interference of the emperor, Louis II, who placed him under the surveillance of Arsenius, bishop of Orte, his confidential adviser, and Arsenius's nephew Anastasius, the librarian.
Adrian had in his youth married a woman named Stephania, by whom he had a daughter, and both were still living at his election, following which they lived with him in the Lateran Palace. They were carried off and assassinated by Anastasius's brother, Eleutherius.
Adrian died in 872 after 5 years as pope.
PAPAL COINS
Adrian II. 867-872.
Lead Bulla (34mm, 30.61 gm).
Obv.: *HADRIANI around cross.
Rev.: + PA PAE.
Reference; Serifini I pg. 12, 5. VF, lacquered, dig on obverse. ($500)
Estimate $500. Price realized: 500 USD.
*NOTE: This piece is included because lead Bullae are sometimes mistaken for coins. They were used to seal documents, and to show an official seal.

John VIII - 14 Dec. 872 to 16 Dec. 882
John VIII was pope from December 13, 872 to December 16, 882. He is often considered one of the ablest pontiffs of the ninth century[1] and the last bright spot on the papacy until Leo IX two centuries later.
He was born in Rome. Among the reforms achieved during his pontificate was a notable administrative reorganisation of the papal curia. With little help from European kings, he attempted to expel the Saracens from Italy after they had penetrated as far as Rome. He failed and was forced to pay tribute. John defended St. Methodius against his German enemies, who objected to his use of the Slavonic language in the liturgy. John later confirmed the permission to use Slavonic that had been originally granted by Pope Adrian II, John's predecessor. In 879 he recognised the reinstatement of Photius as the legitimate patriarch of Constantinople; Photius had been condemned in 869 by Pope Adrian II. Consequently, John VIII was in favour of reciting the Creed without the filioque. In 878 John crowned Louis II, king of France. He also crowned two Holy Roman Emperors: Charles II and Charles III.
John VIII, son of Gundus, seems to have been born in the first quarter of the ninth century. In 853 AD and 869 AD he was archdeacon of the Roman Church, and it was as such that he became pope on 14 December 872 AD. His election was opposed by Formosus, who remained in opposition to him throughout the whole of his pontificate. All modern historians are agreed that John was one of the greatest of the great popes who sat on the chair of Peter during the ninth century. His pontificate was noted for the progressive conversion of the Slavs, delicate diplomatic relations with the Carolingian Empire and the Saracen raids which constantly threatened Italy and Rome itself.
Louis II, though not even master of Italy, bore at this time the title of Emperor of the Romans. To him, as a prince of character, John gave his support. He endeavoured to induce Charles the Bald, King of France, to yield up to him the kingdom of Lothaire; he aided him in his efforts against the Saracens, and, after his death (875 AD), strove to comfort his widow Engelberga. When Louis II died, John's support of Charles the Bald resulted in his receiving the imperial crown (25 December 875 AD), and in the discomfiture of his rivals.
According to the legend of Pope Joan, a woman named Joan reigned as pope under the name of John earlier in the 9th century. Her true gender was discovered, and she would eventually be erased from the historical record because of this. If she existed, when regnal numbering was applied to papal reigns in the 10th century, she would have been designated John VIII and the Pope John that is the subject of this article would have been John IX. However, most historians believe that Pope Joan did not exist and that the legend was created in the 13th century by the chronicler Martin of Opava.
Pope John VIII is not otherwise connected with this legend.
PAPAL COINS
JOHN VIII (872-882) with Louis II, Holy Roman Emperor. 872-882
Denaro. Rome mint. Ag 1,55 g. 24 mm Struck 872-875 AD..
Obv.: SCS PETRVS, IOHANS monogram
Rev.: +LVDOVVICVS IMP (ligate), ROMA monogram.
Reference: M 1. B 35. MEC 1052. Rare! Beautiful patina. XF.
Estimate CHF 2500. Price realized: 5,000 CHF (approx. 3,696 U.S. Dollars as of the auction date)
PAPAL COINS
JOHN VIII (872-882) with Louis II, Holy Roman Emperor. 872-882
Denaro. Rome mint. Ag 1,25 g. Struck 872-875 AD..
Obv.: SCS PETRVS, IOHANS monogram
Rev.: +LVDOVVICVS IMP (ligate), ROMA monogram.
Reference: CNI XV 1; Muntoni 1; Berman 35; Depeyrot 867AA; MEC 1, 1052. Good VF, some encrustation. Very rare.
Estimate: $2000. Price realized: 3,000 USD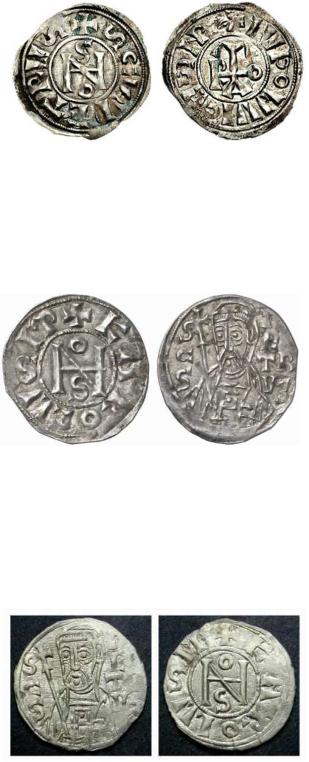 PAPAL COINS
JOHN VIII (872-882) with Louis II of Italy, Holy Roman Emperor. 872-882
Denaro. Rome mint. Ag 1,38 g. Struck 872-875 AD..
Obv.: SCS PETRVS, IOHANS monogram
Rev.: +LVDOVVICVS IMP (ligate), ROMA monogram.
Reference: CNI XV 1; Muntoni 1; Berman 35; Depeyrot 867AA; MEC 1, 1052. Good VF, sharp strike with light toning and some encrustation. Very rare.
Estimate $2000. Price realized: 3,050 USD.
PAPAL COINS
JOHN VIII (872-882) with CHARLES THE FAT (872-882)
Denaro. Rome mint. Ag 1,15 g.
Obv.: SCS PETRV Bust of St Peter facing slightly left, with staff.
Rev.: +KAROLVS MP around IOHANS monogram
Reference: Muntoni 2. Very rare, about XF example.
Estimate: 4.000 EUR. Price realized: 5,750 EUR (approx. 8,144 U.S. Dollars as of the auction date)
PAPAL COINS
JOHN VIII (872-882) with CHARLES THE BALD & CHARLES THE FAT (872-882)
Denaro. Rome mint. Ag 1,34 g.
Obv.: SCS PETRV Bust of St Peter facing slightly left, with staff.
Rev.: +KAROLVS MP around IOHANS monogram
Reference: Muntoni 2; CNI 5; MEC 1053; Berman 36. Rare. Extremely fine.
Estimate: 3000 CHF. Price realized: 4,800 CHF (approx. 4,598 U.S. Dollars as of the auction date)