Добавил:
Вуз:
Предмет:
Файл:
American Heritage Dictionary of Idioms
.pdf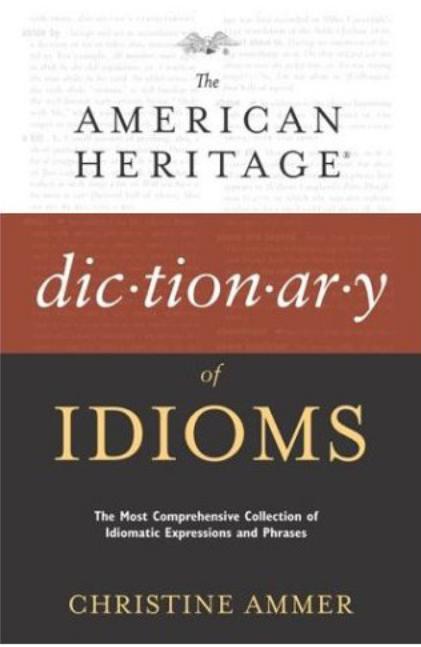 The American Heritage® Dictionary of Idioms
Christine Ammer
OTHER BOOKS BY CHRISTINE AMMER
Have a Nice Day!?
No Problem! A Dictionary of Clichés Fruitcakes & Couch Potatoes and Other Delicious Expressions It's Raining Cats and Dogs and Other Beastly Expressions Southpaws and Sunday Punches and Other Sporting Expressions Fighting Words from War, Rebellion and Other Combative Capers Seeing Red or Tickled Pink: Color Terms in Everyday Language The HarperCollins Dictionary of Music Unsung: A History of Women in American Music The New A to Z of Women's Health
The inclusion of any word or phrase in this book is not an expression of the Publisher's opinion as to whether or not it is subject to proprietary rights. No definition in this book is to be regarded as affecting the validity of any trademark.
American Heritage® and the eagle logo are registered trademarks of Forbes Inc. Their use is pursuant to a license agreement with Forbes Inc.
Copyright © 1997 by The Christine Ammer 1992 Trust.
No part of this work may be reproduced or transmitted in any form or by any means, electronic or mechanical, including photocopying and recording, or by any information storage or retrieval system without the prior written permission of Houghton Mifflin Company unless such copying is expressly permitted by federal copyright law. Address inquiries to Reference Permissions, Houghton Mifflin Company, 222 Berkeley Street, Boston, MA 02116.
Library of Congress Cataloging-in-Publication Data
Ammer, Christine. The American Heritage dictionary of idioms / Christine Ammer.
p.cm. Includes bibliographical references. ISBN 0-395-72774-X (cloth)
1.English language???
2.United StatesIdiomsDictionaries.
1.English language??
2.United StatesTerms and phrases.
1. Americanisms?
Dictionaries. I. Title. PE 2839.A47 1997 423'.1?97-12390
dc21 CIP
Manufactured in the United States of America
Preface
This book is a comprehensive survey of the idioms currently used in American English. An idiom is a set phrase of two or more words that means something different from the literal meaning of the individual words. For instance, the phrase to change one's tune has nothing to do with music but means "to alter one's attitude." Similarly, to hit the nail on the head often has nothing to do with carpentry but means simply "to be absolutely right." Idioms are the idiosyncrasies of a language. Often defying the rules of logic, they pose great difficulties for non-native speakers. English abounds with phrases such as if worst comes to worst, far and away, and how do you do, which, if translated literally, make no sense. Indeed, the true test of an idiom is whether it changes meaning when rendered word for word in another language.
In addition to idioms, this book includes common figures of speech, such as dark horse and blind as a bat; interjections and formula phrases, such as all the best and take care; emphatic redundancies whose word order cannot be reversed, such as far and wide and cease and desist; common proverbs, especially ones that often occur in abbreviated form, such as a bird in the hand; colloquialisms such as off the beam and out in left field; and slang phrases such as push the envelope.
Each expression is defined and illustrated by at least one sample sentence showing how it is used in context. In most cases the literal meaning of a phrase is omitted; thus the entry hold up omits the definition "keep upright" or "support." Wherever possible I have included information regarding the expression's origin or background, along with its date of first appearance. I have given approximate dates for most idioms to allow for their probable use in speech before being written down.
The ultimate origin of many idioms is unknown. Some idioms, such as by hook or crook, use familiar words in obscure ways. Some preserve words that are otherwise obsolete, such as hue in hue and cry and fell in in one fell swoop. I have tried to explain these lost origins and obscure meanings whenever research can shed light on them. The result is a dictionary that treats almost 10,000 English expressions in greater detail and depth than any other book available today. I
hope that all speakers of English will find it both useful and enjoyable.
Heartfelt thanks are due to the many friends and acquaintances who have offered valuable suggestions, advice, and help, especially my husband Dean Ammer. Special mention must be made of Joseph Pickett, Senior Lexicographer, and Susan Chicoski, Associate Editor, of Houghton Mifflin Company, and of their colleagues David A. Jost and Kaethe Ellis for their invaluable expertise. I would also like to thank Jesse Sheidlower of Random House for his generous help dating some of the slang expressions. The dictionary has been vastly improved through their assistance.
CHRISTINE AMMER
Guide to Using this Book
Entries
All entry phrases and synonymous variants are given in boldface type at the beginning of an entry before the definition. Related or similar expressions are given in boldface in the text of the entry. Historical precedents and obsolete phrases appear in italic type. Where a phrase has more than one meaning, definitions are numbered, and whenever possible, ordered by frequency of use. Example sentences appear in italic type, quotations in roman type within quotation marks, and cross-references in small capitals.
Alphabetization and Cross-References
Entries are arranged alphabetically, letter by letter up to the comma in the case of inverted or appended elements.
To locate an entry, it sometimes may be hard to decide which word in a phrase will come first in the alphabetical listing. For example, is as luck would have it under as or luck? To help sort out these problems, entries listing cross-references for key words appear alphabetically among the main entries. By checking these key-word entries, readers can locate every phrase treated as an entry in this book. The reader who does not find as luck would have it under as can look under the entries beginning with the next word, luck. If more help is needed, the entry for the word luck itself lists all the idioms containing that word which appear elsewhere in the book.
Variants or related expressions that are covered under other entry words appear in parentheses in the cross-references. Thus, at the entry soft the reader is referred to HARD (SOFT) SELL, which means that the entry hard sell also treats the phrase
soft sell. Note, however, that words in parentheses are alphabetical order, so one should look for hard sell, not
Variable Pronouns
not considered part of the hard soft sell.
Many idioms can be used with different pronouns, as, for example, clean up his act, clean up her act, clean up my act. Consequently, the pronouns one and someone are used in entry words and variants to indicate that the object or possessive pronoun in the idiom may vary according to context. One or one's means that the antecedent of the pronoun must be the subject of the clause, or in some cases an inanimate noun or a gerund must be the subject. For example, the idiom hit one's stride can appear in a sentence such as She finally hit her stride, or the idiom serve one right can be used in a sentence such as It serves him right to be thrown off the team. But note that sentences like She finally hit his stride are not possible.
The use of someone or someone's in the idiom means that the pronoun can be replaced only by a noun or pronoun that does not refer to the grammatical subject of the clause. In other words, the action of the verb is directed from one person to another (the "someone"). For example, the idiom call someone's bluff implies that you (or he or she or they) can only call someone else's bluff, never your (or his or her or their) own.
Labels
The labels in brackets preceding the date of an idiom's first appearance indicate the degree of formality or offensiveness. The label colloquial means that a phrase is used in ordinary speech and informal writing but not in more formal contexts. Slang generally refers to phrases that are appropriate only to very informal contexts or are used in irreverent humor. Vulgar slang indicates that a phrase is generally considered offensive. The absence of such a label indicates that a term is considered standard English.
Note that these labels are bound to change, as are the idioms themselves. What is slang today may be standard English tomorrow. Furthermore, what is common usage for a time may die out (in this book indicated as obsolescent) or it may change its meaning, as the idiom beg the question may be doing. As
E.B. White put it, "The living language is like a cowpath; it is the creation of the cows themselves, who, having created it, follow it or depart from it according to their whims or their needs. From daily use, the path undergoes change."
Dating
Nearly all entries provide some indication of the idiom's history. For many entries the date when the expression was invented or first used appears within brackets. These dates are often approximate because in many cases a phrase has been used for some time in speech before being recorded in writing. In some cases, as when the expression first appeared in the work of a well-known writer, the precise date and location of its first recorded use are given. Within brackets the abbreviation c. (for Latin circa) is used to mean "about," as in "c. 1400." The abbreviation A.D. is used for the years 1 through 1000; B.C. is used to indicate years before A.D. 1.
Quotations
Unless otherwise specified, biblical quotations are from the King James translation of 1611. To avoid the difficulties posed to some readers by the English of earlier writers such as Chaucer, many quotations have had their spelling normalized, and some have been rendered into Modern English.
Sources
Among the principal sources used for dates and citations are, first and foremost,
The Oxford English Dictionary, Second Edition; The American Heritage Dictionary of the English Language, Third Edition; J.E. Lighter, Historical Dictionary of American Slang, Volume I; The Random House Dictionary of the English Language, Second Edition; Eric Partridge, A Dictionary of Catch Phrases, American and British, from the 16th Century to the Present Day; Webster's Dictionary of English Usage; Wolfgang Mieder, A Dictionary of American Proverbs; Richard H. Thornton, An American Glossary; Mitford M. Mathews, A Dictionary of Americanisms; Burton Stevenson, Home Book of Proverbs, Maxims, and Familiar Phrases; John Algeo, Fifty Years Among the New Words; Clarence Barnhart, Sol Steinmetz, and Robert Barnhart, The Barnhart Dictionary of New English since 1963 and The Second Barnhart Dictionary of New English; and William Safire, "On Language" column, The New York Times.

A
hand. see TAKE ABACK. abide

hand. In addition to the idioms beginning with ABIDE, also see CAN'T STAND (ABIDE).
abide by
Accept and act in accordance with a decision or set of rules; also, remain faithful to. For example, All members must agree to abide by the club regulations, or A trustworthy man abides by his word. An older sense of the verb abide, "remain," is still familiar in the well-known 19th-century hymn "Abide with Me," which asks God to stay with the singer in time of trouble. [Early 1500s]
a bit
1. A small amount of anything; also, a short period of time. For example, Here's a bit of wrapping paper, or It'll be ready in a bit, or Just wait a bit. [c. 1600] 2. Somewhat or rather, as in It stings a bit, or Will you have a bit more to eat?
[Second half of 1600s] Also see BIT BY BIT; NOT A BIT.
about

hand. In addition to the idioms beginning with ABOUT, also see AT ABOUT; BEAT ABOUT THE BUSH; BRING ABOUT; CAST ABOUT; COME ABOUT; DO AN ABOUT-FACE; GET ABOUT; GO ABOUT (ONE'S BUSINESS); HOW ABOUT (THAT); JUST ABOUT; KNOCK ABOUT; LAY ABOUT; MAN ABOUT TOWN; MUCK ABOUT; NOSE ABOUT (AROUND); NO TWO WAYS ABOUT IT; ORDER SOMEONE ABOUT; OUT AND ABOUT; SEE ABOUT; SEND SOMEONE ABOUT SOMEONE'S BUSINESS; SET ABOUT; THAT'S ABOUT THE SIZE OF IT; UP AND ABOUT; WHAT ABOUT SOMEONE (SOMETHING).
about time
Long past the right time; also, approximately the right time. Thus, It's about time you went to bed can mean either that you should have gone to bed much earlier (often stated with emphasis on the word time), or that now is the appropriate time for you to retire. [Early 1900s] For a synonym, see HIGH TIME.
about to
1. Ready to, on the verge of, as in I was about to leave when it began to rain, or He hasn't finished yet but he's about to. This usage was first recorded in Miles Coverdale's 1535 translation of the Bible (Joshua 18:8). 2. not about to. Having no intention of doing something, as in The shop steward was not about to cross the picket line, or Are you staying longer??
No, I'm not about to. [Colloquial; first half of 1900s]
above

hand. In addition to the idioms beginning with ABOVE, also see ALL (NONE) OF THE ABOVE; CUT ABOVE; HEAD AND SHOULDERS ABOVE; OVER AND ABOVE.
above all
More than anything else, as in A winter hike calls for good equipment, but above all it requires careful planning. This phrase first appears in William Langland's Piers Ploughman (1377), in which the narrator exhorts readers to love the Lord God above all. Also see FIRST AND LAST.
above and beyond
More than is required. This somewhat redundant expression?
above and beyond here both denote excess?
often precedes the call of duty, which means exceeding what a particular job requires. Thus Putting in overtime without pay is above and beyond the call of duty. Also see OVER AND ABOVE.
aboveboard

hand. see OPEN AND ABOVEBOARD.
above suspicion
So trustworthy as never to be suspected of wrongdoing, as in "The wife of Caesar must be above suspicion" (Charles Merivale, A History of the Romans under the Empire, 1850). The phrase was given further currency when it was used for the title of a very popular World War II spy film starring Joan Crawford (Above Suspicion, 1943). A similar idiom using above in the sense of "beyond" is above the law, usually describing an individual or business behaving as though exempt from rules or laws that apply to others.
above the law

hand. see under ABOVE SUSPICION.
absence

hand. In addition to the idiom beginning with ABSENCE, also see CONSPICUOUS BY ITS ABSENCE.
absence makes the heart grow fonder
Separation intensifies love, as in After a year in another country she accepted his proposal, so I guess absence makes the heart grow fonder, or, used ironically, The boss leaves earlier every day; oh well, absence makes the heart grow fonder.
Although versions of this saying date from Roman times, it only became popular after Thomas Haynes Bayly used it as the last line of a song in The Isle of Beauty (1850). The opposite sentiment is expressed by FAMILIARITY BREEDS CONTEMPT.
absent without leave
Away without permission or explanation, as in Her daughter went to the mall but got in trouble for being absent without leave. The term and its acronym, AWOL, originated in the American military during World War I for soldiers absent from duty without permission (leave). It later was transferred to civilian situations, as in
John didn't just cut his Tuesday classes; he went AWOL.
accidentally on purpose

hand. see ON PURPOSE, def. 2.
accord

hand. see OF ONE'S OWN ACCORD.
according to all accounts

hand. see BY ALL ACCOUNTS.
according to Hoyle
In keeping with established rules; on the highest authority, as in The tax records are in excellent order, all according to Hoyle. Edmond Hoyle (1679-1769) of England, author of books of rules for card games, was so highly regarded that numerous writers used his name on their own rule books, even for games that
had not been invented by the time of Hoyle's death, so that his name became synonymous with any rules.
account

hand. In addition to the idiom beginning with ACCOUNT, also see ALL PRESENT AND ACCOUNTED FOR; BY ALL ACCOUNTS; CALL TO ACCOUNT; GIVE A GOOD ACCOUNT; NO ACCOUNTING FOR TASTES; ON ACCOUNT OF; ON NO ACCOUNT; ON ONE'S OWN ACCOUNT; ON SOMEONE'S ACCOUNT; TAKE ACCOUNT OF; TAKE INTO ACCOUNT; TURN TO GOOD ACCOUNT.
account for
1. Be the determining factor in; cause. For example, The beat wave accounts for all this food spoilage, or Icy roads account for the increase in accidents. 2. Explain or justify, as in Jane was upset because her son couldn't account for the three hours between his last class and his arrival at home. Both of these related usages are derived from the literal meaning of the phrase, that is, "make a reckoning of an account." [Second half of 1700s]
accustomed to
Used to something or someone; having the habit of doing something. For example, In Spain we gave up our usual schedule and became accustomed to eating dinner at 10 P.M. Professor Higgins in the musical My Fair Lady (1956) ruefully sang the song "I've Grown Accustomed to Her Face" after his protege Eliza walked out on him. [Second half of 1400s]
ace

hand. In addition to the idioms beginning with ACE, also see HOLD ALL THE ACES; WITHIN AN ACE OF.
ace in the hole
A hidden advantage or resource kept in reserve until needed, as in The prosecutor had an ace in the hole: an eyewitness. The term comes from stud poker, where each player is dealt one card face down?
the so-called hole card?
and the rest face up. Should the hole card be an ace, the player has a hidden advantage. Hole here simply means "a hiding place." In the 19th-century American West, the expression was used to refer to a hidden weapon, such as a gun