 ATmega8515(L)
Register Summary
Address

Name

Bit 7

Bit 6

Bit 5

 

Bit 4

Bit 3

 

Bit 2

Bit 1

Bit 0

Page

 

 

 

 

 

 

 

 

 

 

 

 

 

 

$3F

($5F)

SREG

I

T

H

 

S

V

 

N

Z

C

9

$3E

($5E)

SPH

SP15

SP14

SP13

 

SP12

SP11

 

SP10

SP9

SP8

11

$3D

($5D)

SPL

SP7

SP6

SP5

 

SP4

SP3

 

SP2

SP1

SP0

11

$3C

($5C)

Reserved

 

 

 

 

 

-

 

 

 

 

 

$3B

($5B)

GICR

INT1

INT0

INT2

 

-

-

 

-

IVSEL

IVCE

56, 77

$3A

($5A)

GIFR

INTF1

INTF0

INTF2

 

-

-

 

-

-

-

78

$39

($59)

TIMSK

TOIE1

OCIE1A

OCIE1B

 

-

TICIE1

 

-

TOIE0

OCIE0

92, 123

$38

($58)

TIFR

TOV1

OCF1A

OCF1B

 

-

ICF1

 

-

TOV0

OCF0

92, 124

$37

($57)

SPMCR

SPMIE

RWWSB

-

 

RWWSRE

BLBSET

 

PGWRT

PGERS

SPMEN

168

$36

($56)

EMCUCR

SM0

SRL2

SRL1

 

SRL0

SRW01

 

SRW00

SRW11

ISC2

28,41,77

$35

($55)

MCUCR

SRE

SRW10

SE

 

SM1

ISC11

 

ISC10

ISC01

ISC00

28,40,76

$34

($54)

MCUCSR

-

-

SM2

 

-

WDRF

 

BORF

EXTRF

PORF

40,48

$33

($53)

TCCR0

FOC0

WGM00

COM01

 

COM00

WGM01

 

CS02

CS01

CS00

90

$32

($52)

TCNT0

 

 

 

 

Timer/Counter0 (8 Bits)

 

 

 

92

$31

($51)

OCR0

 

 

 

Timer/Counter0 Output Compare Register

 

 

92

$30

($50)

SFIOR

-

XMBK

XMM2

 

XMM1

XMM0

 

PUD

-

PSR10

30,65,95

$2F

($4F)

TCCR1A

COM1A1

COM1A0

COM1B1

 

COM1B0

FOC1A

 

FOC1B

WGM11

WGM10

118

$2E

($4E)

TCCR1B

ICNC1

ICES1

-

 

WGM13

WGM12

 

CS12

CS11

CS10

121

$2D

($4D)

TCNT1H

 

 

Timer/Counter1 - Counter Register High Byte

 

 

122

$2C

($4C)

TCNT1L

 

 

Timer/Counter1 - Counter Register Low Byte

 

 

122

$2B

($4B)

OCR1AH

 

 

Timer/Counter1 - Output Compare Register A High Byte

 

 

122

$2A

($4A)

OCR1AL

 

 

Timer/Counter1 - Output Compare Register A Low Byte

 

 

122

$29

($49)

OCR1BH

 

 

Timer/Counter1 - Output Compare Register B High Byte

 

 

122

$28

($48)

OCR1BL

 

 

Timer/Counter1 - Output Compare Register B Low Byte

 

 

122

$27

($47)

Reserved

 

 

 

 

 

-

 

 

 

 

-

$26

($46)

Reserved

 

 

 

 

 

-

 

 

 

 

-

$25

($45)

ICR1H

 

 

Timer/Counter1 - Input Capture Register High Byte

 

 

123

$24

($44)

ICR1L

 

 

Timer/Counter1 - Input Capture Register Low Byte

 

 

123

$23

($43)

Reserved

 

 

 

 

 

-

 

 

 

 

-

$22

($42)

Reserved

 

 

 

 

 

-

 

 

 

 

-

$21

($41)

WDTCR

-

-

-

 

WDCE

WDE

 

WDP2

WDP1

WDP0

50

$20(1)

($40)(1)

UBRRH

URSEL

-

-

 

-

 

 

UBRR[11:8]

 

157

UCSRC

URSEL

UMSEL

UPM1

 

UPM0

USBS

 

UCSZ1

UCSZ0

UCPOL

155

 

 

 

 

$1F

($3F)

EEARH

-

-

-

 

-

-

 

-

-

EEAR8

18

$1E

($3E)

EEARL

 

 

 

EEPROM Address Register Low Byte

 

 

 

18

$1D

($3D)

EEDR

 

 

 

 

EEPROM Data Register

 

 

 

19

$1C

($3C)

EECR

-

-

-

 

-

EERIE

 

EEMWE

EEWE

EERE

19

$1B

($3B)

PORTA

PORTA7

PORTA6

PORTA5

 

PORTA4

PORTA3

 

PORTA2

PORTA1

PORTA0

74

$1A

($3A)

DDRA

DDA7

DDA6

DDA5

 

DDA4

DDA3

 

DDA2

DDA1

DDA0

74

$19

($39)

PINA

PINA7

PINA6

PINA5

 

PINA4

PINA3

 

PINA2

PINA1

PINA0

74

$18

($38)

PORTB

PORTB7

PORTB6

PORTB5

 

PORTB4

PORTB3

 

PORTB2

PORTB1

PORTB0

74

$17

($37)

DDRB

DDB7

DDB6

DDB5

 

DDB4

DDB3

 

DDB2

DDB1

DDB0

74

$16

($36)

PINB

PINB7

PINB6

PINB5

 

PINB4

PINB3

 

PINB2

PINB1

PINB0

74

$15

($35)

PORTC

PORTC7

PORTC6

PORTC5

 

PORTC4

PORTC3

 

PORTC2

PORTC1

PORTC0

74

$14

($34)

DDRC

DDC7

DDC6

DDC5

 

DDC4

DDC3

 

DDC2

DDC1

DDC0

74

$13

($33)

PINC

PINC7

PINC6

PINC5

 

PINC4

PINC3

 

PINC2

PINC1

PINC0

75

$12

($32)

PORTD

PORTD7

PORTD6

PORTD5

 

PORTD4

PORTD3

 

PORTD2

PORTD1

PORTD0

75

$11

($31)

DDRD

DDD7

DDD6

DDD5

 

DDD4

DDD3

 

DDD2

DDD1

DDD0

75

$10

($30)

PIND

PIND7

PIND6

PIND5

 

PIND4

PIND3

 

PIND2

PIND1

PIND0

75

$0F

($2F)

SPDR

 

 

 

 

SPI Data Register

 

 

 

131

$0E

($2E)

SPSR

SPIF

WCOL

-

 

-

-

 

-

-

SPI2X

131

$0D

($2D)

SPCR

SPIE

SPE

DORD

 

MSTR

CPOL

 

CPHA

SPR1

SPR0

129

$0C

($2C)

UDR

 

 

 

 

USART I/O Data Register

 

 

 

153

$0B

($2B)

UCSRA

RXC

TXC

UDRE

 

FE

DOR

 

PE

U2X

MPCM

153

$0A

($2A)

UCSRB

RXCIE

TXCIE

UDRIE

 

RXEN

TXEN

 

UCSZ2

RXB8

TXB8

154

$09

($29)

UBRRL

 

 

 

USART Baud Rate Register Low Byte

 

 

 

157

$08

($28)

ACSR

ACD

ACBG

ACO

 

ACI

ACIE

 

ACIC

ACIS1

ACIS0

162

$07

($27)

PORTE

-

-

-

 

-

-

 

PORTE2

PORTE1

PORTE0

75

$06

($26)

DDRE

-

-

-

 

-

-

 

DDE2

DDE1

DDE0

75

$05

($25)

PINE

-

-

-

 

-

-

 

PINE2

PINE1

PINE0

75

$04

($24)

OSCCAL

 

 

 

 

Oscillator Calibration Register

 

 

 

38
Notes: 1. Refer to the USART description for details on how to access UBRRH and UCSRC.
2.For compatibility with future devices, reserved bits should be written to zero if accessed. Reserved I/O memory addresses should never be written.
237
2512G–AVR–03/05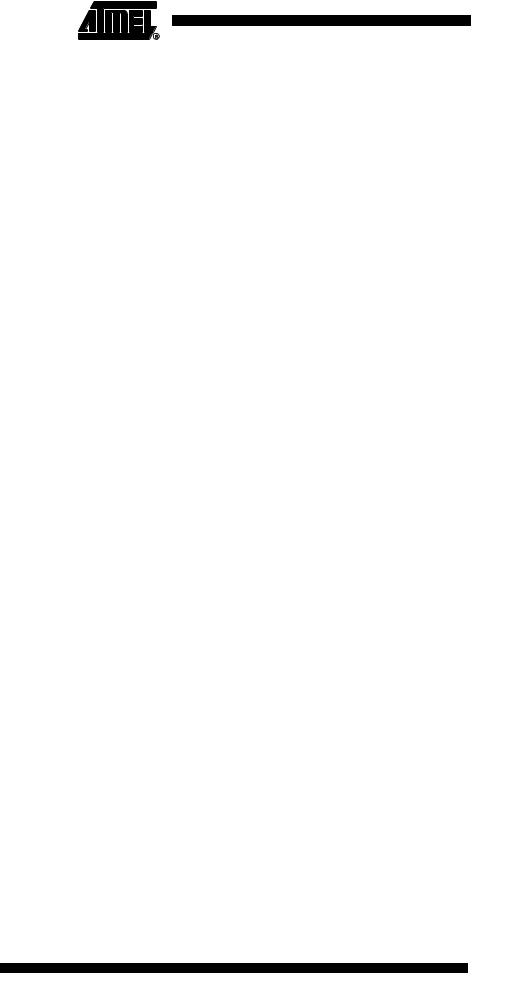 3.Some of the Status Flags are cleared by writing a logical one to them. Note that the CBI and SBI instructions will operate on all bits in the I/O Register, writing a one back into any flag read as set, thus clearing the flag. The CBI and SBI instructions work with registers $00 to $1F only.
238 ATmega8515(L)
2512G–AVR–03/05


ATmega8515(L)
Instruction Set Summary
Mnemonics

Operands

 

Description

Operation

Flags

#Clocks

 

 

 

 

 

 

 

ARITHMETIC AND LOGIC INSTRUCTIONS

 

 

 

 

ADD

Rd, Rr

 

Add two Registers

Rd ← Rd + Rr

Z,C,N,V,H

1

ADC

Rd, Rr

 

Add with Carry two Registers

Rd ← Rd + Rr + C

Z,C,N,V,H

1

ADIW

Rdl,K

 

Add Immediate to Word

Rdh:Rdl ← Rdh:Rdl + K

Z,C,N,V,S

2

SUB

Rd, Rr

 

Subtract two Registers

Rd ← Rd - Rr

Z,C,N,V,H

1

SUBI

Rd, K

 

Subtract Constant from Register

Rd ← Rd - K

Z,C,N,V,H

1

SBC

Rd, Rr

 

Subtract with Carry two Registers

Rd ← Rd - Rr - C

Z,C,N,V,H

1

SBCI

Rd, K

 

Subtract with Carry Constant from Reg.

Rd ← Rd - K - C

Z,C,N,V,H

1

SBIW

Rdl,K

 

Subtract Immediate from Word

Rdh:Rdl ← Rdh:Rdl - K

Z,C,N,V,S

2

AND

Rd, Rr

 

Logical AND Registers

Rd ← Rd • Rr

Z,N,V

1

ANDI

Rd, K

 

Logical AND Register and Constant

Rd ← Rd • K

Z,N,V

1

OR

Rd, Rr

 

Logical OR Registers

Rd ← Rd v Rr

Z,N,V

1

ORI

Rd, K

 

Logical OR Register and Constant

Rd ← Rd v K

Z,N,V

1

EOR

Rd, Rr

 

Exclusive OR Registers

Rd ← Rd Rr

Z,N,V

1

COM

Rd

 

One's Complement

Rd ← $FF − Rd

Z,C,N,V

1

NEG

Rd

 

Two's Complement

Rd ← $00 − Rd

Z,C,N,V,H

1

SBR

Rd,K

 

Set Bit(s) in Register

Rd ← Rd v K

Z,N,V

1

CBR

Rd,K

 

Clear Bit(s) in Register

Rd ← Rd • ($FF - K)

Z,N,V

1

INC

Rd

 

Increment

Rd ← Rd + 1

Z,N,V

1

DEC

Rd

 

Decrement

Rd ← Rd − 1

Z,N,V

1

TST

Rd

 

Test for Zero or Minus

Rd ← Rd • Rd

Z,N,V

1

CLR

Rd

 

Clear Register

Rd ← Rd Rd

Z,N,V

1

SER

Rd

 

Set Register

Rd ← $FF

None

1

MUL

Rd, Rr

 

Multiply Unsigned

R1:R0 ← Rd x Rr

Z,C

2

MULS

Rd, Rr

 

Multiply Signed

R1:R0 ← Rd x Rr

Z,C

2

MULSU

Rd, Rr

 

Multiply Signed with Unsigned

R1:R0 ← Rd x Rr

Z,C

2

FMUL

Rd, Rr

 

Fractional Multiply Unsigned

R1:R0 ← (Rd x Rr) << 1

Z,C

2

FMULS

Rd, Rr

 

Fractional Multiply Signed

R1:R0 ← (Rd x Rr) << 1

Z,C

2

FMULSU

Rd, Rr

 

Fractional Multiply Signed with Unsigned

R1:R0 ← (Rd x Rr) << 1

Z,C

2

BRANCH INSTRUCTIONS

 

 

 

 

RJMP

k

 

Relative Jump

PC ← PC + k + 1

None

2

IJMP

 

 

Indirect Jump to (Z)

PC ← Z

None

2

RCALL

k

 

Relative Subroutine Call

PC ← PC + k + 1

None

3

ICALL

 

 

Indirect Call to (Z)

PC ← Z

None

3

RET

 

 

Subroutine Return

PC ← STACK

None

4

RETI

 

 

Interrupt Return

PC ← STACK

I

4

CPSE

Rd,Rr

 

Compare, Skip if Equal

if (Rd = Rr) PC ← PC + 2 or 3

None

1/2/3

CP

Rd,Rr

 

Compare

Rd − Rr

Z, N,V,C,H

1

CPC

Rd,Rr

 

Compare with Carry

Rd − Rr − C

Z, N,V,C,H

1

CPI

Rd,K

 

Compare Register with Immediate

Rd − K

Z, N,V,C,H

1

SBRC

Rr, b

 

Skip if Bit in Register Cleared

if (Rr(b)=0) PC ← PC + 2 or 3

None

1/2/3

SBRS

Rr, b

 

Skip if Bit in Register is Set

if (Rr(b)=1) PC ← PC + 2 or 3

None

1/2/3

SBIC

P, b

 

Skip if Bit in I/O Register Cleared

if (P(b)=0) PC ← PC + 2 or 3

None

1/2/3

SBIS

P, b

 

Skip if Bit in I/O Register is Set

if (P(b)=1) PC ← PC + 2 or 3

None

1/2/3

BRBS

s, k

 

Branch if Status Flag Set

if (SREG(s) = 1) then PC←PC+k + 1

None

1/2

BRBC

s, k

 

Branch if Status Flag Cleared

if (SREG(s) = 0) then PC←PC+k + 1

None

1/2

BREQ

k

 

Branch if Equal

if (Z = 1) then PC ← PC + k + 1

None

1/2

BRNE

k

 

Branch if Not Equal

if (Z = 0) then PC ← PC + k + 1

None

1/2

BRCS

k

 

Branch if Carry Set

if (C = 1) then PC ← PC + k + 1

None

1/2

BRCC

k

 

Branch if Carry Cleared

if (C = 0) then PC ← PC + k + 1

None

1/2

BRSH

k

 

Branch if Same or Higher

if (C = 0) then PC ← PC + k + 1

None

1/2

BRLO

k

 

Branch if Lower

if (C = 1) then PC ← PC + k + 1

None

1/2

BRMI

k

 

Branch if Minus

if (N = 1) then PC ← PC + k + 1

None

1/2

BRPL

k

 

Branch if Plus

if (N = 0) then PC ← PC + k + 1

None

1/2

BRGE

k

 

Branch if Greater or Equal, Signed

if (N V= 0) then PC ← PC + k + 1

None

1/2

BRLT

k

 

Branch if Less Than Zero, Signed

if (N V= 1) then PC ← PC + k + 1

None

1/2

BRHS

k

 

Branch if Half Carry Flag Set

if (H = 1) then PC ← PC + k + 1

None

1/2

BRHC

k

 

Branch if Half Carry Flag Cleared

if (H = 0) then PC ← PC + k + 1

None

1/2

BRTS

k

 

Branch if T Flag Set

if (T = 1) then PC ← PC + k + 1

None

1/2

BRTC

k

 

Branch if T Flag Cleared

if (T = 0) then PC ← PC + k + 1

None

1/2

BRVS

k

 

Branch if Overflow Flag is Set

if (V = 1) then PC ← PC + k + 1

None

1/2

BRVC

k

 

Branch if Overflow Flag is Cleared

if (V = 0) then PC ← PC + k + 1

None

1/2

BRIE

k

 

Branch if Interrupt Enabled

if ( I = 1) then PC ← PC + k + 1

None

1/2

BRID

k

 

Branch if Interrupt Disabled

if ( I = 0) then PC ← PC + k + 1

None

1/2
239
2512G–AVR–03/05 Mnemonics

Operands

Description

 

 

 

Operation

Flags

#Clocks

 

 

 

 

 

 

 

 

 

 

DATA TRANSFER INSTRUCTIONS

 

 

 

 

 

 

 

 

MOV

Rd, Rr

Move Between Registers

 

 

 

Rd ← Rr

None

1

MOVW

Rd, Rr

Copy Register Word

 

 

 

Rd+1:Rd ← Rr+1:Rr

None

1

LDI

Rd, K

Load Immediate

 

 

 

Rd ← K

None

1

LD

Rd, X

Load Indirect

 

 

 

Rd ← (X)

None

2

LD

Rd, X+

Load Indirect and Post-Inc.

 

 

 

Rd ← (X), X ← X + 1

None

2

LD

Rd, - X

Load Indirect and Pre-Dec.

 

 

 

X ← X - 1, Rd ← (X)

None

2

LD

Rd, Y

Load Indirect

 

 

 

Rd ← (Y)

None

2

LD

Rd, Y+

Load Indirect and Post-Inc.

 

 

 

Rd ← (Y), Y ← Y + 1

None

2

LD

Rd, - Y

Load Indirect and Pre-Dec.

 

 

 

Y ← Y - 1, Rd ← (Y)

None

2

LDD

Rd,Y+q

Load Indirect with Displacement

 

 

 

Rd ← (Y + q)

None

2

LD

Rd, Z

Load Indirect

 

 

 

Rd ← (Z)

None

2

LD

Rd, Z+

Load Indirect and Post-Inc.

 

 

 

Rd ← (Z), Z ← Z+1

None

2

LD

Rd, -Z

Load Indirect and Pre-Dec.

 

 

 

Z ← Z - 1, Rd ← (Z)

None

2

LDD

Rd, Z+q

Load Indirect with Displacement

 

 

 

Rd ← (Z + q)

None

2

LDS

Rd, k

Load Direct from SRAM

 

 

 

Rd ← (k)

None

2

ST

X, Rr

Store Indirect

 

 

 

(X) ← Rr

None

2

ST

X+, Rr

Store Indirect and Post-Inc.

 

 

 

(X) ← Rr, X ← X + 1

None

2

ST

- X, Rr

Store Indirect and Pre-Dec.

 

 

 

X ← X - 1, (X) ← Rr

None

2

ST

Y, Rr

Store Indirect

 

 

 

(Y) ← Rr

None

2

ST

Y+, Rr

Store Indirect and Post-Inc.

 

 

 

(Y) ← Rr, Y ← Y + 1

None

2

ST

- Y, Rr

Store Indirect and Pre-Dec.

 

 

 

Y ← Y - 1, (Y) ← Rr

None

2

STD

Y+q,Rr

Store Indirect with Displacement

 

 

 

(Y + q) ← Rr

None

2

ST

Z, Rr

Store Indirect

 

 

 

(Z) ← Rr

None

2

ST

Z+, Rr

Store Indirect and Post-Inc.

 

 

 

(Z) ← Rr, Z ← Z + 1

None

2

ST

-Z, Rr

Store Indirect and Pre-Dec.

 

 

 

Z ← Z - 1, (Z) ← Rr

None

2

STD

Z+q,Rr

Store Indirect with Displacement

 

 

 

(Z + q) ← Rr

None

2

STS

k, Rr

Store Direct to SRAM

 

 

 

(k) ← Rr

None

2

LPM

 

Load Program memory

 

 

 

R0 ← (Z)

None

3

LPM

Rd, Z

Load Program memory

 

 

 

Rd ← (Z)

None

3

LPM

Rd, Z+

Load Program memory and Post-Inc

 

 

 

Rd ← (Z), Z ← Z+1

None

3

SPM

 

Store Program memory

 

 

 

(Z) ← R1:R0

None

-

IN

Rd, P

In Port

 

 

 

Rd ← P

None

1

OUT

P, Rr

Out Port

 

 

 

P ← Rr

None

1

PUSH

Rr

Push Register on Stack

 

 

 

STACK ← Rr

None

2

POP

Rd

Pop Register from Stack

 

 

 

Rd ← STACK

None

2

BIT AND BIT-TEST INSTRUCTIONS

 

 

 

 

 

 

 

 

SBI

P,b

Set Bit in I/O Register

 

 

 

I/O(P,b) ← 1

None

2

CBI

P,b

Clear Bit in I/O Register

 

 

 

I/O(P,b) ← 0

None

2

LSL

Rd

Logical Shift Left

 

 

 

Rd(n+1) ← Rd(n), Rd(0) ← 0

Z,C,N,V

1

LSR

Rd

Logical Shift Right

 

 

 

Rd(n) ← Rd(n+1), Rd(7) ← 0

Z,C,N,V

1

ROL

Rd

Rotate Left Through Carry

 

 

 

Rd(0)←C,Rd(n+1)← Rd(n),C←Rd(7)

Z,C,N,V

1

ROR

Rd

Rotate Right Through Carry

 

 

 

Rd(7)←C,Rd(n)← Rd(n+1),C←Rd(0)

Z,C,N,V

1

ASR

Rd

Arithmetic Shift Right

 

 

 

Rd(n) ← Rd(n+1), n=0..6

Z,C,N,V

1

SWAP

Rd

Swap Nibbles

 

 

 

Rd(3..0)←Rd(7..4),Rd(7..4)←Rd(3..0)

None

1

BSET

s

Flag Set

 

 

 

SREG(s) ← 1

SREG(s)

1

BCLR

s

Flag Clear

 

 

 

SREG(s) ← 0

SREG(s)

1

BST

Rr, b

Bit Store from Register to T

 

 

 

T ← Rr(b)

T

1

BLD

Rd, b

Bit load from T to Register

 

 

 

Rd(b) ← T

None

1

SEC

 

Set Carry

 

 

 

C ← 1

C

1

CLC

 

Clear Carry

 

 

 

C ← 0

C

1

SEN

 

Set Negative Flag

 

 

 

N ← 1

N

1

CLN

 

Clear Negative Flag

 

 

 

N ← 0

N

1

SEZ

 

Set Zero Flag

 

 

 

Z ← 1

Z

1

CLZ

 

Clear Zero Flag

 

 

 

Z ← 0

Z

1

SEI

 

Global Interrupt Enable

 

 

 

I ← 1

I

1

CLI

 

Global Interrupt Disable

 

 

 

I ← 0

I

1

SES

 

Set Signed Test Flag

 

 

 

S ← 1

S

1

CLS

 

Clear Signed Test Flag

 

 

 

S ← 0

S

1

SEV

 

Set Twos Complement Overflow.

 

 

 

V ← 1

V

1

CLV

 

Clear Twos Complement Overflow

 

 

 

V ← 0

V

1

SET

 

Set T in SREG

 

 

 

T ← 1

T

1

CLT

 

Clear T in SREG

 

 

 

T ← 0

T

1

SEH

 

Set Half Carry Flag in SREG

 

 

 

H ← 1

H

1

CLH

 

Clear Half Carry Flag in SREG

 

 

 

H ← 0

H

1
MCU CONTROL INSTRUCTIONS
240 ATmega8515(L)
2512G–AVR–03/05


ATmega8515(L)
| | | | | | |
| --- | --- | --- | --- | --- | --- |
| Mnemonics | Operands | Description | Operation | Flags | #Clocks |
|   |   |   |   |   |   |
| NOP |   | No Operation |   | None | 1 |
| SLEEP |   | Sleep | (see specific descr. for Sleep function) | None | 1 |
| WDR |   | Watchdog Reset | (see specific descr. for WDR/timer) | None | 1 |
241