Добавил:
Upload
Опубликованный материал нарушает ваши авторские права? Сообщите нам.
Вуз:
Предмет:
Файл:
-• Profuse diarrhoea (> 8 stools/24h) with vomiting
-• Incoercible vomiting
-• Severe dehydration
-• Failure of home oral rehydration
-- If dehydration and shock without signs of malnutrition, give appropriate treatment as follows:
-• Consider CAB
-• 20ml/kg of normal saline (NS) or Ringers Lactate(RL) as quickly as possible IV Or PO in 15 minutes (see table below for estimation of required volume for 20ml/kg)
-• Repeat the bolus of NS or RL 3-4 times if persistence of signs of shock
-• Treat as severe dehydration after correction of shock
-Chapiter 2: Gastro-intestinal Disorders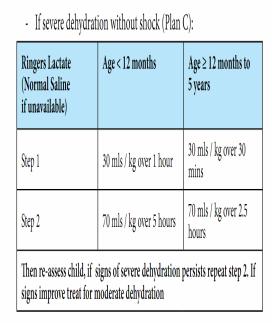 | | |
| --- | --- |
|   | - |
| - | If moderate dehydration (Plan B): |
| • | Give ORS 75ml/kg during 4 hours |
|   | After 4 hours: |
•Reassess the child and classify the child for dehydration
•Select the appropriate plan to continue treatment
•Begin feeding the child in clinic
HOW TO ADMINISTER ORS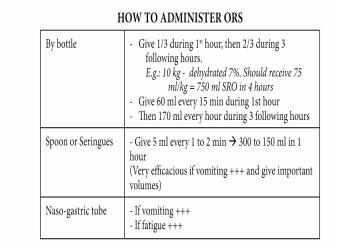 If the mother must leave before completing treatment:
•Show her how to prepare ORS solution at home
•Show her how much ORS to give to finish 4-hour treatment at home
•Give her enough ORS packets to complete rehydration
•Explain the 4 rules of home treatment:
→Give extra fluid: Give the child more to drink as is wanted by the child
→Give Zinc supplements for 10–14 days:
< 6 months: 1/2 tablet (10 mg) per day, ≥ 6 months:1 tablet (20 mg) per day
→ Continue feeding: Initial 4-hour rehydration period, breastfed children should continue to breastfeed frequently throughout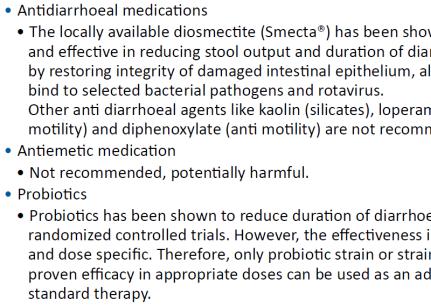 → Return the child to the health facility if :
drinking poorly or unable to drink or breastfeed
Becomes more sick
develops fever
Has blood in the stool
- If no dehydration (Plan A):
• Treat the child as an outpatient; give ORS 10ml/kg after each watery stool
• Counsel the mother on the 4 rules of home treatment:
→Give extra fluid
→Give zinc supplements
→Continue feeding
→Give advice on when to return for review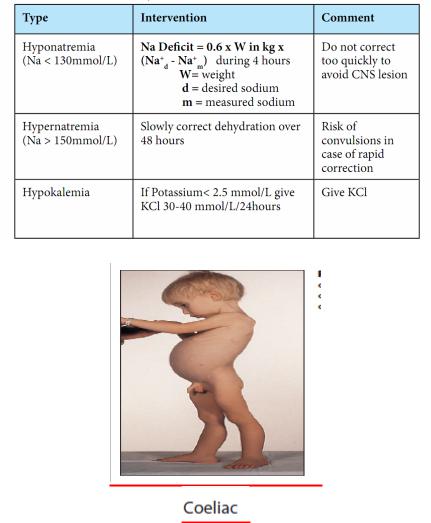 Particular forms of dehydration
2.2. Persistent Diarrhea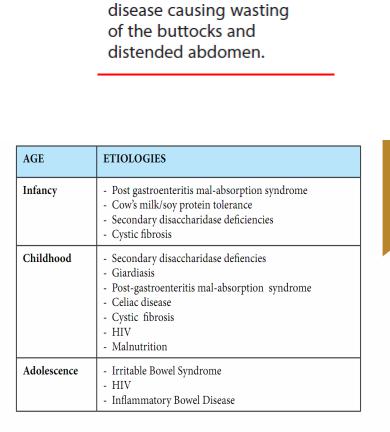 Definition: Persistent diarrhea is a diarrhea, with or without blood,
which begins acutely and lasts for 14 days or longer.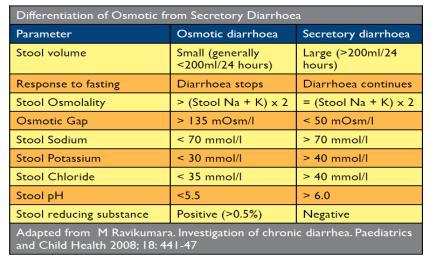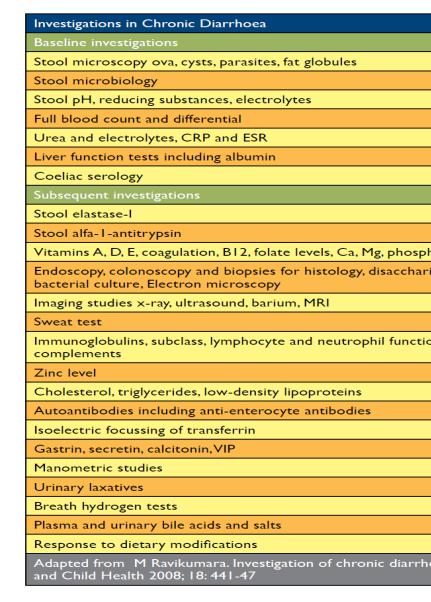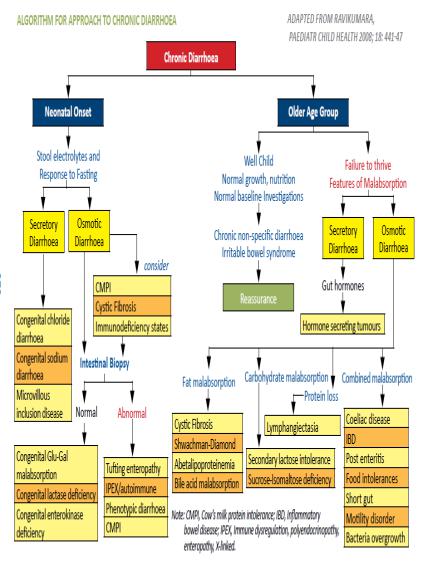 Complications
-dehydration
-Failure to thrive, malnutrition
-Immunosuppressant
Investigations (Will vary according to the suspected etiology)
-Stool examination: PH, White blood count, Fat, Ova, osmolarity, Culture
-FBC, CRP, electrolytes, urea and creatinine
-Sweat chloride if suspicion of cystic fibrosis
-Barium study
-Small bowel biopsy
-Endoscopy: Sigmoidoscopy or coloscopy with biopsy Management
-Oral rehydration
-Treat the cause (see algorithm)
2.3. Bloody Diarrhea
Definition: Frequent (>3/day) passage of blood and/or mucus in the stool
Causes
-Amoebic dysentery is the most common serious cause in children
-Bacterial infections (e.g. Shigella, salmonella)
-Parasitic infestations (e.g. amoebic dysentry)
-Milk allergy
-Chronic inflammatory bowel disease
Signs and Symptoms - Sudden onset