Добавил:
Upload
Опубликованный материал нарушает ваши авторские права? Сообщите нам.
Вуз:
Предмет:
Файл: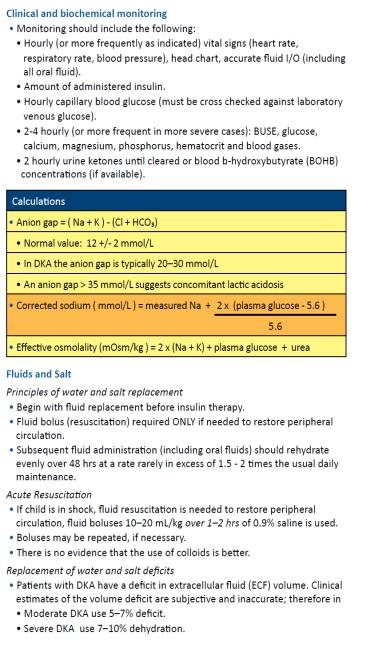 -
-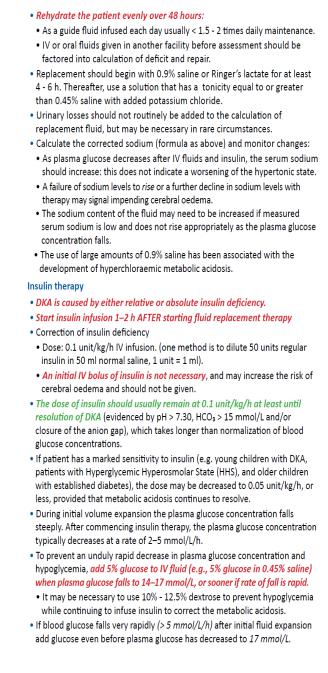 -
-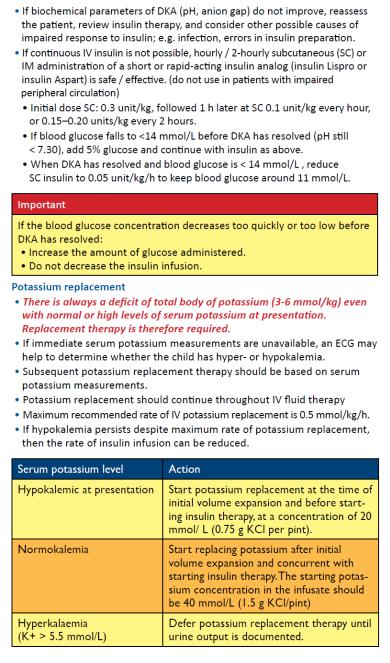 -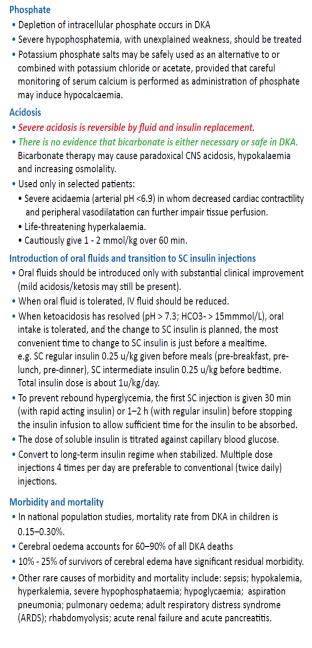 -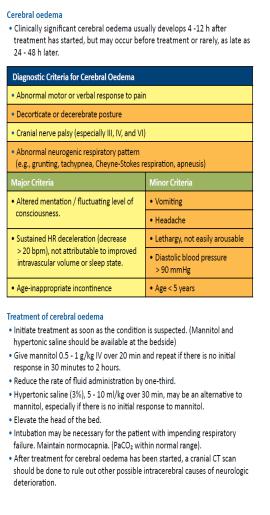 -
-
-
- 5.3. Hypoglycemia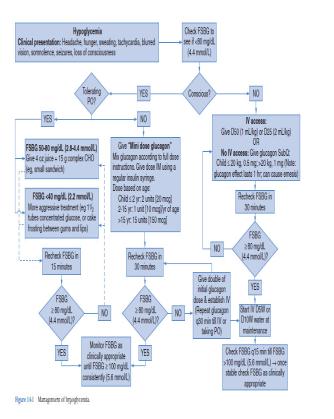 -
-Definition: Blood glucose levels below the lower limit of the norma
-range (blood glucose < 2.2 mmol/L, for malnourished children <mmmol/L).
-Causes/Risk factors
-- Individuals with diabetes
-- Excessive dose of medication anti−diabetic medication
-- Omitted or inadequate amount of food
-- Unaccustomed physical over activity
-- Alcohol intake
-Signs and Symptoms
-- dizziness
-- Blurred vision
-- Headaches
-- Palpitation
-- irritability and abnormal behavior
-- Sweating
-- Tremors
-- Tachycardia
-- Confusion
-- Unconsciousness
-- Convulsions
-Investigation
-- Blood glucose
-Management
-- 10% Glucose, IV, 2−4 ml/kg body weight 1 to 3 minutes through a large vein followed by 5−10% Glucose, IV, according to total daily fluid requirement until the patient is able to eat normally Alternatively
-• Glucagon, IV, IM or subcutaneous,
-• Age over 8 years (or body weight over 25 kg);→ Give 1 mg stat IM if available
-• Age less than 8 years (or body weight less than 25 kg);→ Give 500 microgram stat IM if available
-Recommendation
-- Control blood glucose 30 minutes after 10% bolus of Glucose
THYROID DISORDERS
Hypothyroidism
Congenital
•See chapter 34.
•Acquired: Prevalence is one in 500 to 1000 school-aged children)
•Etiology
•Primary: Autoimmune lymphocytic thyroiditis (Hashimoto's thyroiditis); thyroidectomy or radioiodine therapy; irradiation to thyroid; iodide defi ciency; iodide excess (amiodarone),other goitrogens (lithium, cobalt)
•Secondary: Thyrotropin (TSH) defi ciency (isolated or associated with other anterior pituitary hormone defi ciencies); thyrotropin-releasing hormone defi ciency (hypothalamicinjury or disease); large hemangiomas (consumption hypothyroidism); idiopathic
•Clinical features: Growth deceleration, mild weight gain, delayed puberty, constipation, cold
intolerance, delayed dental development, mental depression, metromenorrhagia, galactorrhea,precocious or delayed puberty; dry skin, brittle hair, hypotonia, hypothermia, bradycardia,transient deafness, delayed bone age
•Evaluation
| | |
| --- | --- |
|   | T4 or FT4 with TSH in primary and decreased to normal TSH with |
|   | T4 (or TSH elevation less than expected relative to degree of |
hypothyroxinemia) in secondary hypothyroidism
• Check anti-thyroid peroxidase and anti-thyroglobulin antibodies
•Evaluate for any other underlying cause
•Management
-• Levothyroxine (75–100 mcg/m2/d)
•Initially follow TSH and FT4; later TSH and T4 are used for monitoring effectiveness and adjusting the dose over time (if T4 and FT4 correlate)
•Follow up: If etiology is autoimmune (especially if multiple family members with autoimmune hypothyroidism) evaluate for other autoimmune disease
Hyperthyroidism
Acquired Hyperthyroidism
•Etiology: Graves disease, subacute thyroiditis, toxic phase of chronic lymphocytic thyroiditis,TSH-secreting adenoma, toxic multinodular goiter, factitious hyperthyroidism
•Clinical features: Hyperactivity, poor concentration, nervousness, emotional lability, fatigue,weight loss, increased sweating, heat intolerance, diarrhea, irregular menses, fi ne tremors, goiter,exophthalmos, palpitations, tachycardia, systolic hypertension, proximal muscle weakness
•Evaluation
•TSH (except in TSH-secreting adenoma where TSH ); T3, T4, or FT4
•Check thyroid-stimulating immunoglobulin (TSI)
•Thyroid uptake scan ( in Graves disease)
•Management
•-adrenergic antagonists: For control of symptoms (nervousness, tremors, tachycardia,and hypertension). -1 specifi c agents preferred (eg, atenolol)
•Antithyroid agents (methimazole, propylthiouracil): Interfere with
thyroid hormone synthesis. PTU also T4 T3 conversion.
• Radiation therapy: An appropriate amount of oral I131 in children with Graves disease causes thyroid ablation. More commonly used as fi rst line treatment or for patients who are unresponsive or poorly adherent to antithyroid agents. Give -adrenergic antagonists during radiation therapy as symptoms worsen with cell lysis ~1-2 wk after ablation. Radiation therapyusually results in hypothyroidism, requiring future thyroid hormone replacement.
• Surgical treatment: Rare; indications include very large goiter, suspicious nodule,patients refusing radiation therapy, condition uncontrollable on methimazole or severely thyrotoxic patient requiring immediate intervention.
•Iodide: Only for acute management of severely thyrotoxic patient; large dose causes short-lived blockade of thyroid hormone synthesis and release. Continued use will cause a worsening of hyperthyroidism.
Thyroid Storm (rare but potentially lethal)
•Clinical features: In a patient with hyperthyroidism, acute onset of hyperthermia,tachycardia, restlessness; may progress to delirium, coma, or death if untreated.
•Management: Propanolol (or esmolol), propylthiouracil (PTU), iodine, steroids, cooling.
Other Thyroid Diseases
Acute thyroiditis
•I ncidence/etiology: Rare; common causes GABHS, S. pneumoniae, S. aureus and anaerobes.
•Clinical findings: The patient is always toxic with fever and chills. The thyroid gland is large, erythematous, and very tender ± fl uctuance. May have hoarseness or dysphagia.
TFT are usually normal.
•Treatment: Specifi c antibiotic therapy should be administered and surgical drainage performed if an abscess is present.
Subacute thyroiditis (de Quervain thyroiditis)
•Incidence/etiology: Rare; common causes are viral infection with mumps, influenza,
echovirus, coxsackievirus, EBV, or adenovirus
•Clinical findings: Onset is generally insidious. Similar to acute thyroiditis, and thyroid is firm and enlarged. Sedimentation rate is elevated. May have
TFT.
Nonthyroidal illness (sick euthyroid syndrome; low T3 syndrome)
• Most common cause of abnormal thyroid tests in hospitalized patients.T3, T4, reverse T3.
•TSH is usually low-normal, but may rise during recovery phase.
-• Issue of thyroid hormone replacement controversial.
SYNDROME OF INAPPROPRIATE ANTIDIURETIC HORMONE (SIADH)
AND CEREBRAL SALT WASTING (CSW) COMPARISON OF SYNDROME OF INAPPROPRIATE ANTIDIURETIC
-HORMONE AND CEREBRAL SALT WASTING

-