Добавил:
Upload
Опубликованный материал нарушает ваши авторские права? Сообщите нам.
Вуз:
Предмет:
Файл:
10. Read the text below. Use the word given in capitals at the end of each line to form a word that fits in the space in the same line. There is an example at the beginning (0).
Kleptomania, which means a mania for stealing things, is a mental (0) abnormality which afflicts both young and old. It is different from (1)_________, as the culprit is often quite capable of paying for the things he or she takes. Some kleptomaniacs steal things and then have no memory of the (2) _________ afterwards. Having a (3) _________ for stealing things can cause terrible damage to a person's future and also cause (4) _________ to their family and friends. Sometimes psychiatric (5) _________ cures it, but in general there are no permanent (6) _________ to the problem. Most victims complete therapy in the (7) _________ that they will probably feel the urge to steal things again. Those who succeed in defeating the illness completely are in a (8) _________ .

abnormal

rob

thieve; convict

embarrass

treat

solve

know

minor
/from First Certificate: Reading. Patrick McGavigan and John Reeves/
Vocabulary 2 Writing survey reports
1. You are going to write the text for a radio news report on crime. Here are some of the figures you have researched.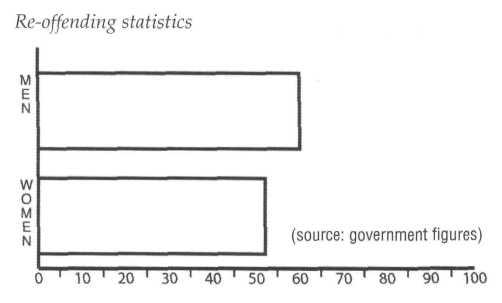 Look at the figures and complete these sentences.
a) _________ % of men who go to prison for 12 months re-offend within 12 months.
b) _________ % of women who go to prison for 12 months re-offend within 12 months.
c) The commonest crime for re-offenders is _________ .
d) _________________ account for 18% of crimes by re-offenders.
e) Prisoners often re-offend because they cannot get a _________.
f) Amongst prisoners who go on job training programmes, _________ % do not find work when they are released.
g) Amongst prisoners who find _________, 80% do not re-offend.
2. Look at the results of the survey below and fill in the gaps in the first box with the
following words or phrases which express facts: per cent, a small/significant number, substantial, a minority, a large proportion. Then, match the facts from the first box with the generalizations from the second box to make up part of a survey report about transport.
AGE

CAR

BUS

TRAIN

BICYCLE

WALK

MEN

18 – 25

9%

20%

28%

33%

10%

26 – 50

32%

18%

40%

8%

2%

51+

43%

15%

33%

1%

8%

WOMEN

18 – 25

3%

36%

27%

21%

13%

26 - 50

21%

13%

49%

3%

14%

51+

36%

18%

44%

-

2%
FACTS

1. __________ of men over the age of 51 travel to work by car.

2. __________ of men and women aged 18-25 drive to work.

3. Only two __________ of men aged 26 - 50 walk to work.

4. __________ of 25- 50 year olds travel to work by train.

5. A __________ number of young men cycle to work.

6. __________ of men aged 51 and over travel to work by bicycle.

GENERALISATIONS

a. This indicates that the train is a very popular means of transport.

b. This shows that younger men and women do not earn enough to own a car.

c. This shows that men of the older generation prefer a more comfortable way of traveling to work.

d. This suggests that many older men can afford to commute by car.

e. This demonstrates that young men cannot afford to commute by car.

f. This implies that men in the second age group prefer a faster and more convenient way of traveling to work.